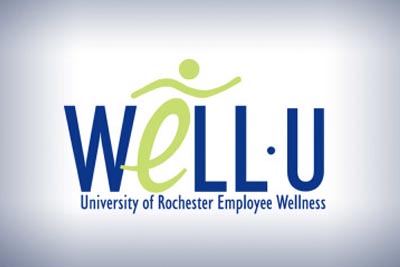 Well-U offers a variety of programs that are FREE to University employees. Programs from Employee Assistance to classes such as Yoga, and Zumba to lunch 'n learns. Check out all the programs we have and ENROLL today!
UR Farmers Market
Wednesdays, March 6 –  October 16
2:30 -5:30 p.m. Flaum Atrium
The University of Rochester Farmers Market connects the UR community to sustainable foods from local farmers. Each week, more than 20 vendors offer seasonal produce, baked goods, artisan crafts, fresh pasta, jams, and more. Market customers can meet the vendors, sample goods, and receive nutrition education and cooking tips.
Park & Stride
Well-U and Transportation/Parking Management have teamed up once again to promote the benefits of physical activity. The  Park & Stride campaign highlights the health benefits of walking from the parking lot to designated entrances of the Medical Center. Certain parking spaces in Lot 1 and Lot 9 are labeled "Park here to walk farther and be healthier".
Fitness Classes
Classes are offered at different times to accommodate varying schedules.  Classes include Yoga, Zumba, Pilates, Boot Camp & more!
WW
With WW at work, you have the convenience of WW meetings in your workplace and unlimited meetings in your local community. Subscription includes access to eTools, an internet weight loss companion that helps you stay on track between meetings. Meetings are typically between 30 minutes and 1 hour.
Be In Balance Loyalty Card
Get points for eating healthy and win prizes using URMC's healthy eating loyalty card program
Pick up a Be in Balance Loyalty Card

Purchase a Be in Balance selection (look for the apple icon) and get your card punched
Pick up a Be in Balance Rewards Card from a Cafe 601 cashier
Fill in your name and contact information and drop in the entry box located by the salad bar to be entered to win our weekly, monthly and quarterly prizes:

Weekly Prize= $5.00 Gift Card to Cafe 601
Monthly Prize= URMC Fitness Center membership or class pass
Quarterly Prize= FitBit fitness tracking device
The more cards you fill, the more opportunities you have to win.
Learn more about Well-U and the programs they offer here