The Rochester Review, University of Rochester, Rochester, New York, USA




Books & Recordings
Recent publications from alumni, faculty, and staff

BOOKS
American Evangelicals and the U.S. Military, 1942-1993 by Anne C. Loveland '60. Louisiana State University Press, 1997.
Becoming a Physician by Thomas Bonner '47, '49 (Mas). Oxford University Press.
Presents a cross-cultural comparison of medical education over a period of two centuries.
The Changing Landscape of Labor: American Workers and Workplaces. Photographs by Michael Jacobson-Hardy '74, with essays by John T. Cumbler and Robert E. Weir. University of Massachusetts Press, 1996. 168 pp., 54 illustrations, $40.
Documents the changing world of manual labor in late 20th-century New England.
Communication and Conflict Resolution in the Schools by Philip S. Morse '65, '73W (EdD). Corwin Press, 1996.
Court of Common Pleas, poems by Alice Brand '60. Edwin Mellon Press (Lewiston, N.Y.), 1997.
Cultivating Music in America edited by Ralph P. Locke, professor of musicology, and Cyrilla Barr. University of California Press.
Dance for the Dead by Thomas Perry '74 (PhD). Random House, $21.
Second in a series by suspense writer Thomas Perry, featuring Native American lore from upstate New York.
Delinquency and High School Dropouts: Reconsidering Social Correlates by Don Drennon-Gala '94W (PhD). University Press of America.
Electronic Commerce: A Manager's Guide co-authored by Ravi Kalakota, Xerox Assistant Professor of Information Systems, Simon School.
Discusses retailing opportunities and challenges created by the Internet and World Wide Web.
Living in the State of Stuck: How Technology Impacts the Lives of People with Disabilities (2nd edition) by Marcia Scherer '86M (Mas), '86W (PhD). Brookline Books, 1996. 256 pp., $17.95.
Uses the personal experiences of people with disabilities to make key points about the role of technology in their lives.
A Midwife Through the Dying Process by Timothy E. Quill '76M (MD), '77M (Res), professor of medicine. Johns Hopkins University Press. 239 pp., $24.95.
A book arguing for easing the agony of a bad death, written by a pioneer in the care of the terminally ill who has been at the center of the controversy over physician-assisted suicide (see Rochester Quotes).
School-Based Prevention for Children at Risk: The Primary Mental Health Project by University psychologists Emory L. Cowen, A. Dirk Hightower, JoAnne L. Pedro-Carroll, William C. Work, and Peter A. Wyman, with William G. Haffey. American Psychological Association, 1997.
Focuses on changes PMHP has gone through since it was initiated 40 years ago as a revolutionary prevention program designed to promote wellness in children at risk for emotional damage.
The Success Principle by Ronald N. Yeaple, executive professor of business administration. Macmillan, 1996.
Term Limits and Legislative Representation by associate professor of political science John M. Carey. Cambridge University Press.
A comparative study of the legislatures of Costa Rica, Venezuela, and the United States that tests the pros and cons of the reform.
Why Arthritis? Searching for the Cause and the Cure of Rheumatoid Disease by Harold W. Clark '52M (PhD). Axelrod Publishing of Tampa Bay, 1997. 237 pp., $18.95.
Tells the story behind the development and recognition of an antibiotic treatment for rheumatoid disease and reviews the evidence supporting a probable infectious cause.
Women and the Common Life: Love, Marriage, and Feminism by Christopher Lasch, professor of history, edited by Elizabeth Lasch-Quinn. W. W. Norton & Company. 196 pp, $23.
A series of essays by the late professor of history, who died three years ago. The topics of the nine essays range from medieval romance to Robert Bly and the "men's movement."
RECORDINGS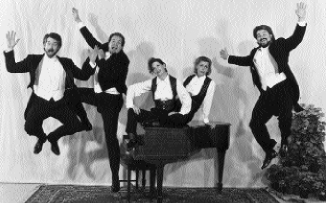 Yes, Beethoven! Baritone Steven Stull '86E (Mas), left, and tenor Todd Geer '89E, right, flank their fellow songsters in the back-cover photo from their CD of Celtic songs as arranged by the master himself. Seems the Beethoven arrangements were commissioned in the early 1800s by a Scottish art patron who feared the traditional songs were being lost. Titled The Pulse of an Irishman (CRS Barn Studio, Ithaca, New York), the CD also features cellist Laura Kramer '90E (Mas).

Cycles of Moons and Tides by Mary Jeanne van Appledorn '48E, '66E (PhD), performed by the Texas Tech University Symphonic Band. Opus One 170. Van Appledorn's Shabat Shalom, performed by organist Barbara Harbach '81E (DMA), has been released on the Hester Park label.

Holy Canticles, Vol. 2 of The Choral Music of Dan Locklair '83E (DMA), performed by the Bel Canto Company. Gasparo (summer '97).

The Hooks of Orwell and North Easton, a collection of organ music performed by Karl Moyer '80 (DMA). (This CD was incorrectly attributed in the last issue.)

Music On and Off the Keys, featuring Fantasy Rondo by Lukas Foss performed by pianist Susan Nichols Thomson '76E. Distinguished Performers Series Vol. 3/Vienna Modern Masters 2016.

Piano Music of John Beall, performed by Steven Herbert Smith '66E (Mas), '78E (DMA). Cambria 1105.

Trios of Turina and Martinu, performed by violinist Barbara Sonies '67E. Centaur Records.

The Solo Percussionist, six works by William Cahn '68E, performed by Eastman alumni group Nexus. Nexus 10339/Albany Music Distributors.

Windows, solo jazz piano performed by Jeffrey Hellmer '83E (Mas). Bayside Distribution.

Windy and Warm, traditional music of the British Isles, U.S., and Canada, performed by Greenwood Tree (hammered dulcimer, Stu Janis '79; guitar, Bill Cagley). GTREE 042.
---
RECOMMENDED READING
Selected by faculty

Kathleen Parthé, associate professor of Russian and director of Russian studies in the College

With a published book, Russian Village Prose: The Radiant Past (1992), and over two dozen articles on post-Stalinist prose and on Tolstoy under her belt, Kathleen Parthé is fascinated by the roles that literature and criticism play in politics and in cultural history. (This year, Parthé was appointed to the Advisory Council of the Kennan Institute for Advanced Russian Studies, an international center devoted to research, in Washington, D.C. In the 22 years since the institute was founded, only six other Russian literature specialists have served on this body.)

Her current work-in-progress includes the book Dangerous Texts: The Russian Canon in Paraliterary Space, and a third book on cognitive mapping and national identity.

"Most of my reading is on Russian culture, history, and politics--the focus of my teaching and research. But when Russia began to move towards a market economy and the rule of law in the late 1980s, I couldn't resist watching a major civilization undergo a fundamental transformation. I follow the rapidly changing situation there in both English- and Russian-language publications and via the Internet.

"My bedtime reading? British murder mysteries, translated into French and German."

Some recent suggestions:

Primary Colors by Anonymous, Warner Books, 1996.
"This was recommended by a good friend who knows how much time I spend in Washington and how passionate I am about politics. Not great literature--but very amusing."

How Russia Became a Market Economy by Anders Aslund, Brookings Institution, 1995.
"The conclusions are controversial, but it is an immensely readable text by a key international advisor to the Russian government."

Forbidden Best Sellers of Pre-Revolutionary France by Robert Darnton, W. W. Norton, 1996.
"Darnton analyzes works of political slander, utopian fantasy, and philosophical pornography and questions whether books can cause revolutions. He includes translated examples of each type of forbidden text, which give ample proof of why they were banned."

Autopsy on an Empire by Jack Matlock, Random House, 1995.
"Written by a skilled diplomat and consummate historian--and the last U.S. ambassador to the Soviet Union--Autopsy is a fascinating chronicle of the final days of the 'evil' empire."

Dismantling Utopia: How Information Ended the Soviet Union by Scott Shane, Elephant Paperbacks/Ivan R. Dee, 1994.
"As a correspondent for the Baltimore Sun, Shane saw firsthand how Gorbachev's attempt to allow just enough freedom of the press to help reform socialism backfired, and how the information he released eventually brought down the entire system."

Arrested Voices: Resurrecting the Disappeared Writers of the Soviet Regime by Vitaly Shentalinsky, the Free Press, 1996.
"Everyone knows that Russian writers were persecuted during the Stalinist purges in the 1930s; the high drama in this book is in the recently released transcripts of conversations between writers and their jailers. Writers reacted to these extreme circumstances in quite different ways. Some confessed to fantastically constructed plots--which neither side believed--to try to save themselves or their families, while others refused to cooperate with the state in any way."

Stories from a Siberian Village, Vasili Shukshin, Northern Illinois University Press, 1996.
"I first read this collection by the popular Russian writer, actor, and director when my colleagues John Givens and Laura Michael, who translated these works, asked me to write the foreword."





| UR Home | Review Contents | Mail |



Copyright 1997, University of Rochester
Maintained by University Public Relations
Last updated 3-27-1997 (jc)