The Rochester Review, University of Rochester, Rochester, New York, USA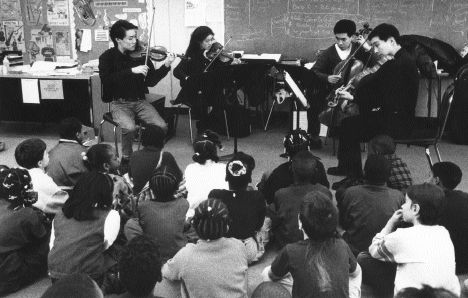 Making music and making contact, wherever your audience may be. That's what the extraordinary Ying Quartet--Eastman alumni all--does so well. And why the Eastman School has hired them as a central component of a bold new, community-focused, program.

By Denise Bolger Kovnat
Yes, they've played at Lincoln Center -- several times -- and the White House, too. They've been profiled on CBS and praised by The New York Times.
More to the point, in the view of the phenomenally gifted siblings known as the Ying Quartet, they've packed up their instruments and headed for the frontier, musically speaking, performing in the hospitals, churches, senior citizen centers, gymnasiums, and even the prisons of middle America.
Their trip to the prison, albeit minimum security, was "a bit nerve-wracking," they'll admit. It was back in 1994, in Milwaukee, as David Ying recalls.
"After we performed, I was talking with this guy who had been busted on drug charges, when I turned around and saw Phil talking with another inmate -- and he was playing Phil's viola!"
(A note here for non-musicians: When you get to the level of the Ying Quartet, you don't pass your instrument around like a bag of chips at a Super Bowl party. It's worth more than the TV, VCR, and stereo combined -- toss in the sports-utility-vehicle in the driveway while you're at it -- and there's no warranty.)
"I thought, what on earth is Phil doing?" David continues. "As it turned out, the guy had taken viola lessons as a child and Phil had just handed him his instrument to try. There they were, talking about music, and I wondered, in what other situation would these two people -- a prison inmate and a professional violist -- have found common ground?"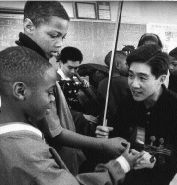 Phillip Ying '91E, '92E (Mas) shares his viola during a visit with first, second, and third graders at Nathaniel Rochester School.

Making music and making contact: That's what the Yings have been doing for the past four years, ever since a grant from the National Endowment for the Arts took them to Jesup, Iowa, for a "rural residency" (more on this later). Now, these four siblings from Winnetka, Illinois--violinists Timothy and Janet, violist Phillip, and cellist David, all Eastman alumni--are bringing their evangelism and expertise to the Eastman School of Music, and to the region at large, as newly hired members of the Eastman faculty.

Their return to Rochester is under the aegis of the school's Eastman Initiatives project, a bold new series of programs designed to help rescue classical music from its imperilled place among modern America's endangered species (see The Eastman Initiatives--and the Art of Music School Maintenance).

The Yings, then, have come not only to coach student ensembles in basic musicianship, but also to teach them how to reach out to new audiences in rural and urban schools, chambers of commerce, community auditoriums --and, who knows, maybe even supermarkets. (Tim says the sibs haven't actually played in one to date, but he knows of another quartet in an NEA residency that did: "They were in the freezer section, I think.")

And, to the delight of audiences in major concert halls around the globe, the Yings will continue performing. This academic year, because of a packed schedule that takes them from New York to Sydney, they're part-time faculty members only. They become full-time next year, with a more compact performance schedule.

Because the Yings are so engaging and down to earth, they seem like neighbors from down the street who just happen to play music after hours. Be not deceived, however: These are world-class musicians. They play with elegance and power, in full command of their instruments and clearly relishing every note. "Riveting and uplifting," is how The New York Times described a performance at Lincoln Center. "The Ying Quartet produces a dark and sumptuous sound and moves as one." They've played for the Clintons at the White House and for Congress in a presentation for the National Endowment for the Arts, and they've been profiled on CBS Sunday Morning with Charles Kuralt -- this when they were in Jesup (pop. 2,000), Iowa, on the aforementioned NEA grant.

Their trajectory has been steep -- and they were launched at Eastman. It was back in 1988, when, for more or less unrelated reasons, they all ended up studying there at the same time. David, 33, and Tim, 31, earned doctorates, while Janet, 27, holds a bachelor's degree. Phillip, 28, holds both bachelor's and master's. All of them finished in 1992, save for Tim, who completed his degree in '91.
That they coalesced into the Ying Quartet during their years at the school, they insist, "just happened," without any grand scheme. David was studying with Paul Katz, cellist of the legendary Cleveland Quartet then in residence at Eastman, when he went to Katz and said, "We've got this crazy idea of getting together. Would you listen to us?"
This is as Timothy recalls it (talking to the four of them is like sitting in on a rehearsal--one voice rises for a solo and then another takes over, and then everyone stops, goes back a few bars, and reworks a phrase): "The Cleveland heard us in a master class and started working with us, even though we were not yet officially in their apprenticeship program. They gave us encouragement and said they thought we had potential. That kind of support is essential when you're just starting out."
Essential--and effective, too. The following year, they won the stringently competitive Cleveland Quartet Competition, which led them to their New York City debut at Alice Tully Hall at Lincoln Center in 1991. They began touring professionally the following year and won the Naumburg Chamber Music Award --pretty much the chamber equivalent of the U.S. Open--in 1993.
By that time, they had all finished their degrees and were looking for work. (Virtuosos need steady paychecks, too, another challenge addressed by the Eastman Initiatives.) That's when the rural residency in Iowa came along.

In 1992, the NEA had begun a pilot program called the Chamber Music Rural Residencies. Its aim, in an era when audiences for classical music are declining, is to bring chamber music to communities that rarely hear it, let alone hear it performed live by a talented ensemble. Costs are shared equally by the endowment and the community.
Town leaders in Jesup seized the opportunity, and back east, so did the Yings -- although, says David, "we had no idea what it was going to be like." Once in Jesup, according to the NEA model, they performed regularly and frequently, as often as once or twice a day. Keeping up that pace, with an active touring schedule on the side, was a good way to better their performance skills as they saw it. They learned something, too.
"When you play Beethoven at the Eastman Theatre, people know before you start that it's going to be a good piece," David explains. "You do your best, and then you go home. When you play Beethoven in a rural town like Jesup, first you have to tell the audience that it's an important piece, because they don't know Beethoven. Then you have to prove that it's important. And you have to be sure it comes off, because that's how they will get to love Beethoven." That kind of interpretation added a "new dimension" to their playing, he says. "It just had to be more personal."
In Jesup, they launched a series of free music-education classes in the evenings and an eight-concert series with guest artists. In addition, they provided music and inspiration for a school choreography workshop, served as subjects for class projects like documentaries and music videos, and gave lessons, free of charge, to about 20 children who formed a string orchestra.
On several occasions they performed for students in a one-room Amish schoolhouse not far from town. True to their strictly held traditions, the girls
wore black bonnets and long dresses in solid colors; the boys, colored shirts, black trousers, and suspenders. All 23 of the children--kindergartners through eighth graders -- were barefoot.
"We felt very lucky that the parents let us play for them," says Tim. "They lead a very conservative 19th-century lifestyle, no electricity or anything modern, and they don't want any outside influence corrupting the kids. We felt we should approach them very carefully. The Amish people are from a German background, so we explained that a lot of the music we play is German and that our instruments are very old."
In the Amish culture, music is valued only for its instructive (rather than emotive or entertaining) qualities. While many of the children had sung at home or in church, few had heard any musical instrument other than an occasional harmonica.
On this occasion, the Yings performed sections of movements by Haydn, Mozart, Brahms, Ravel, and Bartok, hoping to draw the children out with music that evoked familiar images or moods. Then they polled the students to see which movements they wanted to hear in full. Half, mostly boys, voted for the galloping finale of Haydn's "Rider" Quartet, while the other half, mostly girls, chose the "Romanze" from Brahms's C-Minor Quartet. Nearly all wanted to hear the pizzicato movement from Bartok's Fourth Quartet: They found it "henlike," according to The New York Times reporter who covered the performance.
The Times concluded that "everyone reacted with transparent puzzlement or wonder, fear or joy"--feelings which were shared, it seems, by nearly all of the people the Yings encountered in northeast Iowa. "We struck gold," says Mike Krumm, the superintendent of Jesup schools who helped bring the quartet to Iowa. The Yings, he adds, "are terrific. To see them work a room --and they do work a room, by the way --is remarkable."
In May 1994, in tribute to their friends in Jesup, the quartet recorded a CD, "Made in Iowa," which is their only recording to date and not commercially available. On it, they perform Ravel's String Quartet in F Major and Dvorák's "American" String Quartet, also in F Major, composed in the summer of 1893 in Spillville, Iowa, just 70 miles north of Jesup.
"We performed this work throughout Iowa both at the beginning and end of our residency," they write on the liner notes. "For Iowans, it is especially intriguing to speculate about what might have inspired Dvorák in this piece: the rumble of trains, the eloquence of the African-American spiritual, and the dance of the Native Americans. . . . Above all, this quartet reflects the happiness, adventurousness, and optimism Dvorák found in Iowa, qualities that perfectly describe our own experiences here 100 years later."
Happiness, adventurousness, optimism -- the Yings bring these infectious qualities to Eastman as they begin their tenure.

"They have an energy that's so fetching," says James Undercofler '67E, acting director of the Eastman School. For Eastman students, he explains, "they serve as a living, breathing model of how to combine excellence in performing with the ability to forge a new relationship with audiences. They don't see any of the artificial barriers between performing and teaching."
Phillip agrees. "In America, there is a great dichotomy between performers and music educators. In the conservatories, performers tend to look down on the educators. What we want as a quartet is to perform at the highest level, with a career equal to anybody's, but at the same time to serve as educators and find out what the arts can do for society."
And if that means occasionally handing over your treasured instrument so that someone can plunk out a tune -- well then, so be it. As David says, "Music is something you have to share."
Denise Bolger Kovnat edits the Alumni Review section of this magazine.
| The Eastman Initiatives--and the Art of Music School Maintenance |

| UR Home | Review Contents | Mail |



Copyright 1997, University of Rochester
Maintained by University Public Relations
Last updated 3-27-1997 (jc)