The Rochester Review, University of Rochester, Rochester, New York, USA




Letters To The Editor
The Review welcomes letters from readers and will print as many of them as space permits. Letters may be edited for brevity and clarity. Unsigned letters cannot be used, but names of the writers may be withheld on request.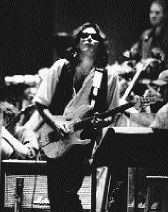 Steve Vai performs with Kilbourn Orchestra at September's symposium.
Gauldin Was First
Efforts to open the musical canon to popular music began at Eastman long before last September's symposium ("From Bach to Rock," Winter 1996-97). Theory professor Robert Gauldin was already using Beatles songs in his teaching when I attended graduate school two decades ago.
His pioneering efforts in this area represent just one of the many achievements for which he should be honored as he retires this spring.
Stanley Kingsley Day '75E (MA)
Evanston, Illinois

Remembering Harold Gosnell '18
I report with genuine sadness that the first great political methodologist, Harold F. Gosnell '18, has passed away at the age of 100.

As a young faculty member at the University of Chicago in the 1920s and 1930s, Gosnell pioneered in the sophisticated application of multiple regression, factor analysis, survey research, and experimental methods in political science. He was a significant contributor to the fields of voting behavior, party politics, and racial politics. Gosnell worked for the U.S. government in the 1940s and '50s and completed his teaching career at Howard University in the 1960s.

His last professional appearance was at the 1995 annual meeting of the American Political Science Association in Chicago, where he and several members of his family attended the inaugural presentation of the Political Methodology Section's Harold F. Gosnell Award for Excellence in Political Methodology.

Larry M. Bartels
Princeton, New Jersey
It Was Chemical ENGINEERING
In the article "In Pursuit of the Next Good Question" (Winter 1996-97), Professor Richard Heist is referred to as a chemistry professor. However, he is a chemical ENGINEERING faculty member. Also, the Quest course that he teaches is a chemical engineering course, ChE 103Q, not a chemistry course as reported.

One other error was in the obituary of Professor Emeritus Gouq-Jen Su. He was a professor emeritus of chemical engineering, yet he was listed as a professor emeritus of mechanical engineering.

Donna M. Porcelli
Rochester


Rochester Review, which has great respect for the chemical ENGINEERING faculty, regrets the errors--Editor.
Bassoon-Playing Physics Majors
and Other River Campus Musicians
Given the wealth of excellent liberal arts colleges around the United States, why would a high school senior choose Rochester out of the pack?

For hundreds, perhaps thousands of the musically minded over the last seven and a half decades, the answer has been the presence of the Eastman School of Music and the strong tradition of community music-making in the Rochester area.

It is highly appropriate then that we examine this rich vein of student talent at the River Campus as we celebrate the Eastman Diamond Jubilee.

Here, arbitrarily selected, are some of our notable campus musicians:

Among the 300-plus B.A. music students, several have become composers, including William Bergsma '42, '43E (Mas), Arthur Frackenpohl '47, '49E (Mas), Ashenafi Kebede '62 (who was born in Ethiopia), Eugene Kurtz '47, '49E (Mas) (who has lived in Paris for many years), Robert Stern '55, '56E (Mas), '62E (PhD), and Mark Weber '87.

Notable performers have included William Dooley '54, baritone, who after graduation became a soloist with the Deutsche Oper Berlin and the Metropolitan Opera in New York. He sang with the All-University Symphony at its 10th anniversary concert in 1965.

Carl Ellenberger '61, flute, was a member of the Eastman Wind Ensemble and went on to become an eye doctor. He manages the Mount Gretna Music Festival in Pennsylvania in the summertime.

Philip Kolker '63, '67E (Mas), bassoon, arrived on campus as a 17-year-old prospective physics major from Albany, New York. His advisor, physics professor Everett Mark Hafner, greeted him by saying, "I feel I must tell you that the last two bassoon-playing physics majors have flunked out."

This mordant comment notwithstanding, Kolker persisted, although he gravitated more and more toward music, and by the time he was in graduate school at Eastman, he was playing in the Rochester Philharmonic. Highly respected by River Campus musicians, he found time to return to the campus and play with the Baroque Ensemble. He is presently principal bassoon of the Baltimore Symphony and performs in Ellenberger's series at Mount Gretna.

Joseph Koplin '65, trumpet, was Ellenberger's roommate and, like Carl, was good enough to play in the Eastman Wind Ensemble under Frederick Fennell '37E, '39E (Mas). After graduating (following a three-year hiatus between his junior and senior years for military service with the U.S. Army Band), he played in the American Symphony under Leopold Stokowski before leaving music as a profession and becoming a CPA and tax law expert. An award in his name is given each year to a deserving River Campus musician.

Dorothy Kaplan Roffman '61 went on to become a professional performer and teacher in New York City. She, too, played in the American symphony under Leopold Stokowski. For the past 25 years, she has taught in the preparatory department of the Manhattan School of Music. She is also the founder of the Thurnauer School of Music in northern New Jersey.

Harrington E. Crissey, Jr. '66
Elkins Park, Pennsylvania


Another musical product of the River Campus, Kit Crissey annually organizes Eastman School alumni concerts in the Delaware Valley area--Editor.






| UR Home | Review Contents | Mail |



Copyright 1997, University of Rochester, Rochester, New York, USA
Maintained by University Public Relations
Last updated 3-27-1997 (jc)