The Rochester Review, University of Rochester, Rochester, New York, USA



After Words
JEFF COHEN '81
1997: Deciding What's Good for General Motors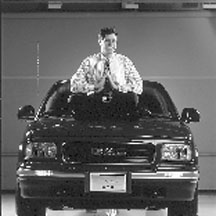 Jeff Cohen tells the story of a young relative who said to her parents, "When Jeff used to work at Johnson & Johnson, he brought us baby powder, and when he worked at Nabisco, he'd bring us Oreos and Chips Ahoy.
"Now he works for GM--so is he going to bring us a Jimmy?"
Well, not quite, considering that your typical upscale sport-utility vehicle (we're talking four-door, four-wheel-drive, 200-horsepower, V6 engine, four-speed automatic transmission with cruise control, power windows, doors, and locks, AM/FM cassette, and special suspension package, not to mention all-leather interior) can run you around $30,000, give or take a thousand or two, plus destination charges and taxes.
Despite these sticker prices, Americans love their SUVs. "They make people feel like they can conquer anything, like they can take on the great outdoors," says Cohen. "And they get people through any kind of weather--particularly in a place like Rochester, which happens to be one of our best markets."
Cohen was hired by GM in early 1996, fresh from a job marketing SnackWell cereal bars at Nabisco, to be the brand manager for the Jimmy, one of the company's three mid-size sport utilities (the others are the Chevy Blazer and the Oldsmobile Bravada). He was one of six outsiders who joined 29 GM veterans as brand managers --after an arduous selection process involving senior executives, multiple interviews, personality-profile and critical-thinking tests, and a day-long case-study exercise.
Last March, in a story on GM's "marketing tune-up" (a story that focused primarily on Cohen and his work), Newsweek explained his new assignment this way. "Forget lean manufacturing. In Detroit, today's hottest buzzword is brand management. It's a concept that's bringing marketing pros like Cohen, a 37-year-old Northwestern M.B.A. who's peddled products from baby wipes to Nutter Butter granola bars, into the insular auto industry. The newcomers' goal: to rid showrooms of look-alike vehicles that aim for the same buyers."
Cohen's job, in other words, is marketing with a capital M, creating in people's minds a reason why they want the product. (This last phrase is a quote from another member of the University community who recently moved to GM: Ron Zarrella, former Bausch & Lomb president and one-time member of the Board of Managers for Strong Memorial Hospital, is now the company's marketing chief.)
Consider the responsibility: With $168 billion in sales for fiscal 1996, GM is the largest company in the world, and any one of its 35 product lines is bigger than most companies on the Fortune 500 list. This doesn't quite faze Cohen, who grew up in Detroit and toured his first auto plant when he was 6. "I've always loved cars," he says. Besides, he continues, "My experience equipped me to do the job. 'Brand manager' is a title I already had in 1989."
In that position, he's performed admirably well. A story in the January 6, 1996, issue of the trade magazine Brandweek noted, "As senior business director at the Nabisco Biscuit Company, Jeff Cohen was one of those 24-hours-a-day, seven-days-a-week, 52-weeks-a-year guys who made SnackWells a $400 million brand in two years." Now, the magazine continued, "he'll have to get consumers to pay thousands for something that can neither be shrink-wrapped nor end-aisled."
GM shareholders are betting on the experiment--as is Cohen. The Newsweek story concludes with a description of some late-night work at home: "He tucked in his son and returned to the kitchen table armed with highlighters and a project binder. Tomorrow would bring another strategy meeting, and his presentation needed polish. Sleep would wait. Such is the life of the folks inventing Detroit's new way to move the metal."
1981: Marketing the Movies
"My marketing career really began at Rochester," says Cohen. (He also met his wife at the University: He and Beverly Gield Cohen '81 now have two children, Joshua, 9, and Danny, 6--and live, appropriately, in Rochester Hills, Michigan.)

Cohen got involved in the Cinema Group and eventually became chairman of what had previously been a low-key organization. Michael Kaner '81--a former suitemate who now practices dentistry in the Philadelphia area--recalls that "Jeff was responsible for single-handedly turning it around. Before he arrived, the Cinema Group was showing movies maybe one or two nights a week. By the time he left, they were up to five or six. He turned the group around from a money-losing venture to one that was very profitable, giving money back to the Student Association and helping to benefit other organizations."

The way Kaner sees it, his friend was applying the same skills back then that he now uses at GM: "excellent organizational skills and interpersonal skills." Plus lots of hard work, he adds. "Along with his academic work, Jeff was managing a full-time outside activity and doing it very, very well.

"Fast-forwarding 16 years, I'm not at all surprised he's doing so well. He had that spark."
---
Denise Bolger Kovnat

| UR Home | Review Contents | Mail |



Rochester Review--Volume 60 Number 1--Fall 1997
Copyright 1997, University of Rochester
Maintained by University Public Relations(jc)