Rochester Scholar Medals Go to Graduate Alumni Charles Swenberg and Jacquelyn Campbell

York

At commencement in May, the University honored three alumni. The Hutchison Medal, the highest honor the University gives to its alumni, went to Herbert York, distinguished physicist and adviser to four presidents. Distinguished Rochester Scholar awards went to physicist Charles Swenberg '67 (PhD) and women's-health scholar Jacquelyn Campbell '86N (PhD).

York is a noted physicist and weapons scientist who served as adviser to Presidents Eisenhower, Kennedy, Johnson, and Carter. He was the founding director of Lawrence Livermore Laboratory and later was chief scientist for the Department of Defense and the first director of the Office of Defense Research and Engineering. He served briefly as interim Secretary of Defense before leaving Washington to become chancellor of the University of California at San Diego.

A scientist at the Armed Forces Radiobiology Research Institute, Charles Swenberg has produced seminal research on the molecular intricacies of photosynthesis and on electronic processes in organic compounds and polymers.

Jacquelyn Campbell, the Anna D. Wolf Endowed Professor at the Johns Hopkins University School of Nursing, is one of the nation's foremost scholars in the area of domestic violence. She also devotes a large share of time working with government officials and non-profit agencies to change public perceptions and actions about violence against women.
---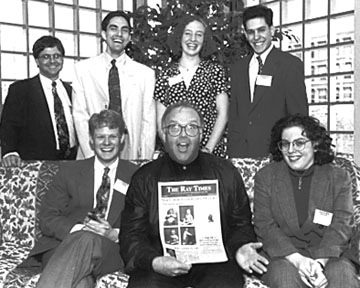 In honor of the 50th birthday of Ray MacConnell (front and center) -- graphic artist, father figure, and chief cookie baker for the staff of the Campus Times -- some 75 CT alumni returned to Rochester in May for their own special reunion. Seen here with MacConnell (who holds a special edition of the Ray Times) are (back row, left to right) Jonathan Epstein '93, Seth Krostich '98, Rachel Dickler '96, and Joshua Rovner '97; (front) Stephen Bradt '96 and Allegra Boverman '96.

---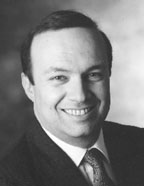 Aroesty

At Reunion in June, Sidney Aroesty '74 received the James S. Armstrong Alumni Award for service to the University.

A member of the Trustees' Council of the College since 1994, Aroesty is a director and consultant for Diagnostic Products Corporation of Los Angeles, having been CEO until 1994. He chairs the Nominations and Membership Committee of the Trustees' Council and has given much of his time and energy in support of the School of Engineering and Applied Sciences. During the Campaign for the '90s, he was a committee member for the Rochester-area regional campaign. Aroesty is also a generous donor with a number of family ties to the University-- including his parents, Marilyn Stolnitz Aroesty '44 and Albert Aroesty '51.

The Armstrong Award recognizes outstanding service to the University in broad and varied volunteer roles. It honors the University's former director of alumni relations, a member of the Class of 1954 who served at the University from 1976 to 1987.
---
Despite reports to the contrary in the new edition of the Alumni Directory, Lisa Marie Surovcik Walkush '89 and Aihua Zhou '95 are alive and well. The Alumni Association regrets the errors.
---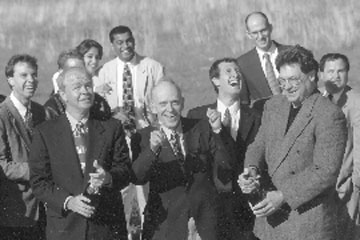 Celebrating his 42 years of coaching tennis and squash at the University, Peter Lyman '47 (above, center) shares a toast with some of his former players: (left to right) Ethan Morris '97, James McKinlay '69, Sonya Hachadha, Krishna Davuluri '97, Salvatore Mauro '91, Matthew DiBiase '82, Howard Pratt '60, '66 (PhD), and Robert Swartout '83, '92S (MBA). In May, some 140 alumni, students, and friends returned to campus for Lyman's retirement dinner and to toast the success of the Peter Lyman Tennis Center Campaign, which should conclude this summer.

---

Meyer

In the field of motion pictures and television, a surprisingly large number of Rochester alumni play leadership roles. On April 29 in Burbank, Calif., they offered their views on issues and trends in the industry at "UR in Hollywood," an event sponsored by the Alumni Association and hosted by Barry Meyer '64, executive vice president and COO for Warner Bros.
| | |
| --- | --- |
| | Dutka |
Some 120 alumni and friends were treated to a tour of the new Warner Bros. Museum followed by a cocktail and hors d'oeuvre reception at the executive commissary and a panel discussion. Elaine Dutka '69, movie writer for the Los Angeles Times, moderated. Panelists included Leonard Bart '80, senior vice president of administration for Warner Bros. Domestic Television Distribution; television-movie producer Ilene Berg '71; movie, television, and advertising composer Roger Boyce '86E; producer Richard Fischoff '68 (whose credits include The Big Chill); Kathy Garmezy '71, executive director for the Artists' Rights Foundation; Jay Kugelman '64, director of the KPFK Film Club, a preview screening series of mostly foreign and American independent films; and John Levey '69, vice president for casting for Warner Bros. TV (whose casting credits include China Beach and the Emmy Award-winning ER).

If you or someone you know works in television or motion pictures, contact Chuck Pickhardt at the Alumni Association (numbers at right). This will help the University keep records up to date.
---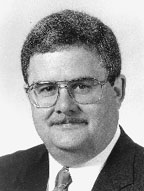 Mack

In the spring, David Mack '69 became president of the Trustees' Council of the College and Gwen Meltzer Greene '65 became president-elect, to begin her term in spring 1998. Joining the council were Robert Colón '88, Howard Pratt '60, '66 (PhD), and Mark Weinstein '65, '69M (MD). The council is the senior alumni advisory board for the College.
| | |
| --- | --- |
| | Greene |
Mack is senior vice president for corporate relations for Finger Lakes BlueCross BlueShield and Greene is associate director of Bear Stearns & Co. in New York City. Colón is an associate of the Rochester law firm of Woods, Oviatt, Gilman, Sturman, and Clarke. Pratt, of La Jolla, Calif., is senior vice president for Science Applications International Corp. Weinstein, of Woodbridge, Conn., is a plastic surgeon and the father of Joshua Weinstein '98 and Ellyn Weinstein '00. Other nominations are pending.

Other recent appointments: At the Eastman School of Music, concert pianist Dora Serviarian-Kuhn '55E of Pasadena, Calif., was appointed to the Trustees Visiting Committee. At the Medical Center, Ronald Knight '61 of Pittsford, N.Y., was named chairman of the Medical Center Board. He is vice president of staff operations for Xerox Corporation. At the School of Engineering and Applied Sciences, Thomas Hendrickson '40 (MS) of Perry, N.Y., was appointed to the Visiting Committee. He is president and CEO of CPAC, Inc., of Leicester, N.Y. Finally, at the Simon School, Paul Brands '66S (MBA) of Falls Church, Va., and Ronald Fielding '73 (MA), '76S (MBA) of Rochester were appointed to the Executive Advisory Committee. Brands is CEO of American Management Systems and Fielding is chairman of the Rochester Division of OppenheimerFund.
---
Please write that person a letter (specifying the individual's name and class year) and send it--in a sealed envelope if you prefer--to the Fairbank Alumni House, University of Rochester, Rochester, NY 14627-8993. We will then forward the letter.

Why do we ask this? To protect the privacy of our 79,000 alumni. The Alumni Association does not, without permission, share the addresses or phone numbers of alumni with anyone, including fellow alumni.
---
Remember pep rallies? The flag rush? Moving Up Day? The crowning of the Homecoming king and queen?

What were your favorite events when you were an undergraduate? The Alumni Association is looking for your reminiscences, as current undergraduates look for opportunities to celebrate the University and bring spirit to campus. If you have any memories you'd like to share, please contact the Alumni Association at the phone number listed below.
---
ALUMNI COUNCILS
With organizations in major American cities and around the world, the Regional Alumni Councils offer a range of opportunities for alumni to become involved with the College, including community-service activities, student recruitment, social events, fundraising efforts, career networking, and reunion planning. For details on activities in your area, call Terry Gurnett '77 in the Alumni Association at (800) 281-2055. The Rochester-area number is (716) 273-5894. The e-mail address is info@alumni.rochester.edu and the URL for the Alumni Association home page is http://listener.uis.rochester.edu/alumni.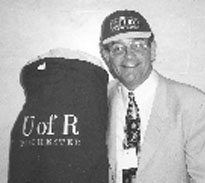 In San Francisco in April, Trustee C. Woodrow ("Woody") Rea, Jr. '70 hosted the kickoff meeting for the Bay Area Regional Alumni Council at the California Palace of the Legion of Honor, an art museum overlooking the Golden Gate Bridge. There, President Jackson spoke to a group of 200 alumni, updating them on the Renaissance Plan and other programs at the University. James Gebhardt '92 is the new council president.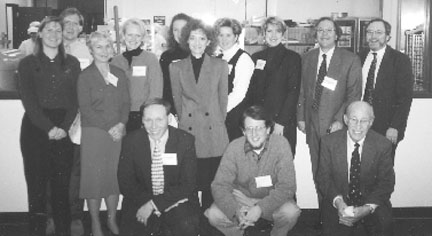 The first official meeting of the Denver Regional Alumni Council took place in February at the Denver Culinary Institute. Nearly 20 alumni and friends attended--including those pictured above: (back row, left to right) Jody Morrow Moore '89, Jeffrey Moore '89, Kathryn Wingard '94, Gabrielle De Angelis '93, Susan Malone Back '69, Colleen Carmody '94, Melissa Lormore, Michael Sabian '63, and Stuart Pack '72; (front row) Terry Gurnett '77, Walter Horner '95, and Max Kaplan '33.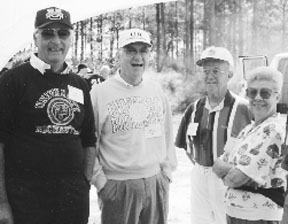 In Ormond Beach, Fla., in March, Jack LaTemple, Hubert LaTemple '63, Russell Fullerton '50, and Beverly Fullerton were among the alumni and friends who enjoyed a tailgate party prior to a baseball game between the Yellowjackets and Bluefield State (in West Virginia).

In Hong Kong last January, Walter Li '80M (Flw), '81M (MS) met with Barbara Iglewski, vice provost for research and graduate affairs at the University. Li is director of the Hong Kong Sanitorium and Hospital.



In Alanta in April, these alumni and friends met at the home of Trustee Jerry Gardner '58, '65 (MA) to discuss programs and activities for the upcoming year. Council president Kathy Waller '80, '83 (MBA) led the discussion. Waller also serves on the Trustees' Council of the College.



---
At Reunion in June
For the Classes of 1952, '57, '62, '67, and '72 and the Slater Society (pre-1950)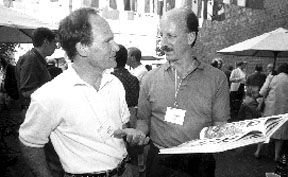 Simon Dratfield '72 and Berton Taffet '72 talk over an old issue of Interpres.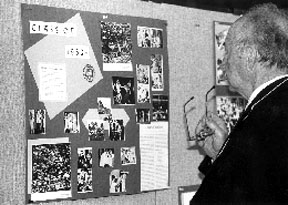 A look back at the undergraduate days of the Class of '52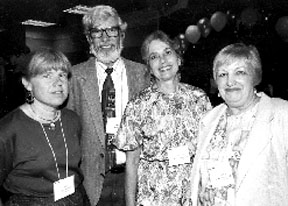 Rita Fuller Freuder '67, Richard Cantor '62, Suzanne Klabunde Cantor '62, and Roberta Ewing Frederick '62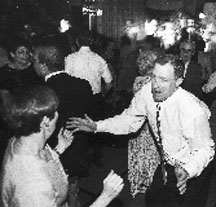 "Twisting" at the All-Alumni Dinner Dance on Saturday night: Eric Berson '72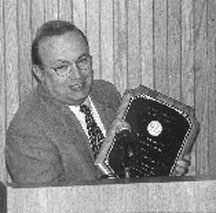 Sid Aroesty '74, a member of the Trustees' Council of the College, gives thanks for receiving the Armstrong Award.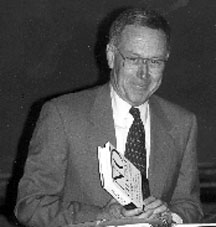 Donald Daucher '67 presents the Alumni Lecture of Distinction.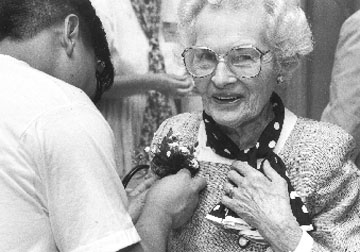 Ruth Harmon Fairbank '31 at the Slater Society Luncheon



| UR Home | Review Contents | Mail |



Rochester Review--Volume 60 Number 1--Fall 1997
Copyright 1996, University of Rochester
Maintained by University Public Relations(jc)