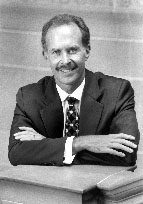 This section of Rochester Review presents an overview of some of the most noteworthy events of the past academic year.
High points for the year include the improvements in the College under the Rochester Renaissance Plan, the groundbreaking for a new medical research building, the continuing progress of the Eastman Initiatives, and the increasingly international perspective of the Simon School. These efforts bode well for the future of the individual schools as well as for the University as a whole.
As you read on, I hope you'll take pride in the distinguished accomplishments of our faculty and students. I hope that you'll also gain a clearer picture of what this institution is all about, as a place where the highest value is placed on creating and sharing the invaluable gift of knowledge.
Thomas H. Jackson
President
---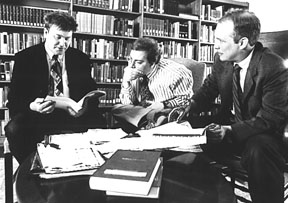 Mining documents: Burds, Greene, and Coleman

Working in Russia in the summer of 1996, Gabriel Coleman '97 and Robert Greene '97 got a rare look at secrets that officials had kept from citizens for decades. Working with them was Jeffrey Burds, assistant professor of history and co-founder and director of the Center for the Study of Russia and the Former Soviet Union, an inter-university consortium based in Rochester and at the University of California at Riverside.

Each summer, the program selects some 50 scholars--usually, only graduate students and postdocs from the most prestigious universities--for training and research in Russia. Coleman and Greene were chosen based on their outstanding work in undergraduate courses. Both completed honors projects on their studies: Coleman focused on the music and writing of "guitar bards" in Soviet prison camps during the 1950s and Greene looked at the destruction of the Ukrainian Catholic Church at the hands of the Soviets from 1944 to 1946.
---
At once demanding, compassionate, and knowledgeable, great teachers exert an influence that extends far beyond the classroom. At Commencement in May, three of the University's most gifted teachers were honored for their contributions.

James Allen, the John H. Dessauer Professor of Computer Science, received the University Award for Graduate Teaching. In his 19 years at Rochester, Allen has advised 15 doctoral students, more than any other member of the computer science faculty. Many of these students have gone on to become internationally recognized in the pioneering field of computational linguistics.

Political scientist Melanie Manion received the G. Graydon and Jane W. Curtis Award in Honor of Professor Ralph Helmkamp for Nontenured Faculty Teaching Excellence. Manion, says one student, has an admirable ability to "impart knowledge and at the same time learn with us." In eight years at Rochester, she has won national and international respect for her studies on Chinese politics.

Political scientist John Mueller received the Edward Peck Curtis Award for Excellence in Undergraduate Teaching. The author of four books and innumerable articles in scholarly journals and general publications, Mueller is "an inspiring example of how one should go about learning," in the words of one former student.
---
The silicon-based computer-chip industry is worth hundreds of billions of dollars a year, but silicon has one major flaw: It emits light only feebly. This has become increasingly troublesome as scientists turn to light to carry a growing amount of digital data around the globe.

In 1990, scientists discovered that a specially prepared type of silicon, porous silicon, could emit light--but its porosity made it too fragile to withstand conventional manufacturing techniques.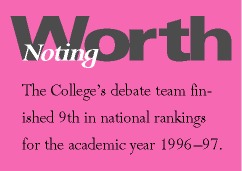 Now, Philippe Fauchet, professor of electrical engineering, and colleagues at the University and Rochester Institute of Technology have created a form of porous silicon that withstands the rigors of today's manufacturing environment. To achieve this, they integrated a porous-silicon light-emitting diode (LED) into conventional microelectronic circuitry, making possible an all-silicon system that processes both light and electricity. The study appeared last November in the journal Nature.
---
Rochester undergraduates won an impressive array of national honors over the past academic year. Among them:
Eastman student Matt Curlee '98 became the third American and one of the youngest musicians ever to win first prize in interpretation at the 15th Grand Prix de Chartres international organ competition.
Michelle Dowd '97, an English and history major, and Robert Greene '97, a history major, were named 1997 Andrew W. Mellon Fellows in Humanistic Studies.
Ivette Ganatsios '97 was one of 20 students named to USA Today's All-USA College Academic First Team.
Eastman student Donald Sparr '97 won the grand prize in the college orchestra category of the National Young Composers Competition for his single-movement work for orchestra, Wrought Hocket.
Sharon Weiss '99, an optics major, won a Goldwater Scholarship providing $7,000 for each of her remaining two years of study.
---
University researchers rank among the most productive in the nation, according to two new studies.

When size is accounted for, Rochester ranks 12th among private universities in research productivity, write Vanderbilt University professor Hugh Davis Graham and Goucher College administrator Nancy Diamond in their book, The Rise of American Research Universities. The authors use a number of criteria to measure research productivity across the disciplines in the sciences, social sciences, and humanities.

In another study controlling for size, Rochester's political science program was rated first in the nation. As reported in the journal PS: Political Science and Politics, Richard Katz and Munroe Eagles of the State University of New York at Buffalo examined data in several disciplines and concluded that size skewed the quality rankings, masking the true productivity of small programs.
---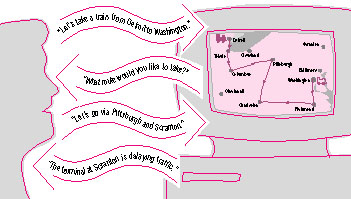 Through an experimental program called the "Trains Project," researchers are taking the computer further than ever before in understanding spoken conversation. The system, unveiled last year at a meeting of the Association for Computational Linguistics, uses a computerized "assistant" to help a human engineer route trains throughout the Northeast. Speech recognition is just the beginning, explains James Allen, John H. Dessauer Professor of Computer Science: "The critical missing component to a conversational computer has been understanding and reasoning."

---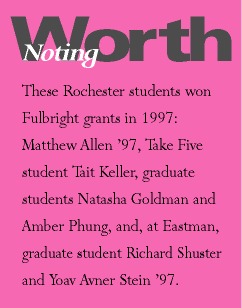 It wasn't just any group of freshmen who enrolled in the College last fall: Not only is the Class of 2000 the University's sesquicentennial class, it's also the first class to enter under the aegis of the Rochester Renaissance Plan.

The 900 freshmen were chosen from a record 9,057 applicants, representing an 8 percent increase over the previous year. One out of five was a high school valedictorian or salutatorian, and well more than one out of three had total SAT scores of 1350 or higher--making them ideally suited for the kind of rich educational environment fostered by the Renaissance Plan.

A set of initiatives to enhance educational programs in the College, the Renaissance Plan--announced in 1995--calls for a new undergraduate curriculum, smaller undergraduate class sizes, investments in River Campus facilities, and, in general, a more intimate and residential collegiate experience for Rochester's undergraduates.
Curriculum: Through the new Rochester Curriculum, every student will graduate with competencies across the liberal arts--in the humanities, social sciences, and sciences.
Class size: By design, the Class of 2000 is 200 to 250 students smaller than its immediate predecessors. The Classes of '01, '02, and '03 will follow suit, so that, by 1999, the College will have 3,600 undergraduates--considerably fewer than the 4,500 undergraduates on campus in the 1980s and early 1990s. These changes will, in the long run, make more resources available per student.
A more intimate and residential college experience: To that end, the Residential College Commission--comprising faculty, students, trustees, and administrators--made its initial recommendations in early 1997. (For details, see "Progress Report on Campus Improvements".)
Learning in the College

HUMANITIES
SOCIAL SCIENCES
SCIENCES/ENGINEERING
Art

Art History

Classics

Comparative Literature

English

Film Studies

Foreign Language
and Literatures

Music

Philosophy

Religion

Anthropology

Economics

Health and Society

History

Linguistics

Political Science

Psychology

Biology

Brain and Cognitive Sciences

Chemistry

Computer Science

Engineering

Environmental Science

Geology

Mathematics

Physics and Astronomy

Statistics

In the College curriculum, students choose a major and/or a cluster of inter-related courses in each of the three areas of learning shown above.
---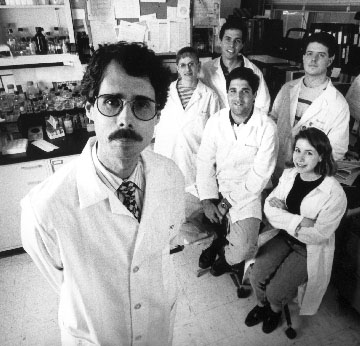 Creators of a "vaccine cocktail":
Professor Howard Federoff and colleagues

Liver cancer strikes more than two million people a year. Most cases are treated surgically, but more often than not the cancer returns--usually to spread even faster.

Scientists at Memorial Sloan-Kettering Cancer Center have pioneered methods to boost the immune system in such patients, trying to help the body rid itself of cancer cells. Hoping to use gene therapy to supplement this immune response, the group turned to Howard Federoff, professor of neurology at the medical school and chief of the Division of Molecular Medicine and Gene Therapy, who also holds an appointment at the University's Cancer Center.

Their combined effort has produced a strikingly successful "vaccine cocktail," known as an autologous tumor vaccine, that has eliminated cancerous tumors in laboratory rats. The vaccine was created with genetically modified cells that act as a beacon to the body's immune system, drawing to the liver great numbers of immune cells that developed in response to the telltale proteins found on the surface of the existing cancer cells. As reported last spring in the Journal of Clinical Investigation, laboratory rats were divided into two groups: a control group and a group that received the vaccine, and both groups were then injected with cancerous cells. The study showed that, while the controls typically had dozens of tumors each, the majority of the animals receiving the vaccine were cancer-free.

Over the past year, Federoff and colleagues made progress in other areas of gene therapy, in producing vital proteins that help keep nerve cells alive (see Protecting Neurons from Parkinsonism for news on using this technique in fighting Parkinsonism) and in turning on or off a gene in the adult nervous system at any time or any place.
---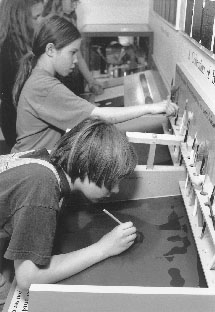 With the goal of teaching patrons, especially children, how to get the most out of a visit, the Memorial Art Gallery opened the new Dorothy McBride Gill Education Center. The center's first exhibit, "A Looking Laboratory," is designed to serve as a starting point, challenging visitors not only to see but to experience the creative process that went into a 17th-century still life, a 1920s abstracted landscape, and a 1959 abstract painting.

Enterprises like the Gill Center have earned the gallery a glowing reaccreditation report from the Association of Art Museum Directors, which found the gallery to be first in annual attendance among all university art museums. The gallery was among the top five--along with peers at Harvard, Yale, and other distinguished universities--in building size, exhibition space, and net revenues.

Artful play: children in the Gill Center



---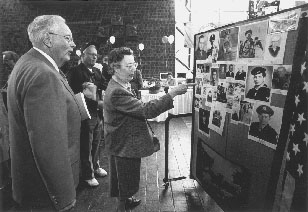 At the "Veterans' Wall of Memories"

For the University at large, World War II was a period of continuity amidst change: Class identities were blurred, with many students coming and going and coming back again. For that reason, the University last October hosted the Late-Forties 50th Reunion, a one-of-a-kind event for the Classes of 1946, '47, '48, and '49 and alumni veterans of World War II.

For many, it was an unforgettable experience. Some 500 alumni sat in on undergraduate classes, studied the "Veterans' Wall of Memories," dedicated a memorial to the University's war veterans, heard President Jackson discuss the state of the University, and danced to the music of the 1940s.

With a goal of $5 million for their reunion gift--and a campaign that ends on the 50th anniversary of the Class of 1949 graduation--alumni had by May 1997 raised a total of $3.9 million to support Rush Rhees Library and programs of the College.

---
For managers in the health care industry, rapid changes in the financing and delivery of health care present major challenges and opportunities. In response, the Simon School has launched a new M.B.A. concentration in health care management.

In contrast to traditional programs leading toward a master's degree in public health, the new program focuses primarily on two management issues: ongoing operations and strategic planning. It was designed for students aiming for careers as health care consultants and front-line managers in health-maintenance organizations, hospitals, insurance companies, and pharmaceutical firms as well as for physicians, nurses, and other health-industry professionals who want to add to their existing knowledge.
---
Fiber-optic cables . . . 10baseT Ethernet drops . . . 10 million bps per student . . . 1,393 dorm rooms . . . What's it all add up to? The answer is ResNet, the new high-speed computer network that links residence halls to the World Wide Web.

Thanks to ResNet and other computer innovations, the University last year was rated among the 25 "most-wired campuses" nationwide in a survey conducted by Yahoo! Internet Life magazine. The work to install ResNet--short for Residential Computing Network--began in January 1996. By the summer of 1997, all students on the River Campus and at the Eastman School of Music were to have personal access to the Web from their own dorm rooms. Logan Hazen, director of residential life for the College, estimates the overall cost to be at least $1 million.
---
Medical Center researchers last fall received two of the most prestigious awards in medicine.

For developing a vaccine that protects infants from meningitis and then founding a company that makes the vaccine, David Smith '58M (MD) and Porter Anderson, professors emeritus of pediatrics, won the Albert Lasker Clinical Research Award. Before the vaccine was developed, children stood a 1-in-200 chance of contracting diseases caused by Hib bacteria, including meningitis, the most common cause of acquired deafness. Of the 280 past winners of the Lasker Prize, 52 have gone on to win the Nobel Prize.

T. Franklin Williams, professor of medicine emeritus, received the Gustav O. Lienhard Award for the advancement of health care from the Institute of Medicine of the National Academy of Sciences. The award is recognized as the top honor in health care policy in America. Together with Robert Butler of Mount Sinai Medical Center, Williams was honored for raising public awareness of geriatrics and gerontology. (Butler and Williams were the first and second directors of the National Institute of Aging.)

No other institution can claim four faculty members who have received the award, which was first granted in 1986. The University's other Lienhard Award winners are Loretta Ford, professor and dean emeritus of the School of Nursing, Robert Haggerty '51M (Res), professor and former chair of pediatrics, and the late Ernest Saward '39M (MD), professor of social medicine.
---
Huntington's disease is caused by a genetic mutation on the fourth chromosome. The inherited mutation, affecting 15,000 to 30,000 people nationwide, results in the death of vital nerve cells in a region of the brain controlling motor movements.

While drugs can treat some of the symptoms, there has been no treatment for the disease itself. Now, the University is the center of the largest trial ever conducted on medication for Huntington's patients. The study, which began in May, is taking place at 22 medical centers nationwide over four years.

In the study, funded by the National Institute of Neurological Disorders and Stroke and involving 340 patients, physicians are testing two medications for their ability to prevent worsening symptoms: the experimental drug Remacemide and the nutritional supplement Coenzyme Q10. The trial is led by Karl Kieburtz '85M (MD), '85M (MS), associate professor of neurology.
---
Every week at a Head Start program in downtown Rochester, 36 preschoolers take home their "Zip Kits"--Ziploc bags with materials for the science project of the week. "They even make their parents work with them on it," says Lucia French, a professor at the Warner School and creator of the one-of-a-kind science program.

French's program, geared toward children 4 to 6 years old, is now part of a demonstration project at Third Church Head Start Center. Teacher training has begun at other Head Start sites in Rochester--and in May, French traveled to Washington to work on a similar program for a model day-care center at the National Science Foundation.

Head Start teachers who initially were less than enthusiastic about the program are now complete converts, reports French. "Compared with what they used to teach, the program captures the children's interest and minimizes misbehavior."
---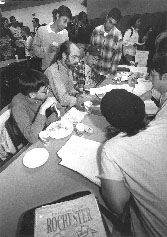 Study session with Professor Doug Ravenel.

That's the Internet address for "WeBWorK" --a program that helps students master the tough subject of calculus and helps professors monitor their progress.

Using a different set of problems for everyone, WeBWorK responds instantly when students type in an answer. If they answer correctly, they continue with the rest of the problems; if not, they try again. Programmed by the team of Basem Moussa '98, Scott Douglass '97, and Hoss Firooznia '96, WeBWorK was conceived by professors Arnold Pizer and Michael Gage. In recognition of the program's success and a "history of imaginative and enthusiastic teaching," Gage received the 1997 regional teaching award from the Mathematical Association of America.

WeBWorK is just one of many initiatives in the math department, which, after a sweeping review of its programs, re-emerged last year with new leadership and energy as well as a reinstated, high-quality Ph.D. program.

---
William Bowen '62M (MS), the Margaret and Cy Welcher Professor of Dental Research, received the 1997 Yngve Ericsson Prize in Preventive Odontology from the Swedish Patent Revenue Research Fund.

Robert Joynt--internationally known neurologist, former vice president and vice provost for health affairs, and dean emeritus of the medical school--became a fellow of the American Association for the Advancement of Science. Also in 1997, he was named Distinguished University Professor.

Charles Plosser, dean of the William E. Simon Graduate School of Business Administration, is one of five business school deans joining the board of directors of the Graduate Management Admission Council (GMAC), the global organization of graduate schools of business.

Seymour Schwartz '57M (Res), chair of the Department of Surgery, became president-elect of the American College of Surgeons, the world's largest surgical society. He is known as an innovative surgeon, teacher, and author who has made impressive contributions to his field.

M. Duncan Stanton, professor of psychiatry, received the 1997 American Family Therapy Award for Outstanding Contributions to Family Therapy Research. The honor recognizes his "outstanding body of work and its impact on the family therapy field."
---
In one important sense, the past academic year was like any other: Rochester faculty were as prolific as ever in writing new books for both scholarly and general audiences. Here are just a fewpublished last year.

A Midwife Through the Dying Process by Timothy Quill '76M (MD), '77M (Res), professor of medicine in the School of Medicine and Dentistry (Johns Hopkins University Press)

Our Sisters' Promised Land: Women, Politics, and Israeli-Palestinian Coexistence, by Ayala Emmett '80 (PhD), associate professor of anthropology in the College (University of Michigan Press)

School-Based Prevention for Children at Risk: The Primary Mental Health Project by University psychologists Emory Cowen, A. Dirk Hightower, JoAnne Pedro-Carroll '84 (PhD), William Work '86 (Flw), and Peter Wyman '88 (PhD), with William Haffey (American Psychological Association)

The Religion Factor: An Introduction to How Religion Matters, edited by William Scott Green, dean of the College and the Philip S. Bernstein Professor of Jewish Studies, and Jacob Neusner (Westminster John Knox Press)

Women and the Common Life: Love, Marriage, and Feminism by Christopher Lasch, the late Don Alonzo Watson Professor of History in the College (W. W. Norton & Company)

Relic, Icon or Hoax? Dating the Shroud of Turin by Harry Gove, professor emeritus of physics and astronomy in the College (Institute of Physics)

Speak Low (When You Speak Love): The Letters of Kurt Weill and Lotte Lenya, edited and translated by Lys Symonette and Kim Kowalke, professor of musicology (University of California Press)

Past Looking: Historical Imagination and the Rhetoric of the Image by Michael Ann Holly, chair of the Department of Art and Art History in the College (Cornell University Press)

The Condition of American Liberal Education: Pragmatism and a Changing Tradition by Bruce Kimball, associate dean of the Margaret Warner Graduate School of Education and Human Development (College Entrance Examination Board)

The Lesser Antilles in the Age of European Expansion, edited by Robert L. Paquette and Stanley Engerman, John Munro Professor of Economics (University Press of Florida)

The Success Principle by Ronald Yeaple '65S (MBA), '84 (PhD), executive professor of business administration at the Simon School (Macmillan)
---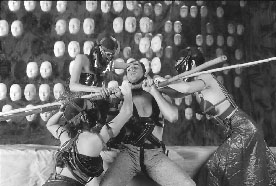 The Bard, no holds barred: a scene from Coriolanus

The American College Theater Festival, administered by the Kennedy Center in Washington, D.C., extends invitations only to outstanding companies and productions. That's why it was a special honor last year when a festival jury found a student production of Shakespeare's Coriolanus to be one of the five best productions among colleges throughout the Mid-Atlantic states, including Delaware, the District of Columbia, Maryland, New Jersey, New York, and Pennsylvania.

The prize: In January, some 20 students in the University of Rochester Theatre Program performed the play for the regional festival at Muhlenberg College in Allentown, Pennsylvania. Mervyn Willis directed and sets were designed by Nikita Tkachuk. It was the second time a University production was selected for the prestigious festival.

---
Aiming to place the Medical Center among the top nationwide in attracting research funding, the Board of Trustees in February approved a $113 million plan for improvements and expansion.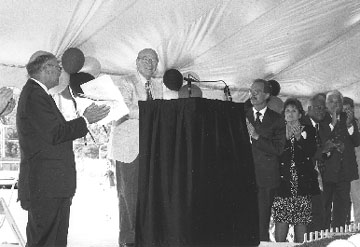 Celebrating the groundbreaking: Jay Stein, senior vice president and vice provost for health affairs; Nobel laureate Arthur Kornberg '41M (MD); President Thomas Jackson; Congresswoman Louise Slaughter; Rochester Mayor William Johnson; and dean of the medical school Lowell Goldsmith


According to Jay Stein, senior vice president and vice provost for health affairs, the construction "will make our laboratory facilities among the finest in the world and will allow us to recruit another 50 researchers. This is an important step toward making the University a world-class center for biomedical research, education, and patient care."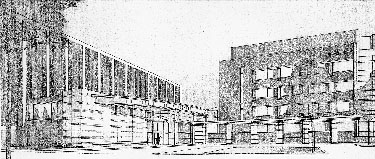 Architect's sketch: the new entrance to the medical school (left) and the Medical Research Building (right)

The plan calls for renovations to existing buildings and a new four-story building--devoted to research in cancer, aging and development, and vaccine biology and immunology--located on the west end of the Medical Center. Among the features of the 250,000-square-foot facility, to be completed in 1999: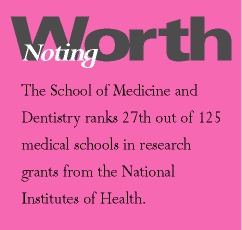 Lab space designed to encourage team-based research
Offices that will be clustered and located outside of, but near, laboratories
Generic labs to accommodate virtually any kind of bench-top research
"Support zones" on every floor for services like darkrooms and "cold rooms"
A new entrance and new conference and meeting rooms for the medical school
An infrastructure that will allow for future expansion and renovation
The improvements are part of a strategic plan developed last year. The plan serves as a blueprint for placing the Medical Center at the top nationwide through an emphasis on patient care and education as well as research at the School of Medicine and Dentistry.

---
Martin Feinberg, a professor of chemical engineering, received the 1996 Richard H. Wilhelm Award of the American Institute of Chemical Engineers. Feinberg was honored for a career of pioneering work in chemical-reaction network theory at the group's annual meeting last November.

Physicist Lynne Orr won two prestigious national grants aimed at fostering the research and teaching of promising young scientists: a National Science Foundation Faculty Early Career Development Award and a U.S. Department of Energy Outstanding Junior Investigator Award.

S. R. S. Rao Poduri, professor of statistics, was one of 60 individuals elected as fellows of the American Statistical Association in August 1996. The honor signifies outstanding professional contributions and leadership in the field of statistics.

Emil Wolf, Wilson Professor of Optical Physics and professor of optics, received honorary doctor of science degrees from the University of Bristol and the University of Laval in Quebec. The degrees honor his work in electromagnetic theory, physical optics, and the phenomenon of partial coherence.
---


Last year, the University received state approval for new bachelor- and graduate-level programs in biomedical engineering, a field that brings together disciplines in engineering and medicine to solve medical problems. Students will begin enrolling in the fall.

"Rochester became a biomedical engineering pioneer in 1961, when we won one of the first research grants ever awarded in the field," says Duncan Moore '74 (PhD), dean of the school of engineering. "We've maintained a very strong presence in biomedical engineering ever since."

Last November, the University received a $1 million grant from the Whitaker Foundation to support three new faculty members and a teaching laboratory where doctoral students can learn techniques in molecular, cell, and tissue engineering. Undergraduate and graduate students will use the lab to study processes like the ability of blood vessels to withstand physical stress and the biomechanics of single blood cells.

---
The Department of Defense has awarded the University's Center for Optics Manufacturing a $12.3 million contract to fund innovative work on irregularly shaped lenses.

The project involves designing and manufacturing an entirely new class of precision optics that conform to the contours of unusually shaped objects like airplane wings or fuselages. The work is being carried out by a consortium that includes the Center for Optics Manufacturing and four industrial partners: Texas Instruments of Dallas, the Boeing Company's Defense and Space Group of Seattle, and two local companies, Rochester Photonics Corporation and Sinclair Optics, Inc. The center is responsible for developing the design processes and machinery to produce the new lenses, while Texas Instruments is producing the lenses. Boeing is testing them in airplanes, and Rochester Photonics and Sinclair Optics are providing hardware and software support.
---
One difficulty in learning a language is picking out individual words from the stream of speech. Babies master this by thinking like statisticians, say University researchers.

Linguists know that recurring sound patterns play a role in learning language. For instance, with the four syllables "pretty baby," infants often hear the combined syllables of the word "pretty" as well as those of the word "baby," since both are common words. In contrast, they seldom hear the combined syllables "tyba" (the end of "pretty" and beginning of "baby").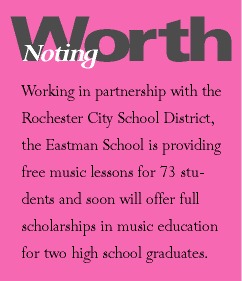 Using the statistical information that combinations like "pretty" and "baby" occur more often than combinations like "tyba," they learn where one word ends and another begins, says Jenny Saffran, a doctoral student in brain and cognitive sciences. Working with her on the study, published last year, were Professors Richard Aslin and Elissa Newport.
---
At a University-sponsored conference in Krakow in May, eight faculty members from the departments of economics and political science met with their counterparts from Poland's Jagiellonian University to exchange views on political and economic issues affecting the new democracies in Central Europe.

Organized by the University's Center for Polish and Central European Studies, in collaboration with individuals from Jagiellonian, the conference was part of the center's effort to promote understanding and exchanges between the two institutions.

Reporting on the success of the conference, center director Ewa Hauser notes that plans are now afoot to produce a book based on the analyses presented at the sessions.

Since a formal agreement was signed between the two universities in 1995, four Jagiellonian professors (in political science, religious studies, English, and Polish literature) have taught courses as visiting faculty at Rochester. This last spring three Rochester undergraduates spent the semester at Jagiellonian, capping off the experience by participating in the Krakow conference.

"It's not just the specialists who become exposed in an exchange like this," says political scientist Randall Stone, a member of the center's advisory board. "There is also a lot of potential for developing collaborative research."
---
Established under the Rochester Renaissance Plan, the Residential College Commission aims for a more intimate College environment, among other goals. At the same time, the Re-engineering Rochester initiative seeks administrative improvements University-wide.

The commission made its initial recommendations in early 1997, calling for modifications to Wilson Commons, the Frederick Douglass Building, the sports complex, and the library that would link these buildings and create a campus center; establishing additional dining and social areas on campus; extending student services and activities; improving programs and facilities in sports and recreation; and addressing the vital concerns of freshmen and sophomores. A number of recommendations have already been implemented, while others are currently under review.

Through Re-engineering Rochester, a number of "fast-track teams" studied how to achieve savings in administrative expenses and simultaneously improve the quality of services. Among their proposals: consolidating student services and clustering them geographically, improving cost effectiveness and service in River Campus dining operations, consolidating some food services across campus, streamlining administrative-computing functions, and simplifying the process of architectural-design consulting.

While the Rochester Renaissance Plan aims first and foremost to enrich the quality of learning in the College, it also seeks improvement in the essential services and programs of the learning environment. As President Jackson stated in announcing the plan, "We will make our excellent undergraduate and graduate programs significantly stronger by carefully redirecting our resources and energy."
---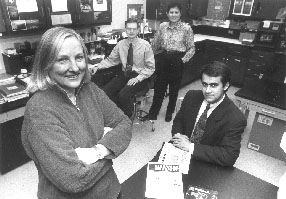 Bohn and Choi-Lundberg with Qing Lin and Hassan Mohajeri

Working with researchers at Genetic Therapy, Inc., University scientists have successfully used gene therapy to stave off symptoms of Parkinson's disease in an animal's brain.

The technique protected nerve cells that make dopamine, a neurotransmitter that's particularly important in the initiation and control of movement, by boosting the production of a key protein messenger, GDNF (glial cell line derived neurotrophic factor). Parkinson's disease, which afflicts about a half a million people in this country alone, targets a group of 200,000 to 400,000 dopamine-producing neurons deep in the brain stem.

"While this work is a long way from clinical application in humans, it is a prime example of the potential of in vivo gene therapy in the brain," says graduate student Derek Choi-Lundberg, who presented the work at a meeting of the Society for Neuroscience in November 1996. Chief investigator was Martha Bohn, associate professor of neurobiology and anatomy.

---

Physicist Borge Nodland: reversing the theory of a directionless universe?

To physicists, the concepts are basic: All space is uniform and the speed of light in a vacuum is always the same. Now, scientists at Rochester and the University of Kansas have found evidence to the contrary--evidence that, if confirmed, may even call for a rethinking of the theory of relativity.

In the April 21 issue of Physical Review Letters, Rochester physicist Borge Nodland and colleague John Ralston report finding a kind of "cosmological north star" orienting the universe. Instead of a uniformly expanding universe, the authors say, space, like Earth, may be oriented along an axis, determining how light travels through it.

"The big news is that perhaps not all space is equal, for as far back as we can peer in time," says Nodland, a research fellow at the Theory Center for Optical Science and Engineering. "This work defies the notion that there is no 'up' or 'down' in space." Co-investigator Ralston says, "The shocking thing about our result is that there seems to be an absolute axis, a kind of cosmological north star that orients the universe. We don't really know yet what this axis represents."

The two physicists were studying the polarization of radio waves from 160 distant galaxies when they discovered that, depending on the distance and direction of the source, the plane of the polarization rotated like a corkscrew as the radiation traveled through space--an effect crudely analogous to the twisting and turning of light as it travels through certain kinds of crystal.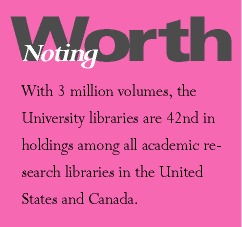 Though the cause of the corkscrew effect remains unknown, the team has constructed a mathematical theory. The data indicate that light actually travels through space at two slightly different speeds. Such a mismatch in speeds would cause the polarization plane to rotate in a manner well known to scientists--in a way that physics students observe when they pass light through corn syrup and view it with polarizing filters. The corkscrew effect found by Nodland and Ralston is far more subtle, however: Light traveling across the heavens undergoes one full rotation of its plane of polarization about once in a billion years.

The theory has provoked heated controversy. If found to be correct, it could alter the way physicists view the birth of the universe and Einstein's theory of relativity, which assumes that the universe is directionless. The work could even provide some of the first experimental evidence for physicists who theorize that other universes exist. If our universe was asymmetric at creation, and if symmetry in the cosmos is maintained as many physicists believe, then another universe with an opposite twist may have been created simultaneously. Says Nodland, "Perhaps it was not a perfect Big Bang, but a Big Bang with a twist to space and time."

---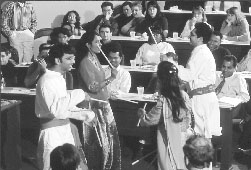 Business travelers: students at an intercultural seminar on India

As businesses become increasingly global in perspective, so do the nation's business schools.

Among the top schools, the Simon School leads the way with the highest percentage of international students. In the Class of 1998, 44 percent of 150 students hail from 32 countries outside the United States--and Simon is probably the only business school to recruit students from mainland China in their own country.

At the outset of their education, all students at the school are assigned to study groups of four or five and to "class cohorts" of 50 to 60 (who take all their classes together for the first three quarters). As Simon's international students participate in these teams --and learn from their peers--they provide their fellow students with a deeper understanding of other cultures.

---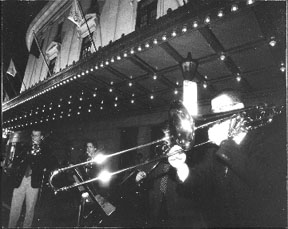 Fanfare for the lighting of the marquee

Last October, with a weekend of concerts, receptions, lectures, and panel discussions, the Eastman School of Music launched a year-long celebration of its 75th anniversary.

The festivities began with the lighting of some 900 new bulbs along the marquee of the Eastman Theatre. The building now looks much as it did 75 years ago, thanks to the restored marquee and new halogen lights illuminating 23 flags along the freshly cleaned facade--all part of an ongoing $7.5 million restoration of the school and theater. The weekend's high point came on Saturday night with the lighting of a spectacular birthday cake marking the 100th anniversary of the birth of Howard Hanson, composer and director of the school for 40 years.

In his keynote address, former director Robert Freeman hailed "the willingness of the faculty, the staff, the students, and the graduates to work together, just as Mr. Eastman would have wished, for a bolder and more dynamic future, in rapidly changing times, for the art that brought us all together." (Freeman directed the school for 24 years and now directs the New England Conservatory of Music.)

Among the subsequent anniversary events was a concert in March commemorating 75 years of music at Kilbourn Hall. Featuring the Ying Quartet and pianist Nelita True, the performance included the world premiere of a piece commissioned by the Yings, String Quartet No. 2: Four Etudes and a Fantasy, by Sheila Silver. The concert also featured works from the hall's dedication concert in 1922: Quartet in B Flat Major, Opus 18, Number 6, by Beethoven and the Piano Quintet in E Minor, Opus 5, by Christian Sinding, a member of the school's original faculty.
---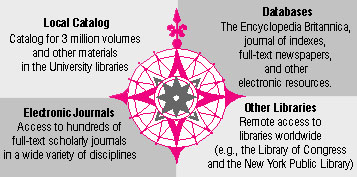 Forget the old card catalog: At the University of Rochester Libraries, the new Voyager System is online to take readers anywhere--virtually.
---
Medical Center researchers have begun the world's first human trials of a vaccine to protect against human papillomavirus, one of the most common sexually transmitted diseases. Physicians estimate that 20 to 40 million people in the United States alone carry HPV, which causes genital warts and nearly all cases of cervical cancer.

The vaccine, developed by University researchers working with scientists at MedImmune, Inc. of Gaithersburg, Md., will be tested in healthy volunteers. Richard Reichman, director of the Infectious Diseases Unit, leads the study. Working with him are Robert Rose '94M (PhD), senior instructor in medicine, and William Bonnez, associate professor of medicine.

"HPV infection is very, very common, affecting up to 40 percent of people in certain age groups," says Reichman. "This vaccine has proven safe and effective in preventing similar infections in animals, and we're hopeful that we'll see comparable results in humans."
---
In May, following a national search, Thomas LeBlanc became dean of the College's faculty of arts, sciences, and engineering. In that role, he is the chief executive officer of the College with primary responsibility for its academic, administrative, and research activities.

"The search committee, chaired by Professor Paul Slattery, conducted an intensive, rigorous national search, and identified a number of extremely well-qualified candidates," Provost Charles Phelps said. "I am happy to say that the best of the best was indeed a member of our own faculty."

LeBlanc had served as interim College dean during the 1996-97 year. He joined the University in 1983 and chaired the Department of Computer Science from 1990 to 1996. He holds a B.S. in computer science from SUNY Plattsburgh and M.S. and Ph.D. degrees in computer science from the University of Wisconsin- Madison.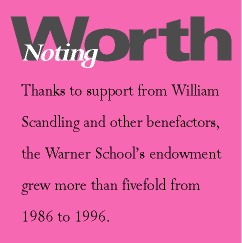 ---
Inside each cell, seven feet of DNA provides instructions for nature's most complex "program"--a human being. Just one pound of DNA can store more information than all the computers ever built. For decades, scientists have asked, why not put that ability to work on other problems?

Now, scientists Animesh Ray and Mitsu Ogihara have built some of the first DNA computer "hardware" ever: logic gates made of DNA. (The building blocks of today's computers, logic gates convert binary data into a series of signals that a computer uses to perform its operations.) What's unusual is that they used commonplace biological laboratory techniques such as DNA ligation and gel electrophoresis. Ray, assistant professor of biology, and Ogihara, assistant professor of computer science, made their announcement at the First International Conference on Computational Molecular Biology in January.
---
Richard Moxley III, professor of neurology and head of the neurology unit, became the first Helen Aresty Fine and Irving Fine Professor in Neurology. A gift of Joseph Aresty and his family, the professorship honors Aresty's sister and her husband. Moxley's studies focus on myotonic dystrophy, the most common form of muscular dystrophy in adults.

Other appointments to existing professorships:
M. W. Anders, chair of the Department of Pharmacology and Physiology, became the Lewis Pratt Ross Professor of Pharmacology and Physiology.
Eric Caine, chair of the Department of Psychiatry, became the John F. Romano Professor of Psychiatry.
Chawnshang Chang, of the University of Wisconsin-Madison, became the George Hoyt Whipple Professor of Pathology.
Robert Freeman, assistant professor of pharmacology and physiology, became the Paul Stark Professor of Pharmacology and Physiology.
Thomas Pearson, of M. I. Bassett Hospital, Cooperstown, N.Y., became the Albert David Kaiser Professor of Public Health and Preventive Medicine.
Alice Pentland, formerly associate professor of medicine (dermatology) at Washington University School of Medicine, became the James H. Sterner Professor of Dermatology and chair of the department.
Joseph Rosenblatt, associate director for clinical research at the Cancer Center, became the Samuel E. Durand Professor of Medicine.
Peter Szilagyi '81M (MD), '84M (Res), '89M (MS), associate professor of general pediatrics, became the George Washington Goler Associate Professor of Pediatrics.
James Woods, Jr., professor of obstetrics and gynecology, became Dean's Professor of Obstetrics and Gynecology.
---
Do math students benefit from getting the wrong answer to a problem? Absolutely, says Raffaella Borasi, an associate professor at the Margaret Warner Graduate School of Education and Human Development.

Mathematicians themselves know that making errors and learning from them are essential to growth in understanding, she says. And therein lies the real problem with traditional styles of math instruction in schools: The emphasis on right answers often gets in the way of students learning something more important. In her research, Borasi probes how errors help students learn to pose and solve math-related problems, to appreciate the value and potential applications of mathematics, and to reason and communicate mathematically.

In the summer of 1996, under a grant from the National Science Foundation, Borasi began working with fifth- and sixth-grade math teachers from middle schools in the Rochester area, applying her research to help them improve their instructional programs.
---
Michael Ann Holly, professor and chair of the Department of Art and Art History, was named an Ailsa Mellon Bruce Senior Fellow with the National Gallery of Art in Washington, D.C.

Kim Kowalke, professor of musicology at Eastman and chair of the music program in the College, received the Irving Lowens Prize from the Sonneck Society for American Music for his paper on "Kurt Weill, Modernism, and Popular Culture."

Joan Shelley Rubin, professor of history, won a Guggenheim Fellowship for 1997-98. Rubin studies American culture with a focus on literary production and reading practices.

Augusta Read Thomas, assistant professor of composition at Eastman, was named composer in residence for the Chicago Symphony Orchestra for the 1997-98 season. Her works have been performed by the New York Philharmonic, the Philadelphia Orchestra, and the National Symphony, among many others.

Another Guggenheim Fellowship winner is David Williams, director of the Center for Visual Science. Williams is an expert on the visual systems of humans and other animals.
---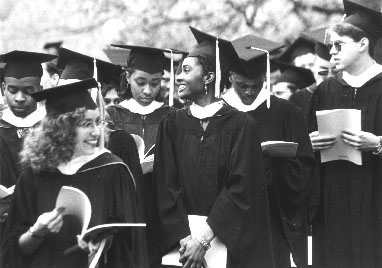 At Commencement: a group of the University's newest alumni

Commencement is a defining rite for the academic community. It's the one time each year when the entire University celebrates the success and promise of its newest crop of scholars--2,622 of them, all told, for 1997.

With Broadway legend Hal Prince delivering the Commencement address, ceremonies for bachelor's and master's degree candidates took place on Sunday morning, May 25, on the Eastman Quadrangle. Ceremonies for M.D. candidates were held in the Eastman Theatre, followed at the same locale by those for Ph.D., D.M.A., and Ed.D. candidates University-wide. Commencement for the Simon School took place on Sunday, June 15, also in the Eastman Theatre, with Jeane Kirkpatrick, the first woman to serve as the permanent U.S. representative to the United Nations, delivering the Commencement address.

---
| | |
| --- | --- |
| | Thoroughly Thoreauvian: Raymond Borst '33 |
". . . To front only the essential facts of life, and see if I could not learn what it had to teach, and not, when I came to die, discover that I had not lived."

So wrote Henry David Thoreau in Walden, or Life in the Woods. The first printing in 1854 amounted to just 2,000 volumes--and now the University is home to 16 of them, along with nearly 1,000 other rare and irreplaceable items that make up one of the world's largest Thoreau collections.

The entire collection was acquired this year through a generous gift from collector Raymond Borst '33 and a substantial grant from the Viburnum Foundation. Borst's treasure-hunting began 50 years ago when he bought his first copy of Walden as a gift for his wife. It was the beginning of a second career: Originally the owner of a truck and farm-equipment dealership in Auburn, N.Y., he became an avid student of Thoreau, ultimately writing four books that included a day-to-day chronicle of the writer's life and what has become the standard Thoreau bibliography.

Borst is "a successful businessman who produced the kind of work usually done by university professors and scholars," says Peter Dzwonkoski, director of the Department of Rare Books and Special Collections in Rush Rhees Library, where the collection is housed. He adds that the collection is "very rich and very important," matched only by that of the Thoreau Society itself. Officially named the Raymond R. Borst Collection of Henry David Thoreau, it now anchors the library's already extensive holdings in 19th-century American literature.
---
"Eastman is engaged in a kind of improvisation of its own," The Chronicle of Higher Education observed last March.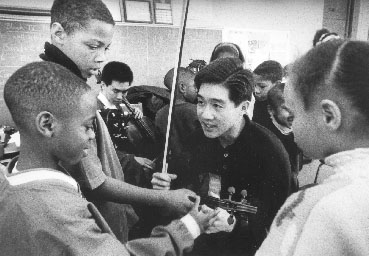 Building audiences: violist Phillip Ying '91E, '92E (MM) with schoolchildren


"Professors at the school have undertaken an extensive effort to bring its curriculum more in tune with the music world today. . . . And they are preparing students for new kinds of careers in the music business, given the financial troubles of many symphony orchestras."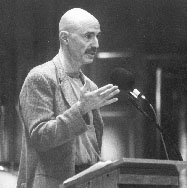 Music and the marketplace: Bass guitarist Tony Levin '68E shares his thoughts on shifting between classical and pop genres.

The story referred to the Eastman Initiatives, a series of sweeping curricular changes now under way. Over the past year, Associate Director (and now Acting Director) James Undercofler '67E and a 20-member steering committee--including faculty, administrators, and students--have focused on four areas:
New basic skills for musicians in the next century, including an Arts Leadership Program devoted to the business side of musicianship
Outreach and audience development, aided by the appointment of the Ying Quartet to the faculty
Expanding the musical canon
Professional development and other support for faculty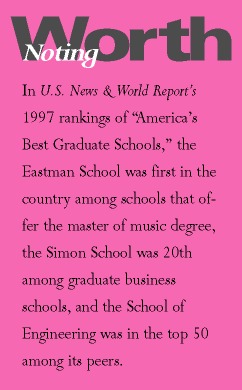 To date, Eastman is one of the few music schools to take action on these issues (perhaps among the reasons the school earned top rankings from U.S. News). Music educators nationwide are watching closely. "Eastman has taken a very bold step," says Peabody Institute Director Robert Sirota. "For the future, music conservatories will need to be more responsive to the realities of the arts world outside."

| UR Home | Review Contents | Mail |



Rochester Review--Volume 60 Number 1--Fall 1997
Copyright 1997, University of Rochester
Maintained by University Public Relations (jc)