On top of Ama Dablam: Lawrence Creatura '87, '94S (MBA). That's Everest, looking a deceptive stone's throw away, in the background.
It's not that high, he says--just 22,522 feet, while Everest stands at 29,028.
Still, despite its relatively short stature (keep in mind we're talking Himalayan standards here), the mountain called Ama Dablam "is exceptionally beautiful," according to Lawrence Creatura '87, '94S (MBA). "It's just magical. Edmund Hillary noticed this when he was walking past."
The mountain's other attraction, Creatura says, is that it's a really tough climb (in this sense, dwarfing Everest). "It's technically difficult; that's the real lure. Hillary is said to have called it unclimbable, but things have changed a lot. The advantages of the gear we have nowadays are enormous. We get to cheat a bit."
Way back in 1990, when he first saw the peak known as "The Matterhorn of the Himalayas," Creatura determined someday to climb it. He had quit his job in Australia and was traveling overland through southeast Asia. ("I had some money saved up, and I was heading toward places that looked good to go surfing," he recalls.)
Fast forward to 1994, atop North America--on 20,320-foot Denali, also known as Mt. McKinley--where Creatura met Alaskan Sean Gaffney and Oregonian Scott Woolums and learned they were planning to make his dreamed-of ascent, Ama Dablam. When the pair set out, in November 1996, Creatura was with them.
The climb itself took just a week, but that doesn't count getting to the mountain and then getting back out again. (That took five weeks, all told.) There are no roads in, Creatura explains. You trek into the Khumbu Valley in Nepal and then work on getting used to the thin air ("acclimatizing" is the word).
As for the ascent of Ama Dablam itself, he says, "McKinley was tough, but this was tougher." The trip was one part ice climbing and one part rock climbing, requiring the use of pitons (metal spikes pounded into the mountain). The view from the summit was worth everything, he says. "Crystal clear, with no humidity. You can just see forever. That's a cliché, but it's true. The only distortion is that it's a little blurry because by the time you get to the top you're a bit low on oxygen. It's been a long day at the office, so to speak--and then you're only halfway home."
To say the least. A little later, he wasn't at all sure he was going to make it home. He and his partners had been descending about 20 minutes from Camp 3--the area at 21,000 feet where they spent two nights after reaching the summit--when an avalanche let loose, obliterating the area they had just left. "The truth is, I was scared," he admits. "Climbing is dangerous, to a certain extent." But, he points out, the bolt from the blue can happen to you anywhere, "even in the nine-to-five world."
As for his own nine-to-five world: Creatura is a financial analyst and portfolio manager at Clover Capital Management, a Rochester-based firm started in 1983 by Michael Jones '76 and Geoffrey Rosenberger. "They certainly were supportive of this trip," he says of his bosses, "although I don't know if they'd be so supportive if I went to Nepal every year."
His wife is supportive as well. Although she doesn't share his passion for Himalayan heights, he says, "We've done some really nice walks--and someday we're going to do Kilimanjaro together."
---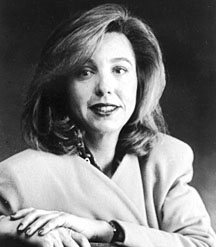 Nancy Lieberman '77

At New York City's top law firms, even the most ambitious practitioners can burn out.

And then there's the seemingly flameproof Nancy Lieberman.

Her capacity for work--as well as her cranial capacity--is extraordinary, as Fortune magazine pointed out in a recent story on the "New Breed of Dealmakers." The magazine placed Lieberman among the 10 "most well-connected, effective, and surprisingly modest M&A bankers and lawyers who are thriving in the new era of mergers and acquisitions." Two years ago, Crain's New York Business listed her among its "40 Under 40," an annual roster of young executives who are leading the New York economy into the next century.

Some details are in order here, to give you a context for these achievements. (As Sinatra sings about New York, "If I can make it there, I'll make it anywhere.") Her law firm, Skadden, Arps, Slate, Meagher, & Flom, is the largest in New York City and one of the largest in the world. With 3,000 employees and yearly revenues in the hundreds of millions, the firm has offices from New York to Toronto to Beijing to Paris (with exotic stops in between). After working there for six years, Lieberman became a full partner in 1987, when she was 30 years old--making her the youngest partner in the firm's history.

She's been the youngest in other endeavors as well, enrolling at the University when she was 16, entering law school at the University of Chicago when she was 19, and graduating from there at 22. In fact, she went to law school before she completed all of the requirements for her bachelor's degree. Which didn't prevent her--"I was very goal-oriented," she says--from graduating Phi Beta Kappa, summa cum laude, with a 3.999 (ad infinitum) GPA. She fell just short of a 4.0, she explains, because she got an A-minus in statistics.

With that kind of intellect and drive, Lieberman is ideally suited to the high-pressure field of corporate mergers and acquisitions. A senior partner at the firm calls her one of "a handful of lawyers who can do these deals and not burn out. If anyone can do it, Nancy can. She's ferociously smart."

Most of the deals she's working on are confidential. However, she can say that she's in the middle of helping Kansas City Power & Light fend off a hostile $1.9 billion takeover bid from Western Resources. And she has represented Jon Huntsman of Salt Lake City, owner of the nation's largest privately held chemical company, in numerous acquisitions.

"It's the best of all worlds, in my view," she says of her job. "Being a corporate mergers-and-acquisitions lawyer puts you at the intersection of the business world and the world of applied academic law--thinking through issues, solving problems, all the things you learn in college and in law school. Also, writing is very important, and I love to write. And I've traveled all over the world and met interesting people."

Another boon, she says: "Your colleagues and associates are some of the smartest people you've ever met in your life, and your clients tend to be very smart, well-educated people, too. It's never boring, always challenging."

Oh, and one more thing. "I really like my office--I have a beautiful view of Manhattan."
---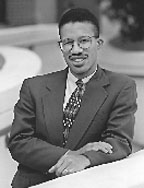 Stephen McLeod-Bryant '80, '84M (MD)

While in medical school and looking around for a specialty, Stephen McLeod-Bryant decided on psychiatry, believing that it offered "a more relaxing, more reflective existence."

Right.

"I now know that that's not exactly the case," he says with considerable understatement. His list of activities says more: He's clinical director of the Medical University of South Carolina's Department of Psychiatry and Behavioral Services--which involves supervising 45 health care professionals. He also serves as special assistant to the director of the South Carolina Department of Mental Health. And he's medical director of Charleston Memorial Hospital.

Outside of work--and beyond his roles as a father of three and husband to Aleta McLeod-Bryant '81, '83W (MA)--he works with the Charleston Civic Forum to help build links among people of different races. He also presides over the Action Council for Cross-Cultural Mental Health and Human Services, a statewide organization to make mental health and social services available to the disadvantaged.

And then there's his weekly radio talk show.

The talk show--in which he shares the mike with another psychiatrist and a psychologist--airs for 30 minutes every Sunday at 5:30 p.m. on station WPAL in Charleston. It's a call-in show that focuses on mental-health issues of concern to the African-American community, and it's been ongoing for eight years now, ever since Hurricane Hugo.

Soon after that devastating storm blew through Charleston in 1989, McLeod-Bryant met the president of the radio station. "He was concerned about people in the community who would be experiencing psychiatric symptoms, and he asked me whether I could talk about this on the radio."

He could, and did, and kept on talking. In the years since then, the show and its listeners have moved beyond the storm to deal with issues of racism, crime, and violence and their effects on mental health.

While his job as talk-show host has placed him in the public eye, McLeod-Bryant most values the opportunities he has been given--in whatever role--to help others.

"The highest level of achievement is achieving with others," he says. "I prefer groups that empower other people to do things for themselves."
---

Stuart Schneider '72

When you think of your typical '70s college student's out-of-class pursuits, going antiquing would probably rank somewhere between hula-hooping and playing croquet. On the other hand, Stuart Schneider was not exactly your typical student. During his undergraduate years, this math/ psych major was supporting himself by trafficking in the fads and fancies of earlier generations: Every weekend he'd be out scouring local antique shops for undervalued objects, then reselling them at a nice little profit.

Now a practicing Teaneck, New Jersey, lawyer, Schneider has turned his life-long fascination with memorabilia into a moonlight career as a prolific writer of books on collectibles of all sorts. His tenth and most recent volume, Collecting Abraham Lincoln, (Schiffer Publishers), is based on his own early interest in lore of the Civil War period and is the first catalog of Lincoln mementos to be published in nearly a century.

"Lincoln is definitely our most collectible president," Schneider says, "far more so even than George Washington." Letters from Honest Abe have fetched up to $1.4 million at auction, he notes, compared to a (relatively) modest $500,000 for samples of Washington's correspondence. In fact, prices for Lincoln collectibles, already in the stratosphere, show no sign of going anywhere but up and up; an autographed photo recently sold for a mind-boggling $124,000.

The 900-plus collectibles detailed in the volume include the heroic, the mundane, and the kitschy. And the just plain morbid: e.g., the coins placed in accordance with Victorian custom over the assassinated president's eyes, the remnants of the bloodied sheets on his deathbed, and the handles from his coffin.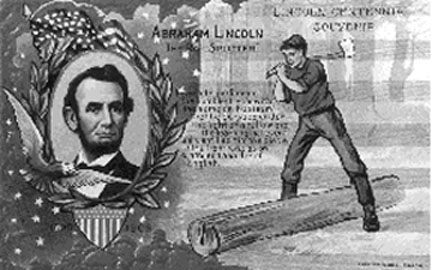 | | |
| --- | --- |
| | Schneider's Lincolniana: 1909 centennial postcard honoring the rail-splitter's birth ("Never idle," the admiring verse begins); painting on ivory (ca. 1864) showing a young Lincoln. |



On a rather more earthy note, the book also features the portable toilet that accompanied Mary Todd Lincoln on her European travels (she was said not to fancy foreign plumbing).

The earliest entry is a soldier's discharge paper signed by Lincoln in 1832; the most recent (and arguably the tackiest), a ballpoint pen featuring a plastic Lincoln, which dates to 1976.

Schneider, an insatiate collector himself, "started out by collecting turtles, frogs, and snakes at summer camp." As he matured, so did his collectibles. By the time he was a teen, he'd advanced to the firecracker labels left strewn about after Independence Day celebrations. "I'm attracted by loud graphics," he says.

Since then his passion for collecting--and writing about it in his books--has grown to include everything from cigarette lighters to the space race, from Halloween to Halley's Comet, and even to a volume on flashlights. He's written four books just on pens and pencils alone. (One of these, which Schneider refers to with some pride as "the Bible of pen-dom," was paraded by fellow collector Bill Cosby on the "David Letterman Show.")

Just as he sees no end to his own collecting, Schneider sees no end to his books--at least until he gets "about 30 or 40 of them" under his belt. "It's a way of ensuring a little bit of immortality," he says. "Besides, now I'm hooked on writing. I can't stop."
---
Nancy Cooper '83E (DMA):
Another alum with presidential connections
"I was never interested in history--I always thought it was dead," recalls Nancy Cooper '83E (DMA), an organist who teaches at the University of Montana.

Thomas Jefferson changed all that, you might say. This was about six years ago when, on a visit to Monticello, Cooper's husband spied a rare score in Jefferson's musical collection. It was a work by a now-obscure, 18th century French composer, Claude Balbastre--who just happened to be at the top of Cooper's all-time Hit Parade. "When Dave told me what was there, I just couldn't believe it," she says.

She headed straight to Monticello to find out more. There, she found the precious musical score, the only copy in the world, and learned that Balbastre gave organ lessons to Jefferson's daughter Martha. (Not surprising, in retrospect. "Jefferson always went for the best," Cooper says.)

Balbastre was also an organist and a harpsichordist. "He was tremendously popular right before the French Revolution," she says. "He even taught the children of Louis XIV. He played the organ with such flamboyance that, in 1762, the archbishop in Paris forbade him to play at Midnight Mass on Christmas Eve because he attracted such a crowd."

Intrigued by his connection to Jefferson, Cooper askedfor a copy of Monticello's Balbastre manuscript and received along with it a microfilm of every other work in Jefferson's musical collection. She was surprised, she says, to find that no one with any real musical knowledge had ever catalogued these works. "It was pretty much uncharted territory," she says. "And what I found was that almost everything there was interesting and unusual."

So it was that when Cooper heard that documentary filmmaker Ken Burns was working on a film about Jefferson (aired with much fanfare last winter on PBS), she decided to call him up and offer some input on our third president's musical tastes. "I was petrified," she says. "I didn't think anything would come of that call."

What came of it was that Cooper pretty soon found herself acting as music consultant for the project. Producer Camilla Rockewell began making regular calls to the University of Montana, where Cooper was now located. "She'd say, 'This is what's happening with this part of the story. What music do you think would work here?' "

By this time, the performer who once thought history was dead had acquired a passion for historical detail--and a new direction for her career (among other enterprises, she's now writing a chapter for a book on Maria Cosway, the woman Jefferson fell in love with in Paris).

"Jefferson was such a phenomenal man, so incredible on so many levels," Cooper says, particularly--from her point of view--musically.

In his autobiography, Jefferson reports that he practiced his violin three hours a day, every day for 15 years. "It's my theory that he played really well," says Cooper. "We'd have clearer proof of it if he'd played longer in his life, but he injured his wrist and the bone was set improperly. After that he couldn't play."

She finds more revelations in the letters of his grandchildren. "When you read how they'd roll up the carpets on a Saturday night and bring in a fiddler and the boys from the university--you get a picture of a real person, aside from the great statesman that he was."

In addition to her contributions as music consultant, Cooper performs on the harpsichord and fortepiano in nearly half of the music for the film, both solo and in an ensemble. She says she's proudest, however, of her advisory role. "Most important to me was that they used music that was a good choice--and an informed choice. And they did."
---
Denise Bolger Kovnat and Steve Bradt

| UR Home | Review Contents | Mail |



Rochester Review--Volume 60 Number 1--Fall 1997
Copyright 1997, University of Rochester
Maintained by University Public Relations (jc)