THE JOB OF A LIFETIME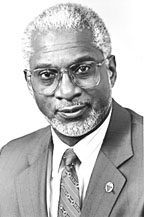 David Satcher '72M (Res)

When Rochester Review last spoke with David Satcher, back in early 1994, he was the newly appointed director of the nation's leading public health agency, the Centers for Disease Control and Prevention (CDC).

This past September, having impressed Washington and the nation with his work on immunizations, AIDS, emerging infectious diseases, and expanded cancer screening, Satcher was nominated by President Clinton to be the country's surgeon general.

If his nomination is approved--when Rochester Review went to press, it had not yet gone before the Senate--Satcher would also be assistant secretary of health, serving under Donna Shalala.

Occupying what has been described as "one of the hottest seats in town," the surgeon general is considered the nation's number one physician.

The position was created shortly after the Civil War when Ulysses S. Grant appointed a surgeon general, holding the rank of admiral, to help care for merchant seamen and protect Americans from infectious diseases brought in through U.S. ports. The surgeon general has retained the admiral's rank and uniform and today is responsible for directing more than six thousand officers in the Public Health Service's Commissioned Corps, often dispatched to help in the wake of public disasters.

The surgeon general has famously in recent years become a lightning rod for politicians as those holding the post have also assumed the role of the nation's chief advisor (and spokesperson) on public health issues.

"This is the job of a lifetime," Satcher said when he was nominated. "I hope to make it the opportunity of a lifetime."

An authority on sickle cell anemia with a distinguished career in community and academic medicine, Satcher took the CDC post following eleven years as president of Meharry Medical College in Nashville. His CDC stint has resulted in reduced rates of some childhood diseases, forthright marketing campaigns on sexual health issues, and an even stronger anti-smoking stance from the government.

Among those supporting Satcher's nomination, which was expected to win (relatively) easy approval, was Senator Edward Kennedy. "He brings an important perspective on issues related to the health of the poor and disenfranchised of our nation," said Kennedy, who has worked with Satcher on legislation to bring more minorities into health service.

Says Satcher: "My parents instilled in me a sense of right and wrong--an obligation to help those left out in the cold. I do not intend to abandon those values."
---
POLISHING APPLE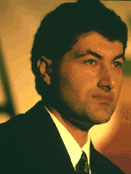 Avie Tevanian '83

Asked to sum up his company's position these days, Apple Computer executive Avie Tevanian might easily quote Mark Twain: "The reports of my death are greatly exaggerated."

Tevanian, senior vice president for software engineering at the Cupertino, California-based company, asserts that, contrary to popular belief, Apple is alive and well.

"We have more than a billion dollars in the bank," he says. "Worrying about Apple going out of business is the worst reason not to buy our products."

Tevanian acknowledges that the company has a long way to go to correct the widespread impression that it's on the verge of going belly-up--a view fueled by what he calls the media's soap opera approach. "People analyze Apple in almost the same way they used to analyze the Kremlin," he jokes. "So much is read into things like who's sitting next to whom."

Before joining Apple, Tevanian spent a decade as the architect of NeXT Software's operating system--a system based on his doctoral thesis. His task now, as leader of Apple's 750-member software division, is to fashion a product fit to take on industry behemoth Microsoft.

"My work is absolutely critical to Apple," Tevanian says frankly. Industry analysts concur, calling his work the single most important thing going on at Apple right now.

Tevanian's all-consuming fascination with computers dates back to well before his days as a Rochester undergrad--in fact, all the way back to his first encounter with a computer in 1975, as a Maine ninth-grader dubbed "Egghead" by three younger brothers. He was immediately hooked, and soon found his world flooded with the strips of paper then used for writing computer programs.

At Rochester, Tevanian majored in math (the closest thing to an undergraduate computer science degree back then), while spending lots of time hanging out with the computer science folk. And he made quite an impression: Thomas LeBlanc, now dean of the College faculty, recalls him well. "When I first met him I thought he was one of our grad students," LeBlanc says. "It was pretty clear that he was very bright and talented."

An aficionado of early video games, Tevanian had a particular knack for "Asteroids," becoming a fixture at that game in the Wilson Commons video arcade and once playing it for nearly 24 hours on a single quarter. He would rack up huge stockpiles of the spaceships that rewarded good playing--so many ships, in fact, that he could take breaks by essentially leaving the game on auto-pilot and giving the enemy space debris the upper hand for a few minutes before returning to play.

The computer science department recognized his potential and did everything it could to hold on to him, Professor Chris Brown says, even offering him one of the first spots in its 3-2 program. "We tried hard to keep him around as long as possible," says Brown.

But Tevanian was lured away by Carnegie Mellon's famed computer science program. Ironically, his Ph.D. advisor at CMU, Rick Rashid '80 (Ph.D.), who did his doctoral work under Chris Brown, is now research head at Microsoft.

"It's not an issue between us at all," Tevanian says. Like feuding Democrats and Republicans in Congress, he says the computer industry is at heart a close-knit clan--despite all the ostensible Sturm und Drang. (The computer industry is undoubtedly a much more casually attired family than the Dems and GOP, though: Tevanian reports that a senior vice president's life at Apple is just one big dress-down Friday.)

So what's next for the computer underdog? Tevanian says Apple plans to retrench by concentrating for a time on its core constituencies--schools, graphic artists, and publishers, 80 percent of whom are Mac loyalists. The company will also try to draw out Mac fans who've been scared into the PC closet by acquaintances who scoff at their choice of computers.

"It's gotten to the point where people don't want to tell their friends that they have a Mac," Tevanian remarks. To remedy this, Apple has launched an ad campaign to suggest that, since creative people often think differently, maybe they should shun convention in their choice of a computer, too.

And who better to convey the virtues of ignoring peer pressure than "Egghead" Tevanian?
---
SOCCER ENTREPRENEUR
Self-described soccer addict Jill McCabe is living her dream. Not only does the 1988 graduate play and coach, she now owns a piece of the sport as well: the Rochester Ravens, a 2-year-old franchise of the U.S. Women's Inter-regional Soccer League.
McCabe bought the franchise after hearing that a national amateur league for women was being formed. In Rochester, where recreational soccer is played by young and oldish alike, raw talent was just waiting to be tapped. Ravens range in age from 17-year-old high schoolers to mid-30s college coaches.
A senior development engineer at Eastman Kodak by day, McCabe spends evenings during the season practicing with her 25 teammates. Her motivation is simple: The Ravens provide younger girls and college women with a new kind of role model. "Hopefully, we've raised the level of play and made Rochester more aware of what's out there," she says.
As owner and president, she's in charge of marketing, sales, and bookkeeping--skills she learned on the fly after she bought the franchise. From spring until August, she trains with the team twice a week or conducts camps or clinics after work, runs home and grabs a quick dinner and shower, and sits down to catch up on paperwork and phone calls. During the off-season, she's an assistant coach for the University's women's team and pounds the pavement and computer keys trying to raise corporate sponsorships for the Ravens. "Around the holidays," she allows, "I get a little break."
It was the lure of national involvement at the start of something big that drew McCabe to team ownership. A member of USWISL's executive committee, she hopes to ramp up her involvement with women's soccer as the sport moves toward semi-pro status. League plans are in the works to create new divisions of more competitive, elite play, and she wants Rochester to step up a notch. "That's the first step of this league: to get to the semi-pro level," she says, "and maybe to supply small salaries. If you go slow and try to promote it before putting it out on the market, you have a better chance of its being a success."
(The NSA, another women's league soon to go pro with attractive salaries, might be jumping the gun, she worries: They should wait and use the media attention and large crowds generated by the Women's World Cup as a launching point after it comes finally to the United States in 1999. "You have a stronger chance of making it a success," she argues.)
Any way you look at it, women's soccer is gaining respect and attention, McCabe notes. Nearly 10,000 people showed up to watch the Ravens play the U.S. Women's National Team in Rochester this summer--more than the community's men's team, itself one of the highest-drawing professional teams in the country, had attracted the night before. "Women are finally getting the acknowledgment that they can put a good product out on the field," McCabe notes. "We're not as fast or hard-hitting as the guys. We're more technical; there are a lot of nice, pretty plays out there."
As for her own soccer moves, McCabe aims to someday coach or manage on the national level. "If I can make soccer something I can take on as a career and have enough to pay my bills," she says, "then I can see something happening."
---
'ALL TOGETHER NOW'
"If you're going to lock people up in a can for 60 days, they had better know how to get along," declares Jim Cain.
Some months ago, NASA invited Cain to Houston to help a group of would-be astronauts learn how to do just that. Specifically, Cain was there to lead team-building exercises for a group of volunteers working on the Lunar-Mars Life Support Test Project.
The project is an attempt to discover whether an airtight chamber that recycles its own air and water can operate indefinitely in space without having to return to Earth for more supplies. In plain old American-type English, that means NASA is figuring out just how long we could live on the moon--and eventually on Mars.
The program has undergone three phases so far: Phase one had a single volunteer in a sealed container for 15 days; phase two had three men and a woman holed up for 30 days; and phase three had four other people in there for 60 days.
So how did Cain, a senior development engineer for Eastman Kodak, end up as a team-builder for these people?
Through the Internet, of course. "I chatted with this guy from NASA on line," says Cain. "I mentioned that I had a technical background and a Ph.D., as well as experience in team-building. He seemed to like the combination."
(Cain has a mechanical engineering background with a specialty in powder mechanics. "That has to do with looking at the way dry, granular materials flow," he says. "It could be anything from salt, cosmetics, or corn flakes, to the toner that goes into copiers.")
"These were not traditional astronauts we were working with," he says. "They are NASA employees who might someday become astronauts. Everyone already had a vital NASA function; they weren't just guinea pigs."
Cain's exercises with the team, what he calls "challenge and adventure activities," included variations on climbing and hiking, based on his perceptions of what works. His experiences are now related in a book, Teamwork and Teamplay, co-authored with Barry Jolliff. Published by Kendall Hunt, it's due December 1, 1997.
Cain earned his stripes as a team-builder through self-esteem programs such as Outward Bound and Project Adventure. "I was never very athletic, rode the bench during my baseball-team years, but I've always enjoyed the outdoors," he says.
The NASA folks firmly believe that they will get people to Mars, Cain says. And these volunteers would love to be on the trip. One of them, Karen Myers, told Cain, "Well, you only have to sit on the 'bomb' for six minutes." She means, he says, that the terrifying takeoff lasts only six minutes, and after that you're relatively home free. "They all say that if the opportunity comes by, you just have to take the Big Ride."
But Cain himself isn't so sure. "It's a two-year drive to Mars," points out this outdoors lover. "I don't really have much desire to go there."
---
MAN IN BALANCE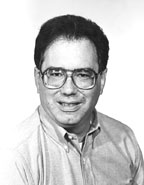 Jonathan Mayer '73

How do you create the perfect environment for spreading tick-borne Lyme disease?

Medical geographer Jonathan Mayer, professor in the departments of geography, infectious diseases, health services and family medicine at the University of Washington, can tell you.

"There was no record of Lyme disease in the last century," Mayer says. Humans "catch" it from the bite of a tick carrying a spirochete, a corkscrew-shaped bacterium. Symptoms mimic rheumatoid arthritis and can be devastating to the victim if untreated.

To exist, the disease needs the coincidence of mice, white-tailed deer, ticks, and humans, all together in the same place. The development of the Northeast helped create that coincidence, Mayer says. When the Europeans settled there, they took the almost-virgin forests of the American Indians and cleared them for agriculture. The agriculture industry then moved west, and second-growth forest emerged in its place--along with overcrowded cities.

"As people moved from the cities and created suburbs and peri-suburbs, this created a perfect environment for Lyme disease to develop," he says. People who had successfully escaped the crowded urban environment could stand in their backyards and see forests. Consequently they could also meet up with deer, deer ticks, and their nasty spirochetes.

Mayer says that medical geography deals with the spatial aspects of health and disease. "We look at the distribution and diffusion of disease, along with the locations, and the equality of health-care delivery."

He is currently planning two projects involving Lyme disease. One is a historical analysis using an island community off the New England shore. The other will look at human behavioral changes and perceptions and at government reactions to the disease.

"I've always been fascinated by geography and medicine," says Mayer, a liberal arts major at Rochester. While doing his graduate work in Ann Arbor, he became interested in pre-hospital medical care through some volunteer work. He noted that patients suffering cardiac arrest in towns without emergency medical services didn't survive the travel time to Ann Arbor, while those in towns that provided immediate cardiac attention fared much better.

"When I got to Washington, I found a unique set of circumstances for someone like me. It has a world-class geography department, a topnotch public health school, and a terrific medical facility. It was perfect, and I was in heaven," he says.

Seattle has one of the world's foremost emergency medical programs, he says. That began one of his first medical geography studies: studying how important the emergency vehicle is in the survival rate of cardiac patients.

"I went through medical records, studied fire department tapes, mapped patterns," he says. "What we found is that location matters a lot--if a vehicle takes more than eight to 10 minutes to get to the hospital, then there is virtually no chance for survival. If it only takes a couple of minutes, you have a much better chance of surviving."

Mayer is married to Merrill Maselow Mayer '74, a software developer, and the couple have a 13-year-old daughter, Rachel. When Mayer was taking acting lessons a few years ago, he noticed that Rachel was easily able to memorize the lines that he just didn't seem to have a head for. "I had a helluva time with that, although I loved the theater," he says with an audible grin.

That study, however, led him to a new interest--writing plays. His first effort, Father, was performed in Seattle last year. "Oh, it was just a wonderful experience," he says.

"I love writing plays and I love my other work--and they are exact opposites. I guess that gives me balance."
---
SALUTE TO MILITARY MUSIC
"The military is better than any NEA program for supporting the art of music," says Philip Waite. As an Air Force captain and commander of the USAF Band of the Pacific, he ought to know.
"Some of the finest musicians in the country are in the military because it's a full-time gig," he says. "It's a way you can make a living with music, and that is most musicians' dream."
Phil Waite joined the Air Force in 1989, leaving behind his job as director of choral activities at Western Illinois University to become conductor of the Singing Sergeants.
"Shelley was actually the one who first called the military about auditions. She was looking for a singing position and saw that there were several openings," Waite says. Shelley Philibosian Waite laughs at this--the duo are on the telephone from Tokyo.
"We figured we would go wherever the best job took us, no matter which one of us got it," Shelley Waite says.
Phil's conducting job turned out to be the better offer. The Singing Sergeants, under his direction, appeared regularly before presidents, vice presidents, and Supreme Court justices, and other high-level military and civilian officials. Along with command performances for Presidents Bush and Clinton, the Singing Sergeants made a historic Carnegie Hall appearance, in a concert recreating the Glenn Miller Army Air Force orchestra, and sang before a half-million people at a July 4 Boston Pops concert.
There were also television performances, compact disks, and, throughout, a successful marriage to Shelley and raising a family of three children.
Officer Training School was "fun," Phil says, but as a 31-year-old married man with three children, he found the 18-week separation grueling.
"Well, we said for better, for worse," Shelley says. "I had taken a 10-year career hiatus to raise the children--there seemed to be more to life than a five-centimeter larynx. But while we were in Washington with the Sergeants, a singing career of my own just unfolded in my lap."
As a free agent (she says she would go to conferences and conventions and "network" her way into engagements), mezzo-soprano Shelley Waite has made 16 solo appearances at the John F. Kennedy Center and has performed widely elsewhere, including her December 1996 debut performance at Carnegie Hall. She has also been featured on two compact disks, one a live recording with the Dave Brubeck Quartet and one with the Paul Hill Chorale.
From the Singing Sergeants, Phil took the next step, becoming an Air Force band commander two years ago. The change has taken them from the Beltway to Tokyo.
The military is a good gig for a musician, the Waites affirm. "I've put in lots of stick time in my eight years in the Air Force," says Phil. "So far, I've conducted 760 concerts."
Waite says that military musicians are among the best and the best trained in the country. "More than three quarters already have a B.A. in music when they enlist," he says. "Another 43 percent have a master's and 6 percent have a doctorate."
Waite notes that military musicians are noncombatants. "During wartime, musicians might carry gurneys in the field for the medics. And we might pick up a gun if our base were to be attacked, but basically, we don't get involved in combat."
Shelley Waite is having what she terms a "dry spell" right now in Japan. Being away from the United States makes it more difficult for her to make the connections she needs to in order to arrange performances. But she's had some offers to perform in Australia and parts of the Pacific Rim and says she expects things to get better.
The Waites are in Japan until the end of September 1998. Whither to then?
"Well, maybe Alaska," they say in unison. "We've visited there and loved it," Phil says.
"And it will be a good place to get in some quality family time."
---
Contributed by Kathy Quinn Thomas, Sally Parker, and Steve Bradt

| UR Home | Review Contents | Mail |



Rochester Review--Volume 60 Number 2--Winter 1997-98
Copyright 1997, University of Rochester
Maintained by University Public Relations (jc)