The Rochester Review, University of Rochester, Rochester, New York, USA




Rochester in Review
Alumnus Wins Nobel
As Rochester Review was going to press, word arrived that Steven Chu '70 had been named co-winner of the 1997 Nobel Prize for Physics.
Chu, along with William Phillips and Claude Cohen-Tannoudji, was cited for developing novel ways to cool atoms to super-low temperatures with laser light.
The work allows researchers to manipulate matter at a temperature that was previously unattainable, and raises the possibility of technologies based in the subatomic realm of quantum physics.
"The new methods of investigation that the Nobel laureates have developed have contributed greatly to increasing our knowledge of the interplay between radiation and matter," the citation from the Royal Swedish Academy of Sciences said. The work, the citation added, "may lead to the design of more-precise atomic clocks for use in space navigation and accurate determination of position."
The three investigators worked independently of each other. A laser-cooling method, developed by Chu while working at Bell Laboratories in 1985, works by bombarding atoms from all sides of six lasers.
A double major at Rochester, Chu graduated in 1970 with a B.S. in physics and a B.A. in mathematics. As a senior, he won the Stoddard Prize for the best term paper by a physics major. One of his former professors, Thomas Ferbel, professor of physics and astronomy, remembers that Chu liked to stay around after class, talking physics. "You had to kick him out periodically," he recalls. "He was a fine lad, and a superb student," Ferbel says.
Chu went on from Rochester to earn his Ph.D. at Berkeley and is now professor of physics at Stanford.
Chu becomes the seventh Nobel laureate to have studied or taught at Rochester. The others: chemist Vincent du Vigneaud '27M (PhD); medical researchers Arthur Kornberg '41M (MD) and Carleton Gajdusek '42; and faculty members George Hoyt Whipple, founding dean of the medical school; biochemist Henrik Dam, at the med school in the 1940s; and economist Robert Fogel, on the economics faculty during the '60s and '70s.
---
Undercofler Named Eastman School Director
Bringing the Eastman School of Music's 75th anniversary year to an appropriately celebratory finish this fall, James Undercofler '67E officially took the reins as director of the school. Acting director since January, he was formally appointed to the position by the Board of Trustees at its October meeting. He is the fifth to hold the directorship (and the first alumnus to do so) since the opening of the school in 1921.
"A rigorous national search for a director led us home, to one of our own," President Thomas Jackson and Provost Charles Phelps said in a memo to the Eastman community. "James Undercofler has impressed everyone with his outstanding qualities for this particular juncture in the history of the Eastman School.
"A performer, teacher, conductor, and administrator during the course of his career, he has also shown a special and considerable talent for engaging the larger issues that face music and all musicians," they said.
Undercofler came to Rochester from Minnesota, where he was founding director of the Minnesota Center for Arts Education, a state agency in the executive branch of government established to meet the artistic educational needs of students statewide.
From the time he arrived at Eastman in July 1995 as associate director for academic affairs and as professor of music education, Undercofler has directed the ground-breaking, nationally noted Eastman Initiatives. The series of programs and processes is designed to prepare students to approach the changing state of classical music with initiative and leadership--reaching out to new audiences and acknowledging musical traditions of other cultures along with changes in our own musical culture.
The search committee, composed primarily of Eastman faculty, was headed by Nelita True, chair of the keyboard department.
As the school's fifth director, Undercofler succeeds Robert Freeman (1972-96), Walter Hendl (1964-72), Howard Hanson (1924-64), and Alf Klingenberg (1921-23).
---
College Offers ASL as Undergraduate Major
The University's American Sign Language (ASL) program has become one of the first in the nation to create an undergraduate major in ASL.
The major provides an approved B.A. concentration in a wide array of courses. Besides standard basic language classes, the University's program is the only one in New York offering a series of advanced literature and culture courses. (Among the selections: History and Culture of the American Deaf Community; Teaching ASL as a Second Language; Deaf Image in Film, Theater, and Novels; and Narrative and Poetic Styles.)
While other institutions offer ASL classes and even degrees that examine the sociological aspects of deaf culture, few explore the language's unique literary and cultural treasures. Only recently have the stories and songs of American Sign Language emerged from a culture long hidden behind closed doors. For many years, its hand gestures were considered awkward signs of weakness among some hearing people, but ASL nevertheless thrived and grew. Today's students are discovering a rich treasure trove of stories unique to ASL.
"ASL is not derived from English, so it offers a host of avenues to explore," says Ted Supalla, associate professor of linguistics and director of the ASL program. "Not only is it a full, natural language, but it also is at the core of a new literary tradition, both in poetry and theater. In addition, the fact that it is not a signed version of English, as many people mistakenly believe, raises important scientific questions about the universals of language, as well as their developmental and neurological origins."
In addition to the major, the program now offers an ASL teacher certification track to meet the growing demand for ASL instructors in high schools. The number of hearing students taking ASL as a foreign language continues to multiply, Supalla says.
ASL first was offered as a foreign language option at the University in 1988. Enrollment in sign language classes has grown steadily since then, resulting in creation of the major. Some 350 students are taking ASL courses at Rochester this year, more than the number enrolled in German, Italian, Russian, Arabic, Hebrew, Japanese, Chinese, Greek, or Latin.
Students and teachers say the interest in learning ASL stems from a desire to prepare for careers in health or social service, as well as to communicate with the Rochester area's large deaf community, which is considered to have the biggest per-capita deaf population in the country. Some estimates put Rochester's population of severely or profoundly deaf people at 10,000, with at least 30,000 more whose hearing is seriously impaired.
---
University Joins Internet2
The University has officially joined the effort to develop the next generation of the Internet. Rochester is now a member of Internet2, a consortium of some 110 universities and agencies working to create a network that will be between 100 and 1,000 times faster than the current Internet.
The new system would allow researchers to have their computers talk to each other with unprecedented speed. Digital libraries would be able to offer on-line video and audio materials. Medical researchers and clinicians would be able to diagnose and monitor patients from a distance. And professors would be able to appear on screen and talk on line with a sizable class of students.
"We can see what the Internet has done so far, and Internet2 is likely to have that kind of effect--but many times over," says Edward Titlebaum, vice provost for computing. "We want to be a part of that new system."
He notes that Rochester was originally involved in arpanet, the government computer network that laid the groundwork for today's Internet system.
Internet2 will not be an "add-on" to the present Internet, but will be based on entirely new fiber optics connections and a new system of channeling information around the net. Universities will use a new very-high-speed backbone network service line to connect to a regional "gigapop" (gigabit capacity point of presence), which in turn will connect with 14 other gigapops around the country.
Information will be able to flow at more than 600 million bits per second--compared with the current 10,000 or so bits per second, and will eventually operate at speeds as high as 2.4 billion bits per second. The new connections would provide higher speeds, greater capacity (i.e., bandwidth), and better quality of service that, for example, would allow video images to appear smoothly and virtually instantaneously on your computer screen and avoid the long pauses that sometimes occur when a user connects to a new web site. Computer programs involving multiple computers at various locations would be able to work significantly faster.
---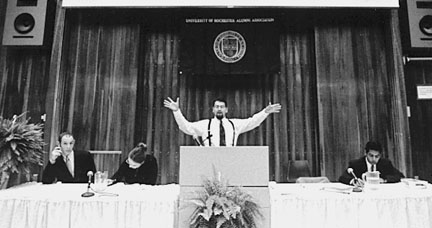 Soaring words: Graduate student Isaac Castillo takes his turn front and center during a British-style debate with two British-style debaters--Dan Nielde (left) and Andrea Sloan. The Brits, both champion debaters, were representing the U.K. on a 10-week tour of U.S. college campuses. Also representing Rochester's nationally ranked debate union (ninth in the country) was Chetan Gulati '99 (right).

Sponsored by the Rochester area alumni association, the debate was conducted parliamentary style, that is, as a sort of performance art that lays emphasis on intellectual one-upmanship, the clever phrase, and the witty retort. The audience, by a show of hands, determines the winner.

The 90-minute Rochester debate, over the matter of government censorship, was later enthusiastically reported as "rambunctious," with the Brits, in the end, edging out the "more fact-driven" (as they were described by an admittedly partisan onlooker) home team.
---
DOE Renews Commitment to LLE
U.S. Secretary of Energy Federico Peña in October announced a $143.4 million, five-year renewal of a cooperative agreement with the University's Laboratory for Laser Energetics, which plays a crucial role in the nation's research into laser fusion and fundamental high-energy-density science.
Basic-science experiments conducted on the OMEGA laser are valuable in investigating matter under extreme conditions. These experiments closely duplicate certain conditions found only in the sun and other stars or inside a nuclear weapon as it is detonated. They also help in assessing the potential of inertial fusion as an inexhaustible commercial energy source.
Among other goals, this laser research plays a critical role in the Energy Department's plan to ensure the safety and reliability of the nation's nuclear weapons stockpile without underground nuclear tests.
"Fusion research at LLE and elsewhere helps scientists understand aging and other subtle physical effects on nuclear stockpiles over time," says Robert McCrory, laboratory director. "Obviously, we're not performing research on weapons themselves; it's a matter of high-energy physics experiments, done at extreme temperatures and densities, that allow us to understand the properties of nuclear materials.
"The same basic research also has a payoff in terms of understanding the principles behind fusion energy and perhaps other basic physical interactions with benefits to society that can't be foreseen at this point."
---
In Brief
Three appointed to named chairs: David Allis, an internationally recognized ex-pert in molecular and cell biology, is now the Marie Currran Wilson and Joseph Chamberlain Wilson Professor of Biology. His research is offering new insights into one of biology's most fundamental, yet enigmatic, questions--how genes are turned on and off in organisms ranging from fruit flies to humans.
David Williams, a member of the Department of Brain and Cognitive Sciences, Center for Visual Science, and the Institute of Optics, has been named to the new William G. Allyn Chair in Medical Optics, funded by Welch Allyn Inc. in honor of the 1934 graduate of the Institute of Optics.
At the Margaret Warner School of Education and Human Development, Howard Kirschenbaum is the new Frontier Professor of School, Family, and Community Relations. He has the development of educational partnerships in the Rochester area as one of his top priorities.
Mags rate docs: U.S. News & World Report, in its 1997 "Best Hospitals" issue, ranked Strong Memorial Hospital 20th in the nation in the field of neurology and 26th in urology. Meanwhile, Good Housekeeping, in its list of "401 best physicians for women," included three from the Medical Center faculty: Dr. David S. Guzick, as one of 104 best specialists in reproductive endocrinol-ogy; Dr. James R. Woods, as one of 103 best perinatologists; and Dr. Marvin Amstey, as one of 13 best specialists in ob/gyn infectious disease.
Nominated for White House post: Duncan Moore, dean of the School of Engineering and Applied Sciences, has been nominated by President Clinton for the post of associate director of technology of the White House Office of Science and Technology Policy (OSTP), a position requiring Senate confirmation. (As the Review went to press, the Senate had not yet voted on the nomination.) Moore is the second scientist with a Rochester connection to be nominated to a senior OSTP post: D. Allen Bromley '52 (PhD) served as head of that office and science advisor to President George Bush.
---
NOTES ON RESEARCH
Experimental Flu Drug Shaves Day or More off Illness
In tests of an experimental drug to treat the flu, patients who took the drug Zanamivir by oral inhalation generally felt better one day sooner than those who didn't. Those who were more severely ill or who were treated very early in their illness felt better an average of three days sooner.
The study by John Treanor, head of the University's Vaccine and Treatment Evaluation Unit, and colleagues at 70 sites around the world was published in September in the New England Journal of Medicine. An earlier study showed that a new nasal-spray flu vaccine is very effective in young children. Just 1 percent of children who were vaccinated caught the flu, compared with 18 percent who were given a placebo.
---
Hydrogen Bonds Aren't Key to DNA Pairing After All
Chemist Eric Kool has found that hydrogen bonds play at best only a peripheral role in the accurate pairing of DNA bases. The finding forces scientists to reconsider the fundamental question of what's really behind the amazing fidelity of DNA replication. Kool's team found that growing strands of DNA can accurately incorporate a nucleotide that closely resembles the DNA base thymine but lacks the natural base's ability to form hydrogen bonds.
---
Maternal Lead Exposure Linked to High Number of Cavities
Exposure to high amounts of lead is likely one cause of the high rates of tooth decay found among certain groups, such as children raised in the inner city, according to a study in rats by Rochester dental researchers, published in the September issue of Nature Medicine.
The scientists say that while lead does not actually cause cavities, it appears to make rats--and thus people, whose teeth get cavities in an identical manner--much more susceptible.
"This is one more compelling reason to get lead out of the environment," says chief investigator William Bowen, Margaret and Cy Welcher Professor of Dental Research and the founder of the Rochester Caries Research Center, the nation's first research center on tooth decay.
Lead is well recognized as causing developmental and other problems. While lead has been removed from most gasoline, it's still present in old paint and commonly in soil or dust around contaminated buildings. Bowen says that the areas with the highest lead pollution--inner cities and the Northeast--mirror areas where dentists see the highest rates of tooth decay.
The team studied cavity susceptibility in rats born of mothers exposed to lead compared with offspring of rats not exposed to lead and found that offspring from exposed rats had 40 percent more cavities. The study, funded by the National Institute of Dental Research (NIDR), is the first to document the link between lead exposure and high cavity rates that a few small epidemiological studies have suggested.
---
The Economics of Diversity
The complexion of the American labor force has indisputably changed over the past 30 years, and there is no shortage of commentary on the dramatic rise of diversity in the workplace.
What are the measurable impacts of diversity on the economy, and how is it related to other economic factors? These are the questions that two Simon School researchers pose in a new paper, "Economics, Demography, and Communication." Two professors of economics and management, Stacey Kole and Glenn MacDonald, have developed a model to explore demographic data from a purely economic perspective.
While past studies on diversity in the workplace have focused on factors such as individual preferences in selecting employees, this paper argues that the key issue affecting diversity, and ultimately affecting hiring decisions, is communication. "Individuals with similar characteristics communicate at lower cost," the authors write. Thus, in theory, firms are motivated by standard economic incentives to match employees and customers who share similar characteristics. This contrasts sharply with previous studies that identify discrimination, favoritism, and legislative initiatives as factors motivating hiring practices.
"People with similar characteristics," says Kole, "may share common language, communications style, or life experiences that make it easier for them to exchange ideas. From the firm's perspective, the delivery of goods and services requires communication between the firm and its customers--be it in the form of direct sales or indirect interactions such as advertising or product design. In our model, the firm's natural desire for efficiency drives the selection of employees to mirror customer characteristics."
---
Out of Pure Light, Physicists Create Particles of Matter
A team of Rochester physicists working with colleagues from three other institutions has literally made something from nothing--creating, for the first time, particles of matter from ordinary light.
Scientists have long been able to convert matter to energy. The most spectacular example is a nuclear explosion, where a small amount of matter creates tremendous energy. Now physicists have succeeded in doing the opposite: converting energy (here, in the form of light) into matter--in this experiment, electrons and their anti-matter equivalent, positrons.
The experiment was carried out at the Stanford Linear Accelerator Center (SLAC) by scientists and students from Rochester, Princeton, the University of Tennessee, and Stanford. The team reported the work in the September 1 issue of Physical Review Letters.
Converting energy into matter isn't completely new to physicists. When they smash together particles like protons and anti-protons in high-energy accelerator experiments, the initial particles are destroyed and release a fleeting burst of energy. Sometimes this energy burst contains very short-lived packets of light known as "virtual photons" which go on to form new particles. In this experiment scientists observed for the first time the creation of particles from real photons, packets of light that scientists can observe directly in the laboratory.
Physicists accomplished the feat by dumping an incredible amount of power--nearly as much as it takes to run the entire nation but lasting only for a tiny fraction of a second--into an area less than one billionth of a square centimeter, which is far smaller than the period at the end of this sentence. They used high-energy electrons traveling near the speed of light, produced by SLAC's two-mile-long accelerator, and photons from a powerful, "tabletop terawatt" glass laser developed at Rochester's Laboratory for Laser Energetics. The laser unleashed a tiny but powerful sliver of light lasting about one trillionth of a second (one picosecond)--just half a millimeter long. Packed into this sliver were more than two billion billion photons.
The team synchronized the two beams and sent the electrons head-on into the photons. Occasionally an electron barreled into a photon with immense energy, "like a speeding Mack truck colliding with a ping pong ball," says professor of physics Adrian Melissinos. That knocked the photon backward with such tremendous energy that it collided with several of the densely packed photons behind it and combined with them, creating an electron and a positron. In a series of experiments lasting several months the team studied thousands of collisions, leading to the production of more than 100 positrons.
The energy-to-matter conversion was made possible by the incredibly strong electromagnetic fields that the photon-photon collisions produced. Similar conditions are found only rarely in the universe; neutron stars, for instance, have incredibly strong magnetic fields, and some scientists believe that their surfaces are home to the same kind of light-to-matter interactions the team observed. This experiment marks the first time scientists have been able to create such strong fields using laser beams.
By conducting experiments like this scientists test the principles of quantum electrodynamics (QED) in fields so strong that the vacuum "boils" into pairs of electrons and positrons. The scientists say the work could also have applications in designing new particle accelerators.
Tom Rickey
---
Rochester Science On-Line
The University has begun a new listserve specializing in research developments at Rochester in science, medicine, and engineering. Every two or three weeks subscribers receive a synopsis of the latest news in these areas, with pointers to the Web for more information.
To subscribe, or for more information, send a note to trickey@admin.rochester.edu, or send a message with the words "subscribe sciencecache" in the body of the note to majordomo@listener.uis.rochester.edu.
---
New Mice Provide Best Model Yet for Study of Prostate Cancer
A Medical Center team has created transgenic mice that express human prostate-specific antigen almost exclusively in their prostates, exactly like human males. The new mice provide scientists with the best animal model yet in their search for a more effective treatment for prostate cancer. The scientists expect the mice will speed up research by providing a less expensive means to test potential new treatments.
---
ROCHESTER QUOTES
San Francisco Examiner: "I felt I was pushing against a wall every time I drew the bow"--Eastman professor Stephen Doane, on the cello-playing technique he abandoned in his 20s.
Through what he terms the "alchemy" of hearing sound in one's head and playing it on one's instrument, Doane teaches the avoidance of injury and the physical enjoyment of playing the cello. In his view, physical injury can often be diagnosed from the sound itself. "It's an axiom of my teaching that you should try to get a wonderful sound and a wonderful sensation at the same time. If it feels good, it will probably sound good, too."
The Chronicle of Higher Education: "Access to a networked computer is as important as having a room today. Moms and Dads want to know the e-mail address of their son or daughter as soon as they arrive on campus"--Fran Versace, acting director of the University Computing Center, explaining the squeeze put on computer staffs at the start of the fall semester.
"Wired campuses are a powerful tool for attracting students," the Chronicle says. "But they have also led to a dramatic rise in the number of problems that campus information-services administrators must solve every fall--at the same time that they're training new student employees, answering faculty members' calls for help, and maintaining traditional public computer labs. At the beginning of the fall semester, a university's technical staff becomes the engine that keeps a university running."
Frontline, India's National Magazine: "DNA molecules are so small that potentially one liter of DNA solution can store 10 to the 21st bits of information, which is gigantic. The maximum memory of digital computers is approximately 10 to the 15th. Obviously, a computer with that kind of memory is a supercomputer"--Mitsunori Ogihara, assistant professor of computer science, who, along with Animesh Ray, associate professor of biology, teamed up to use DNA to mimic electrical impulses in computers.
The possible value? A DNA computer would be smaller and faster than today's personal computers, but would not be the better choice for simple word processing tasks and the like. However, it would excel at complex mathematical problems, with the potential to perform break-neck speed computations in a single drop of water.
Wall Street Journal: "The idea is to be aggressive and competitive. If it's more like a fight, it's more like a sporting event, and as spectators we enjoy it more. It's more exciting"--Sam Nelson, coach of the University's debate team, on what linguists call the "overlap" of participants' voices on television talk shows, but what viewers might be inclined to describe as constant interrupting.
"America has become a nation of blabbermouths. Too bad nobody's listening," the Journal said, citing the cacophonous example of TV talk shows, call-in radio, support groups, and electronic mail.
The New York Times: "Without any data, we've been telling people it might be good to hold their children back in school. With data, it doesn't look like such a good thing to do"--Dr. Robert Byrd, an assistant professor of pediatrics, on the findings of a new study that suggests more harm than good may come from waiting for fidgety kids with short attention spans to grow up a little more before sending them off to kindergarten. A higher rate of behavioral problems for students entering school late did not show up in primary school but was very visible during adolescence, the study found. Byrd suggested that delaying kindergarten could result in children not getting appropriate stimulation, which might have compounded their problems.
The New Yorker: "Money, even more than other good things like beauty, eloquence, and charm, has a tendency to 'seep across boundaries' and to buy things that should not be for sale: exemption from military service; love and friendship; political office"--Christopher Lasch, the late Watson Professor of History, quoted in an article on "domestic outsourcing," whereby working moms and dads can hire professional "June Cleavers" to take care of the household chores they don't have time for. The quote is from Lasch's last book, The Revolt of the Elites.
---
SPORTS
1997 Hall of Famers Inducted
The recipient of the first Louis Alexander Memorial Trophy, a long-time football coach, and a swim-team record-setter who later covered the Tokyo Olympics for The New York Times are among this fall's 18 inductees into the University's sports Hall of Fame.
Some brief bios of the stellar 18, honored for their contributions to Rochester athletics in particular and to the larger world outside in general:
Josefa Benzoni '88--A four-year letter winner in track & field and cross country, she earned NCAA All-American honors 10 times and holds five indoor and four outdoor records. A member of the All-New York track team four years, she won the Lyle (Spike) Garnish and Merle Spurrier awards. She was named Rochester Press Radio Club Female Athlete of the Year and several times earned MVP honors in state track and UAA. Currently raising a family, she assists in the Colgate University women's track program.
Robert Branigan '49--As a member of the Navy V-12 unit, he played varsity football for two years before serving active duty in the South Pacific. He returned to Rochester's gridiron, serving as co-captain and winning New York All-State University Division honors. He earned a degree in mechanical engineering and went on to a successful career with Taylor Instruments and other firms before retiring to North Carolina in 1993.
Emerson Chapin '41--A three-year member of the tennis and swim teams, he excelled in the 50-, 100-, and 220-yard, helped set a University and pool record in the 400-yard relay, and was a member of the undefeated 1939 team. A 1941 honors graduate in English, Chapin was drafted into the Army's 98th Infantry Division and later enrolled at Columbia University's Graduate School of Journalism before embarking on a 30-year career as a copy editor on The New York Times foreign desk, interrupted by a stint as a foreign correspondent in Tokyo that found him covering the 1964 Tokyo Olympics. He retired from the Times in 1985.
Michael Corp '78--The first Meliora Club Athlete of the Month, he lettered four years in football at halfback and held the school's all-time rushing record. Earned individual CoSIDA academic and ECAC honors. As a three-year letterman in baseball, he led the team in batting, home runs, and RBIs his senior year. Now a trust and estates law partner, he coaches youth sports in Syracuse.
Richard Devereaux '56--Recipient of the first Louis Alexander Memorial Trophy and a four-year letterman in football and baseball, he started at halfback and was leading rusher as a freshman. He was a member of varsity's first undefeated team and started for both offense and defense. Named captain as a senior, he earned a Little All-American honorable mention. A third base freshman starter, he also pitched and played third base and shortstop in the next three years. With a degree in mechanical engineering, he joined the Air Force and went on to a long career in engineering.
Ronald Forte '62--A three-year letterer in soccer and baseball, he captained both teams his senior year and won the Louis Alexander Alumni Award. After graduating with a history/English degree, he played pro ball with the New York Yankees' farm system in North Carolina and the Quebec Provincial League. Served as a pilot in the U.S. Navy for eight years, including two tours of duty in Vietnam, and went on to a 22-year career as a pilot with American Airlines. Also has coached youth soccer and baseball.
Jacqueline Grasso '81--A four-year starter in volleyball and softball, she also lettered in basketball. She was volleyball team MVP three years, outstanding freshman athlete, and team captain her senior year. A member of the state championship and all-star teams in '79, she earned silver medals at two Empire State Games. Since receiving her J.D. degree at SUNY Buffalo Law School in 1984, she has practiced law in Batavia, New York.
Robert Hoe '47, '51 (MS)--After lettering in football and basketball for two years, he joined the Navy and served on active duty in China during World War II. After returning to Rochester, he captained the football team and earned a mechanical engineering degree, followed by advanced degrees. He retired in 1990 after a 35-year career in nuclear power-plant design, construction, and operations. He now consults in engineering and project management.
Arthur Jones '39--Lettered in football and swimming, captaining teams for two years and setting records in the breast stroke. Earned honors in Mendicants and Keidaeans and received the Terry Prize. Served in the Army Coast Artillery Infantry during World War II, returning to earn a Ph.D. in English at Syracuse and, later, a master's in library science. An award-winning university library director for 30 years, he is retired in Davidson, North Carolina, where he is a book reviewer and active local volunteer.
Robert Liberto '67-- Graduated with school records in 100, 200, and 300 (indoor), 440 and mile relays. His 100-yard dash record (9.6 seconds) still stands. Winner of school Trackman of the Year honors, he twice won the Marty McDonagh Trophy for most individual points at the state championships and was a member of a state record-setting mile relay team. Now a restaurateur, Liberto is semi-retired in Alpharetta, Georgia, where he and his wife raise Arabian horses.
Megan MacKenzie '84--A transfer student who played soccer for two years at St. John Fisher, she joined the Rochester team, making first-team All-America in both 1981 and 1982, the only women's soccer player at Rochester to earn the honor in successive years and one of only four to earn multiple honors. After graduation she went on to study horticulture. She now owns a Rochester-area landscape business.
Robert Place '54--Played freshman soccer, baseball, and basketball, playing on the '51-'52 team voted best school basketball team of the decade. Held 30-year record for 88 percent foul shooting in the '52-'53 season. A founding member and captain of the University's sailing team, he joined the Atlantic Fleet Amphibious Force's Arctic Operation after graduating with a degree in business. He went on to work 34 years at Rochester's Lincoln First Bank, retiring in 1990 as a senior vice president of parent company Chase Manhattan.
Charles Quinby '58--Winner of the Louis Alexander Award for best varsity athlete his senior year, he excelled in three sports. Captained undefeated and nationally ranked soccer team, starting at a variety of positions. A hurdler and javelin thrower, he lettered three years in track and held the school record in the high jump for many years. He also was a three-year letter-holder in basketball. A chemistry graduate, he earned an M.S. in meteorology and served many years in the Air Force, retiring as lieutenant colonel. He now is deputy chief of the Air Force Global Weather Center and coaches youth sports.
David Ragusa '68--A four-year football letter-holder, he captained in '66 and was named to the Little All-American First Team the following year. Also played basketball for two years. Winner of the Terry Prize for Student Leadership and the Louis Alexander Award for Athletics. A teacher-coach in the Rochester area for 30 years, he now is vice principal of Webster (New York) High School.
Janice Vanselow '82--Lettering in volleyball and basketball, including two years as a volleyball co-captain, she was a member of the NYSAIAW volleyball championship team and an all-star in 1981. Her senior year, she won the Sylvia Fabricant Sportsmanship Award. Now a research scientist for the Kendall Company, she is a USVBA volleyball player, competing in the Atlantic Zonal championships in '89 and '92 and the national championships in '93 and '95.
Suzane White Villarini '80N--A two-year field hockey player and three-year lacrosse player, she participated in the transition of the latter sport from club to varsity status. She graduated with a nursing degree and worked for several years as an acute care nurse before earning a master's degree as an adult nurse practitioner. Today she has a private family practice in West Chester, Pennsylvania.
John Vitone (posthumous)--As an undergraduate at Western Reserve University, he earned All-Ohio Offensive Guard honors in addition to starting at linebacker. Went on to become defensive and head football coach at Western Reserve, followed by three years as a high school baseball and football coach. After joining the Rochester football staff in 1967, he coached defensive line, linebackers, and backs until becoming defensive coordinator in 1974. He remained a coach until his death in 1992.
William Yantz '60 (posthumous)--He excelled in both soccer and basketball. Winner of the Rufus Hedges Trophy for basketball MVP three consecutive seasons; he also received UPI Small College All-American honorable mention; all-state soccer honors two years; an all-American honorable mention; and the Walter Campbell Trophy for Soccer. After graduating with a degree in industrial management, he served in the Army and went on to work with Proficient Food Company. He lived in California until his death in 1995.
Softball Becomes 22nd Varsity Sport
Come spring, softball will join the University's sports lineup as the 11th intercollegiate sport for women and the 22nd varsity sport overall. Softball has existed as a club sport for several years. Its elevation to varsity status is the result of deliberations of a commission on gender-equity in University sports, which recommended raising an existing club sport to varsity level. "We look at the ability to compete amongst institutions like ourselves," says Jeffrey Vennell, director of Sports and Recreation. "That is one of the primary reasons we added softball."Women's sports at Rochester have traditionally achieved success on the playing field, Vennell notes. The Yellowjackets have captured both team and individual national championships, plus numerous All-America honors.
New Service: Sports Scores On Line
Yellowjacket fans can now chart the progress of their favorite teams on the University Web, via the Yellowjacket Scoreboard.
The Department of Sports and Recreation is now posting the latest results of the College's intercollegiate games on its Web site. Scores are updated frequently; two weeks' worth of results are archived on the site at a time.
To get to the Yellowjacket Scoreboard: Visit www.cc.rochester.edu:80/student-srvcs/sports/. At that site, click on Intercollegiate Sports, and then on Yellowjacket Scoreboard.
| UR Home | Review Contents | Mail |



Copyright 1997, University of Rochester
Maintained by University Public Relations