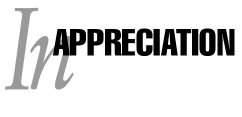 A GARDEN OF DELIGHTS
The Barry family has deep roots in the Rochester area--literally. For one thing, there's the Ellwanger & Barry Nurseries, which flourished for many years in 19th-century Rochester, helping it earn the proud nickname of "Flower City." Then there's Highland Park, the city's first public park and home of the celebrated Lilac Festival--its original land was a gift from the firm in 1888.
The Barry family has been generous to the University also, making a gift in 1963 of two important 19th-century buildings and their surrounding landscaped gardens, once a showplace of the city. These properties are the nucleus of what has become the University's Mt. Hope Campus, just to the east of the River Campus.
Remembering those Rochester roots, Catherine Barry Martin, a descendant of the Barry family and a graduate of the University of Southern California with a degree in fine arts, and her husband, Gail Martin, have continued this spirit of generosity with an $89,526 gift for scholarship support to students at the University. The gift is to be split equally, with half to go to undergraduates majoring in art and art history (reflecting Mrs. Martin's particular interest in fine arts) and the other share to medical students.
"Patrick Barry happened to be my grandfather," says Mrs. Martin, who lives in Glendale, California. "Our whole family has Rochester connections."
Adds Jack Kreckel, associate vice president of development for trusts and estates, "We are thrilled and grateful that, although neither is a Rochester alumnus, Catherine and Gail Martin have chosen to underscore that historical connection with a gift to the University."
---
THE SCHIFFS SHARE AGAIN
Hans Schiff '43 and his wife, Merle Schiff, have donated $203,520 in mutual fund shares to the University, to fund a gift annuity. Schiff, a former member and chair of the Trustees' Council, is a retired consultant and former president of Control Dynamics Corporation. The Schiffs live in Ojai, California.

"Giving serves several purposes," Schiff says. "It reflects our gratitude for a solid education and preparation for a meaningful life. It commemorates lifelong close friendships such as the one with my classmate 'Tuck' Faulkner, who passed away September 5. It fulfills a practical purpose as well, by eliminating tax consequences through conversion into annuities and providing tax deductions.

"Another thought that entered our minds was my recent fight with pancreatic cancer. I submitted to the Whipple Operation, a technique devised by Dr. George Whipple, founding dean of the University of Rochester Medical Center. I'll be forever grateful for his expertise. That surgical alternative saved my life."

"This most recent gift is just one of many the Schiffs have made," notes Kreckel. "They have given generously to the University over the years."