ne of the great joys of being in college is that you get to experience what other people are like."
When you have students who say things like that, on the River Campus, you figure they have come to the right place: Whether by intent or by chance, such students have managed to land in an excellent spot for "experiencing what other people are like."
A far hulloo from the almost monolithic cadre of farmers' sons bound for a life in the clergy that were the Rochester students of a century and a half ago, the College's undergraduate population today represents a richly textured landscape of cultures, ethnicities, religions, and homelands. This year's freshman class alone, for instance, checked in from 51 countries and all points of the United States, with about a quarter of the class composed of ethnic minorities and international students.
To get a sense of this heady, multidimensional mix, Rochester Review talked to a few of the current undergraduates, who shared some thoughts on the variety of backgrounds they brought to campus, how they've been faring since, and where they hope to go from here. On the following pages are some of the things they told us.
---
DONIAL RODRIGUEZ, from the Bronx, is an electrical engineering major with a minor in Spanish. Manager of the Yellowjackets men's basketball team, he has held a variety of on-campus jobs. He is also an advisor in a summer preparatory program for incoming freshmen that he calls "very important for survival."

"For me, it was a big change coming here from the Bronx."

"I don't own a lot, so when I arrived on campus, ready to report, I had just two bags and a box with sheets and a pillow in it. I looked around, and it seemed like everyone else was moving in with televisions, VCRs, stereos, and computers. I was shocked. It wasn't like that at home. But I thought, I can do that. I can work hard to get what I want, and I'll enjoy it more. So, I've been working at part-time jobs, and now I have a television and a radio and my own room and I think I'm doing pretty well.

"My professors are surprised I ask so many questions. I tell them I'm here to get my money's worth. I take advantage of everything here--special programs, tutors, professors. I want to be an engineering consultant, and I'm thinking about going to graduate school here, to make my stock worth even more. Someday I'm going to have my own company."
---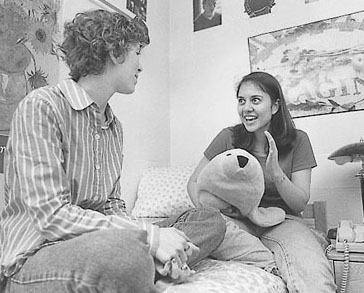 MRINALINI MENON, from Madras, India, a double major in psychology and economics, works during the summer at an investment bank in New York City. "I came to Rochester straight from high school in India. I'd never been here before, although beginning in eighth or ninth grade I used to dream about going to school in the U.S."

"I used to think everyone who wasn't an international student was an 'American.'"

"It took me a little while to realize that there were African Americans, Hispanic Americans, Native Americans. If I asked someone where they were from, expecting they'd say something like 'California,' instead they would say 'Italy,' because that's where their grandparents were from. Everyone is so proud of their culture.

"My first year here, there were people from seven different countries on my floor--Peru, Korea, Russia, Malaysia, Singapore, India, as well as a whole bunch of Americans. My roommate was Indian. At first I was mad--I thought, 'I didn't come all this way to meet other Indians!' But I made a conscious effort to get to know everyone, walking up and down the floor, talking to all the students. Sometimes our Malaysian hallmate cooked for us; I took everyone out for Indian food. And now my Indian roommate is my best friend."
---
FRANKIE CHAI, from Hong Kong, majors in chemical engineering, guides tours for campus visitors, is a resident advisor in Susan B. Anthony Hall and has sung with the University Choir ("It's great to be on stage, wearing your tuxedo and singing"). He is also a teaching assistant for a sophomore-level chem engineering class and is president of Leap August Society, a Chinese cultural awareness group. "Eventually," he says, "I'd like to work in mainland China."

"I just mix it up with everybody."

"I go to movies, go rollerblading with American friends; I skied once on a baby slope.

"In Hong Kong, I went to a Chinese all-boys school. But in my dorm here, there are women as well as men. There are African Americans, Vietnamese, people with all kinds of backgrounds. Of course, Western students look at me and can't tell whether I'm foreign-born Chinese or American-born Chinese. But we are different from each other, with different cultures and values. I'm still more comfortable with my Chinese friends--we can share more. But, as I say, I mix it up with everybody.

"You can't isolate yourself from the rest of the world anymore. Our parents worked only with people like themselves. But we're a new generation; we see more international action in our business world. At this school, you learn how to deal with all kinds of people."
---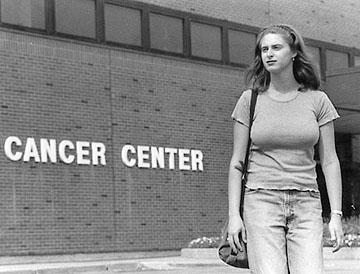 ALYSE BERHMAN, from Bedford, New York, is a double major--in psychology and in health and society--with a minor in philosophy for good measure. She volunteers at the University's Cancer Center, helping in a project that encourages adults to quit smoking.

"When I came here, I just wanted to open all the doors and see what I liked."

"At first I thought I should major in English. My high school was small and highly competitive, and I took Advanced Placement courses. I loved English and found I was good at writing and analyzing.

"But I became interested in psychology after Psych 101 with Dale McAdam and went on to take more psych classes the following semester. I began thinking about why people do what they do; I guess you could say that's why I'm now interested in behavioral medicine. I want to help people understand why they make the choices concerning their health that they do--and in doing so, to help them make more informed choices.

"So now I'm planning to get a master's degree in public health so I can work in preventive medicine."
---
TARUN ARORA is from Delhi, India; his parents now live in Bahrain. He majors in computer science, with minors in both biology and economics. He captains the squash team and volunteers with Amnesty International and with Habitat for Humanity. "I'm a Hindu," he says, "but here it doesn't seem to make much difference what I am."

"A lot of things here would look pretty strange where I come from."

"India is more orthodox than the United States--there are more rules, more expectations. Here you have room to express yourself. In India, you would never see people out in public with different colors of hair, tattoos, body piercings. Let me give an example: In Rochester, I went to a Green Day concert and all kinds of weird-looking people were dancing around. I just had to laugh.

"My roommate is from Pakistan, from a different background, a different religion from mine. But we just clicked--we have a great relationship. In India, we would never have known each other. But in college, you don't really think about where anyone's from. They're just your friends. My grandmother was shocked that I could be friends with someone from Pakistan. I told her, "It's a cosmopolitan world.'"
---
BETTINA PIERRE, a microbiology major with a minor in health and society, plans to attend medical school. A volunteer with the Little Buddies Program, she is a member of the Charles Drew Pre-Med Community Services Program. She grew up in the Rochester area, skipping her junior year of high school and entering the University a year early. "I was young and nervous about being really ready for college, so right away I signed up for as many study groups and took advantage of as many other resources as I could."

"About half my friends are pre-med like me and the other half are just plain crazy people."

"I've made lots of friends here. We study together, eat together, go to the Friday movies. We love the game room in Wilson Commons--playing pool and Virtual On.

"It's always been my goal to be a doctor and I wanted to know more about the social aspects of medicine, so I'm also studying public health. But I've been taking French, too, and some music courses, and next semester I'll begin studying piano, something I've always wanted to do.

"I was also fortunate enough to work with a doctor at the Medical Center on a breast-feeding study where I had to meet with new mothers in the hospital. While I was doing that, my interpersonal skills got much better!

"This summer I participated in a minority pre-med enrichment program, and some volunteer medical students helped us through the whole medical-school application process. Now I have my selections narrowed to just, uh, 30 schools. . . ."
---
NICK WEICH, from Frankfurt, Germany, chairs a new student group, the International Ambassadors, whose aim is to recruit more University of Rochester students from abroad. A cellist, he majors in music and is also working toward a certificate in management.

"Sometimes you just have to pursue your passion."

"The day I arrived at Rochester was only my second time in the U.S. and my first visit to a college. When I came here, I meant to study electrical engineering. But I love music. With my management certificate I can go into the music business, focusing on marketing.

"My first two years I lived on the music- interest floor. It's a close community--everyone's doors are always open. We sold concessions at the on-campus movies, went out to dinner, hung out. My American roommate helped me adjust. It was an odd pairing--he is a drummer and I am a cellist. But he really helped me with my language difficulties.

"School is more rigorous here than in Europe. You have much fuller schedules, many more activities. You also get more attention from professors. Just think of the sheer accumulation of knowledge they have--and still they consider students full conversational partners!"
---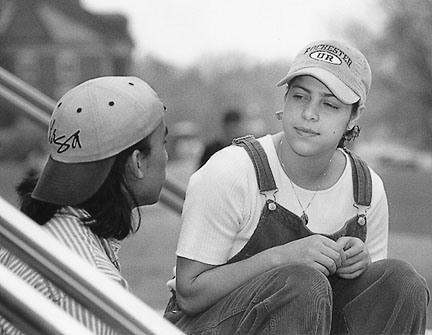 DIANA CAMILO, most recently from Chicago, came to this country from Puerto Rico, when she was 8. ("I didn't know English; they placed me in a regular class and I just learned.") Majoring in psychology ("I want to work in child therapy") and political science, she dances with D'Motions, works with the freshman orientation program and the sports and recreation department, and is in the leadership training program of the Spanish and Latin Students Association.

"I see the world as a place with lots of opportunities."

"I've always wanted to do everything, and I tend to feel bad if I'm not doing it all right. I used to think I had to be the perfect student, but Vicki Roth in Learning Assistance Services helped me get some balance. I learned some study skills, how to take better notes, things like that. And I found out how important it is for me to run, dance, work out, and have some fun to relieve stress.

"In the suite I lived in during my first year, we had six of us from all different backgrounds in the United States--farm country, New York City, California, Texas. Any time we even heard of a birthday, we'd bake a cake. We'd have cheesy parties and decorate the suite like the '70s, make all our guy friends paint their fingernails. . . ."
---
LORI CHAN, from Newton, Massachusetts, is majoring in economics, with a minor in journalism. She works on the Campus Times, plays on the women's lacrosse team, and interned with the U.S. Olympic Committee's communications department in Colorado putting together publications for the USA Table Tennis Association.

"I'm interesting and you're interesting--not because of race but because of our individual talents and skills."

"On the University campus, there are so many different types of people--into community service, or sports, or whatever. There are students with all kinds of majors--film studies, chemical engineering, cognitive science.

"Before I got here I didn't know what economics was--I was planning to be a biomedical engineer. But I took an economics course in my first year, and I was hooked.

"My roommate and I are so alike. We love getting in a car and taking a road trip. Once we headed for Canandaigua Lake and did some hiking on the snow-packed ground."
---
SAM TASKER, from Miami, came to Rochester on an ROTC scholarship ("I represent the U.S. Navy when I'm in my uniform; when I take it off, I represent myself"). With his major still undecided, he has studied everything from art history and political science to economics, math, and philosophy. Among other out-of-class pursuits, he plays soccer and is a Student Government senator.

"Frankly, I'm just trying to figure it all out."

"I don't want to live my life in a box. I want to try different things, be exposed to different things.

"In my high school there were 4,000 students, and 70 percent were Hispanic. I was definitely in the minority. I learned to speak Spanish so I could hang with everyone. I've grown up feeling a strong connection to the Hispanic culture. And I love Cuban food.

"I feel sometimes as though I live in a protective bubble here on campus. But one day I took a bike ride through Genesee Valley Park. When I stopped and looked back at the campus and the river, I saw the University as part of something bigger, part of the whole Rochester community."