---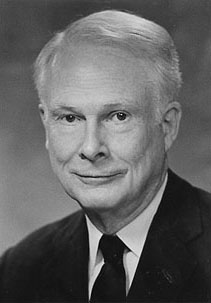 President Emeritus Wallis Dies
W. Allen Wallis, former president and chancellor of the University and an economic advisor to four U.S. presidents, died Monday, October 12. He was 85.
An internationally known free-market economist and statistician who had been dean of the University of Chicago Graduate School of Business, Wallis came to Rochester as its sixth president in 1962. He became chancellor in 1970, the only time in this century that the post has existed. After he retired from active administration at the University in 1978, he served as Under Secretary of State for Economic Affairs in the Reagan administration.
"Allen Wallis's legacy at the University of Rochester is permanent and extraordinarily positive," said President Jackson. "He was a man of absolute integrity and perseverance, who had a clear academic vision and an insistence on the highest academic standards. Not only was he instrumental in the transformation of the University to a national institution of the first rank, but his continuing mark on this institution is clear today, as many of our strongest schools and programs can be directly traced back to leadership that Allen was instrumental in bringing to Rochester."
One of President Wallis's first projects after arriving in Rochester in 1962 was to initiate long-range planning based on optimal sizes of academic departments, with student enrollments and space requirements derived from the basic academic plan.
Over a 10-year period beginning in 1968, the University remodeled the Eastman School of Music; added half a million square feet of buildings to the River Campus, including a library addition and the construction of Wilson Commons; increased the Medical Center by more than 700,000 square feet, and added more than 600,000 square feet in residential space.
Under Wallis, the University's annual budget rose from $33 million to $200 million, the faculty rose by 37 percent, the number of graduate students doubled, and the undergraduate student body increased by 45 percent. The Wall Street Journal wrote in 1976 that Wallis had "guided the transition of the University of Rochester from a largely provincial institution to a major national university."
As an economist, Wallis was noted for his strong belief in free markets and minimal government intervention. His 1976 book, An Overgoverned Society, a collection of essays and speeches written over three decades, was critically acclaimed for showing how bureaucratic regulations were shackling both the economy and individual freedoms.
Wallis served Presidents Eisenhower, Nixon, Ford, and Reagan. From 1959 to 1961, he was special assistant to President Eisenhower. During the 1970s, he served in the Nixon and Ford administrations as a member of the National Council on Educational Research and the National Commission on Productivity, and as chair of the President's Commission on Federal Statistics and of the Advisory Council on Social Security.
In 1982, he was named Under Secretary of State for Economic Affairs under his longtime friend and academic colleague, Secretary of State George Shultz. At the State Department, Wallis coordinated U.S. economic programs and policies abroad and served as President Reagan's advance man and advisor for several major international economic summits.
In recognition of the former president and chancellor's dedication to the combined study of economics and politics, the W. Allen Wallis Institute of Political Economy at the University, which opened in 1992, was named in his honor. The Institute supports study on how market forces are influenced by political institutions.
A memorial service was held at the Interfaith Chapel on the River Campus on October 30. Donations in President Wallis's memory may be made to the W. Allen Wallis Institute of Political Economy, University of Rochester, P.O. Box 270158, Rochester, NY 14627-0158.
---
Forum 98 Sets a Course for Women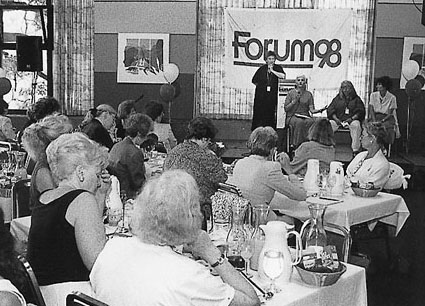 Forum 98 "Breakfast for Champions": Left to right, facing camera, Nan Johnson, director of the Susan B. Anthony University Center; attorney Frances "Sissy" Farenthold; feminist author Kate Millett; and Sheila Tobias, mathematician and national authority on women in science

What has advocacy for women accomplished since the first Women's Rights Convention 150 years ago in Seneca Falls, New York--and what yet remains to be done?

Leaders from across the country addressed these questions during this summer's Forum 98, co-sponsored by the University and Hobart and William Smith Colleges.

While nearby Seneca Falls was the scene of speeches, reenactments, and concerts celebrating the 150th anniversary of the 1848 convention, the two campuses played host to a national conference that assessed the status of women's rights and recommended priorities for the future.

"This year, 1998, presents an opportunity and a challenge to women and men everywhere to celebrate the first Women's Rights Convention and to recommit ourselves to the goals in the Declaration of Sentiments," says Nan

Johnson, director of the University's Susan B. Anthony University Center and a co-director of the conference.

"The declaration, patterned after the Declaration of Independence, declared the legal and social disabilities under which women lived in 19th-century America," she adds. "Today, as we look forward to a new millennium, it is time to see how far we have come, to look hard at our present-day status, and to determine what is still to be fought for--and won."

More than 150 women from across the country came to the initial Forum 98 session at the River Campus on July 15 to attend workshops on education, civic leadership, public policy, work, and health. The keynote speaker was Dr. Antonia Novello, former U.S. Surgeon General, who was the first woman and the first Hispanic to hold that post. Noting women's caregiver roles and the fact that they live longer than men, Novello warned that most women are not prepared to meet the financial demands of their own long-term care, and that it is important for them to plan.

The 250 participants in the following day's session heard such speakers as former Social Security Commissioner Shirley Chater, National Women's Political Caucus president Anita Perez Ferguson, Feminist Majority Foundation president Eleanor Smeal, Assistant Surgeon General Susan Blumenthal, feminist and author Kate Millett, and Linda Tarr-Whelan, United States representative to the United Nations.

Participants also received reports on the work of the National Consultation portion of Forum 98 that was held at the Hobart and William Smith campus. More than 50 nationally prominent women gathered in Geneva earlier in the week to write a new Declaration of Sentiments echoing the 1848 call to action.

The New Declaration called for "bold action and legislation at all levels to transform our society to assure equality and human rights for the girls and women of the next millennium." The contemporary document focused on women in leadership, in an equitable and productive economy, and in a just and caring society.

Forum 98 was co-directed by Johnson and Sheila K. Bennett, dean of faculty and provost at Hobart and William Smith Colleges.

Johnson, who is an adjunct professor of political science as well as director of the Susan B. Anthony University Center, served as a Monroe County legislator for 20 years. She was the legislature's first woman majority leader and chaired its Human Services Committee. She was also a 20-year trustee of the State University of New York. In 1995, she co-chaired the national celebration known as "95/75" that commemorated the 75th anniversary of the passage of the 19th Amendment giving women the right to vote.

The Anthony Center, which was established in 1995 to educate the University and surrounding community about women's achievements, sponsors programs about careers, education, public policy, health care, business, and women in sports.
---
Four Appointed to Endowed Chairs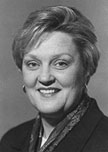 Fox

In recognition of the contributions of one of the city's most distinguished families, the Eastman School of Music has established the first endowed professorship in its 77-year history.

The chair, specifically in music education, honors Herbert and Elsa Eisenhart and is held by Donna Brink Fox, an international specialist in early childhood education who is chair of the music education department. In addition to teaching at the collegiate level, she has also developed and oversees the early childhood music program offered by the school's Community Education Division.

One of the original members of the school's Board of Managers, which he served for almost 40 years, Herbert Eisenhart was also a University trustee and former board chairman.


Another new endowed chair, the Louise and Henry Epstein Professorship in Business Administration, to be held by Clifford W. Smith Jr., has been established at the Simon School. For more on Smith and the Epstein professorship, see Cliff Notes.

Two others have been named to already established chairs: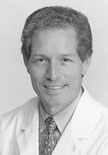 Berk

Bradford Berk, a nationally recognized expert on the molecular biology and genetics of cardiovascular disease, has been named Paul Yu Professor of Cardiology, chief of cardiology, and director of the Center for Cardiovascular Research, a component of the Medical Center's new Institute of Biomedical Sciences. Previously he had been director of cardiovascular research at the University of Washington in Seattle. He received both his M.D. and Ph.D. degrees from Rochester's medical school in 1981. The Yu chair is named for another national figure in cardiology who served the Medical Center for many years.



Parthé

Kathleen Parthé, director of the Russian Studies Program and an associate professor in the Department of Modern Languages and Cultures, has been appointed Mercer Brugler Distinguished Teaching Professor. Parthé, who joined the faculty in 1986, specializes in Russian national identity and cultural history. Among other new courses, she introduced Russia Now, in which students analyze the day-to-day unfolding of events in Russia using print and electronic resources.

The Brugler Professorship was established in 1979 in honor of Mercer Brugler '25, chair emeritus of the Board of Trustees, to recognize excellence in teaching and encourage the development of cross-disciplinary instructional programs.

---
Institute of Biomedical Sciences Continues to Rise
Looming on the corner of Elmwood Avenue and Lattimore Road, behind the Medical Center's venerable Wing R, the center's four-story medical research building is nearing its expected completion in June 1999.

The structure will house the new University of Rochester Institute of Biomedical Sciences that was envisioned in the Medical Center's 1997 strategic plan to earn a place at the top nationwide in attracting research funding.

In continuing implementation of the plan, the medical school has established four new research centers as part of the biomedical institute: the Center for Cancer Biology, the Center for Cardiovascular Research (headed by the newly appointed Paul N. Yu Professor of Cardiology, Bradford Berk), the Center for Human Genetics and Molecular Pediatric Disease, and the Center for Vaccine Biology and Immunology (directed by Professor of Microbiology and Immunology Tim Mosmann, newly arrived from the University of Alberta).

The two established previously are the Center for Aging and Developmental Biology (directed by Professor of Neurology, Medicine, and Microbiology and Immunology Howard Federoff), and the Center for Oral Biology (directed by Professor of Biochemistry and Biophysics Lawrence Tabak).
---
In Brief
Dohnányi conducts Philharmonia: Christoph von Dohnányi, one of the world's preeminent orchestral and opera conductors, was in Rochester in October to conduct the Eastman School's premier symphony orchestra, the Eastman Philharmonia. The event featured the Rochester premiere of a cello concerto by Samuel Adler, professor emeritus of composition. The current and longtime music director of the Cleveland Orchestra--considered by many the nation's finest--Dohnányi received an honorary doctorate from the University during the concert.


Electrical engineering changes name: The change by the Department of Electrical and Computer Engineering--formerly the Department of Electrical Engineering--is part of a nationwide trend among university electrical engineering departments to better indicate what their faculty and students often focus on: computers. While electrical engineering departments have changed dramatically because of the advent of computers, so have their students.

"Thirty years ago, young hackers might have been interested in ham radio," says Philippe Fauchet, professor and chair of the department. "Today's smart high school seniors interested in technology often go into a computer-related field. We want to make sure those students know we can accommodate them."

M.D./M.B.A. program announced: In an effort to educate a new generation of leaders expert in both the medical and economic aspects of health care, the University will establish an M.D./M.B.A. program as a collaboration between the Simon School and the School of Medicine and Dentistry.

The new program offers students an opportunity to achieve both degrees within five calendar years--one year less than the time needed to complete both degrees independently. It differs from other M.D./M.B.A. programs in curriculum: Candidates spend their first year in the program as full-time M.B.A. students at the Simon School. During the second and third years, they are full-time medical students, but spend the summer between those years participating in a health care administration internship. The final two years intersperse advanced business classes with the medical elective curriculum.

Ph.D.s return for Beck tribute: More than two dozen scholars of philosophy who earned their doctorates from the University returned to the River Campus in September to honor the memory of the professor who founded the doctoral program--Lewis White Beck, a world-renowned expert on the German philosopher Immanuel Kant. Beck, who died last year, joined the faculty in 1949 as chair of a two-person-- including himself--department. He remained chair of the Department of Philosophy until 1966.

Yodefat documentary airs December 17: A co-production of the University and WXXI-TV, Echoes from the Ancients has been scheduled by PBS for nationwide broadcast Thursday, December 17, at 10 p.m. ET. (Check your local listings for show time in your area). The hour-long documentary, narrated by Anne Bancroft, reveals the significant discoveries made over the last several years at the site of Yodefat, a first-century Israeli city.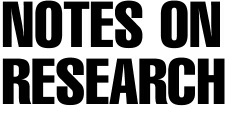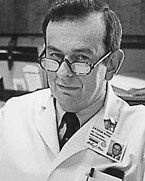 Moss
Gene Defects Linked to Heart Disease
Researchers have linked defects in three specific genes directly to the progress of a form of heart disease. The finding couples the presence of defective genes to the course that patients can expect the disease to take throughout their lifetimes.

The work on Long QT syndrome, a heart-rhythm disorder that afflicts an estimated 25,000 Americans and kills at least 3,000 of them without warning each year, was reported in the New England Journal of Medicine by Wojciech Zareba, Arthur Moss, and colleagues.

"Eventually, every discovered gene should be related to improving the care of patients, because that's what medicine is all about," says Moss, one of the world's leading experts on Long QT syndrome. "This approach of linking a defective gene to a clinical outcome is the major direction medicine will take in the next century."

---
Net Study Advises: Surfers Beware
While gaining access to the Internet is more affordable than ever, a new Simon School study predicts this trend will leave consumers paying more for online content that was once less expensive, or free.

The findings run counter to the notion that consumers are saving money as competition increases and prices decrease in the Internet access wars. Researchers predict that fees for obtaining popular online information--from movie reviews to airline fares to stock market quotes--will rise proportionately, counteracting a part of the bottom-line savings.

"The Internet is fast becoming an amusement park that charges both for admission and for tickets to individual attractions," says Rajiv Dewan, assistant professor of computers and information systems. "As the cost of admission drops, more Internet attractions will charge higher fees--with the consumer doing better, but not as well as some might expect."

The study, conducted by Dewan along with colleagues Marshall Freimer and Abraham Seidmann, is the first to develop models that examine the economic link between Internet service providers (those providing access to the Internet) and content providers (those offering information and services).
---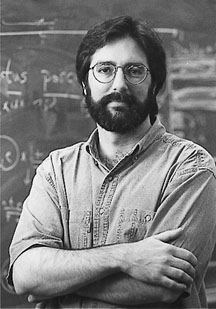 Orr
Species Found to Adapt Through Mix of Genetic Tweaks and Whoppers
In a new theory on the genetic foundations of adaptation--the process whereby a species responds to a changing environment--Rochester evolutionary biologist H. Allen Orr suggests that, faced with environmental change, organisms can evolve through a mix of many minute genetic tweaks, a lesser number of moderate changes, and a few major mutations. The idea runs counter to standard theory on evolutionary genetics, which holds that only the tiniest of genetic changes contribute to adaptation.

Orr's work, published in the August issue of Evolution, is the most thorough attention given to the genetic basis of adaptation in decades, says Nick Barton, a noted evolutionary biologist at the University of Edinburgh in Scotland. "I think that Orr's paper will stimulate a good deal of theoretical and empirical work on what is a key question in evolution: What kind of genetic changes contribute to adaptation?"

---
New Flu Treatment Slashes Sick Time
At a September conference in San Diego on antimicrobial agents and chemotherapy, Medical Center physician John Treanor announced that a new pill designed to treat the flu shows promise, reducing symptoms and cutting by one-third the time patients are ill. The drug doesn't just treat symptoms but actually attacks an enzyme, neuraminidase, that all strains of the flu virus need in order to replicate and spread, says Treanor, head of the Vaccine Evaluation Unit and leader of the multi-site study.

Treanor's team also announced that an experimental flu vaccine in the form of a nose spray is even more effective than previously thought in preventing infection.

At the same meeting, colleague Richard Reichman reported that a candidate vaccine against human papillomavirus that has been developed by a University team has cleared its first hurdle, appearing to be safe while creating a significant immune response in a study of 65 people.
---
Magma's Makeup Yields New Clues to Catastrophic Eruptions
The lava that engulfed the Earth 250 million years ago, coinciding with the greatest mass extinction the world has ever known, originated near the Earth's core, geochemists have found. The work plays into a long-running debate among scientists about the floods of flaming rock that sporadically well up and burn through the Earth's crust. Geologists have long debated whether the volcanic outpourings come from deep within the Earth or closer to its surface. By studying rare isotopes of neodymium, strontium, lead, and helium, a team led by geochemist Asish Basu found that the rock matches up chemically with magma found deep within the Earth.
---
Team Produces Best Snapshot Yet of Cells Affected by Alzheimer's
A team led by Paul Coleman, director of the University's Alzheimer's Disease Center, has developed a technology that sheds light on the disease at its origins, in the nerve cells throughout the brain that sicken and die. The team has simultaneously measured the activity of 20 genes within cells affected by the disease and found significant differences in the activity of five; now the team is looking at nearly 100 genes.

"There is good reason to be excited about this technology," says Zaven Khachaturian, former director of Alzheimer's disease research at the National Institutes of Health. "This is a significant starting point toward understanding much, much earlier what is happening in the brains of people who have this disease." The work was reported in the August 4 issue of the Proceedings of the National Academy of Sciences.
---
A New Way To Treat Alzheimer's: Epilepsy Drugs
Medicines commonly used to treat epilepsy and other seizure disorders appear to be effective in soothing agitation in people with Alzheimer's disease and other forms of dementia. The findings are a glimmer of good news for the treatment of some of the most disturbing aspects of the disease, which afflicts about 4 million people in the United States alone.

The results by University of Rochester scientists were featured at a media briefing in Amsterdam during this summer's 6th International Conference on Alzheimer's Disease and Related Disorders.

Psychiatrists Pierre Tariot and Anton Porsteinsson, physicians at the University's main Alzheimer's treatment site at Monroe Community Hospital, presented the results from several placebo-controlled studies showing that the compounds are effective in treating agitation among patients with dementia. The medicines appear to be as good as or better than currently available drugs designed to treat agitation, says Tariot. Aggression and agitation are often the top concerns among patients' families, say physicians.

"The behavioral disturbances wear down caregivers. It's one of the main reasons patients are admitted to acute and long-term care institutions," says Porsteinsson. "People don't put their husbands or mothers in nursing homes because they are forgetful. They're put in a nursing home because they are a danger to themselves or others, or because they're unbearably hostile or aggressive. This type of medicine alleviates those symptoms for many patients in a population that is a bear to treat."

About three-quarters of those treated with the medicine carbamazepine improved in two of the studies, which were funded by the National Institutes of Health. One of the studies, with 51 patients, was halted prematurely because the drug appeared so effective that physicians concluded further enrollment was unnecessary and all patients should have access to it.

Agitation is one of many symptoms that patients with Alzheimer's and other dementias develop as their brain cells get sick and die. As memory and comprehension deteriorate, patients become disoriented, and ordinary tasks become impossible. Nine out of 10 patients exhibit significant behavioral problems at some point, says Tariot, director of the University's Program in Neurobehavioral Therapeutics at Monroe Community Hospital. There is no single best treatment for agitation, he says. Doctors have used sedatives and anti-psychotic drugs like haloperidol and thioridazine in the past--with only limited success.

Some doctors have previously reported case studies showing that anti-seizure medicines like carbamazepine seemed to improve Alzheimer's symptoms. Doctors normally use these medicines to treat epilepsy and to help patients control impulses or aggression similar to that seen in most Alzheimer's patients. Use of the medications to also treat dementia is growing as clinicians see the benefit.

"This is a case where medical science is trying to catch up with clinical practice," says Porsteinsson. "The medicines are already being used, but there haven't been studies in place to determine just how safe and effective these agents are. That's what our work is all about."

The team's studies are the first placebo- controlled trials of anti-seizure medications in the treatment of Alzheimer's disease.

Nurses measured behaviors like tension, hostility, and aggression--screaming and yelling, hitting or spitting at care- givers, verbally abusing them, throwing things, pacing, and other inappropriate actions. The nurses, who know which patients were on placebo and which were receiving the medicine, watched and spoke with them and their caregivers in nursing homes around Rochester. Doctors analyzing the results found that patients on the medicine were less aggressive and agitated. Nursing aides said those patients were also more engaged in social activities and required less time to manage.

The Rochester team has pioneered the use of anti-seizure medications like carbamazepine and divalproex to treat Alzheimer's and also has expertise in studying and treating nursing home residents. "A nursing home is like a laboratory in which to study dementia in its worst form," says Tariot, who estimates that about three-quarters of nursing home residents have dementia, most from Alzheimer's disease.

Tariot's research group of about 20 doctors, nurses, and other staff is currently conducting some 20 studies with approximately 225 patients.

"The field is evolving very rapidly," says Tariot, who led a symposium on treatment of behavioral disorders and dementia at the Amsterdam meeting. "Six years ago, there was nothing to treat Alzheimer's disease. Now, we have two FDA-approved drugs and as many as a dozen more coming out within five years. We're even talking about prevention strategies. It's very exciting and gratifying."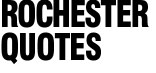 Forbes: "You can puff yourself up with thank-you notes from a dozen organizations, or you can be truly charitable by concentrating your efforts where you believe they will do the most good"--Economics professor Steven Landsburg, on what motivates people to give to numerous organizations rather than narrowing the focus of their giving.

The New York Times: "Now, we'd like to have you enter our Ph.D. program"--History chair Robert Westbrook, to former New York Supreme Court Justice Joseph DiFede '33, '98 (MA), after the octogenarian successfully defended his master's thesis after a 60-year hiatus.

Los Angeles Times: "Sousa would wave at the clarinets to tell them not to double the trumpets on the tune the second time around, or vice versa, and then he would bring everybody in for a rousing finish"--Eastman professor Ralph Locke, on the American composer's style of never playing a march the same way twice. Locke says Sousa's perennially popular music, though sophisticated and well crafted, is underrated by musical historians.

Chronicle of Higher Education: "It's probably one of the most notable days in their four years"--Mary-Beth Cooper, senior associate dean of students, on the impact of Wilson Day on new students. The University's day of community volunteerism celebrated its 10th anniversary this fall by sending out 940 students and some 50 faculty and staff, including President Tom Jackson.

Insight: "People were visibly brighter-- their face expressions were more animated"--nursing-home manager Clair Griffith, talking about elderly patients who enjoy relaxing in a rocking chair. A two-year School of Nursing study by geriatric researcher Nancy Watson found that after rocking at least 70 minutes a day, most patients showed as much as a one-third reduction in signs of anxiety, tension, and depression. Some even needed less pain medication.

Christian Science Monitor: "Every snag, every disagreement is magnified. The impression you get is one of total chaos"--Political science professor Richard Fenno, talking about partisan squabbling in Congress and negative attack politics that, the newspaper writes, "suggest lawmakers are acting with narrow, unfair motives, rather than serving the broad national interest."

Symphony: "We want to create a generation of orchestra musicians who understand what happens backstage as well as onstage"--Eastman professor Douglas Dempster, speaking about the school's programs that give students real-world experience in orchestra management.

Fortune: "We put far too much faith in the Fed's ability to cause problems and to solve them. There's only a limited extent to which they can do anything about real problems, real crises"--Charles Plosser, Simon School dean.

Minneapolis Star Tribune: "The speech is often overlooked, and Hubert Humphrey should be given more credit. By his speaking out, the Democratic Party appeared to take the lead, and it made it easier for the events that followed. He took a bold gamble, and he won"--History professor Jesse Moore, recounting the Minneapolis mayor's 1948 speech to the Democratic National Convention. Historians credit the eight-minute speech, short by Humphrey's standards, for ushering in the civil rights movement. Only days later, writes the Star Tribune, President Harry Truman was emboldened to desegregate the military.

Science: "Bacteria love to stick, and once they settle down and make a biofilm, it's notoriously difficult to get rid of them"--Rochester microbiologist Barbara Iglewski, who as part of a multi-university research team has found the gene that enables the formation of biofilms. Pinpointing a gene that lies at the root of the bacteria's ability to form such films, the team was able to knock out that gene, causing the bacteria to form more vulnerable biofilms that were open to attack by detergents.

The Ottawa Citizen: "The collecting of women is part of the glamorous iconography of powerful men"--Sharon Willis, professor of visual and cultural studies, on what power has to do with the dalliances of the famous, including President Clinton.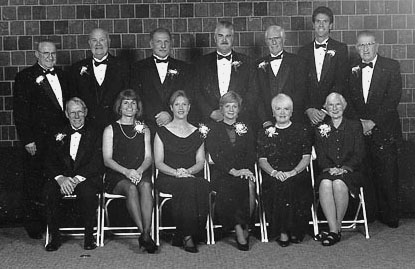 The '98 inductees: Seated, Frank Howd '51, '53 (MS), Lisa Scopa Voit '84, Michelle Mazurik Maybaum '86, Heather Guyer Garrison '79, Claire Baynes Garry (accepting for John Baynes '47), Janice Baroody (accepting for Richard Baroody '44). Standing, Jerome Carl Violette '60, Paul McKee, Ronald Haines '72, John Badowski '77, Glenn Fowler '51, Richard Keil '83, Malcolm Black '52.
1998 Hall of Famers Inducted
A football and track & field star who went on to earn kudos for his geological research (Frank Howd '51), a longtime basketball coach (John Baynes '47), and "one of the best pitchers ever to perform for Rochester" (Malcolm Black '52) are among this fall's 13 inductees into the University's sports Hall of Fame.

Some brief bios of the stellar 13, honored for their contributions to Rochester athletics in particular and to the world outside in general:

John Badowski '77--A four-year football letterman who started at tight end, he co-captained in his senior year, ranking fifth in career receiving yards, eighth in touchdown receptions, and second in average per catch. He made first-team All-ECAC tight end as both a junior and senior and All-America as a senior. After double-majoring in geological sciences and East Asian history, Badowski went on to join Frontier Communications. He was promoted to general manager of the Rochester General Business Division in November 1997.

Richard Baroody '44 (posthumous)--After playing freshman and varsity basketball, Baroody joined the military from 1943 to 1945, then returned to the University. After graduating, he joined the East Rochester schools, beginning a 35-year career in public education. He taught high school English and social studies from 1948 to 1962 and was a junior high school guidance counselor from 1963 to 1983. Along the way, he coached varsity and JV basketball. His varsity team won a Section V championship and six Monroe County titles. Baroody was named Counselor of the Year by the New York School Counselor Association, and was elected to the Geneva and East Rochester Halls of Fame. He died May 20, 1989.

John A. Baynes '47 (posthumous)--A varsity basketball player for three seasons, he was a member of the 1941-42 team that went 16-0, the first-ever undefeated team at Rochester. He was the leading scorer as a junior, getting 18 points in a loss to national champion Wyoming and 19 in a win over Ohio State. He received the Alcott Neary Memorial Trophy as Most Improved Player and the Rufus Hedges Trophy as team MVP. Following military service, he co-captained the 1946-47 team and set a Palestra record with 32 points against Clarkson. After earning a B.A. in history and an M.A. in education, he launched a coaching career as head boys' basketball coach at Clyde (New York) High School. From 1947 to 1955, he built a record of 117-34 with five Wayne County titles, the Section V Class B title, and the Class A Championship. He also coached football and basketball at East Rochester High School. On the court there, his teams accumulated eight Monroe County titles and three Section V Class AA titles. He retired in 1981 with a cumulative record of 319-144. He died on April 12, 1987.

Malcolm S. Black '52--He earned three varsity letters apiece for basketball and baseball and played on freshman teams in both sports. His three-year record of 11-4 as a pitcher prompted head coach Lou Alexander Sr. to call him "one of the best pitchers ever to perform for Rochester." He hit .429 as a junior. His senior- year basketball team was 12-3, considered the finest of the decade. After graduating with a B.S. in business, he served in the Air Force and later earned an M.S. in business administration, moving on to a nearly 40-year career in insurance. He retired from Protection Mutual Insurance Co. in 1993.

Glenn C. Fowler '51--A four-letter winner in both soccer and tennis, he co-captained the tennis team in 1951 and was a member of the 7-1 team in 1949. He earned an M.B.A. at Cornell and married Janeen Lane '52. Staying active in tennis, he joined the River Forest Tennis Club in Illinois and served as chairman of umpires in the early 1960s for the National Clay Courts Tournament at River Forest. He won the club's Veterans (45 and over) championship in 1979. His company merged with Sandoz Nutrition Corp. in 1977, and he later worked as a consultant, retiring in 1990.

Heather Garrison '79--She co-captained the swim team during her junior and senior years and was a member of the 1975-76 team that achieved a perfect (10-0) season. Garrison set team and pool records in four individual events and three relays, and was a top-12 finisher in seven events at the state championships in 1976-78. She became a state-certified swimming official in 1978, earning a B.A. in biology the same year. She coached swimming at East High School the following year while she earned a teaching certificate at Rochester. Garrison earned an M.B.A. with honors from Drexel in 1982 and taught at the high school and collegiate levels from 1979 to 1985. A financial analyst from 1983 to 1995, she co-founded and co-owns Background Knowledge Corp., an Internet software company.

Ronald Haines '72--After a year on the freshman football team, Haines started on varsity offensive line for three seasons, helping the team to a 20-7 cumulative record. He was named to the ECAC Division II All-East Team in 1969 and awarded the Phillips Cup in 1969 as the team's Most Improved Player. He was captain of the 1971 team and was named to the New York Sportswriters Association All-State Team as a senior as well as the Associated Press Little All-America team.

Frank Howd '51, '53 (MS)--He earned three letters in football and four in track. Co-captain of the undefeated track & field team of 1951, he excelled in the high jump, long jump, and javelin throw. As the lightest football player during his junior season (a 148-lb. halfback), he finished second in the East in total offense with 900 yards (697 passing, 203 rushing) behind Joe Paterno of Brown. He served in the Navy on a PT boat in the South Pacific during World War II after his freshman year and graduated with a B.A. in geology in 1951. He earned a master's in geology at Rochester and a Ph.D. from Washington State, going on to become an exploration geochemist/geologist for Kennecott Copper Corp. and later a geology professor at the University of Maine from 1959 to 1990. He is listed in Who's Who in the East, Who's Who in Frontier Science and Technology, and American Men of Science for his pioneering research efforts and development of computer applications.

Richard Keil '83--At the 1983 NCAA Division III championships, he earned All-America honors in the 1,500-meter run and set a school record of 3:47.59. On three different occasions, he set or held school records in the 1,500. Keil won two individual conference titles in 1,500 and ran at four NCAA cross country championships. He was editor of Campus Times, then a daily, and was a co-recipient of the Louis Alexander Award. Since earning his B.A. in English, Keil has worked for both the Associated Press and Bloomberg Financial Markets Commodities News.

Michelle Mazurik Maybaum '86--An outstanding sprinter for track & field teams, she earned six All-America honors, including the 1986 NCAA Division III National Championship in the 55-meter dash. She also won All-America honors in the 100-yard dash three times, including a best-ever third place finish in 1985, and All-America honors twice in 55 meters and once in the 200-meter dash. She was state champion in the indoor 55 as a junior and in the outdoor 100- and 200-meter dashes as a senior. She holds six individual and two relay records at Rochester. After earning a dual degree in psychology and sociology, she worked at Xerox Corp. and later at Frazee Industries, where she is human resources manager. She has received the YWCA Tribute to Women in Industry (TWIN) award and the Frazee Industries Superior Performance Award.

Paul McKee--He was an assistant coach of varsity football, basketball, and baseball from 1949 to 1954, as well as coaching the freshman and JV teams in basketball and baseball. He enrolled at Syracuse University in September 1941 for football and baseball, volunteering for the Marine Corps Reserve the following June. Called to active duty in July 1943, he was sent to the V-12 program at Rochester, where he played football for Dud DeGroot, and basketball and baseball for Lou Alexander Sr. He credits much of his development to Lysle "Spike" Garnish, assistant coach in basketball and football as well as a trainer. McKee was named to All-Upstate NY football in 1943 and won the University's Alcott Neary award that year as Most Improved Basketball Player. After earning an A.B. in education in 1948 and an M.A. in 1954, both from Syracuse, he held numerous coaching assignments on the scholastic and collegiate levels. He was director of physical education and athletics at Rush-Henrietta High School from 1968 to 1985, retiring from coaching football in 1972.

Jerome Carl Violette '60--A varsity football player for three seasons, he enjoyed undefeated years in freshman football and with the 1958 varsity team (8-0) as a junior. Football lost only four games in those four years. He was named outstanding lineman in 1959. Violette also had 33 consecutive shutout innings as a relief pitcher for Lou Alexander as a sophomore. Currently plant manager for Dupont Nylon in Chattanooga, Tennessee, Violette is involved with many community activities, including hospital boards and the Chamber of Commerce.

Lisa Scopa Voit '84--The starting sweeper for the Yellowjacket soccer team for four years, she co-captained for three and earned second team All-America as a junior. She played in the Empire State Games and in several club programs as an undergrad and for several years after graduating and has since stayed active in soccer. After one year coaching at RIT, she returned to the University as an assistant coach. She enjoyed a successful run that included NCAA Division III National Championships in 1986 and 1987, an appearance in the title game in 1991, and five straight UAA championships. Since then she has played for women's and coed indoor and outdoor teams in Oregon and New Jersey. She is the only woman participating in an indoor men's league in Vineland, New Jersey.
| | |
| --- | --- |
| | Women's Soccer: As Rochester Review went to press in mid-October, the Yellowjackets were 7-3-2, having defeated Western Connecticut State, LeMoyne, St. Lawrence, RIT, NYU, Brandeis, and Chicago; bowed to Cortland, Nazareth, and Washington; and tied Emory and Geneseo. Aria Garsys '00 (left), MVP at the Flower City Tournament, has been troublesome to opposing defenses this season, with nine goals in the first 12 games. |
---
Sports Scores Online
Yellowjacket fans can chart the progress of their favorite teams on the University Web, via the Yellowjacket Scoreboard. Scores are updated frequently; two weeks' worth of results are archived on the site at a time.

To get to the Yellowjacket Scoreboard: Visit www.cc.rochester.edu:80/student-srvcs/sports/. At that site, click on Intercollegiate Sports, and then on Yellowjacket Scoreboard.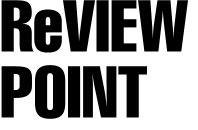 An occasional column of faculty opinion
A Golden Opportunity To Teach Values
By Howard Kirschenbaum
| | |
| --- | --- |
| | Kirschenbaum |
The scandal surrounding President Clinton's infidelity and lying has spurred unprecedented controversy and conversation--from newsrooms, workplaces, classrooms, and homes across the nation to the halls of Congress. One of the more frequent of these topics is the effect of such behavior on children and their developing sense of values and morals.

What are children to think after the president of the United States admits to lying to his family and the American people? Are there no good role models in public life that children can look up to anymore? How do we teach children about positive values and good character when our leaders demonstrate just the opposite?

Better that all of our leaders presented positive models of moral integrity, of course. But until then, the Bill Clinton- Monica Lewinsky scandal has given us a teaching opportunity to advance the cause of character education. Parents and teachers need not feel hopeless and helpless in countering the negative images portrayed by media. Here are a few suggestions on how parents can contribute in positive ways:
Express your feelings. One of the most powerful ways children learn values is when they see their parents react emotionally with praise or condemnation of others' behavior. For example, children who see their parent react with moral outrage to other children hurting an animal are more likely to become altruistic than children whose parents demonstrate indifference. So whether you feel strongly about President Clinton's infidelity or lying, or Linda Tripp's betrayal of a friend, or the integrity or opportunism of members of Congress, let your children know what you approve or disapprove of. It will register in their growing moral consciousness.

Use the "values words." In discussing your reaction to behavior you hear about in the White House or in your own neighborhood, include words like "honesty," "fairness," "trustworthy," and "faithful" in your conversation. Don't assume your children fully understand these terms or all their applications. Help increase their "moral literacy" by hearing you use the words appropriately in your conversation. It not only teaches them the concepts, it emphasizes that these values are important to you.

Don't feed the cynicism. Avoid supporting common refrains such as "Everybody does it," "All politicians lie," "If fidelity were a requirement for public office, Washington would be a ghost town," and the like. And if your child or teenager echoes these sentiments, don't accept them. For example, while it's true, and nothing to be proud of, that the majority of U.S. spouses commit adultery at some time in their marriage, in any past five-year period the vast majority of couples have been faithful to one another. In fact, Americans are among the most faithful couples in the Western world. So be willing to say: "That's not true; not everybody lies. I have many relationships based on honesty and trust," or "Nobody is perfect, but when you get to know someone, you can tell whether they are an honest and trustworthy person, and those people have much richer friendships and relationships than people who lie and cannot be trusted."

Ask for their views and questions. Don't just talk to your children; listen to them. As much as we'd like to forget about it, talk of the Clinton-Lewinsky situation will continue for a long time. Ask, "What have you learned about values and character from this whole incident?" or "Do you have any questions about the president and what you've been hearing?" Hearing your children's thoughts and questions is a great way to learn how their values are developing, and it gives you another opportunity to influence them. When we listen to our children, they are more likely to listen to us, and we might learn something from them.

Be a positive model yourself. Remember, you are a much more influential role model to your children than the president is. No doubt it's getting harder and harder to find heroes to hold up to young people these days. But when it comes down to it, their single most important model is you, their parent. (Teachers also rank higher as models than most people realize.) Your honesty, consistent caring, commitment to the truth, fairness in your comments, and faithful fulfillment of your promises will live on in your children's values and character long after today's news has faded from memory.

We can certainly bemoan the negative values in public life and the media that make our job as character educators more difficult. But we can also use the recent debacle as an occasion to teach and model positive values and good character for our children. After all, it's not always easy to convince young people that honesty is the best policy. Ironically, ready or not, we've been given a golden opportunity.
Howard Kirschenbaum is Frontier Professor of School, Family, and Community Relations at the Warner Graduate School of Education and Human Development and author of 100 Ways to Enhance Values and Morality in Schools and Youth Settings (Allyn & Bacon, 1995).