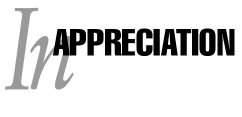 SIX DECADES OF GIVING
As a retired actuary, perhaps Howard Hennington '35 has calculated the odds of success that come with having a college degree. But the avid sailor could not have computed the remarkable turns his life would take after setting sail from the University more than six decades ago.
"I not only got a very good education at the University of Rochester, but I matured a great deal as well," Hennington says now from his home in Greenwich, Connecticut. "My wife, Hildegarde, and I try, each of us, to help our colleges as much as we can."
Since 1995, the Henningtons have been particularly active in supporting the University and its programs. They were the benefactors who covered the costs of a University of Rochester Family Day at the Bruce Museum in Greenwich. Howard increased his annual giving to join the Martin Brewer Anderson Society of donors in 1996, with the understanding that Hildegarde would increase her giving to a similar level for her alma mater, Wheaton College in Norton, Massachusetts.
Hennington majored in mathematics as an undergraduate and earned a one-year scholarship to do graduate study at the University of Göttingen in Germany for the 1935-36 school year. He stayed to attend the 1936 Berlin Olympics, watching Jesse Owens sprint his way past Adolf Hitler's Aryan mythology.
On the return trip to the United States, Howard met Hildegarde, who had spent her junior year studying at the University of Geneva in Switzerland. When their ship docked, she returned to Wheaton. Howard was enrolled for a year at Brown University in Providence, Rhode Island, about 20 miles away from Wheaton. He planned to continue his graduate studies and eventually become a college math professor.
They married in 1938. By that time, Howard had decided the academic life was not for him and took a job with Equitable Life, an insurance company in New York.
During World War II, his mathematical expertise was put to use by the U.S. Navy's Operations Research, where he helped do statistical analyses of enemy submarine traffic in the Atlantic Ocean.
After taking early retirement from Equitable Life in 1974, he joined a smaller insurance company, Mutual of America, as chief actuary. He retired as an executive vice president in 1980. In retirement, he served on the Mutual of America Board for several years and became active on volunteer community boards and with nonprofit agencies.
"Howard is a generous man who responds to all of my requests regarding the University," says Robin Lynn '70, director of the University's New York Regional Office.