THE CLASS OF 2003: READY TO GO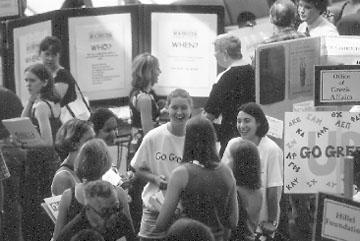 The summer had barely started when this year's freshmen began arriving for the orientation sessions that "pre-acclimatize" them to college life before classes start. Among the attractions is the activities fair in Wilson Commons (above), where newcomers can get acquainted with some of the 120 student organizations operating on campus.
Although exact figures won't be available until everybody checks in at the start of the semester, it appears now that these new students will be arriving in rather larger numbers than anticipated: some 1,090 of them, the result of an unexpected number of acceptances from admittees.
A recent New York Times article outlined the banner year in undergraduate admissions that many top-tier schools are enjoying--and Rochester, it appears, is among those participating in that burgeoning enrollment. Although the class size is rather larger than the 900 envisioned under the College's Renaissance Plan (which calls for a concentration of resources on an undergraduate population of around 3,600 students), Dean of Undergraduate Enrollment Neill Sanders says that the numbers do not pose a long-term problem. And the quality of the class, he says, is "outstanding."
The average SAT scores of the class--chosen from over 8,600 applicants--are more than 100 points higher than five years ago, continuing the rise of recent years. Fifty-seven percent were in the top 10th of their high school class, 86 percent in the top quarter, and 99 percent in the top half.
Other stats: Fifty-eight percent are men; 42 percent women. About a quarter of those who opted to report their ethnic status are members of minority groups. Five percent are children of alumni.
The Eastman School also reports an outstanding class, with 136 freshmen selected from nearly 950 applicants.
---
SPROULL GIFT ENDOWS DEAN'S FUND
| | |
| --- | --- |
| | 1975 photo of Robert and Mary Sproull at home in the historic Patrick Barry House, where they entertained at countless dinners, receptions, parties, and picnics. |
In what President Jackson has called "an extraordinary gift," President Emeritus Robert Sproull and his wife, Mary, have endowed a discretionary fund for the use of the College Dean of the Faculty of Arts, Sciences, and Engineering.

In recognition of the $2 million pledge, the dean's position--now held by Thomas LeBlanc--will be renamed the Robert L. and Mary L. Sproull Dean of the College Faculty.

A highly regarded physicist and administrator, Sproull came to Rochester as provost in 1968. He retired as president in 1984 after 14 years as president and nine as the University's chief executive officer--years which saw, among other achievements, the construction of Wilson Commons, the establishment of the Laboratory for Laser Energetics, and the successful conclusion of what was then (by far) the University's largest fundraising campaign.

Earnings from the Sproull endowment will be used to contribute to the vitality of the University's core programs in arts, sciences, and engineering, Jackson said. Possible uses include faculty awards, a lecture series by faculty for fellow faculty and students, a visiting scholar program, and "bridging" fellowships that allow professors to investigate other disciplines.

LeBlanc will be inaugurated as Sproull Dean at the College convocation on September 10.
---
NURSING SCHOOL SHIFTS FOCUS
In response to a dramatic national decline in enrollment in traditional nursing programs, the University's School of Nursing has adopted a comprehensive plan designed, as Medical Center CEO Jay Stein has announced, "to reposition the school as a competitive force locally, regionally, and nationally."

Because today's nursing students are typically adults seeking a career change or furthering their basic nursing education, the school will shift its resources to build undergraduate programs centered on adult learners and practicing nurses, and will phase out the traditional "generic" baccalaureate program, Stein said.

Other elements of the plan include taking advantage of the school's partnership in Strong Health (the Medical Center's integrated network that includes Strong Memorial and Highland hospitals and the Visiting Nurse Service) to expose its students to a wide range of practice settings. The school also plans to establish a faculty of active nurses practicing within Strong Health; accordingly, nursing faculty will have joint appointments with Strong Health facilities.

In addition, as part of a plan to enhance research efforts within the school, two "Centers of Excellence" will be developed: one devoted to clinical research in aging and the other to vulnerable children and youth.

Details of the strategic plan are available on the Web at www.urmc.rochester.edu/SON/stratig.htm.
---
CONFERENCES DRAW ACADEMIC 'TOURISTS'
The River Campus been a busy place this summer, hosting a succession of international conferences--centered variously on the history of women, the politics of inclusion, and new developments in art history and visual culture.

Largest of the three was the 11th Berkshire Conference on the History of Women, which drew more than 1,300 participants from around the world. Described as "a mammoth undertaking," the event encompassed more than 200 panels, workshops, and roundtables focusing on issues of history, politics, and race, all examined from a feminist perspective. Topics covered in the presentations included business and entrepreneurship, health and medicine, religion, labor, and Latina, Native American, and African- American women's history.

Begun informally in the 1930s, the Berkshire meetings "gave people a place to talk about their research in women's history at a time when that research wasn't always welcome at mainstream historical conventions," said Lynn Gordon, associate professor of history and local chair for arrangements. "Now, if you're at all interested in teaching or research in women's history, this conference is where you come to find out what's going on."

A conference sponsored by the Warner School brought scholars and researchers to the campus to consider how and why to classify and instruct students with disabilities. The purpose, said conference organizer Linda Ware, an assistant professor at Warner, was to "expand the field of inquiry through new partnerships with individuals who live the disability experience, often with little consideration of their voices, their struggles, and their successes."

Also this summer, the College mounted its second Summer Institute in Art History and Visual Studies, conceived as a way to bring together scholars who have been isolated by political and financial hardships in their home countries. With the support of the Getty Grant Program, 30 art historians, museum curators, and cultural critics--two-thirds of them from Central and Eastern Europe--were selected to participate in the month-long institute.

One of the reasons Getty officials were drawn to the University as the site for the sessions, institute arrangers said, was the presence in the College of the Visual and Cultural Studies Program, the first interdisciplinary graduate program of its kind that stresses the interpretation of art works within a historical and ideological framework.
---
OH, THAT TOWERING FEELING!
| | |
| --- | --- |
| | Members of the University of Rochester Chamber Orchestra overcompensate for the slant on a visit to Pisa during a 10-day concert tour of Italy. It was the third overseas trip for the orchestra, which is conducted by David Harman, professor of music and director of orchestral activities in the College. Despite long hauls on buses, delays at airports, and too little sleep, the River Campus musicians had a great time. As Jeremy Rothman '99 put it on his last day in Italy: "We're exhausted and giddy and silly and goofy--and fine!" |
---
PROGRAM IN PUBLIC POLICY ANALYSIS IS SUSPENDED
Citing a lack of consensus within the Department of Political Science concerning the place of a professional training program within a department whose primary focus is undergraduate and doctoral training, Dean Thomas LeBlanc announced in April that admission to the Public Policy Analysis Program was being suspended.

In a letter to students and alumni of the program, LeBlanc, who is dean of the faculty of arts, sciences, and engineering, said that a number of options were being considered to find a new home for the PPA program within another department but that no conclusion had been reached. While acknowledging its success in the quality of the graduates it has turned out, the program, he said, was too small to make it viable as a department on its own.

"The existing situation is sufficiently uncertain that the program director and I agreed to suspend admissions for 1999-2000 and focus program efforts on providing an appropriate second-year curriculum for the Class of 2000," LeBlanc wrote.

"Over the next year, the College will work with the Department of Community and Preventive Medicine to determine the feasibility of providing a new home for public policy. Other options may be explored as appropriate," he concluded.
---
CHU, WILLIAMS ELECTED TO BOARD
A Nobel Prize-winning physicist and an information technology executive, both alumni, have joined the Board of Trustees. They are:

Steven Chu '70, Geballe Professor of Physics at Stanford University. He was awarded the Nobel in 1997 for his work in super-cooling atoms.

Carl C. Williams '75S (MBA), senior vice president and chief information officer of Principal Financial Group, Des Moines, Iowa.
---
IN BRIEF
Banner year for fundraising: Private gifts to the University in 1998-99 rose to an unprecedented level of $46,685,000--more than 24 percent above the record year for contributions from donors, and 63 percent above the previous fiscal year.

"It certainly was a banner year for us," Holli Budd, vice president for development. "This is a credit to the development staff around the institution--and to the growing ranks of University supporters."

The gifts, which are measured as cash received during the 1998-99 year, will underwrite current program needs and endowment for long-term use.

"Voluntary giving at any institution is usually cyclical, with 'up years' and 'down years.' I'm glad we've received such extraordinary support in the past year, which even surpassed any year within our Campaign for the '90s," Budd said.

Eastman Theatre renovation: As a first step in a major renovation of the Eastman School's primary performance hall, the school has engaged an architectural firm to conduct a feasibility study. Part of an ongoing modernization project for all of the school's facilities, projected improvements to the 3,094-seat theater include a new orchestra shell, increased lobby space, and improvements to the hall's lighting and acoustics.

University spin-off: Medical Center researchers have perfected a laboratory technique that is viewed as a crucial step toward making vaccines that can prevent or cure several forms of cancer. The researchers, aided by the University and a group of private investors, have formed a new biotechnology company that has begun applying the new technique in an effort to develop cancer vaccines. They hope to begin human trials of their first vaccines within three years.

U.S. News ranks hospital departments: In its 10th annual issue on "America's Best Hospitals," U.S. News & World Report ranked Strong Memorial Hospital's departments of gynecology, neurology, and neurosurgery among the nation's best.

Strong's departments of neurology and neurosurgery were ranked 26th, while gynecology ranked 49th. In commenting on the rankings, Jay Stein, the Medical Center's CEO, noted that Strong's Ob/Gyn department ranks 11th in the nation for NIH funding and its neurology program is 16th in the nation in federal research funding.
---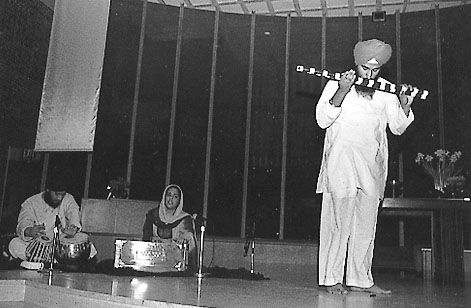 Demonstrations of diversity: The Gatka Dance and the devotional hymn kirtan--part of the Sikh tradition of faith--were among the highlights of an April celebration of religious diversity sponsored by the Interfaith Chapel on the River Campus. Anoop Singh Sahota '00, Gurkiran Kaur Sardar '00, and Rahuldeep Singh Gill '01 (left to right) performed the ritual, which blends practices of physical symmetry, mental acuity, and spiritual awareness. The celebration was the first of its kind on the campus and used music, dance, traditional dress, prayer, ceremony, and testimonials to explore a sampling of the variety of faiths among Rochester undergraduates.
---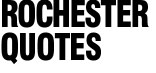 Time: "When Newton invented calculus, he didn't do it by generating a million random ideas and choosing the best one"--Biology professor Allen Orr, dismissing as "cocktail-party science" the hypothesis that memes are to culture what genes are to life.

A term invented by Oxford University scientist Richard Dawkins, memes are described by Time as "discrete units of knowledge, gossip, jokes, and so-on."

"Natural selection, Orr points out, applies beautifully to random processes such as gene mutations but would fall apart if animals could deliberately upgrade their young. Ideas, on the other hand, are often consciously modified before they're transmitted. Meme evolution, unlike gene evolution, isn't random," the article continues.

U.S. News & World Report: "There's a very short half-life to the pleasure that comes from spending"--Psychologist Richard Ryan, quoted in an article examining the price Americans pay for indulging in the upmarket big spending encouraged by the economic boom. (For more on Ryan's current study on the topic, see page 36.)

Billboard: "I learned a lot about immediacy, pacing, how to handle silence"--Pulitzer Prize-winning composer Christopher Rouse, an Eastman School professor, explaining the influence of rock 'n' roll on his own music.

"Rouse was the first to helm a course in rock history at a major conservatory," Billboard reports. "Still, though some have attributed his frequent writing of fast, loud music to his love of rock, Rouse says it is more likely that he 'loves rock because I love fast, loud music.'"

New York Magazine: "A lot of families and young women think they have had a preventive-care visit because they've had a school physical or a team physical or a camp physical"--The Medical Center's Jonathan Klein, credited as "one of the nation's top researchers in adolescent medicine," noting that teenage girls frequently don't get the kind of preventive care that they need.

"Too old for the pediatrician and too young for the OB-GYN, teenage girls--none too communicative to begin with--are often shut off from smart medical care just when they're confronting major issues like sex, smoking, and diet that will affect them for the rest of their lives," the article reports.

The Chronicle of Higher Education: "It's a whole semester packed into two weeks" --English professor Russell Peck, telling what happens when he goes to London with his "Theatre in England" class in tow. It's a fortnight of total immersion, Peck told the Chronicle, during which they take in at least 20 productions. The course also includes "days of reading plays beforehand, and intensive debriefings back at Rochester," he reports.

The New York Times: "Engineers are used to building something, trying to take it apart, and then building it again. Physicians are more used to having devices handed to them"--Alice Pentland, medical director of the new Center for Future Health, speaking of the collaborative nature of the research center, which focuses on creating new, portable technologies for people to use in their own homes in preventing disease." (See A Year in Review, The Future of Health is Soon for an account of some of the futuristic devices envisioned by the engineers and clinicians at the center.)
---

NEW A.D. AT ROCHESTER
For George VanderZwaag, the evidence of Rochester's commitment to top-notch athletics--both intercollegiate and recreational--is all around him.

As the new director of Athletics and Recreation settles into his post, construction crews are in the midst of a $15 million renovation of the River Campus athletic complex (see A Year in Review, Let the Games Begin . . .).

"The building, in and of itself, says that Rochester cares about what it is doing in terms of providing a quality experience for varsity athletes and for non-varsity students as well," VanderZwaag says.

A longtime athletics administrator at Princeton University, VanderZwaag took over at Rochester in July, succeeding Jeffrey Vennell, who had served as Rochester's director of sports and recreation since November 1987.

(The job now carries a new title: The department, previously called "Sports and Recreation," has been renamed "Athletics and Recreation.")

VanderZwaag oversees 22 varsity intercollegiate sports as well as extensive recreation and intramural sports activities.

He earned a bachelor's degree in economics in 1986 from Trinity College, where he also played varsity football and was a member of Trinity's golf team. He holds a master's degree in sport management from the University of Massachusetts at Amherst.

During eight years at Princeton, he worked his way up through several administrative positions, most recently serving as senior associate director of athletics. In that role, his primary emphasis was regulatory, academic, and student-affairs issues for a 38-sport, Division I intercollegiate athletics program.

VanderZwaag says he was impressed by Rochester's support for quality, both on and off the playing field.

The sports complex, which will be renamed the Robert B. Goergen Athletic Center when it is completed in August 2000, is a physical example of that.

But, VanderZwaag says, he was also impressed by support for the belief that providing quality health and recreation programs plays an important role in the best academic environments.

"My goal right now is to tap into that energy," he says.

Rochester's commitment to Division III athletics also appealed to VanderZwaag, who has always believed, he says, that successful athletic programs are those that can find the proper balance between two complementary parts of the educational experience.

"I want to make sure that we're exhibiting success in the educational process more than I want us to measure ourselves against competitive outcomes.

"That's not to say that winning is unimportant in the equation," he says. "But you have to be sure that you're achieving your goals in ways that are consistent with the institution's values.

"To me, winning is always a byproduct of doing everything else well."
SPRING WRAP-UP
Women's Tennis: Jill Mazza '01 finished as the NCAA Division III National Runner-Up and earned All-America honors. In the fall, she reached the Rolex Small College Championship match and continued in that vein in the spring, rolling past four opponents before falling in the title match. Mazza was selected as the Player of the Year in both the UAA and the UCAA.

Women's Outdoor Track & Field: Leslie Willmert '99, who set school records in the hammer throw on a weekly basis, capped off her final season by finishing sixth at the NCAA Division III Championships and earned All-America honors. Willmert won the UAA title in the hammer and helped Rochester finish third overall, its best finish in eight years.

Women's Lacrosse: The Yellowjackets finished 11-7 and reached the semifinals of the New York State Championships. Rochester was ranked for three consecutive weeks in April, rising as high as 13th. Lori Chan '99 earned All-Region, All-UCAA, and All-State honors and played in the North-South Division III All-Star Game in Maryland.

Baseball: Rochester made its third NCAA appearance in school history, competing in the Mideast Regional in Canton, Ohio. The Yellowjackets lost to fourth-ranked Marietta College, 3-2, and 7-5 to 12th-ranked Allegheny College, but then went on to win the ECAC Upstate New York Championship for the second straight season. Jim Lilley '00 was the ECAC MVP. Bob Versacci '99 was named First Team All-Region. The 'Jackets finished 26-14.

Golf: A strong showing in the Fred B. Kravetz Invitational in late April (with four nationally ranked opponents competing), catapulted the Yellowjackets into the final Division III national rankings at 25th. Chuck Graham '99 was named First Team All-UAA, helping Rochester to the runner-up finish at UAAs.

Men's Outdoor Track & Field: The Yellowjackets finished second at the UAA Championships, broke school records in the 400-meter and 1,600-meter relays, and fielded several NCAA provisional qualifiers.

Men's Tennis: The team finished 10-8, third at the UAA and UCAA Championships. Steve Danishevsky '00 was named the UAA Player of the Year.

Softball: The Yellowjackets finished 14­24, placed second at the UAA Championships in Florida, and cracked into the New York State Top 10 rankings by mid-April.
WINTER WRAP-UP
Squash: Longtime head coach Peter Lyman was presented with a lifetime achievement award by the National Intercollegiate Squash Racquets Association at the national team championships. The Yellowjackets finished 6-8.

Men's Basketball: Rochester made its fifth NCAA playoff appearance in the past 10 seasons but lost a first-round game to Hamilton College. Jason Leone '99 was named First Team All-UAA.

Women's Basketball: Taya Branton '99 became the sixth player to crack the 1,000 career-point plateau. She finished in the top 10 in scoring and rebounding and first in field goal percentage. The Yellowjackets were 6-19.

Women's Swimming and Diving: Torrey Podkaminer '01 was named the UCAA Women's Swimmer of the Year after winning the 50-, 100-, and 200-meter freestyles at the UCAA Championships. The Yellowjackets finished second, matching their best finish in school history. They were 5-4 in dual meets.

Men's Swimming & Diving: The Yellowjackets finished fourth at UCAAs. Rob Fowler '00 was an individual UCAA champion. In dual meets, they were 1-8.

Men's Indoor Track & Field: Rochester smashed a school record in the 1,600-meter relay, running at the Boston University Relays in mid-February. The 'Jackets never had the chance to defend their UAA title from 1998-99: A 24-inch snowstorm canceled the team's trip to Brandeis for UAAs.

Women's Indoor Track & Field: The 'Jackets finished second at the UCAA Championships. Leslie Willmert '99 was an NCAA provisional qualifier in the weight throw. The team broke the school's distance relay record.
---
GOT PIX?
For a Sesquicentennial presentation on the history of Rochester sports, we're looking for old photos, movies, and videos of University athletes, teams, and sporting events. If you have such Yellowjacket memorabilia and would consider lending them for the event, please call Curt Smith at (716) 426-7375.