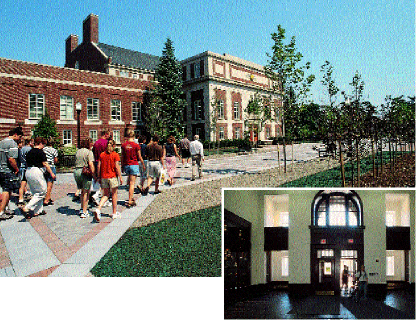 Open for business: Spanking new on the inside after a year and a half of extensive renovation (see inset), the Robert B. Goergen Athletic Center has also received a facelift to its front yard. The area, dubbed "Dandelion Square," now sports a handsomely landscaped courtyard that links the 200,000-square-foot complex with Wilson Commons and the Frederick Douglass Building. The renewed and restored athletic center, named in honor of Trustee Chairman Robert B. Goergen '60, was dedicated during Sesquicentennial Weekend, October 12-15.
Maintained by University Public Relations
Please send your comments and suggestions to:
Rochester Review.