It's a Whole New Ball Game
Dedicated during Sesquicentennial Weekend, the refurbished and renovated Robert B. Goergen Athletic Center is the culmination of a Yellowjacket athletic tradition that, after a rocky start, stretches back nearly 150 years.
By Scott Hauser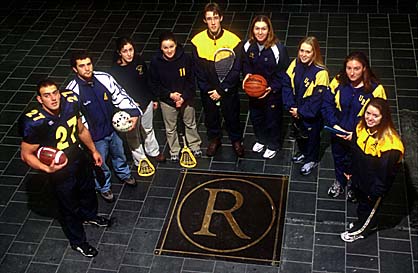 Rochester may have come up with a new version of "student body right," the shorthand reference to a stampeding running attack that often leaves opponents breathless.
But in the new game of athletics and recreation at the University, it's student body right, student body left, and student body up the middle-to the refurbished and renovated Robert B. Goergen Athletic Center.
As many as 3,000 people-the majority of them students-dash through the doors of the center each day, more than twice the number that stutter-stepped in just a few years ago.
Many are on their way to the newly redone 11,000-square-foot fitness center, where rows of gleaming stairsteppers, Cybex weight machines, free weights, and other exercise equipment promise to make them breathless.
"It's two totally different worlds," says Scott Hanford '02, a biomedical engineering major, speaking of the contrast between old and new during a break in his workout. "Not that there was anything wrong with the old center. But all this equipment is new and there is much more of it."
If this were a football game, students and administrators alike would be spiking the ball in the end zone (regardless of the 15-yard penalty for celebration); if a basketball game, they would be cutting down the nets; if a soccer game, the World Cup sports bras would be on display.
Victory, in other words.
Popularized during the coaching tenure of men's basketball coach Lyle Brown in the 1960s, the section of student fanatics known as "The Beehive" is one Rochester tradition that will have to be re-invented in the Robert B. Goergen Athletic Center.
Once filled with screaming and opponent-taunting 'Jacket faithful, the section was removed during the renovations in order to bring the Alexander Palestra into compliance with current NCAA Division III standards.
A bench from the landmark section was signed by students and alumni at the end of the 1999-2000 season and is now enshrined in a glass case at the center.
In an editorial last April, the Campus Times lamented the sidelining of the Hive:
"A TEAR for the passing of the Hive. True, the renovations to the Louis Alexander Palestra are necessary. However, to [Rochester] hecklers and fans, the Hive always stood as a monument to the power of informal school spirit and deserves a prominent place in the nostalgic legends of the [University]."
"We've gone from being a 'have-not' to being a 'have' in terms of the kinds of athletic and recreational opportunities we can offer students," says George VanderZwaag, Rochester's athletic director. "We now have facilities that suggest we're among the top national research universities in the country."
Officially dedicated during Sesquicentennial Weekend, the $14.6 million center is named in honor of Robert Goergen '60, chairman of the Board of Trustees and the center's major benefactor.
Funded through an alumni campaign and extending over a two-year period, renovations to the 200,000-square-foot center include a completely refurbished Alumni Gymnasium, home to the new fitness facility. The gym has been renamed the Hajim Alumni Gymnasium in honor of Trustee Edmund A. Hajim '58, its chief underwriter and overall campaign chairman.
Other changes include an expanded Louis Alexander Palestra to bring it into line with current NCAA Division III standards; renovation of the pool spectator area; a new training room; and a new main entranceway that shows off Yellow- jacket championship trophies and other sports memorabilia.
It's a healthy start to a new millennium. And it's a new ball game in the once heated slugfest over the role of athletics at Rochester.
As the highlight reel announcer would say, let's recap:
First Period
An athletic tradition that includes national championships, All-Americans, and adherence to the ethos of academic integrity kicked off in a spirit of name-calling, personal fouls, and the frequent appearance of ringers.
As the two sides-students on the offense, faculty and administration on the defense-lined up in 1850, the University had no facilities for sports, either indoor or outdoor. First president Martin B. Anderson was fond of noting that students should be able to get all the exercise they needed by walking to and from class.
He was a firm believer, apparently, in the adage that a good defense beats a good offense.
Certainly the president and the professors were not enthusiastic about collegiate sports," University historian Arthur May notes. "They reasoned, in the collegiate tradition, that games, especially of the competitive kind, encourage hostility, bad temper, and selfishness and that athletic rivalries tended to grow into personal feuds."
Needless to say, Anderson rarely received the MVP award from students, who caricatured his anti-sports attitude in campus publications and referred to their titular team captain as an "unprogressive fossil."
But students put up a good fight.
By 1872, interclass baseball had begun play on campus, and a few years later college teams were informally meeting teams from around the city. An official baseball club was on the field for the season of 1879.
Class attendance was voluntary for many members of the squad.
Some, like star third baseman Clarence McBurney, later admitted they were paid. The roster of ringers did not play well with Anderson, the "Judge Landis of baseball at Rochester," as a member of the Class of 1880 and a class-attending teammate of McBurney's later remembered the president.
And while members of the New York State Intercollegiate League-to which Rochester intermittently belonged-voted in 1884 to prohibit such personnel enhancements, in 1895 the invasions of "Hessians," as the players for hire were called, had reached football, which had been officially founded six years earlier.
In 1876, students inaugurated an intramural contest that was part track and field meet, part picnic-game competition.
Known as "Field Day," the program included a 100-yard dash and a mile run as well as hurdle and sack races, a baseball throw, and an interclass rope pull. Field Day became an annual event.
Sports clubs also flourished, with Rochester boasting a bicycle club, a hare-and-hounds club, a club for an eight-mile race, and a tennis club. For a few seasons there was also a polo club.
Kicking off its first season in 1889-90, varsity football started inauspiciously (to understate) with a 106-0 loss to Cornell in the first intercollegiate game.
Second Period
By the 1890s, the tide was turning for the students, largely because Anderson -head coach of the administrators, so to speak-had been succeeded by President David Jayne Hill, a strong believer in physical education.
Operating under the axiom that "if we build it, you have to pay for it," Hill urged alumni to donate money to a campaign to finance a gymnasium on the Prince Street Campus.
Pledging $1,000 himself, Hill told the trustees that funding a gymnasium "would be a natural and proper way for alumni to show their loyalty."
Beginning in 1897 with a goal of $25,000, the campaign finally managed to raise $16,000 from 300 subscribers. The total bill for construction and equipment came to $28,000.
How times have changed:
In a similar, but more modern financial undertaking, the campaign for the Goergen Center set its goal at $15 million.
And how they have not:
For the student body, the coming of the gym was a millennial event," May says of the opening of the original Alumni Gymnasium in 1900, expressing himself with a dash of the seemingly ageless enthusiasm for hyperbole that characterizes sportswriting.
In 1900, women arrived on the campus, and although not permitted to compete intercollegiately until the early 1970s, women's sports teams quickly formed.
Third Period
Each side scored points in the third period as athletics firmly established themselves as part of Rochester's culture, much to the joy of students.
But Rush Rhees, the University's third president, was a strict referee. In reaction to Rochester's rocky intercollegiate start, Rhees stipulated that Rochester athletes must be students first and players second.
Long before the 1974 birth of Division III-and its rules prohibiting athletic scholarships-Rochester demanded that its students adhere to the principle that they play sports only for the love of the game. The ringers were rung out.
And if Rhees was head referee, Edwin Fauver, Rochester's first director of athletics, was umpire, line judge, and backfield judge all rolled into one.
Lured to campus in 1916 with the promise of a new football field, Fauver, a physician, oversaw the physical education of students.
And he added a good dose of moral education as well.
"The Fauver athletic code regarded intercollegiate sport as recreation for bona fide students, frowned upon recruitment of players and athletic scholarships, restricted games to institutions with parallel ideals, insisted that men should be coached to observe the rules of the game, not to violate them, and banned drinking or gambling by players," May writes.
Football reigned as king for much of the early part of the century, but basketball came on strong after its first season in 1901, just a few years after the game's invention in the late 19th century.
Beginning with the 1907-08 season, Rochester captured the basketball championship of the New York State Intercollegiate Athletic Union for three straight seasons.
Fourth Period
When the River Campus opened for men in 1930, Alumni Gymnasium- taking its name from the Prince Street structure-reflected a new attitude toward the role of athletics in student life.
Physical education, intramural games, and intercollegiate competition all received boosts. Downplaying calisthenics, phys ed began to emphasize tennis, squash, golf, and other exercise that could be continued after graduation.
The building's 3,000-seat Palestra was an ideal home for basketball, a program that would blossom with the 1935 arrival of head coach Louis Alexander.
A spacious swimming pool with seats for 500 spectators gave swimming, under Roman L. Speegle, a good start off the blocks.
A large field house, an indoor track, jumping and vaulting pits, squash and handball courts, as well as locker rooms and coaches' offices completed the facility.
Across what is now Library Road to the east, a crescent-shaped stadium could hold about 6,000 onlookers.
On that field legendary football coach Dudley (Dud) DeGroot began leading the Yellowjackets in 1940. When a Navy V-12 program docked at Rochester in 1943, the football team's ranks were swollen with future naval and Marine officers.
By the early 1950s, the Yellowjackets seemed to have even more fire power, winning seven of eight games in 1951. In 1952, Rochester fielded its first unbeaten, untied team in 63 years (8-0), a feat repeated only in 1958.
The '50s brought even more profound change when the women's college, which had remained at Prince Street after the opening of the River Campus, merged with the men's campus in 1955.
The new arrivals needed a place to play. A women's gymnasium-later named Spurrier Gym after Merle Spurrier, who for 36 years was director of physical education for women-was built as part of what was then the Women's Center, now the Susan B. Anthony Halls. (The brilliant enamel-on-copper dandelion commissioned for the Spurrier Gym, gleamingly restored, now adorns the fašade of the Goergen Center.)
And it was the women who set the pace for Rochester's most recent athletic heyday. The first official women's varsity sport was basketball, taking to the court with the 1970-71 season. Field hockey was added in 1975, volleyball in 1976, and in 1978, lacrosse, soccer, swimming and diving, and tennis all became varsity sports for women.
In 1986-at about the same time Rochester took a leading role in forming the University Athletic Association made up of nine likeminded national research universities-the women's Yellowjacket soccer team won the Division III title. It was Rochester's first national laurel. The women's team was crowned champion again in 1987, an athletic repeat no team at this University and few in the country have accomplished. Coach Terry Gurnett '77 was named NCAA Division III Women's Soccer Coach of the Decade in 1990.
That same year the men's basketball team won the school's first national championship in that sport. Coach Mike Neer was named NCAA Division III Coach of the Year for leading the Yellowjackets to the title. The season was the first of three consecutive playoff runs by the Yellowjackets, during which they went 13-and-2 in NCAA play, and won 9 of 11 games on the road.
And in 1991, the men's cross-country team added another national championship trophy to Rochester's shelves, winning the Division III NCAA title.
Wrap Up
Today, one out of every three undergraduates on the River Campus plays for one of the 22 varsity squads, competes in intramurals, or is a member of one or more of the 25 club sports teams.
These students share a long tradition of academic integrity and athletic excellence that administrators such as VanderZwaag hope to extend into extra innings.
The Goergen Center goes a long way toward that, he says, noting that the revamped facilities open a new playbook when it comes to intercollegiate athletics as well as recreational, intramural, and club sports.
Katherine Burel '04, a biology/pre-med major, who toyed with the idea of joining either the women's basketball or softball team when she was applying to colleges, says she's been impressed since she arrived at Rochester last fall.
"I definitely think this is the best facility of all the schools that I visited," she says.
Kara Rozansky '04, an undecided major who tries to get to the center every day, says state-of-the-art fitness equipment was not high on her priority list when she was applying. But now she admits, "It's a bonus."
Advantage Rochester, VanderZwaag says.
"For me, this is about trying to achieve excellence in everything you do-that's what the great universities strive for-and that's what the Goergen Center represents," VanderZwaag says.
"The overall goal of the College is to provide a quality undergraduate education, and this is a step in reaffirming that commitment to provide a quality undergraduate experience."
So, with apologies to Grantland Rice (and thanks to University historian Arthur May):
Outlined against a brilliant blue October sky, the flower of glory bloomed again. In dramatic lore, the flower is known as rose. That is only an alias.
Its real name is dandelion, and it sits atop the entrance to the renovated Goergen Center once more like a "sunburst in steel, symbolic of spring and defying northern winds and the bleakness of winter."
Let the games begin.
Although Scott Hauser admits that his only previous experience as a sports reporter was covering the Golden Gloves boxing tournament for the AP in 1990, he confesses to a hankering after the way sportswriters express themselves.
The Yellowjackets pictured at top in the new main entrance to the Goergen Center are Lance Ramer '01 (football), Dan Ruegg '01 (soccer), Jessica Lerman '02 (lacrosse), Erika Bergstrom '02 (lacrosse), Josh Vinocour '01 (squash), Jennifer LaBuda '02 (basketball), Liz Conway '03 (track & field), Susanna Mayo '04 (track & field), and Courtney Pederson '01 (swimming & diving).
Maintained by University Public Relations
Please send your comments and suggestions to:
Rochester Review.