A Stairway to Heaven
Sesquicentennial Symposium on "Sports Culture USA"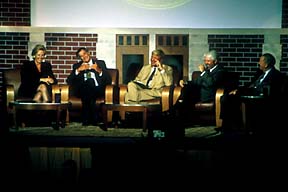 When during Sesqui Weekend the spotlights in the Louis Alexander Palestra swirled in festive tribute to current and alumni varsity Yellowjackets, many of those standing to be recognized were women.
And while clearly outnumbered by their male counterparts of the past and present, the female Yellowjackets represent a major accomplishment for sports in America, according to the panel of all-star sports commentators who gathered to discuss "Sports Culture USA."
Title IX, a section of the Equal Education Amendment Act of 1972 that mandates equal opportunity for women in sports in federally funded institutions, has been "a stairway to heaven," said Donna de Varona, Olympic gold medal winner and the first president of the Women's Sports Foundation.
"I think it's the best thing that has happened for women and for sports," she said.
Added Frank Deford, a Sports Illustrated writer and NPR radio commentator: "For girls to learn to play together on teams is going to have ripples into the 21st century."
Joining de Varona and Deford in the lively hour-long discussion before 1,400 fans were John Rawlings, editor of The Sporting News, the nation's oldest sports journal, and Bob Wolff, whose 55-year television career makes him the longest- running television sportscaster in America.
"Not the Gong Show, at least in theory, and not the McLaughlin Group either, but a conversation among friends for the next hour," as moderator Curt Smith, University lecturer in English, introduced it, the session ran through more topics than the average sports highlight show.
The generally agreed-upon coarsening of sports (and popular) culture, baseball and its status as the American pastime-including whether Pete Rose deserves a spot in the Hall of Fame (a 2-2 tie)-and personal reflections on what sports has meant over the past several decades were all batted about.
De Varona perhaps summed up that last most succinctly: "Sports provided a way for me to identify with the world," she said.
Maintained by University Public Relations
Please send your comments and suggestions to:
Rochester Review.