KAREN DURKIN '87
2002: Golf 'Pro'-Moter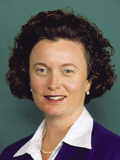 Karen Durkin knew she was a good golfer, but she didn't quite have what it took to go pro.
Still, she sunk her dream job-chief marketing officer for the Ladies Professional Golf Association (LPGA). It's a hole-in-one for the athlete turned marketing pro.
"I've grown up around golf, and I dreamed of playing professional golf," the former music major says. "That wasn't in the cards, so I ended up pursuing other interests. The way it worked out is great."
For more than seven years, Durkin has overseen the use of the LPGA brand as well as business planning, licensing, and corporate sponsorship for the organization. She's seen the league grow significantly over that time, a trend that's been matched by other women's sports.
"Not long ago, one of every five golf players was female. Now it's one of every two, and you see that in other sports as well," she says. "Women's sports are much more socially and culturally accepted than ever before."
As female athletes participate more in sports, the corporate world is taking notice, Durkin says. At one time, companies sponsored the LPGA because it was a good thing to do, she notes, but now it's a viable marketing tool. Ten years ago, only about 50 percent of the LPGA tournaments were televised, and now all of them are. In the biggest index of growth, the league's prize money has increased from $17 million to more than $40 million.
"So much has happened since the '96 (Olympic) summer games in women's sports and athletics," she says. "It's really a great time to be a part of that."
Durkin has long been a part of women's sports, playing on a variety of teams in high school and college. But golf was always her first passion. Raised in a house that backed up to a golf course, she spent many evenings and early weekend mornings playing the game with her father, an activity that she says brought them closer than many fathers and daughters. Her three older brothers were all golfers as well, and she brags that one is a plus player-meaning he has an average below par.
Although Rochester didn't have a women's golf team, Durkin continued to play the sport, participating in several amateur competitions. She played basketball for the University her first two years and competed on the swim team her last two.
When it came to her academic focus, she was a music major, devoting much of her time and future aspirations to the flute. She studied at Eastman and received her degree from the College.
"I knew that I wouldn't be able to pursue flute as my primary career, but at the time it seemed what I was most interested in," she says. "I really had no idea where my career path was taking me."
After getting her master's degree in journalism from Northwestern, Durkin did give golf a shot. Taking two years to focus all her efforts on her game, she eventually realized that she wasn't going to make the cut as a professional.
"I love golf, and I always will," she says, noting that she still plays, if not as regularly as in the past. "I decided that I still wanted to be a part of women's sports, so this seemed to be the perfect place to do it."
Women's golf is improving at a rapid pace, Durkin says, due in large part to better athletes, a trend seen in all major sports. A stringent physical fitness regimen is helping young stars like Laura Diaz and Karrie Webb make their mark early in their careers.
For Durkin, golf taught her patience and perseverance. It helped her build a close relationship to her father, which she calls "a great gift." And, she notes, there's nothing better than playing golf in beautiful locations and weather. For an outdoor sport, she still thinks it's the best.
The basic principles of golf also carry over to her outlook on life.
"Golf is unique, in that all you need is that one perfect shot or round to bring your game back out again," she says. "That's true in a lot of ways. There's no better feeling than when you hit it on the sweet spot."

1987: Competitive Opportunities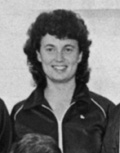 Karen Durkin had played golf, basketball, softball, volleyball, and other sports in high school, and she continued her athletic ways in college, playing basketball for two years before joining the swim team as a junior and senior.
She showed a refusal to give up in everything she did, says Pat Skehan, formerly Rochester's women's swim coach and now the swim coach at California State University at Bakersfield.
"It didn't matter what sport it was, she just wanted the opportunity to compete," Skehan says. "She was talented enough to jump in at the collegiate level and try a brand new sport. Even in Division III, that's not easy to do."
While Durkin didn't set any records in the swimming pool, Skehan remembers her as one of the most enthusiastic athletes on the team.
"She's what I'd call a grinder-a real positive person who just wants to get in there and compete," Skehan says.
A career with the LPGA should be no surprise, Skehan says, because of Durkin's drive and her love of sports. The swim coach remembers Durkin as having a very easy-going personality, a trait that seems to serve her well in her current role despite the competitive nature of the league.
"She was always positive, always working hard," Skehan says. "With her interest in athletics, I think it's a good fit."

---
Jeffrey Marsh
Maintained by University Public Relations
Please send your comments and suggestions to:
Rochester Review.