Features
An Afternoon at Mt. Hope
Rochester students learn research and outreach firsthand in programs that are internationally regarded for their goal of trying to break the cycle of poverty and violence. But they also discover what it's like to make a difference in a youngster's life. By Jenny Leonard. Photography by Elizabeth Torgerson-Lamark.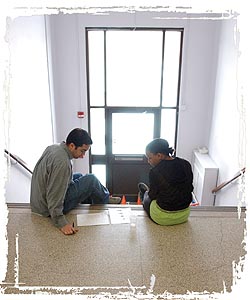 PERSONAL INTERACTION: Counselor Chris McCormick '04 (left) finds a quiet place to meet with a student in the After School Program, for a stress assessment.
"Bus!" a voice calls, and immediately the Mt. Hope Family Center comes alive. Counselors, mostly Rochester undergraduates, hustle for the front door of the renovated Catholic school building on Edinburgh Street.
There, they are met by 11-year-old Cynthia (children's names are pseudonyms), who sprints up the stairs and pushes through the double glass doors, a book bag dangling from her small shoulder. Behind her, a line of students file in, filling the hallway with the uncorkable energy of elementary children just released from school.
Cynthia makes a beeline for counselor Cecilia Ramos '05, nearly tackling her. The two walk hand-in-hand down a plum and purple hallway, chatting all the way to a nearby classroom, where they join fellow counselors Chris McCormick '04 and Melanie Branski '04 and other youngsters in the center's After School Program.
"Hey! I have a surprise!" Cynthia says. "Valentine's Day gifts for everybody." As she sheds her coat, she proudly shows off her shirt, a print of bold pink and red roses.
"It was picture day at school, so I got to wear my new shirt. Isn't it pretty?"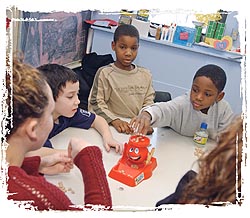 Counselors Lia Field '04 and Anita Robinson '04 play table games with the 7- and 8-year-old group before starting the PATHS (Providing Alternative THinking Strategies) lesson.
She takes a seat without being asked, pulling her long dark hair from behind her back and adjusting her pink headband, ready for another afternoon at Mt. Hope. Soon, guided by the Rochester undergraduates, she and the other 10- and 11-year-olds will be deep into a discussion about the differences between like/love and dislike/hate.
The February afternoon discussion is part of an innovative effort called PATHS (Providing Alternative THinking Strategies), designed as a way to help youngsters talk about the range of emotions people can feel.
"In many ways we look like a traditional after-school program," says Craig Cypher, a soft-spoken guy in his late twenties who recently took the reins as director of the center's After School and Summer Camp programs. "We have crafts, sports, games, but what kind of differentiates us is PATHS. It's a curriculum that's been proven to give kids concrete ways to deal with conflicts they have with other kids, manage anger, and recognize feelings in themselves and others."
Helping kids—as well as their parents—learn ways to deal with the stresses of life below the poverty line is at the heart of Mt. Hope, a nonprofit organization associated with the College's Department of Clinical and Social Sciences in Psychology. Led by director Dante Cicchetti, the University's Shirley Cox Kearns Professor of Psychology, the center has earned an international reputation for its combination of effective outreach and cutting edge research in psychology and the social sciences.
At the center, psychologists, therapists, social workers, and researchers investigate the connections between psychology and biology and develop interventions designed to break the cycles of poverty and violence that often accompany urban decay.
Jay Belsky, director of the Institute for the Study of Children, Families and Social Issues at Birkbeck University of London, says the center is a unique resource.
"Not only is the Mt. Hope Center today the world's leading research site for the study of child abuse and neglect—and so much more—but it is also a foundational support system in the community," he says. "The City of Rochester and the State of New York rely upon it to provide center-based child care and home-based support services to children and families in need."
LESSONS: Counselor Melanie Branski '04 (left) and an After School Program student share a moment during the PATHS session while Cecilia Ramos '05 (right) discusses the differences between "like" and "don't like" and "love" and "hate."
For Rochester students, both undergraduate and graduate, the After School Program and the center's other initiatives offer unique opportunities, too, giving them a chance to touch the lives of children while gaining experience in a research-based program.
Cypher, who has an approachable "buddy" quality that puts the students at ease, came to Mt. Hope from Chicago, where he was completing a doctorate in clinical psychology and working as a mentor to student athletes in the Windy City's poverty-blighted south side. Originally from the Rochester area, Cypher says Mt. Hope's approach to intervention was the main reason he decided to return.
"I couldn't pass up the opportunity to participate in the work they do here, where research and clinical aspects are integrated so well and there is such a strong commitment to working with children and helping families be successful," he says.
Each year, the After School Program, which first began in 1987, serves close to 125 students from Rochester and outlying areas. They are children who have been identified, typically by the Department of Human Services, case workers, or school systems, as kids who are "at-risk," meaning they may be especially vulnerable to delinquency, substance abuse, or gang activity due to poverty, maltreatment, neglect, abuse, or a combination of factors.
Children in the program attend one day a week for two hours in the afternoon—a time when parental supervision can be lacking, especially in single-parent homes—to play, socialize, share, and learn ways to deal with the stress and frustration in their lives.
Research assistant Cheri Redlinski '05, a psychology major from Buffalo, administers the research component of the program. That includes taking and recording each child's temperature when the kids arrive as well as collecting saliva samples that will be later analyzed for cortisol, a stress hormone. An increase in the hormone suggests a child is coping with some type of physical or psychological issue.
Redlinski also works one-on-one with several students, administering tests that measure attention, self-perception, personality, vocabulary, cognitive skills, memory, and problem solving.
"I really like working with the kids and not just being in some lab or on a computer crunching numbers," she says, as she organizes the small plastic bottles she'll use to collect saliva samples from an incoming group of 7- and 8-year-old boys.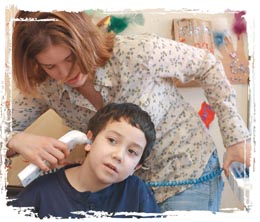 EVALUATION: Research assistant Cheri Redlinski '05 takes an initial assessment of a student in the After School Program.
The integration of intervention and research puts the center at the forefront of developmental psychopathology—a field created in part by Cicchetti. From the center's Summer Camp Program alone, Mt. Hope researchers have collected data on more than 900 children as part of a longitudinal study that stretches over two decades. That data has been used by Cicchetti and others at the center in groundbreaking work on attachment, depression, and child maltreatment.
Jody Todd Manly '90 (PhD), the center's clinical director who first came to Mt. Hope in 1984, says the interplay between clinical services and research allows the center to track development over time and identify risk factors in children's lives as well as characteristics that make some kids more resilient than others.
"I doubt there are many places in the nation that have that bridging across disciplines, across the clinical and research interface, doing absolutely state-of-the-art work in both areas in a way that benefits both," she says. "Our clinical research is designed to address real-world issues many of our families are facing and our clinical treatment is all empirically supported and evidence based. We use interventions we know will work."
In Cynthia's classroom, the students are soon joined by Nikki, who towers at least four inches above the other 10- and 11-year-olds. Nikki is all action and talk and chaos. She brings the room to life with a slightly edgy tone that makes her seem on the verge of adulthood and childhood.
The lanky girl can hardly sit still and takes frequent breaks from spitting into her cortisol collection cup to talk to the counselors or to Cynthia, who is enjoying a snack of Ritz Bits and cranberry-orange juice.
"What kinda person wants to look at spit?" Nikki asks, raising an eyebrow and laughing.
After a snack, McCormick takes Nikki to a quiet stairwell, where he asks her a standardized set of questions about how stressful things have been for her at home and school during the past week. They repeat the process every week, and the answers are recorded, later to be analyzed and cross-referenced with the saliva samples.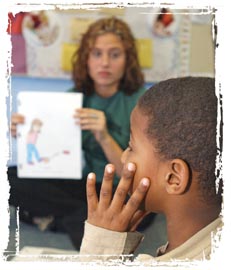 Counselor Anita Robinson '04 leads a PATHS session.
After interviewing Cynthia, Ramos says having the one-on-one time gives counselors a chance to discuss problems the kids may be having and to build close relationships. Born in Peru, Ramos says her fluency in both Spanish and English has helped her develop special bonds with many students like Cynthia who have Hispanic and Latino backgrounds.
"It's important that kids have someone to relate to, someone who looks like them and sounds like them," she says.
Her multicultural heritage was an asset, she recalls, during the recruitment phase of the program. That's when student counselors make home visits to families that are candidates for after-school services. It's part of a two-week training session designed to prepare counselors for working with children in a therapeutic setting, including dealing with escalating situations, tantrums, antisocial behavior, and verbal and physical violence. The visits also give counselors a chance to see firsthand the challenges children face in their homes and neighborhoods.
"During a home visit, I met a mom from the Dominican Republic," Ramos says. "She was about the same age as me, 21, but had two daughters, ages 8 and 7. Do the math: It's pretty frightening. When I spoke Spanish to one of her daughters, the mom was amazed; her eyes just lit up. So I translated everything for her. Even now, I try to stop in and see the girls at least once a week."
Ramos, who has worked as a counselor at the center since September 2003, says the experience has solidified her desire to pursue graduate work in child and developmental psychology.
"Initially, when I learned about the job from one of my Alpha Phi sorority sisters, I thought it was the perfect combo —working with kids in my field of study and getting paid," she says. "I mean, wow, how good is this going to look on my resume? I thought. Now, none of that matters. I could do this as a volunteer in a heartbeat. It's that fulfilling for me."
Ramos's experience is one shared by many undergraduate and graduate students, says Manly.
"In terms of the training and the opportunities for students at various levels, working at Mt. Hope can shape one's life trajectory. I know it did for me."
As the PATHS session gets under way, Nikki stretches out her long legs next to Branski and another student named Erika, while Cynthia cuddles next to Ramos and McCormick, who will lead the lesson. The girls have their "face cards" in hand—the cards are visual ways students can show feelings, and each week the students add another card to a ring.
"Remember, you can use the yellow cards to show comfortable feelings, the blue cards to show uncomfortable or bad feelings, and the white card to show that you have private feelings you don't feel like talking about right now. And it's okay to use more than one card if you're feeling lots of different ways," Branski begins.
A Vision for Kids
Dante Cicchetti thinks with a wide-angled mind: the broader the vision, the better the picture. It's a philosophy that has guided his work at Mt. Hope Family Center, where, since 1985, he has created a place perhaps like none other in the United States, intertwining research and clinical work and helping thousands of families sidestep the pitfalls of violence, abuse, and poverty. [More]
Ramos goes first, holding a yellow "Excited" card and a yellow "Surprised" card: "I'm excited because I'm here with you girls, and pleasantly surprised Cynthia brought in Valentine cards for everyone."
McCormick holds up the same cards: "I'm also excited to be here and surprised by the wonderful Valentines Cynthia brought in."
Cynthia crawls over and gives McCormick a big hug. It's her turn to share, so she thumbs through her cards. A yellow "Happy" card, blue "Sad" card, and white "Private" card: "I'm happy to be here with y'all, sad because I got into a fight at school, and I picked the private card because there are some things going on I just don't want to talk about."
This sharing continues until each student has had a chance. After they're done, McCormick starts the PATHS lesson and reminds the girls what they talked about last time.
"Last week we discussed if being mad or angry is a good or bad feeling," McCormick continues. "Does anyone remember the difference between a feeling and a behavior?"
Nikki's hand flies up, but when McCormick calls on her, she lies back on the floor and giggles, struggling to express herself.
"Do feelings come in different levels?" asks McCormick.
Nikki pops back up and shouts, "Yes!"
Ramos shows a feeling scale, with the top being "very strong" and the bottom "not very strong." She describes how feelings can range from one extreme to the other and fall somewhere in between.
"Like how you feel about vegetables," says Ramos.
"I love vegetables," says Cynthia.
"I love crab legs," says Sara.
"We say love," says McCormick, "but we can also talk about the things we like. Both feelings are comfortable, but like would be lower on the scale than love. Right? Can you think of examples of things you like and things you love? Please raise your hands to answer."
All the hands shoot up into the air.
"I love my mom," says Sara.
"I love all y'all," says Cynthia.
McCormick says the lessons have made a big difference in this group. "I've watched them become more cohesive and respectful of each other's opinions."
After 15 minutes, the girls start squirming around, antsy for the lesson to be over so they can escape to the gym downstairs. Equipped with ramps, nooks to hide in, a "magical" corner painted to look like a giant purple dragon, it's a dream room for any energy-filled youngster.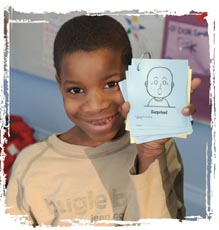 PATH-MAKING: An After School Program student shows his feelings with the help of cards that students and counselors use to help talk about emotions and what they mean.
Once inside, the counselors crank the tunes on the boombox and let the girls run, yell, giggle, jump rope, bounce oversized purple and green balls, play "Over the River" and "Hide-n-Seek," and chase each other until they're out of breath. For 30 minutes, whatever problems they were facing in the morning and whatever problems they will face at home are far, far away. For now, they are simply kids being kids.
As the inevitable end of the day approaches, Cynthia slumps her shoulders and lingers behind the rest, who are heading upstairs to pack their things. Even Ramos's attempts to comfort Cynthia seem to have little effect on the young girl's melancholy.
"Cynthia is such a thoughtful and affectionate girl. It's obvious that she looks forward to this day all week," says Ramos. "But by the end of the day when she really doesn't want the program to end, she tries to be tough and usually withdraws. In some ways it feels like she's blaming us for the fact that the day is ending, like we're abandoning her."
After the girls hug the counselors and say their goodbyes, Ramos sits next to Branski. There's a palpable absence in the room, empty places that the girls' voices and energy had filled moments before.
"It can be hard to watch the kids leave, because you don't know what they're facing when they go home. But at least we're here one day a week for them and at least there's this safe place where they can let their guard down and just be kids."
Branski zips up her coat and gets ready to head back out into chilly February air to her apartment. Working at Mt. Hope, she says, has been one of the most rewarding experiences of her college career and one that has helped define the path she hopes to take in life.
"I wish I'd learned about the center sooner because there are an unlimited number of opportunities here to work with children and get a taste of research," says Branski. "Not to mention, you're surrounded by people working in so many different fields, not just psychology, and they're all so willing to talk with us about career goals. There's some incredible stuff going on in this place, and I'm glad I've had a chance to be a part of the Mt. Hope family."
A Vision for Kids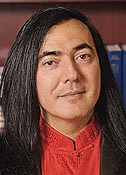 Cicchetti
Dante Cicchetti thinks with a wide-angled mind: the broader the vision, the better the picture. It's a philosophy that has guided his work at Mt. Hope Family Center, where, since 1985, he has created a place perhaps like none other in the United States, intertwining research and clinical work and helping thousands of families sidestep the pitfalls of violence, abuse, and poverty.
A striking figure with shoulder-length black hair and a fashion sense perhaps more at home in a SoHo art gallery than an inner city outreach center, Cicchetti vibrates with a kind of high-octane energy that many say keeps his staff as inspired and driven as he is to uncover the many facets to what goes right and wrong in the way a child's mind develops.
As a teacher and prodigiously curious researcher at Harvard in the early '80s, Cicchetti began to map out new territory in the field of developmental psychology. The first faculty member from the psychology department in Harvard's history to be given a named nontenured position—the Norman Tishman Associate Professor of Psychology—Cicchetti conducted seminal research at Harvard for eight years on infant development and mental retardation. While the work led to some promising discoveries, Cicchetti says the gap between the work he was doing in the lab and the lives of those he was studying seemed to him disturbingly wide.
"I didn't want simply to identify causes for abnormal development but to apply that knowledge to create effective interventions that could bring about real change for children and families and address the issues people struggle to cope with daily," says Cicchetti.
In 1985, the University offered Cicchetti a faculty position and the post of director of the Mt. Hope Family Center, a small but reputable research facility looking at causes for child abuse and maltreatment.
In the 19 years since, Cicchetti's work at the center has shaped the field of developmental psychopathology, a branch of psychology that incorporates biology, genetics, and sociology to explore normal and abnormal development. The center's new molecular genetics lab—a resource unheard of, he says, for a psychological center—and numerous neuroscience labs with state-of-the-art EEG monitors for observing electrical activity in the brain are tools Cicchetti says he uses to conduct "multiple levels of analysis and identify the various pathways of development."
As principal investigator for eight federally funded grants totaling more than $20.5 million, Cicchetti is driven to answer such questions as what role does depression play in infant-mother attachment, what is the interplay between genetics and social influences such as poverty and neglect during childhood brain development, and what are the long-term effects of various therapies for maltreated children.
Under his leadership the center's facilities have increased to about 70,000 square feet. And the staff has increased tenfold and now includes more than 80 psychologists, therapists, social workers, researchers, and other support personnel who conduct cutting-edge research always with an eye toward developing breakthroughs in interventions for high-risk populations.
Jody Todd Manly '90 (PhD), who came to the center in 1984 and is now clinical director, was Cicchetti's first doctoral student. Originally from North Carolina, Manly says Cicchetti's tireless enthusiasm and originality has kept her at the center for nearly two decades.
"When he came aboard, there was no question I wanted to stay and continue my work here," she says. "He's really more than a teacher; he's a mentor in that broader sense—guiding, inspiring. Dante sets the tone for what happens here, and while he could be resting on his laurels, instead he's always looking for the next question to investigate. It's a passion that's contagious."
In 2000, the University named Cicchetti the first Shirley Cox Kearns Professor of Psychology. His research and writing on attachment, child maltreatment, and maternal depression and his devotion to child advocacy have earned him many honors, including the Nicholas Hobbs Award and the Award for Distinguished Contributions to Research in Clinical Child Psychology from the American Psychological Association. Last summer, Cicchetti received the organization's Award for Distinguished Contributions to Psychology in the Public Interest.
Cicchetti is founder and editor of Development and Psychopathology, a scholarly journal recently ranked second with regard to impact in its field by Journal Citation Reports. An author of numerous seminal works, Cicchetti also coedited (with Donald Cohen of Yale) Developmental Psychopathology, which has become the standard reference manual in the field.
Jay Belsky, director of the Institute for the Study of Children, Families, and Social Issues at Birkbeck University of London and a leading expert on child-parent relationships, says Cicchetti's vision single-handedly shaped the direction of the field.
"I regard Dante as a 'visionary,' and I say this not glibly," says Belsky. "In fact, there is no other academic whom I have run across in my field that I could or would say this about. . . . His eyes, his mind, and his vision are truly on the horizon, seeing things that most of us don't even think about; and not just seeing those things, but developing—and implementing—plans to get us there.
"Why? First and foremost is that he cares so much about kids and families and desires to lessen their pain and suffering. Second, he is an information sponge when it comes to scientific information pertaining to the myriad of topics that impinge on the field of developmental psychopathology. And third, probably, because he can't help himself. That's just who he is."
—Jenny Leonard
---
Jenny Leonard is editor of Currents, Rochester's faculty-staff newsletter.