The Next President
Noted legal scholar Joel Seligman brings his talents as an academic administrator to Rochester as the University's 10th president. By Betsy Rogers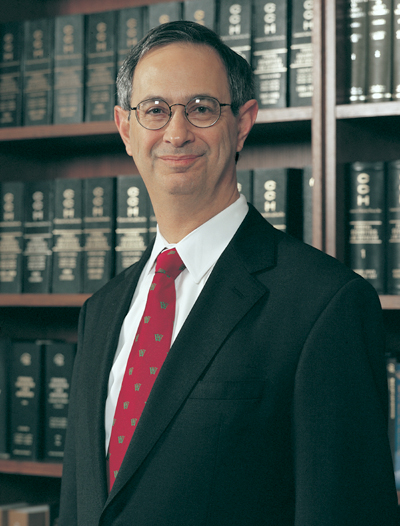 PRESIDENT-ELECT: Dean of the law school at Washington University in St. Louis since 1999, Joel Seligman becomes Rochester's 10th president in July (Photo by Joe Angeles/Washington University in St. Louis).
If you want to know what kind of person Joel Seligman is, say colleagues who have worked with him over the past half decade, look at his strategic plan for the law school at Washington University in St. Louis. The five-year plan, spearheaded by Seligman as dean, is credited with helping propel Washington into the top tier of U.S. law schools.
You also could look at Seligman's stature as one of the leading authorities on securities law and regulation. Nearly all of his recommendations to Congress, for example, became part of the Sarbanes-Oxley Act, the 2002 law intended to prevent the kind of corporate scandals that are synonymous with Enron.
Then again, you could watch him teach a major course on corporate law every year, or sit in as he has lunch with small groups of first-year law students just beginning their legal studies.
"Indefatigable" is a word that comes up often in describing the man who will be the 10th president of Rochester.
"It's very invigorating to work with Joel," says Daniel Keating, associate dean for academic affairs at the law school. "It's challenging but fun—there's never a dull moment. He thinks big, and he aims high. He's not afraid to take risks. He has a knack for making things happen that maybe you didn't think were possible."
Rochester's 10th President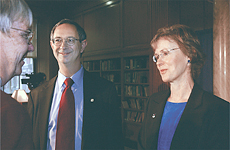 FIRST COUPLE: Joel and Friederike Seligman talk with Provost Charles E. Phelps.
Joel S. Seligman, Ethan A. H. Shepley University Professor and dean of the School of Law at Washington University in St. Louis
Education
A.B., UCLA (political science), 1971
J.D., Harvard University, 1974
Experience
Dean, Washington University School of Law (1999–present)
Dean (and Samuel M. Fegtly Professor of Law), University of Arizona College of Law (1995–1999)
Professor, University of Michigan Law School (1987–1995)
Professor, George Washington University Law School (1983–1986)
Professor, Northeastern University Law School (1977–1983; named full professor in 1983)
Scholarship
One of the nation's leading experts on securities law, Seligman is the coauthor, with the late Louis Loss, of the 11-volume Securities Regulation, the leading treatise in the field, and author of The Transformation of Wall Street: A History of the Securities and Exchange Commission and Modern Corporate Finance.
He also has served as reporter for the National Conference of Commissioners on Uniform State Laws, Revision of Uniform Securities Act (1998–2002); as chair of the Securities and Exchange Commission Advisory Committee on Market Information (2000–01); and as a member of the American Institute of Certified Public Accountants Professional Ethics Executive Committee. He is currently a member of the board of NASD (National Association of Securities Dealers).
He is the author or coauthor of 20 books and more than 40 articles on legal issues related to securities and corporations. He is the coauthor (with John C. Coffee Jr. of the Columbia University law school faculty) of the leading casebook Securities Regulation: Cases and Materials and author of the casebook Corporations: Cases and Materials.
Family
Seligman and his wife, Friederike, have two children: Andrea, a second-year student at the University of Pennsylvania, and Peter, a high school senior.
Seligman, the Ethan A. H. Shepley University Professor and dean of Washington University's law school since 1999, brings his talents as an academic leader, nationally recognized scholar, and dedicated teacher to Rochester when he officially takes office as the University's top executive on July 1.
Formally appointed December 1 by the Board of Trustees, Seligman succeeds President Jackson, who plans to take a year's sabbatical and then return to teaching as a Distinguished University Professor with faculty appointments in the College's Department of Political Science and in the William E. Simon Graduate School of Business Administration.
"In multiple dimensions, Joel shows himself to be a person of remarkable vision, someone who can lead a national research university like ours toward its greatest potential," says G. Robert Witmer Jr. '59, the board's chairman who oversaw the search process. "His accomplishments have been nothing short of astonishing."
While those accomplishments include credit for leaving two law schools in stronger academic and financial shape, Seligman's deep-seated passion for higher education—and his respect for the faculty, students, and staff who make universities tick—bubbles quickly to the surface when he talks about the role education plays in making the world a better place.
"When I think of universities, I take great pride in having been associated with the most enduring institutions in the civilized world," he says. "What makes them enduring? They're open to new ideas. They try to originate them and to apply them. Universities have been more flexible, more capable of growth than virtually any other institution."
It's a broad view for a scholar and administrator who, up until now, has made his name mostly in legal circles, and it's one that resonated with members of the search committee, says Witmer.
It's also a multidimensional outlook that he shares with his predecessor in Rochester's executive offices, and one that seems to be contagious among law school deans. In succeeding Jackson, Seligman not only follows a fellow legal scholar and former dean of the highly regarded law school at the University of Virginia, he also joins a host of former law school deans now heading the nation's leading universities, including, in New York State alone, Cornell, Columbia, and New York University.
"Like Tom Jackson, Joel shows a breadth of ability that makes him well equipped to lead any of the nation's distinguished universities," Witmer says.
An appreciation for the law and for the ways that education can shape society for the better have long been part of Seligman's outlook.
His father, Selig J. Seligman, was a lawyer who worked in the Third Army during World War II in the Intelligence Corps. After the war he worked at Nuremberg on property reallocation issues during the celebrated international criminal tribunal.
"I grew up having almost nightly conversations with him, more about Nuremberg and law school than any other subject," says Seligman. "The two were code for an ongoing conversation about justice. Nuremberg was an idealistic aspiration to establish universal principles of justice."
His father's ideals made a profound impression, says Seligman, who describes dinner conversations at his home as a "multiyear class in jurisprudence." His father imbued him with the revolutionizing power of education, particularly through his studies at Harvard Law School, which the younger Seligman would also attend in his turn.
"It was a transformative decade in the development of law," Seligman says of his father's years at Harvard. "It was the New Deal decade. Norms of law which had been settled for many prior decades were dramatically upended by a greater and more activist federal government. There were new questions posed about distributive justice, about how you structure society, about how you protect individual rights and what rights should be protected."
The elder Seligman settled the family in Los Angeles, where he worked for Paramount Theaters and the ABC network, eventually becoming a producer. Most notably, he was the original executive producer of the TV soap opera General Hospital, and he was an executive producer of the 1969 film Charly, for which Cliff Robertson won the Academy Award for best actor.
Presidential Plans: Listen, Learn, Build
RECEPTION: Seligman, wearing a University of Rochester hat, greets students at Wilson Commons.
Joel Seligman, a nationally recognized legal scholar, highly regarded academic administrator—and, as announced in December—Rochester's next president, plans to emphasize his role as a "listener" and a "builder" as he prepares to take office in July.
"I've got a great deal to learn—from the faculty, the students, the administrators, and the city," Seligman said after he was introduced to the University community and the media. "I want to visit the schools, I want to visit the programs, I want to hear them tell the stories.
"I strongly believe that the wisest leader is one who listens, and I'm going to begin practicing what I've preached before, and I look forward to learning a great deal more about Rochester in the months and years to come."
At a press conference announcing his appointment, Seligman praised President Jackson's tenure over the past decade.
"By temperament, I'm a builder, not a cutter, and this is a school which has such great strengths to build on," Seligman said. "In large measure, this is a consequence of the storied presidency of Tom Jackson, who for the past 10-and-a-half years has been a leader on the national scene in higher education."
G. Robert Witmer Jr. '59, board chairman and chair of the Trustees' Presidential Search Committee, also praised Jackson's leadership as he introduced Seligman and his wife, Friederike, at the press conference and at a reception for students, faculty, and staff at Wilson Commons.
"Because of the work that President Jackson has achieved in the past 10 years, it turns out that we are a very attractive university," Witmer said. "We could not be more delighted with this selection."
As part of his introduction, Seligman briefly outlined some of his top priorities as he begins his tenure at Rochester:
Preparing the groundwork for a capital campaign to boost the University's endowment. "I look forward to working—perhaps before, but certainly in the early part of my time here—with the schools and programs on developing strategic plans. They were pivotal in the progress that the University made during Tom Jackson's time; they'll be pivotal in articulating the case for the support I know the alumni are going to want to provide this great university."
Raising Rochester's national profile. "The University of Rochester is, to too many, an undiscovered jewel. . . . I'll try to work with the schools to elevate the profile. In part this will focus on ways of bringing great international and national scholars to Rochester in programs that I anticipate we will have."
Strengthening relations with local and regional communities. "I know that one of the pivotal efforts in community relations in the years to come will be economic development."
Placing a strong emphasis on diversity. "[T]his is a multicultural world. It's a world in which every race, every gender, every nationality matters."
—Scott Hauser
The younger Seligman grew up in Los Angeles, often visiting the television and film studios where his father worked. When it was time for him to attend college, he enrolled at the University of California at Berkeley.
After his father died, he finished his degree at UCLA, and from there, he went to Harvard Law School, graduating cum laude in 1974. After law school, he worked with consumer advocate Ralph Nader on two books, one of them on corporate law.
The experience set him on a course to become the nation's leading expert on securities law and convinced him to pursue a career in legal education. Faculty appointments soon followed at the law schools at Northeastern, George Washington, the University of Michigan, and the University of Arizona, where he was named dean in 1994.
In 1999, he was named dean at Washington University, where the law school, recently settled into a handsome, state-of-the-art building, was poised for new growth.
And grow it did. With Seligman at the helm, it crafted, adopted, and implemented a five-year strategic plan that identified three broad goals—to be a first or leading choice for an increasing proportion of the school's students, to attract and retain top-caliber faculty, and to sharpen the school's identity by building on its recognized program strengths.
Colleagues credit the school's measurable successes in achieving the goals of the plan to Seligman's exceptional skills.
"He has a wonderful ability to build a consensus," says Commissioner Harvey Goldschmid of the U.S. Securities and Exchange Commission, who serves on the law school's National Council. "He listens carefully and tries to understand what people are saying and why they are saying it. He then puts his high intelligence and his pragmatic good sense to work. He has the ability to put the thoughts of others together with his own ideas and build an action plan."
Keating agrees: "He confers with people one-on-one to get everyone together."
Once a consensus is reached, however, Seligman says it's the executive's job to make sure the plan is carried out. He likes to quote a description of 19th-century actress Sarah Bernhardt, of whom it was said, "She has her head in the clouds and her feet in the box office."
One of the audiences at any school's "box office" is students, and Seligman emphasizes student interaction with faculty and administrators. "We always want to help students with challenges," he says, "to let them know we support and value them."
The results at Washington University School of Law have been dramatic. Seligman is proud of a doubling of admission applications, and a sharp rise in applicants' scores on the law school aptitude test and in their grade point averages. The number of career services professionals increased twofold; scholarship guarantees grew from one year to three; total aid dollars doubled. The admissions office added staff and strengthened recruitment.
"He really takes students' concerns to heart," says second-year student Sasha Polonsky.
Student enthusiasm energizes Seligman. "The idealism, the intelligence, and the energy of students never ceases," he observes.
Also as part of the strategic plan, the law school gained nine new faculty members, reducing the student-faculty ratio to 13.6:1. Significantly, the school tripled the number of its endowed professorships.
Professor Nancy Staudt, one of Seligman's new hires in 2000, says Seligman knows how to bring out the best in faculty.
"He is very good at pushing scholars to the next level and encouraging us to be ambitious—whether in the context of writing an article or a book," she says.
"He wants the institution to advance," Staudt continues. "He sees each individual player as extremely relevant. From top to bottom—students, faculty, staff—he's always trying to see that we're performing at our highest and best level."
Seligman knows the quest for pedagogical quality firsthand. He teaches a large corporate law class each year, and consistently makes a hit with his students. "He is very charismatic in a subtle way," Polonsky says. "He teaches with a great deal of zest, adding narrative and anecdotes about the case law and rule development."
Programmatically, the school has expanded its top-ranked clinical program and increased funding for several public-interest law initiatives. It has added three centers—the Center for Interdisciplinary Studies, the Institute for Global Legal Studies, and a new Intellectual Property and Technology Law Program, encompassing a clinic and a Center for Research on Innovation and Entrepreneurship.
The centers have sponsored 14 conferences, including events in Tokyo and Beijing, that have not only produced valuable new scholarship but have also raised the school's profile.
"The reputation of the school has climbed in the academic community by people being there and becoming aware of how vital a place it is," Goldschmid says.
Seligman's own reputation as a securities law expert also has enhanced the school's standing.
"He's a leader of international stature," Goldschmid points out. "He's written the definitive history of the SEC. He's recognized everywhere as an enormously productive and extraordinarily wise scholar."
A prolific writer, Seligman is perhaps best known for The Transformation of Wall Street: A History of the Securities and Exchange Commission and Modern Corporate Finance, now in its third edition, and for the 11-volume, 5,700-page treatise Securities Regulation, coauthored with the late Louis Loss.
In 1999, the SEC named Seligman chair of a federal advisory committee to study the availability of market information, and in March 2002, in the wake of massive corporate failures, he testified before the U.S. Senate Committee on Banking, Housing, and Urban Affairs. Congress subsequently adopted the Sarbanes-Oxley Act, which creates a private regulatory organization—the accounting watchdog known as the Public Company Accounting Oversight Board—with a budget approved by the SEC rather than the industry it would regulate.
"It was a breakthrough concept," Seligman says.
Presidential Praise
"Everything Joel Seligman does is meticulous, thoughtful, and creative. He clearly knows higher education and, now, this University. He resonates with its aspirations; he has the vision, skills, and enthusiasm to lead this great institution forward with the right values. I look forward to working closely with him during the transitional months."
—President Jackson
"As we scoured the nation in our search for presidential candidates, Joel Seligman really stood out. He has a passion for excellence and equity, he is a true scholar, and he is committed to improving the lives of people around him, be they students, faculty, staff, or his local community."
—Nicholas Bigelow, Lee A. DuBridge Professor of Physics and chair of the University Advisory Committee
"Joel Seligman was clearly the candidate who stood out in all of our minds. He's extraordinarily engaging, and it was quite clear that he was interested in what students had to say. We were looking for someone who would continue the strong programs that Tom Jackson has started, and who would build on them. Joel Seligman is the perfect example of that."
—Alexis Spilman Lanning '01, a doctoral student in optics, cochair of the Student Advisory Committee
"Joel Seligman's departure from Washington University in St. Louis is a loss for us, but he is destined to make contributions to American higher education as the president of a major research university, and I welcome the opportunity to work with him in his new capacity as a fellow leader of a member university in the Association of American Universities. I will look forward, too, to friendly competition when the Bears take on the Yellowjackets in University Athletic Association league play!"
—Mark Wrighton, chancellor of Washington University in St. Louis
Seligman's ability to balance all these enterprises leaves his colleagues breathless.
"I don't understand," Keating acknowledges, "how someone could be a dean of a major law school, teach a large course every semester, continue his scholarly productivity on his various books and articles, and also serve on all these boards for the securities industry and security reform."
"He's left the equivalent of about seven or eight different legacies, each one of which could have been worthy of a dean's term," says Keating.
Seligman has high respect for Jackson's legacy at Rochester, noting in particular his leadership in helping craft the Renaissance Plan, the Rochester Curriculum, and the strategic plan for the Medical Center.
"Rochester is the right size," Seligman says. "It has wonderful faculty. It has great students. The challenge for me will be to help raise its profile.
"When you look at its extraordinary programs and faculty, that's a very exciting prospect."
Seligman plans to bring his consensus-building style to each of Rochester's six schools to develop a strategic plan embodying feasible, but challenging, "stretch" goals.
"A key attribute of these plans," he says, "will be to delineate fundraising goals for a very major capital campaign that the University will initiate at the appropriate time. I'm going to work with Bob Witmer and the Board of Trustees to review each school's plans and then articulate University-wide themes" for the campaign.
He will be joined by his wife, Friederike, who is a scholar in her own right, with a Ph.D. in Slavic languages and literatures and teaching experience at the University of Michigan, Oberlin College, and Harvard, where she and Joel met. She, too, is looking forward to the move to Rochester, where she will teach in the College's program in Russian studies.
The Seligmans have two children, Andrea, completing her second year at the University of Pennsylvania, and Peter, graduating this spring from high school.
As he prepares for the transition that such a move entails for his family and his career, Seligman has been making monthly trips to Rochester to get to know senior administrators and deans. He plans a "listening tour" throughout the campuses, "so I have a richer, more robust sense of what the University is about."
He's already met with regional leaders and has been touched by the warmth of the reception offered him.
"There has been amazing goodwill," he says, adding, "there's a lot more to learn about how the University can be the most effective citizen possible."
Goldschmid, like many who have worked with him, has high expectations that "effective" will only begin to describe Seligman's tenure at Rochester.
"Rochester will benefit greatly from Joel's scholarly commitment and his ability to lead even a first-rate educational institution to new heights," the SEC commissioner says. "Everyone is going to enjoy being with him.
"He will bring great intelligence, thoughtfulness, and energy to the presidency."
---
A freelance writer in the St. Louis area, Betsy Rogers is a former editor of the faculty-staff newsletter of Washington University in St. Louis.