Nursing a New Career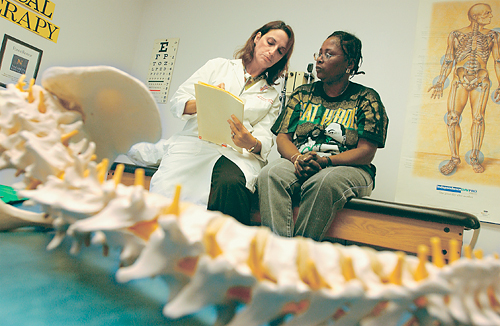 DIRECTOR: Rita D'Aoust, director of accelereated nursing programs at Rochester (left), shown here consulting with Thelma Coakley, a patient at a neighborhood clinic in Rochester, says the three-year-old effort draws students from around the country.
A new School of Nursing program is helping former computer programmers, marketers, and people from other professions find new rewards as future nurses. By Jayne Denker | Photography by Richard Baker
After 26 years in front of a computer, Patti Megerle was dissatisfied with her chosen career. At age 49, she could have been looking forward to advancing as a software developer and systems analyst at Eastman Kodak Co. Or she could have been coasting toward early retirement.
About the same time, Megerle began volunteering at Advent House, a hospice in the Rochester suburb of Fairport, and, she says, "Something clicked with me.
"I was drawn to volunteer at hospice and found a new side of myself," she says. "I didn't know I had those skills or that desire to care for other people."
"I wanted to make a contribution to society."
—Student Paul Sabin
Megerle soon decided that she wanted to be a nurse, and, like a growing number of adults who are switching professions in midstream, she turned to a new program at the School of Nursing designed specifically for people like her.
Thanks to the School of Nursing's Accelerated Bachelor's Program for Non-Nurses, a new, one-year degree program open to people who already hold a bachelor's degree, professionals are leaving their first careers to make the leap into an area of health care that faces a growing shortage of practitioners.
"When I was 25, nobody could have told me I would be a nurse at 50," says Megerle, a part-time student in the program.
Facing Another Shortage
Even with the recent increased interest in the profession, enrollment at nursing schools is kept low by a shortage of faculty members.
Nearly 16,000 prospective students nationwide were not admitted to baccalaureate nursing programs in 2003 due to the faculty shortage, says a 2002 report from the American Association of Colleges of Nursing, and more instructors are expected to retire in the next decade.
Last October, the School of Nursing broke ground on a 19,500-square-foot expansion, which eventually will allow the school to accept 100 students each school year. But that goal will remain out of reach without more faculty. With 67 full- and part-time faculty members, the school hopes to add 10 new instructors.
"We expect to admit about 75 students when the expansion is completed," says Pat Chiverton, dean of the School of Nursing. "That's based on whether we can find enough clinical placements for students, as well as faculty members to teach them."
As for the future, says Rita D'Aoust, director of the accelerated programs, the programs will continue to adapt to meet the needs of students.
"It's not where they come in, it's where they leave," she says. "Other accelerated programs try to put you through a cookie cutter, but our approach is to 'add to'—and I can't wait to see what comes out. The possibilities are stunning. Exciting."
—Jayne Denker
The new program, which also has a master's degree option, is the latest in an effort by Rochester and other nursing schools across the country to reverse a decade-old national shortage of nurses. According to the U.S. Department of Health and Human Services, the number of nurses in the United States, and around the world, began to drop in the 1990s as nurses left the profession due to overwork and low pay. Many also retired.
At the same time, fewer people chose to enter the profession. In 2000, there were 26 percent fewer new R.N.s (based on the number who passed the licensing exam) than in 1995.
In a 2002 fact sheet, the American Association of Colleges of Nursing says more than 125,000 nurses are needed to fill vacancies in hospitals across the country, a gap that's expected to increase to more than 400,000 nurses—a 20 percent vacancy rate—by 2020 (75 percent of all hospital job vacancies are in nursing).
Launched in 2002, the Rochester program began with 23 students, and enrollment has increased to 67 students—57 full time and 10 part time—in the Class of 2005, with plans to increase the enrollment further in coming years.
Rita D'Aoust '76N, '84N (MS), director of the accelerated programs, says the caliber of students interested in becoming nurses has been impressive. Four years ago, there were about two dozen fast-track programs nationwide for prospective new nurses to choose from, and today there are about 60.
"We draw from a national pool, competing head-to-head with Yale, Emory, Columbia, Hopkins, Duke, Stanford, Cornell," says D'Aoust. "[The students] want a school that's commensurate with where they obtained their bachelor's degree and with their abilities. These people are overachievers. Not 'I want that grade,' but 'I want to know. I want to do my best.'"
In the one-year program, students who attend full time complete the degree in three semesters, with a total of 49 credits, 90 lab hours, and more than 600 hours of clinical rotations. Before entering the program, they must complete five prerequisite courses—anatomy and physiology, microbiology, growth and development, nutrition, and statistics—with a grade of C or better from an accredited university, community college, or online learning program.
Full-time students take four courses each semester, plus spend two or three days a week in clinical rotations at Strong Memorial Hospital and other hospitals and clinics in the area. During the rotations, which last several weeks at a time, students help provide hands-on patient care under the supervision of nurses, allowing them to get experience in different settings, such as psychiatry, obstetrics, surgery, and pediatrics.
What's the Cost?
Although the School of Nursing's accelerated program is condensed, the tuition is not. At $880 per credit, the cost of the program in the 2004–05 year totaled $41,808—excluding lab fees, books, lab coats, and parking—as much as—and sometimes more than—many comparable four-year baccalaureate programs.
Students who were laid off can receive federal and state retraining grants, as well as money from New York State and RochesterWorks! They also may take out loans as they look forward to nearly guaranteed employment with an average salary that could top $40,000 a year, plus signing bonuses and debt relief. However, perhaps stung by the layoffs in their previous careers, many of them try to avoid taking on loans.
Antoinette Baleba-Lekane, for example, works from 30 to 60 hours a week as a nurse's aide while she attends the program full time. She says she studies while she sits with bedridden patients. "I read my notes, work on my laptop, and when I have time, read ahead in the textbooks."
Student Paul Sabin found another way to cover some of the costs. "My wife and I raided our retirement income," he says.
While the school has a few small scholarships, in the hundreds of dollars, to offer, it has only one large grant to mete out. In 2002, the school received $2.3 million from the Helen Fuld Health Trust, the country's largest fund for nursing education.
"It has been the most critical factor in our success in recruiting top nursing candidates from across the country," says Ellen Thomas, director of foundation relations at the Medical Center.
—Jayne Denker
Says D'Aoust: "Our students are in clinical rotations 20 hours a week, every week. Classes, clinical rotations, and labs total 40 hours a week—not any different from the School of Medicine and Dentistry."
For classes filled with former salespeople, marketers, computer programmers, and other nontraditional students, that may seem like a daunting switch, but students say they see nursing as a chance to find more fulfilling work. Others are drawn to the security of knowing that they will be in demand when they graduate.
"Over the years, I achieved career success without job satisfaction," says Paul Sabin, a 55-year-old former director of the Utah Governor's Council on Health and Fitness. "My position was eliminated, and I could have taken another job in government, but after September 11 and the death of my parents, I realized I wanted to make a contribution to society. I stepped off the treadmill."
Jim Graham, 46, was a director of a business-to-business call center when he realized that, like Megerle, he needed greater job satisfaction.
"The business climate can be unethical, immoral," he says. "When I was in business, I was asked to do things outside my comfort zone. But nursing is the other extreme. It seems like a cliché, but it's a demonstration of the human spirit and helping others."
Job security attracted Wade Luttge, 50, a retired Air Force navigator.
"I wanted a job where I wouldn't be pink-slipped as I got close to a second retirement," he says.
The Class of 2005 is made up of students age 22 to 55, from recent undergraduates to older men and women who have years of wisdom and work experience to draw on. That makes for a richer educational experience, says Elaine Andolina '79N (MS), director of admissions for the nursing school.
"Last year, I had a student who said, 'Elaine, we did a case study, and in my little group we had a high school math teacher, a dietitian, a statistician, a foreign-trained physician, and a guy who used to work for a cell phone company,'" she says. "The perspectives that everyone brings to the table—you can't replicate that."
"It reminds me of reality TV, with all of these different people thrown together," says Sean McEntee, 36, a Catholic priest who has taken a leave of absence from his order to attend the program. "One of our greatest resources is one another."
That variety can present new tests in the classroom, say faculty members.
"There's a sophisticated level of discourse in class, but they don't know anything about nursing," says Daryl Sharp '02N (PhD), assistant professor of nursing. "They're professionals in a novice role. Teaching this kind of diverse class challenges us as teachers to get our points across. We have to translate the material in a variety of ways. And they'll press you. They keep your standards high."
We're more focused and hands-on. We're more mature."
—Student Antoinette Baleba-Lekane
Students are adamant that the program is not for the faint-hearted, and they expect to be ready to jump into their new careers when they graduate.
"I definitely think we'll be good enough," says student Antoinette Baleba-Lekane, 29, who holds a degree in computer science. "The program covers a lot, and we're more focused and hands-on. We're more mature."
Heather Menchel '04N, a former advertising and marketing business owner, says she was fully prepared for her current job in oncology at Strong.
"I thought that my orientation period in oncology would fill in any gaps in my education, but I found that there were no gaps," she says. "However, new nurses who graduated from other schools did have to catch up."
"This program cuts a lot of the fluff," says Kate Fairbanks, 22, who entered the program as soon as she graduated from SUNY Geneseo last May. "It teaches you what you need to know to take care of patients."
"Even part time is full time," says Peter Drahms '02RC, 24, who is attending part time while he works on a University research project. "But when I think I have it rough, I look at the guy next to me who has four kids and a full-time job. I don't know how those types of students do it."
Students are finding that they have fewer worries about finding work when it comes to nursing. Employers woo prospective employees even before they've graduated and passed the licensing exam.
"At least two thirds of my class had several offers for jobs before we graduated," Menchel says.
"When I was looking for a job in business, I interviewed with 15 companies," says Jason Tranquill '04N, a former medical salesman who works in the surgical intensive care unit at Strong. "I always found myself saying, 'I hope you hire me.' But when I was a nursing student, we had recruiters holding luncheons for us, saying, 'We hope you'll consider working for us.' That was a nice change."
It's a change the students all appreciate. They have few regrets about leaving their former careers behind.
"I have not looked back since I left business," Tranquill says.
Says Sabin: "I feel better than I've felt in 15 years—mentally, emotionally, physically. At 55, I look forward to my new life."
---
Jayne Denker is associate editor of Rochester Review.