In Class
Broadway Boot Camp
Students find their voices—and a sense of themselves—as they put together a musical revue. By Jenny Leonard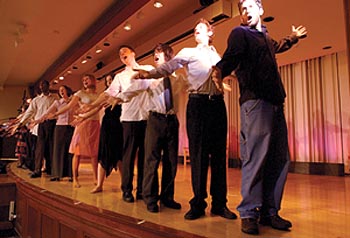 SHOWTIME: Students rehearse for their "final exam" in Musical Theater Workshop.
It's dress rehearsal on Friday afternoon. Three hours to show time. Everyone's buzzing.

"This ain't no chemistry class, unless you're talking about stage chemistry!" instructor David Runzo quips.
It's the final exam, of sorts, for Musical Theater Workshop, a class taught by seasoned musical theater gurus Kim Kowalke, chair of the College's music department, and visiting instructor Runzo. In the 29-number revue, titled Taking Flight!, students showcase the acting and singing skills they've sharpened during the semester. The culminating show is pulled together in about eight days—grueling, sleep-deprived, rehearsal- filled days—fondly dubbed "hell week."
"The instructors tell you that the week before the show they're going to own you," says Heather Good '06 with a laugh. "And they do."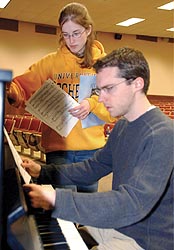 Lydia Dewey '07 and class accompanist Tim Crawford go over arrangements.
Sporting glittery top hats and black canes, the students run through Stephen Sondheim's "Everybody's Got the Right," the opening song of the revue's second act. Someone misses a step, turns too fast. A cane flies into the first row of—fortunately—empty seats. Nervous laughter erupts.
"Focus, people!" Kowalke reprimands. "From the top . . . again."
They do it again.
"Boy, was that like eating a hot water sandwich," says Kowalke, shaking his head.
"On wheat bread," adds Runzo. "Guys, it means nothing if it's not alive and threatening."
Good, a premed student from Florida who's been performing in musicals since she was 11, is well aware of what the course can mean. Last fall, she returned for a second time as an advanced student. (Kowalke combines the introductory and advanced sections to give returning students a chance to mentor and direct the newer members.)
She capped her second workshop much as she began her first: on stage, singing her showtune-loving heart out.
The first time around, Good admits, she was a bit more apprehensive. As a freshman, she had heard rumors about the ego-crushing instructors whose criticisms have been known to bring dauntless divas to tears.
That's why, Good recalls, the audition for the workshop was one of the most apprehensive days of her scholastic life:
"I walked onto the stage, terrified, and there they both were, sitting in the audience. Dr. Kowalke told me to sing. I sang. When it was over, there was no feedback from either one of them. So I left, thinking it had gone absolutely, horribly wrong, but the next day I got an e-mail saying, 'You're in.'"
While the class can be an acute exercise in ego adjustment, for many it's also a defining academic experience, thanks in no small part, they say, to the direction and dedication of Kowalke and Runzo.
In the workshop-style course, there's no coddling. Students must come to the very first class prepared to sing a solo, an exercise Kowalke calls the initial "ice breaker."
"If you're going to be in musical theater, you have to develop a thick skin very quickly because there are going to be many more rejections than there will be successes," says Kowalke, who in addition to chairing the music department is the Richard L. Turner Professor in Humanities in the College and professor of musicology at the Eastman School. "That's part of it all. They have to be ready to be directed, to take constructive criticism, and to change."
Not only must performers face the instructors' critiques, but those of classmates as well. During a workshop late in the semester, Michael Bozzella '07, a biology major from Wilmington, Massachusetts, sang "Trust the Wind," a sanguine tune by David Friedman, and then listened to his peers:
"Your consonants are too soft. Attack your consonants." . . . "I wanted to punch you for closing your eyes and clutching your shirt so much." . . . "Don't try to give yourself a voice lesson while you sing."
Such scrutiny can be unsettling for students, many of whom were stars of their high school renditions of Little Shop of Horrors, Grease!, or Bye Bye Birdie, but who soon come to realize that perhaps they're not the next Nathan Lane or Bernadette Peters.
In exchange, students get a realistic glimpse into the professional world of musical theater, and even more important, a glimpse into who they are as earnest yet imperfect human beings.
They face their fears, learn to trust, and come out more confident, more comfortable in their own skin, says Kowalke.
"For most students there's a transformation, but it depends on what students come in with and what they want to do in life," he says. "For some people, this class will make them a better lawyer. They'll be much better in the courtroom or the boardroom because they've been through this experience. For other people, it'll give them the confidence to say, 'I'll see what I can do in this field, and I'll give it a shot.'
"Some leave the experience much more at ease revealing who they really are, because you can't get through this course hiding behind a facade or being phony."
Bozzella says the workshop helped him reach a new level as a performer.
"When I look back to the beginning of the semester, I'm shocked how much I've improved," he says. "Every time Dr. Kowalke would say 'more, more,' it forced me to dig deeper and really find my voice."
For those brave souls who decide to put ego aside and try out for the workshop, Bozzella has some advice: "Take all your expectations and throw them out the window. Sure, it's grueling and incredibly demanding, but it's one hell of a good time."