Eastman School and MAG
'Living Recording' Arrives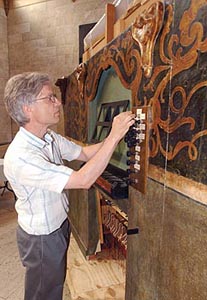 PIPELINES: Hans Davidsson, Eastman School organ professor, helps reassemble the organ's 2,000 or so parts.
Faculty and students studying the organ at the University now have a unique window into the musical world of the 18th century.
An international team of faculty, staff, and restoration experts spent several weeks this summer reassembling the only full-size antique Italian Baroque organ in North America and getting it ready for its fall debut.
The installation of the one-of-a-kind instrument marks a milestone for the Eastman School's effort to amass a collection of new and historic organs on campus and around the city of Rochester.
Owned by the Eastman School, the organ is housed in the Memorial Art Gallery's newly renovated Herdle Fountain Court.
With its 22-foot-tall case, 600 pipes, and lavish ornamentation, the organ provides an important link to the culture—and the sound—of the 18th century, project leaders say.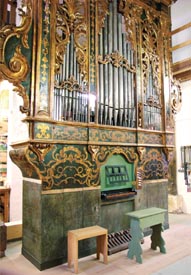 The fully restored instrument was taken apart in Germany before being shipped to the Memorial Art Gallery.
"[It's] virtually a 'living recording' of the musical sounds heard hundreds of years ago," says Hans Davidsson, organ professor and director of the Göteburg Organ Center in Sweden.
Crafted by an anonymous builder in about 1770 (with substantial parts from an older organ), the instrument was discovered by German organ builder and restorer Gerald Woehl, who oversaw the restoration.
The refurbished organ was disassembled in Germany and shipped to Rochester, where it was reassembled last summer.
The inaugural public concert featuring the organ will take place during the Eastman Rochester Organ Initiative (EROI) Festival, October 8–16. For more information, visit www.rochester.edu/Eastman/EROI.