So You Want to Be a Conductor?
What's it take to stand up in front of an orchestra of world-class musicians and 'tell' them what to do? Review visits a new summer program for aspiring conductors launched by the Eastman School and quizzes some of the school's resident maestros.
By Jayne Denker | Photography by Richard Baker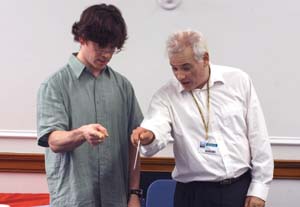 DIRECTION: Varon (right) makes a point with Marenstein.
In an air-conditioned studio on the third floor of the Eastman School, an unusual assemblage of musicians arrange their chairs and sort through their scores. Made up of only 15 musicians, the makeshift orchestra has an overabundance of strings and piano, but only two French horns in its brass section, and one saxophone makes up the "winds."
Conductor Harry Marenstein launches the motley group into Beethoven's Symphony No. 1 but doesn't get far before Neil Varon politely interrupts.
"You're beating an extra beat with your left hand," says Varon, professor of conducting and ensembles at Eastman. "Just switch hands to avoid people on the other side coming in too soon."
Marenstein, 30, from Brooklyn, tries again. His direction becomes less flamboyant, but the orchestra follows his lead better.
"See how that works?" Varon asks, and Marenstein nods, eager to continue honing his skills.
Getting such focused time at the podium was a highlight for students in Eastman's Summer Conducting Institute, a five-day seminar for professional conductors and aspiring directors that debuted last summer. In a unique collaboration, the institute took advantage of the relationship between the Eastman School and the Rochester Philharmonic Orchestra to provide apprentice conductors with advanced conducting study in front of the professional "A-level" RPO.
Varon, who directs the Eastman Philharmonia, selected the students from videotape auditions.
"This allows students to build up to feeling comfortable directing, which is the first step in this job," he says.
In addition to having the opportunity to conduct, students attended forums and learned about orchestra leadership, career development, and score preparation and stage settings. For a finale, some had conducting sessions with the RPO in Eastman Theatre.
"There just are not that many programs out there where you can conduct a professional orchestra," Varon says. "A lot of times conductors work with student orchestras. We have an elite setup here, with the RPO."
Participants like Matthew Fritz, 22, from Scottsdale, Arizona, say they were particularly drawn by that opportunity.
"They followed you too perfectly," says Fritz, who this fall has entered the master's program in conducting at Eastman. "Everything you did, they did. So if you made a mistake. . . ."
The institute got enough positive reviews that it's likely to be on the summer schedule for next year.
"The program is definitely worth doing, especially for less-experienced, younger conductors," says Marenstein. "I know I made a major step in my development. I've put all the pieces together."
---
Jayne Denker is associate editor of Rochester Review.