A Community Responds
The University opens its doors and hearts to people affected by Hurricane Katrina. By Ryan Whirty

When 20-year-old Damian Aufiero prepared to leave his New Orleans apartment on a Saturday morning at the end of August, he wasn't expecting to be gone long. The Tulane University junior says that despite the imminent landfall of Hurricane Katrina, "I wasn't really expecting massive damage."
Still, Aufiero and his two roommates "decided to be on the safe side" and took off for Atlanta by car. He thought he'd be starting his fall semester at Tulane within a week.
Aufiero quickly realized he wouldn't return soon. "I knew I wasn't going back to Tulane in the fall," he says.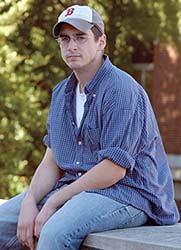 CONTINUING EDUCATION: While his flooded campus in New Orleans recovered, Tulane student Damian Aufiero enrolled as temporary students in the College.
As the images of a battered and flooded New Orleans sunk in, the native of Newton, Massachusetts, began to look for a way to forge ahead with his studies. A friend at the University contacted Jonathan Burdick, dean of Admissions and Financial Aid for the College of Arts, Sciences, and Engineering, and before Aufiero knew it, he was in Rochester, taking classes and living in a River Campus dorm.
"I was really impressed," the history major says of the University's efforts to help him continue his education. "Rochester just blew me away with what they've done for me."
One of several displaced college students who found refuge—literally as well as academically—at the University, Aufiero was one example of Rochester's efforts to respond to the overwhelming destruction in the Gulf Coast late last summer. Along with its counterparts across the country, Rochester joined an unprecedented mobilization among academic institutions to help those affected.
In addition to opening its classrooms and dormitories to some of the estimated 100,000 students displaced from New Orleans area colleges and universities, Rochester lent its clinical expertise to federal and volunteer programs dealing with the aftermath. And Rochester students took the initiative to organize fundraisers, teach-ins, and prayer services while faculty members reached across the country to help colleagues.
"Katrina was almost overwhelming in its magnitude," says President Joel Seligman. "What is important to appreciate is that every effort matters. So many people evacuated from New Orleans have talked not about money, but about the human face of the response. That is one area where the idealism and compassion of a university community can make a particular difference."
As with the recovery effort in the region, many of Rochester's efforts were ongoing and in flux throughout the fall semester. What follows are snapshots of the ways that the University responded to the country's largest natural disaster in modern history.
'I Was Lucky'
Altogether, the College responded to more than 30 inquiries from displaced students, and about a half dozen enrolled as temporary students. The Eastman School and the Simon School also accepted students into their programs, and the Warner School, the School of Nursing, and the School of Medicine and Dentistry sent out word that they were each prepared to enroll students.
In each case, the displaced students who enrolled were not asked to pay tuition to Rochester and, for some, their room and board fees were donated. (The students will, however, have to work out the financial details of how their tuition bills for the fall semester will be handled by their respective institutions.)
"All of us who watched the news and read the stories were touched by (Katrina)," says Marcy Kraus, senior associate director of the College's Center for Academic Support, who helped students register for classes. "Education is our No. 1 priority, so we stepped forward to offer these students a place to study because it's so important to us to let these students continue their education.
"At every level," she adds, "from the president on down to the R.A.s and students, there was a consensus" to do what could be done to help.
At the Eastman School, which accepted three New Orleans area music majors for the fall, voice professor Carol Webber realized she "became incapable of sitting back and not doing something" in the wake of the hurricane. She contacted Steven Daigle, the chair of Eastman's voice department, to ask about hosting displaced music students.
As luck would have it, Daigle had spent the summer directing two Loyola University juniors, Claire Maloney and Vernon DiCarlo, in the Ohio Light Opera Company. Daigle spoke with the head of Loyola's voice department, Philip Frohnmayer, who facilitated the temporary enrollment of Maloney and DiCarlo at Rochester.
"I had been realizing that school (at Loyola) wasn't going to be happening this semester," says Maloney, who arrived in early September. "I was surprised and excited at the chance to work with some wonderful musicians at Eastman."
Maloney enrolled and settled into a dorm room at Eastman, which she says has welcomed her into the community. "Everybody has been really great," she says. "I feel really accepted. People here have taken good care of me, and I think I've made out better than a lot of other people."
Also enrolling at Eastman for the fall was euphonium player and Loyola graduate Rey David Cortes, who was preparing to start a master's program at the University of New Orleans.
The Simon School, meanwhile, accepted two displaced business students by the middle of September after Dean Mark Zupan contacted his counterparts at Tulane and the University of New Orleans. Zupan says the school offered to enroll up to 20 students.
"When we learned about the devastating impact Hurricane Katrina had on the Gulf Coast, our thoughts immediately turned to the well-being of our alumni and students in those cities," Zupan says. "Our efforts to assist victims of the hurricane will not end there. Plans are in the works for additional fundraisers, and so many of our faculty, staff, and students continue to give through agencies like Habitat for Humanity, the Salvation Army, and the American Red Cross. The outpouring of support from the Simon community has been an inspiration."
'Lots of Pockets'
Students from the College brought a little taste of theBig Easy to their efforts to raise money for people affected by Hurricane Katrina last September. They organized "JAM-balaya," a dinner-and-show event that featured jambalaya, collard greens, and other Crescent City dishes at Douglass Dining Hall. Students then displayed their showmanship at Strong Auditorium in a multicultural talent show with performances by the Indian Dance Team, the Sihir Bellydance Ensemble, Radiance Dance Theater, Korean American Student Association, and Ballet Performance Group.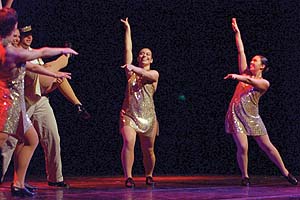 FUNDRAISERS: Students in the College organized two editions of "JAM-balaya," a variety show featuring student entertainment groups to raise money for hurricane relief.
In the end, the event raised more than $1,500 for the campuswide Hurricane Relief Effort, which also includes fundraising efforts by Greek houses and other student organizations. The event was such a success that student leaders quickly planned a JAM-balaya 2 for later in the semester.
"A tragedy like this falls across the whole nation," says Julia Shmoys '06, one of the coordinators of JAM-balaya. "It's not an isolated event. This campus is not apathetic, and there are things we can do to help those people out. If they were in our shoes, I'm sure they would do the same thing."
Shmoys thanked the hundreds of people who turned out and the students who made it happen.
"I couldn't be happier with the University of Rochester community," she says.
Also last fall, about 400 people filled Eastman's Kilbourn Hall for the school's annual Jazz Showcase. Because New Orleans is the "birthplace of jazz," Eastman's jazz students felt it only natural to dedicate the funds to the Jazz Foundation of America, which operates the Jazz Musicians Emergency Fund.
"Because of a sense of commitment to a noble cause and a feeling of togetherness with jazz musicians from New Orleans, the performances (during the showcase) reached a very high level of creativity and musical maturity," says Dariusz Terefenko '04E, an assistant professor in the Department of Jazz Studies and Contemporary Media and in the Department of Music Theory. "The enthusiasm that emanated from the stage was reciprocated by our audience."
The event raised more than $1,100 for hurricane relief.
Webber and Daigle, too, are soliciting donations to support the three students who have enrolled at Eastman. Webber says the school has taken care of the trio's "major needs." Now, she says, she and Daigle are coordinating the students' "personal needs."
Webber contacted more than 100 former Eastman voice majors and asked them to donate what they could.
"Many (alumni) are just beginning their careers, so they're not wealthy," Webber says. "I'm telling them to send $10 and call another singer. We need pocket money, and we have lots of pockets."
Elsewhere, the Medical Center sponsored several fundraising efforts. Friends of Strong Memorial Hospital held a 5K run/walk at Genesee Valley Park to raise money, while volunteers staffed Red Cross collection booths at Strong, Highland Hospital, the Medical Center bookstore, and the School of Nursing.
And the Memorial Art Gallery collected donations during its largest annual event, the M&T Bank Clothesline Festival in September. The collection, says Joseph Carney, the gallery's director of advancement, was the least the gallery could do "in recognition of the suffering of many and in solidarity with the University in its response to the Hurricane Katrina disaster."
'Very Traumatic'
The Medical Center also mobilized in the days following the landfall of Katrina. Rochester registered as a Hurricane Katrina Response Unit as part of an initiative organized by the Association of American Medical Colleges to prepare a nationwide network of consultation, triage, and referral services. As part of that "virtual" network, Rochester teams offered to assist in the evaluation and transfer of New Orleans area patients with especially unique and challenging conditions. Strong Memorial Hospital also offered to open beds for patients who were forced to evacuate the disaster area.
Rochester health care faculty were dispatched to provide hands-on, on-site aid to the relief effort. Tener Goodwin Veenema, an associate professor of clinical nursing and emergency medicine, was sent to the Red Cross's national headquarters in Washington to support its Disaster Operations Center, while Susan Blaakman, an assistant professor of clinical nursing, was directed to the Red Cross's Disaster Mental Health Team in Montgomery, Alabama.
Meanwhile, Jack Herrmann, an assistant professor of psychiatry, arrived in Baton Rouge on August 30 as part of the Red Cross's Disaster Response Team, for which he has volunteered since 1993. Volunteers established a relief headquarters—sans electricity—and administered the organization's Client Services Division, which coordinates monetary relief for people who suffered disastrous losses during the hurricane.
Herrmann oversaw the deployment of mental-health services and identified how best to offer necessities—medicine, housing, clothes, and food—to displaced residents.
It was a harrowing challenge for the professor, who has provided on-site assistance at several disasters, including the terrorist attacks of September 11.
"Logistically," he says of Katrina, "this was the worst I've seen in terms of magnitude and the number of people affected."
Herrmann says it was heartbreaking to see how many lives Katrina destroyed and to hear the stories told by survivors.
"To see hundreds of thousands, even millions, of people affected by the hurricane was very moving," he says. He adds that "people react to disasters in different ways," noting that the emotional and mental impact of Katrina on victims "depends on their exposure to the disaster, if they had to flee rising water, if they suffered any injuries, if they lost everything."
"But you can imagine," he adds, "if you were suddenly asked to leave your home, maybe a home you had your whole life in a lifelong community, it can be very traumatic."
'From the Heart'
Overall, Rochester's responses to Katrina—the fundraisers and faculty aid, the opening of classrooms and hearts—are a source of pride for its president.
"What was so striking was that different schools and different people responded to the best of their abilities," Seligman says. "Our students, staff, and faculty responded from the heart with the type of empathy that a good neighbor or a member of a real community extends to those in need."
---
Ryan Whirty is a Rochester-based freelance writer.