AfterWords
More Than Meerkat
A star of The Lion King reflects on the power of the theater. By Jayne Denker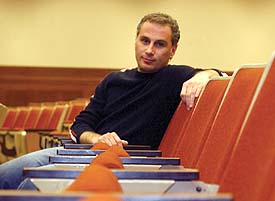 'NO WORRIES': Plumpis has played Timon in the touring company of The Lion King since the show went on the road five years ago.
When John Plumpis '84 arrived in Rochester last spring with the touring company of The Lion King, he "snuck into Todd Union," he says, and he found himself staring at the fireplace outside what's now home to the College's International Theatre Program. It was there, more than 20 years ago, that he had what he calls a major "aha" moment—one that changed his life.
While he was attending Rochester, Plumpis, a native of Tonawanda, New York, and a political science major who was active in the theater program, directed and acted in Pleasure and Repentance. More of a staged reading than a fully produced play, the production was made up of a number of short pieces on love, experienced at various stages of life from birth to death.
One of the last sections was a warm, funny letter, written by George Bernard Shaw on the cremation of his mother. As an actor recited the letter, Plumpis watched a woman in the audience laugh louder and louder, then dissolve into what he could only assume were cathartic tears. At that moment, Plumpis's intentions of living a "normal" life were cast aside.
"I don't know what that woman was going through," Plumpis says, his voice breaking as he remembers her reaction, "but I knew that I couldn't get that kind of response in the 'usual pathways' that I was thinking of taking, the other things I was thinking of doing for the rest of my life. And I knew I wanted more of that."
Although he says he acted in high school and college "to get chicks," his fascination with the art of acting and "telling a story that changes lives" became an overwhelming force in his life—enough for him to give up on his plans for law school and instead enter the University of Delaware's M.F.A. program.
"I tried to behave," he laughs. "I came here as a political science major . . . but the first thing I did was try out for a play."
Nearly two decades later, with stage, television, and film credits on his résumé, Plumpis found himself auditioning for the touring company of The Lion King, the award-winning production choreographed by Rochester-based Garth Fagan. He won the role of Timon, the wisecracking meerkat who, with his sidekick Pumbaa the warthog, sings the showstopping number, "Hakuna Matata."
The only catch was that Timon was a puppet, and while he could sing, dance, and act, Plumpis didn't know how to work behind a puppet.
"At first you feel completely hidden behind it, and you want to get out from under it," he says. "You're thinking, 'I'm the one saying these things—shouldn't I be seen?' Then you get used to being behind it, and then they put the costume and the makeup and the wig on you, and you feel hidden again.
"So you have to keep trusting the technique. But even now I can't tell you exactly how to do it. We were instructed, 'Put the acting through the puppet.' I don't know how it's done, but I can tell when it's missing. Now I worry that if I do a straight play, I won't be able to act without a puppet hanging from me."
Plumpis, who has been the only actor to play Timon in the touring production, has signed on for a fifth year with the show. Although he says the role "isn't played out" for him yet, he's certain his fifth year—which will put the total number of shows he's done over the 1,800 mark—will be his last.
"What the theater does best is transforms the lives of the artist and audience," Plumpis says. "I want people to go to The Lion King not just because it's a great story, but also because it's something to see with your family and be transformed.
"People ought to turn to their kid and say, 'I love you, I'm glad we did this together.' That's worth spending your life on."
A few weeks after Plumpis snuck into Todd Union, he was back again, visiting the University in an official capacity—a professional actor giving a talk about life in the theater. As he points to the fireplace, he tells the story of the crying woman to alumni, students, and staff members who have come to hear him speak. He's surprised when, once again, his eyes well up and his voice wavers.
"There are very few moments when you actually realize you're at a crossroads in your life," he advises his audience. "Pay attention to those moments."