Alumni Gazette
Nelson '70 (PhD) Named President of AAUP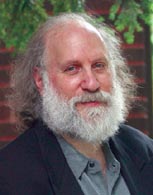 Nelson (Photo: Courtesy American Association of University Professors)
An internationally respected poetry professor at the University of Illinois at Urbana–Champaign, Cary Nelson '70 (PhD) has for many years been an outspoken critic of what he sees as higher education's shortcomings. The author of the apology for the ideals of liberal education Manifesto of a Tenured Radical has a new—and very visible—platform to focus the discussion about higher education in the United States.
This spring he was elected to a two-year term as president of the American Association of University Professors, the nation's foremost association of college and university faculty. And during his tenure he has every intention of furthering the causes he champions, even if the gears of reform at the university level turn slowly.
The author of such essays as "The War Against the Faculty" and "Ten Reasons (Why Administrators Fear Graduate Employee Unions)," as well as the satire Academic Keywords: A Devil's Dictionary for Higher Education, Nelson would seem to be most interested in rending the basic fabric of higher education and putting something new in its place.
But revolution is not his ultimate goal—at least, not as long as he has other outlets to encourage reform in higher education. It's just that he's been quite outspoken where others might take a more indirect approach.
"The cases I put forward are rational," he says. "But I have been harsh to those violating the principles of workplace ethics."
High on his list is fair treatment and fair wages for everyone in a university setting, from nontenure-track full-time faculty, adjunct faculty, and graduate students to maintenance workers.
"There's a real benefit to building a sense of community on campus—to know that everyone is earning a living wage."
Nelson is happy to work within the structure of the AAUP, which he refers to as an activist organization that speaks for the profession, with a strong influence on educational policy. "The AAUP policy statements change lives," he says.
While president, he hopes to continue investigating complaints about violations of academic freedom that the organization receives—recently, more than a thousand in one year, a number of which have cropped up in New Orleans since it was hit by Hurricane Katrina.
Nelson also wants to ensure academic freedom is retained in light of burgeoning technology. "At some schools, academic freedom doesn't apply to Web sites," he says.
Although his target issues are far ranging, they are all based on one tenet: "We have a responsibility to everyone in our own communities. We can't take care of the whole world, but we can do that," he says.