A New Focus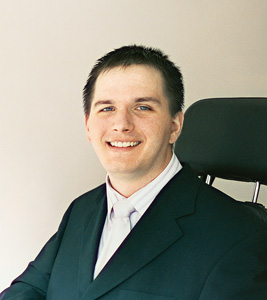 SURVIVOR: "When you are thrown into such a situation," Paul Averill '06 says of the car accident that left him paralyzed, "you either survive or you don't." By the time he graduated in May 2006, he had a job offer waiting from Barclays Capital in Manhattan.
A young alumnus finds motivation in a car accident that left him paralyzed
By David McKay Wilson
Paul Averill '06 is like any number of up-and-coming investment bankers in their first year out of college.
He works up to 16 hours a day as an analyst at Barclays Capital in midtown Manhattan, crunching numbers and helping put together deals for corporate clients. He has his hair cropped close, wears a dark pinstriped suit, and drinks Corona with lime atdinner.
But there's something about Averill that sets him apart from his colleagues on the fifth floor of the MetLife building. Averill, 24, is a quadriplegic, the result of a horrific car wreck in 2001 that changed his life. At the time of the accident he was a carefree 19-year-old, attending Monroe Community College in Rochester, showing up occasionally for class, and doing more than his share of partying.
The collision with a telephone pole broke his neck at the fourth cervical vertebra. It left his body paralyzed from the waist down, with limited mobility in his arms. He can't use his hands but has splints on his arms that let him peck at a wireless keyboard or a phone. He needs an assistant to dress him, feed him, and work the lift that transports him from wheelchair to bed each night.
"The accident gave me motivation and a new perspective on life," he says one evening over dinner at Caf Centro in the MetLife building. "I found a new focus. Before the accident, I was wild and crazy. I was drinking and hanging out, so I took the motivation I used for that, and devoted it to schoolwork. Most likely, I wouldn't be where I am today if I hadn't had theaccident."
Averill says it has been an amazing journey from the emergency room at Strong Memorial Hospital that night in 2001 to the University, and then on to the high-powered financial industry inManhattan. He has succeeded by dint of his gritty determination, his keen mind, a healthy sense of humor, and the assistance of Rochester officials and alumni, including trustee Gwen Greene '65, who helped him with his job search during his senior year.
"For Paul, no obstacle is too great," says Greene, associate director of the private client services division at Bear, Stearns & Co. "He is unfailingly positive. In his mind, life is a slalom, and he just has to figure out the best route to take him where he needs to go."
Graduation Advice
A year after he graduated, Averill has some advice for those graduating this year.
1. Enjoy your final days at college because the expectations are more intense in the real world. There's no more sleeping until noon and going to class if you feel like it. That all comes to an end.
2. When you're out searching for a job, your first priority should be to find something you enjoy doing, even if it's outside your major. You may have spent the last four years preparing for a career, but you're about to spend the next 40 actually doing it, so make sure it's something you enjoy.
—David McKay Wilson
Averill, who had finished his first year of community college before the accident, had plenty of figuring to do after the crash. As he began his rehabilitation at a center in Atlanta with 150 others who had suffered catastrophic spinal injuries, he decided he needed to become quite serious if he was going to make anything of his life.
"When you are thrown into such a situation, you either survive or you don't," he says. "There were some patients in Atlanta who just threw in the towel. But there were so many who chose to step up to the plate so they could make something of themselves. They sucked it up, and movedon."
Upon his return to Rochester, he enrolled in online courses at the community college, and by the summer of 2003 he had earned his associate's degree. By the fall of 2003 he'd enrolled at the University. For his first year, he lived at home and commuted. By 2004, the College had renovated a room and bathroom for him on the ground floor of Tiernan Hall, where he stayed his final two years. His aide, Krystal Hooper, a Rochester resident, commuted to his dorm to assist him. She now resides with him at his Manhattan condominium on East 34th Street.
Averill had a difficult time finding a place he could renovate to meet his needs—his search was chronicled by a New York Times reporter—and finding a job in Manhattan took time as well. Averill began his search with the assistance of Greene and two other alumni who worked on Wall Street—Naveen Nataraj '97, a managing director at the investment banking firm of Evercore Partners, and Navin Ram '95, the CEO of the software company Origin Wave and former vice president for Goldman Sachs. The trio linked Averill to their extensive networks while helping him hone his resume.
By November 2005, Averill connected with an official from Barclays at a recruiting event for individuals with disabilities, hosted by Lehman Brothers. He received an offer and began work in June, just a month after graduation. That summer he traveled to England for Barclays' seven-week trainingprogram.
By late that December Averill had settled into his job—putting together financing models for clients, and showing them different ways of raising capital. He acknowledges it can be a grind. He gets up at 6 a.m. to begin the process of getting ready for work so he can arrive by 8 a.m. Many days, he doesn't leave the office until well past midnight. On some nights, he hits the bars, accompanied by an aide, to have a few beers and laughs with his friends.
"Sleep can become a commodity in short supply," says Averill. "With all the time I need in the morning, it may not be the optimal career. But it's the position I'm in, it's what I want to do, so I deal with it."
David McKay Wilson wrote about the ensemble Alarm Will Sound in the March-April issue of Review.