The Humanities Project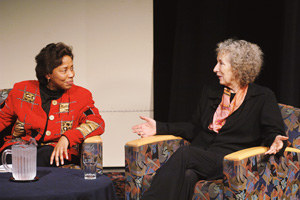 CONVERSATIONS: Composer Tania Léon and author Margaret Atwoord talk about the connections between their work during a Humanities Project session organized by the Susan B. Anthony Institute for Gender and Women's Studies.
The humanities take on new life thanks to a successful initiative in the College.
By Kathleen McGarvey
As the 20th anniversary of the Susan B. Anthony Institute for Gender and Women's Studies approached last year, faculty and students considered how best to mark theoccasion.
"We wanted to organize something of importance to the Institute and to the University as a whole," says director Susan Gustafson, a professor of German. "Music is a signature of Rochester."
So she and others in the program began to plan events on the topic of women and music.
These events became a year-long celebratory program—called "Women in Music: Looking Back, Looking Forward"—shortly after President Joel Seligman's July 2006 announcement of a new fund designed to support projects based in the College that focus on the humanities and their role in University life.
"The president's funding allowed us to expand our plans into a whole series," says co-organizer and music professor Honey Meconi.
That series, which stretches from medieval song to popular music and brought to campus such figures as composer Tania Len and novelist Margaret Atwood, is just one example of the wide-ranging initiatives in the 200607 inaugural year of the Humanities Project. Made possible by the new Humanities Fund, the 10-part project fosters new research and scholarly work by faculty and graduate students based in the College and makes its results available to undergraduates and the larger community through relevant courses, seminars, conferences, and public lectures (see sidebar).
The Humanities Project has met with such success in its first year that in January Seligman announced that he will extend and increase the University's commitment, pledging $150,000 per year for the duration of his presidency. The project—like a new multi-institutional partnership to create a Humanities Corridor in upstate New York—is bringing a fresh energy to the humanities on campus, faculty say.
The Humanities Project
In its first year, the Humanities Project has funded 10 proposals designed to foster humanistic and interdisciplinary research among faculty and graduate students.
Programs have included:
"Absence, Excess, Loss," an exhibition on artistic repetition and mourning;
"Future of the Archive in the Digital Age," a yearlong series of symposia, speakers, and films;
"History and Philosophy of Physics," a joint initiative of the Departments of History, Philosophy, and Physics offering talks on quantum theory and the nature of time;
"Law and the War on Terror,'" a yearlong series examining the impact of the current "war on terror" on political, civil, personal, and military institutions;
"Lives of Performers," an exploration of classic American avant-garde film;
"Nature and Pursuit of Happiness," events investigating happiness and its implications for international development policies;
"Religious Transgressions of Modernity," a series bringing together experts with a range of disciplinary and comparative perspectives to evaluate relations between modernization and religion;
"The Transatlantic Twenties: America, Europe, and the Making of Modernism," a project exploring the history of modernist expression in music, literature, film, the visual arts, and architecture;
"Visualizing the Humanities," a series of exhibitions at the University's student-run Hartnett Gallery;
"Women and Music: Looking Back, Looking Forward," events investigating the topic of women and music, in celebration of the 20th anniversary of the Susan B. Anthony Institute for Gender and Women's Studies.
For more information on the Humanities Project, visit its Web site: www.rochester.edu/College/humanities.
—Kathleen McGarvey
"I've taught here for 32 years, and I think the level of excitement, engagement, and optimism is greater than any time I've been here," says Richard Feldman, a professor of philosophy and dean of the College.
In announcing the new fund, Seligman emphasized the role of the humanities in academic life.
"I believe we cannot be a great university unless our teaching and scholarship in the humanities are great," he noted.
Chairs of humanities-related departments—anthropology, art and art history, English, history, modern languages and cultures, music, philosophy, and religion and classics—designed the Humanities Project in collaboration with Peter Lennie, the Robert L. and Mary L. Sproull Dean of the Faculty of Arts, Sciences, and Engineering.
"It's clear there's a lot of creative energy and ambition that needs to be released," says Lennie. "A lot has been achieved this year, and we want to build on that in the future."
The project has provided resources for humanities research and public forums, created greater cohesiveness among faculty and students, and highlighted work being carried out in the humanities at Rochester.
Furnishing comparatively modest resources to the humanities can be a catalyst for innovative and influential projects.
"It's relatively easier to make a difference in the humanities than in other parts of the College," Lennie says, because teaching and research in the humanities do not rely on the complex infrastructure that they do in thesciences.
"So it's a place to take early action. In the humanities and most social sciences, it's a bit easier to be nimble," he adds.
That commitment has met with broad approval from the faculty, who say that the Humanities Project has brought renewed vigor and greater momentum. "It has put the spotlight on the humanities in a very productive way," says Thomas DiPiero, a professor of French and an organizer of a project called "Law and the War on Terror.'"
Indeed, for Meconi one of the most rewarding components of "Women and Music" has been seeing the array of people who turn out for its events. Audiences include faculty and staff from areas throughout the University, as well as undergraduates, graduate students, and members of the local community.
"We are getting people who are not professionally connected to music," she says. "I mean, who doesn't like music?"
Organizers of the project "Law and the War on Terror'" have tapped into a similarly wide appeal. They developed it with an eye to student interest in the law, DiPiero says. "The humanities are interpretive disciplines," he says, "and the law is a text for interpretation."
While they first expected the project to spark interest among those intrigued by legal issues, faculty soon "realized how productive these dialogues could be," says DiPiero.
The project—which began with a lecture by Arun Gandhi, founder of the M. K. Gandhi Institute for Non-Violence and a grandson of Mahatma Gandhi—has brought internationally recognized speakers to campus and recently produced films to investigate effects of the "war on terror" on political, civil, personal, and military institutions. The project probes what he calls "zones of ambiguity" where compelling interests—such as constitutional rights and national security—come intoconflict.
The project also features a companion course, Islam and Global Politics, taught by Thomas Gibson, chair of the Humanities Project Committee and chair of the Department of Anthropology. He teaches students not only about history and recent events in the Middle East, but analogies through which we seek to understand them.
"No one really knows what narrative to place the current war on terror' in," he says. "One of the most fascinating things for me as an anthropologist is how people have to interpret something that resists interpretation. I freely admit I haven't decided myself which analogy makes sense. It's my job in the course to open up to students the range of analogies that are available."
Other projects address topics such as the relationship between religion and modernity, the act of mourning, and artistic representations of gender, race, and human relationships. The large questions raised in the Humanities Project are part of the point, says Randall Curren, chair of the Department ofPhilosophy.
"Research is specialized, and because of that, often of interest only to specialists—and you can lose track of the broader importance of these studies," he says. The Humanities Project strives to shift the point of view from close-up to a wide-angled shot. After all, Curren says, "the humanities focus on life and what's important, how to live well."
At the same time that the Humanities Project is involving more people in the humanities at Rochester, it is also forging closer links between people who find their life's work in thehumanities.
For much of the early life of the University, those connections were a given. When the University was founded in 1850, six of its eight faculty members taught subjects in the humanities: Greek, Latin, Hebrew, history and literature, intellectual and moral philosophy, and history and modern languages. As areas of knowledge were reconfigured in the late 19th century and the modern research university began to take shape, the fields of science grew. Scientists advanced their burgeoning disciplines through systems of experiment and proof.
For scholars in the humanities, however, conversation and debate remained the bedrock of their methodology, as they had been since ancient times.
The Humanities Project is intended to expand and sustain such conversations.
For the first time, the Humanities Project "put the humanities department chairs in the same room," says Allen Topolski, chair of the Department of Art and Art History. "The Humanities Project is about finding sites of level ground where everyone can meet. We find the commonalities, and it's not about splitting funding—it's about funding areas of exchange."
"The humanities are about human experience, and a place or opportunity for interaction is crucial," says Claire Sykes, a doctoral student in visual and cultural studies and a Humanities Fellow charged with building the Humanities Project Web site and publicizing events.
Such interaction is a fundamental dimension of the Humanities Project. And the conversations they foster build connections not only between people but across disciplinary boundaries.
"Different departments function in different ways," says Feldman. "I think the humanities are rather different things: performance and the arts, language and literature, philosophy."
Conceiving of the humanities as a single entity might be difficult, but collectively the fields that fall within the humanities have much to share with each other.
An Interdisciplinary Art
For Nicole Miya Sylvester '07, the opportunity to combine disciplines in the College isn't just an idea on paper. It is, in the realest sense, an idea about paper.
Sylvester is working on a senior project in which she approaches origami both artistically and mathematically.
She arrived at the University intending to major in optics, but further exploration and changing interests led her to math—and art. Sylvester's resulting major is one she designed herself: artistic and mathematical space.
She has studied visually oriented math, such as fractal geometry, and taken art classes. She links her areas of learning in the confluence of math and art.
When Sylvester looks at a piece or origami paper, she sees it geometrically and artistically, calling on both realms of knowledge and feeling to determine where the folds shouldbe.
"Origami is a place where geometry and art come together," she says. "I was able to take the two subjects I really enjoy and merge them."
Next year, Sylvester will begin a Take Five project that she is calling "Harmonic Progression," investigating music and fractal geometry.
"Interdisciplinary inquiry is the lifeblood of the humanities in many ways," says Lennie.
Many programs that exemplify the kind of interdisciplinarity that the Humanities Project encourages are already in place, such as the Take Five program, which gives undergraduates a tuition-free fifth year to study another area of interest; Bridging Fellowships, which support faculty engaged in interdisciplinary study; a new certification program in literary translation for undergraduates and graduates, which is currently in the planning stages; and the Graduate Program in Visual and CulturalStudies.
Established in 1989, visual and cultural studies is the founding degree program in the field and draws faculty from its core departments of art and art history, English, and modern languages and cultures, as well as anthropology, history, and the Eastman School's humanities department. The program—which attracts doctoral students who want to explore visual culture in ways they could not in a traditional art history or film studies program—has inspired similar programs at the University of California at Irvine; Cornell; NYU; SUNY Stony Brook; the Art Institute of Chicago; and Goldsmith's College of the University of London.
Joan Saab, director of the program, says finding a different perspective by calling on different areas of knowledge is a powerful source of good ideas.
The benefit of interdisciplinary thinking, says Saab, "is the possibility of newness—to forge new paths and examine cultural production from different angles to reveal unexpected things.
"It's not a disavowal of traditional scholarship. You don't want to be a dilettante. The best kind of interdisciplinary research opens up new possibilities. But I always tell my students, you can't create a new language until you learn the language that came before."
The Humanities Project "creates a formal mechanism for interaction" of faculty across the disciplines, says Meconi. "The president's gift of this money is saying he wants this interaction to happen. It's an impetus to do what we're longing to do."
The result is not only innovative work in the humanities, but a more robust College, too. "In recruiting and retaining young new faculty, it's important to have an intellectual community. This is a way to provide that," says Gibson. At a smaller research university like Rochester, he adds, such bridging is vital—and widely beneficial.
"Strong faculty is key to recruiting and retaining undergraduates," Gibson says. "That strengthens the College, which strengthens the University—which is now Rochester's largest employer. And so that benefits the region."
For Gustafson, the Humanities Project is a natural fit for Rochester. "I think it capitalizes on our strength—faculty and students are working in interdisciplinary contexts, and this pushes us to do even more of the things we're very strong at doing," she says. "The most important thing for us is the opportunity to have these broader discussions.
"That's why faculty want to teach here, and students want to study here," she adds, "because we think across boundaries."
Kathleen McGarvey is a writer in the Office of Communications.