How to Start a Career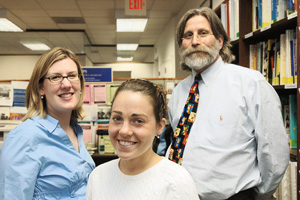 EXPERIENCE COUNTS: More than 90 percent of Rochester undergraduates like Mary DiMatteo '07 (center) take part in internships or other career-related experience, say Emily Carpenter and Burt Nadler of the Career Center.
The College's Career Center helps guide students through internships, externships, and other experiences to land that first job.
By Enid Arbelo
Early in her undergraduate life, Mary DiMatteo '07 realized that she needed a plan for her career—especially the first steps of it after graduation. And so she became a familiar face at the Career Center.
"I definitely spent a lot of time there this fall," says the graduating political science major. "I was there every day."
It was all part of a search that began well before DiMatteo's junior year and included internships and networking opportunities, conducting research, and making contact with companies. Working with the center's associate director Emily Carpenter, she landed an internship last summer in the Boston office of Liberty Mutual, where she worked in marketing and data analysis.
"It was a good experience—and my first real business experience," she says.
How to Get Involved
The Career Center is looking for alumni to volunteer to help
in a number of ways:
By posting entry-level or intern positions or by screening resumes;
By connecting Career Center staff with your human resources department or hiring managers;
By serving as a mentor, answering student questions and making appropriate referrals;
By hosting a student for an externship shadowingday;
By participating in a networking or recruiting event in Rochester, New York City, Boston, Chicago, Washington, D.C., or San Francisco.
If you are interested, visit the Web site at www.rochester.edu/careercenter/alumni/websurvey.html.
And it's paying off. When she leaves Rochester as a member of the Class of 2007, DiMatteo will walk into a new job with Analysis Group, an economics and litigation consulting firm in Boston, a position she picked from several competitive offers.
Thanks to a concerted effort to develop new initiatives that emphasize opportunities to get real-world experience, to network with professionals, and to establish clear and realistic goals, the Career Center is helping students like DiMatteo learn how to launch their careers.
"Employers in this day and age don't hire as much based on potential," says Burt Nadler, assistant dean and director of the Career Center. "They hire based on qualifications, focused goals, and experience. That's why we think it is so important that the internship and goal clarification be parts of what students do."
At Rochester, nearly 50 percent of rising seniors participate in summer internships and more than 90 percent take part in some form of career-related experiences, such as internships, volunteering, or shadowing a professional.
In recognition of the growing importance of internships—which often are low-paying or unpaid—for almost two decades the Career Center has offered a program to help support undergraduates and recent graduates who otherwise might not be able to afford to spend a summer exploring a career option. Funded by alumni and other donors, more than $95,000 of Reach Internship Fund stipends were given to interns last year, and well over $1.5 million has been awarded since the program's inception.
The center is also pioneering new initiatives in response to changes in corporate recruiting. In the past, employers came to campus to meet with qualified students, give presentations, and submit printed materials. With the advent of Web sites, e-mail, and other electronic communication, employers expect students to be more proactive.
"In a time when there has been a national trend for less on-campus recruiting, we've found new and effective ways for our students to communicate and interview with recruiters from amazingly diverse fields in cities they pick as target preferences," Nadler says.
One way is the University-initiated annual Career and Internship Connections, a consortium of about 15 top-ranked universities who participate in off-campus recruiting events that combine pre-screened interviews with traditional career fairs. Annual sites include New York, Boston, Washington, Chicago, and, for the first time this year, San Francisco.
The events regularly attract more than 200 companies and offer more than 2,000 interviews. Rochester candidates garner more than 20 percent of all interviews every year.
One reason for that success, Nadler says, is that the Rochester Curriculum, which allows College undergraduates the freedom to explore subjects that they are deeply interested in, sets Rochester students apart.
This year the Career Center and the Office of Alumni Relations also hosted New York Networking Night, a student and alumni reception in New York City that brought together alumni from banking and finance, communications, government and politics, and entrepreneurship. Representing firms such as Lehman Brothers, NBC, and Goldman Sachs, alumni talked about their careers and offered advice to students.
The Career Center also offers comprehensive career services for undergraduates and alumni and teaches job search strategies. Using an effective 10-step approach, students and alumni are able to set, articulate, and ultimately achieve their goals.
"There is no shortcut," Nadler says. "The job search is simple but not necessarily easy. It's simple because we can identify the steps. It's not easy because it might be lengthy, and many goals are in competitive and high demand fields."
For some students, though, beginning the process is half the battle. Nadler says some are afraid to focus on one job because they don't want to settle into a career they believe is too limiting. The result is they may avoid setting a goal and taking action.
Counselors can help students focus on the appropriate postgraduation goals to match their academic and personal passions, regardless of their majors, and then follow the right steps to achieve their goals, Nadler says.
Joseph Gaudino '07 did not have a postbaccalaureate plan, and he realized his empty resume wasn't going to get him veryfar.
"If I really wanted my resume to shine I needed some work experience on there," he says.
So the economics major from Greece, New York, set out in search of a business internship. He applied and was accepted to a national internship program at Scottrade, a brokerage company in downtown Rochester. That internship turned into a part-time job as an office assistant.
May We Shadow You?
The Summer Externship Shadowing Program, open to freshmen and sophomores, offers students the opportunity to learn about careers by shadowing alumni and other professionals.
The program, which usually is a one- or two-day experience, allows students to observe a typical day while interacting with mentors and their colleagues at work. Not only do students learn more about particular careers, but they can begin building a network of contacts for the future.
Previous hosts have included professionals at the New York Times, the Federal Bureau of Investigation in New York, M&T Bank, Strong Memorial Hospital, Cowan Financial Group, and Environmental Advocates of New York.
To volunteer to be a mentor in the externship program or to work with counselors and undergraduates in the Career Center, contact Dale Leyburn at (585) 275-2366; e-mail: dleyburn@admin.rochester.edu.
For Gaudino the experience helped him better identify his career goals. He started taking business classes that interested him and a finance class, recommended by a favorite professor, helped him develop an interest in corporate finance.
"I came to the realization that I didn't want to do personal finance, but I wanted to do corporate finance," he says. "By the end of summer I had a pretty good grasp of what I wanted to get into."
After learning about intriguing graduate business programs at Northeastern University while working with a counselor in the Career Center, he met with admissions officials there during the Career and Internships Connections event in Boston.
He begins a 15-month master's program in accounting at Northeastern right after graduation.
Enid Arbelo writes about student life for the Office of Communications.
---
Counting the Steps to Success
How can Rochester students count on success in planning their careers? Here are the Career Center's suggested 10 steps for success:
1. Set and Articulate Goals. Know what you want to do next. This doesn't have to be a lifelong goal, but an immediate and short-term option.
2. Develop Job Search Tools. Draft, finalize, then use resumes, cover letters, portfolios, and other materials that project goals and qualifications. A counselor can help polish these tools.
3. Identify a Hit List. Use directories and other printed and online resources to develop a list of persons, places, organizations, and programs to contact.
4. Network. Identify and ask friends, family, faculty, and alumni to assist with research and search efforts.
5. Respond to Postings and Publicized Events. Locate job postings, Web sites, want ads, graduate school and job fairs. Be proactive.
6. Contact Members of the Hit List. Inform as many people as possible about your goals. Include a resume and follow up. Be persistent but not overwhelming.
7. Follow Up, Follow Up, Follow Up.
8. Interview. Communicate motivations and, most important, qualifications by phone and in person. Alwaysprepare.
9. Take Classes, Volunteer, Intern, or Work Part Time. Continue to build skills. Each experience will enhance your chances of obtaining your goal.
10. Receive Offers and Take the One for You.
—Enid Arbelo