A Space of Their Own
If you could design a place on campus to study, what would it look like? The library asked, and students answered.
By Robin L. Flanigan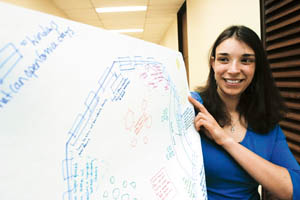 When preparing for a test, Susan Barnish '08 usually steers clear of Rush Rhees Library.
"To be honest, I don't like it," says the Spanish major, who prefers poring over material in her bedroom in the Towers. "The spaces are just not a conducive environment for me. I don't really go there much except to do research or get my books."
So when she was offered $5 and free food to help design a new study space for students on the east side of the library, she jumped at the chance.
Barnish was one of 19 students in February 2006 who donated 20 minutes of their time on a unique design exercise: Using posterboard, pens, and paper, they outlined how they would convert 20,000 square feet of staff space into what is known for now as the Collaborative Learning Center.
Barnish, for example, recommended that part of the space be shaped like an octagon—an idea inspired by a recent renovation to her hometown community library outside Cleveland. By the final planning stage, that idea had morphed into two rectangular-shaped study pods with rounded corners.
When the space opens—it's slated to be completed by Meliora Weekend in October—students will find many of their ideas incorporated into the new study area.
While some of the more extravagant suggestions—fountains, massage tables—didn't make the cut, students can expect to find comfortable, upholstered furniture, plush carpeting, more natural light, plenty of power outlets and wireless capabilities, a media lounge, a film study room, and areas for group and individual work.
"Within one big space they wanted flexibility and ease to move from one zone to another," says Susan Gibbons, associate dean of public services and collection development for River Campus Libraries, who helped oversee the project.
In addition to Gibbons, a team of library administrators, University architects, facilities planners, and staff from Ayers Saint Gross, a Baltimore architectural firm, came together for the renovation. The firm is also working on the University's 20-year master plan, so its architects understand how the library and its new space fits in with long-term plans for the entire campus.
Once finished, the space will feature four large bay windows overlooking the oak trees that line the parking lot—a 230-space lot that can potentially be turned into green space—and a grand, ground-floor staircase decorated with metalwork accents.
Paul Tankel, the University architect, emphasizes that the project is being given as much attention as a new building.
"We don't like to think of this renovation in isolation," he says, noting that the Collaborative Learning Center will fit in with future plans for more green space on campus. "We want it to be in context of a larger plan, to speak to what is going on today, and even more so, to speak to what might be happening in adjacent spaces in the future."
The renovation is the last step in a systematic buildingwide restoration spurred by Ronald Dow, the Andrew H. and Janet Dayton Neilly Dean of River Campus Libraries. Funded with a $5 million gift from the Gleason Foundation, the new space will transform an area that most students rarely, if ever, pay much attention to.
Located on the first floor of the building's east side, the renovated space—roughly twice the size of Douglas Dining Hall—currently houses administrative and staff offices that were carved out of a late 1960s addition to Rush Rhees. The U-shaped addition nestles around the south, east, and north sides of the library.
While the 1960s addition nearly doubled the size of the original building and provided much needed shelving and study space, the role that the library and its resources play in campus life have changed dramatically in the last four decades.
Understanding that change is part of the work of Nancy Fried Foster, the lead anthropologist and comanager of the library's Digital Initiatives Unit. For years, she and colleagues have been conducting research to understand "what our patrons do and what their real needs are."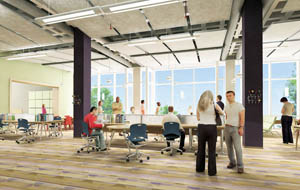 "What was important to us was not just getting a list of preferences from students, but understanding what we could about how they work and to support that work," says Foster. "That work is what being in college is all about."
While staff from Ayers Saint Gross regularly work with colleges, they say they rarely see such a high level of student involvement during the design phase.
"We might meet with students in a large group once or twice, so it's helpful, but not the critical input that drives the process like this one," says project architect Adam Bridge.
In February 2007, once the basic layout had been approved, students again were offered $5 and free food to help decide where the furniture would be placed. There were a lot of similarities in the student drawings, but when compared to the ones done earlier by the project team, Gibbons notes, "we were completely wrong" on several points.
For instance, the team placed comfortable couches and chairs next to the bay windows. The students, however, in a move that originally perplexed the team's interior designers, consistently put long tables in front of the windows to accommodate laptop computers, books, and papers.
"They need to be able to spread out," Gibbons and the others soon realized. "The reality is they'll be spending the majority of time at those big tables, so they should be in a prime location. So we said OK, we're moving the tables in front of the windows."
The tables are just one of multiple collaborative study areas.
"More and more teachers are having us work with so much material, so having a group study space makes it really easy to delve into it all," says Raisa Dukas '07, who graduated this spring as a Spanish and international environmental policy major. She did several interviews with Foster on her study habits and plans for the future.
During a four-week span in her Spanish culture class, for example, students were divided into groups and charged with creating presentations on topics ranging from Spain's pre-Roman origins to the country's current arts and political scenes.
"As an individual, it can be overwhelming, but talking through things as a group helps you process the information in a different way," says Dukas. "I tend to be very detail-oriented, and one of my best friends I study with is big picture-oriented. When we study together, we get the best of both worlds."
Despite their interest in collaborative work, the students who influenced the design also requested a quiet study zone as part of the new open floor plan.
"Up until then, we had sort of ignored the need for more quiet space," says Gibbons.
Plans now call for an intimate triangular spot with a dropped ceiling and fabric wall hangings to help deaden surrounding noises.
Sandra Vicchio of Ayers Saint Gross says librarians at colleges across the country are hearing from students about changes in their work habits, noting that the trend was discussed at the national conference of the Association of College and Research Librarians this spring.
"Everything I heard at that meeting was about collaborative learning and flexibility, so I felt like Rochester was definitely ahead of the curve on that notion."
Part of that flexibility includes keeping library doors open 24 hours.
"Students are using a full 24-hour clock now to do their academic work—not because they are procrastinating and not because they don't have time-management skills," says Foster, "but because they have access to resources."
Jason Adams '09, an English major, welcomes the thought of being able to study well into the early morning hours.
"We're doing all this work to get a good education, so the library should be available whenever you feel you have to use it," he reasons.
Adams also points out that study groups often have to move to the library's street-level University Information Technology area, which currently has no direct connection to study spaces in the library.
The new grand staircase is intended to provide better access and increase opportunities for collaboration between the library and information technology, which are also currently organized under different administrative divisions within the University.
For example, information technology staff will be providing support for the new first-floor equipment, which they helped select.
Offering food service in the new space incorporates another library trend, one that can be seen in several public libraries around the region.
"When I was in school, you had to eat breakfast between these hours, and eat lunch between these hours," recalls Vicki Burns, head of the reference department at Rush Rhees. "Students don't have set times for meals anymore. They just eat on the run a lot. Their habits reflect very much a change in the way we live. So letting them bring food and drinks in the library . . . students would be surprised if we said they couldn't."
For her part, Barnish is proud to have had a say in such a major project, one that she plans to use:
"It's going to be really exciting to go in there and say, 'I helped design this space.' It's something not everybody can say."
Robin L. Flanigan is a Rochester-based freelance writer.