Eastman School
'Eastman Will Play Leadership Role'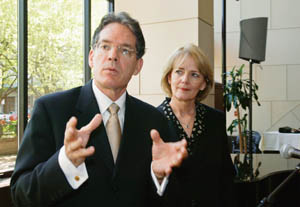 As someone who has been touched by the legacy of the Eastman School, Douglas Lowry recognizes the influence that a top-ranked program can have on the lives of students, scholars, and alumni.
But, the new Eastman dean notes, the landscape of music education has changed enormously in recent years, and the challenge will be to ensure that Eastman's legacy of leadership continues in the 21st century.
"However, we will not waver from the Eastman hallmark: the very highest standards of artistry and scholarship," Lowry says. "On these and more, Eastman will continue to play an international leadership role. I am thrilled to be a part of that future."
Lowry, who has served as dean and Thomas James Kelly Professor of Music at the College-Conservatory of Music at the University of Cincinnati since 2001, begins his appointment in August. He succeeds Jamal Rossi, who has served as interim dean since 2006.
A noted conductor and composer, Lowry held teaching and leadership positions at the Flora L. Thornton School of Music at the University of Southern California for two decades before becoming dean at Cincinnati.
At Cincinnati, he is recognized for building partnerships locally, nationally, and internationally, and for recruiting top-notch faculty. For the past few decades, Lowry has focused on conducting and composing, work that has taken him to venues throughout the United States and Asia as a guest conductor.
As a graduate student at USC, Lowry received a personal introduction to the Eastman legacy. He earned degrees in trombone and conducting, and studied under trombonist Robert Marsteller '40E.
"He was a phenomenal influence," Lowry said as he took a quick tour of Eastman Theatre. "To be candid, I probably wouldn't be standing here today without him."
—Scott Hauser