Mr. Secretary
Successful business executive Donald Winter '69 finds his 'call to service' as the Navy's top civilian leader.
By David McKay Wilson
In U.S. Secretary of the Navy Donald Winter's fourth-floor Pentagon office, a life-size Marine poster from World War I hangs on one wall proclaiming "First in Fight" while former Assistant Navy Secretary Teddy Roosevelt looks sternly from a portrait across the room.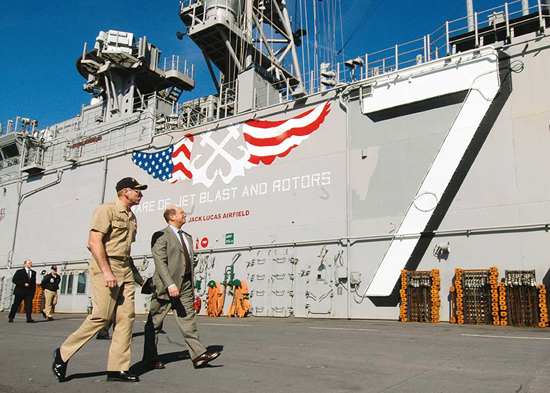 Winter '69, with an American flag pinned to his lapel, sits in a comfortable red leather chair one spring afternoon, recounting his previous two days on the job. The previous day, the "SECnav"—as he's known in Pentagon-speak—had flown to San Diego to christen a new ship, meet with 400 community leaders, greet a Swedish submarine crew, and visit a Navy hospital treating many Marines who'd been injured in Iraq.
After arriving home at 1 a.m., he was picked up at 7 a.m. for a breakfast confab with his staff before a steady round of meetings on land-use issues at the Navy's Guam base, acquisition concerns at the Marine Corps, and thorny budget questions on Capitol Hill.
"I try to keep my work day at half a day—from 7 a.m. to 7 p.m.," says Winter, who keeps fit cycling on his titanium Colnago road bike or skiing the groomed runs at Beaver Creek Ski Resort in Colorado. "I will depart at noon on 20 January 2009. That's it, and it's the first time in my career that I've had a date-certain ending for a job. So that does put a different flavor on it."
Since 2006, Winter has served as the Navy's top civilian official. At the Pentagon, he's charged with training, recruiting, and dealing with personnel issues involving the more than 640,000 men and women who serve in the U.S. Navy and Marine Corps and the reserves, as well as those who work for the Department of the Navy.
He also oversees acquisitions for the Navy, which now has 276 ships and plans to boost the fleet to 313 by 2016.
Part of his duties include helping to develop a strategic plan for the Navy in the 21st century as the United States transforms its post–Cold War foreign policy to address threats from terrorist groups and the rise in Chinese naval power. Winter sees the Navy as a crucial piece of the American defense force as well as an essential part of U.S. diplomatic efforts.
In June, Winter was in Guatemala, visiting the hospital ship, USNS Comfort, which was on a humanitarian mission to ports in Latin America. Winter recalls that President Theodore Roosevelt's decision to send 16 battleships on a world tour in 1907 was a dramatic gesture to show that the United States was an outward-looking world power, filled with goodwill. Using the Navy for diplomatic missions also showcases American military might.
"With a military force conducting diplomacy, there is an implicit understanding that, when diplomacy fails, other measures can be brought to bear on a situation," Winter told an audience in June at the U.S. Naval War College in Newport, R.I. "In other words, there is both a carrot and a stick. And carrots without a credible stick do not get you very far, especially in dangerous, violent neighborhoods."
The Navy's 74th secretary, Winter took office with the United States already fighting wars in Iraq and Afghanistan. Though he has no role on the battlefield, the Navy runs several military hospitals, Navy corpsmen tend to injured Marines, and he receives casualty reports each morning when his driver arrives at his home in McLean, Va., to take him to the Pentagon in nearby Arlington.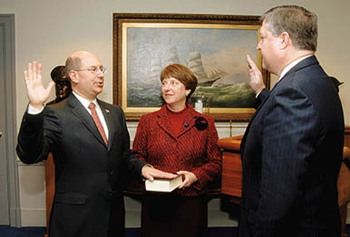 "It has been a very sobering experience," says Winter. "That's what you start your day with—the overnight assessment of what has occurred, the intelligence and casualty reports—so I know what I'm getting into when I step into the door."
Since taking office, Winter has earned a reputation as an approachable boss with a quick grasp of complex issues and the business acumen to help reform the sprawling Navy bureaucracy.
When at the Pentagon, Winter typically eats lunch with his staff at a large round table in what's called the Secretary's Mess. Among those who often join him is Robert Cali '76, the Navy's assistant general counsel for manpower and reserve affairs.
"He is very visible and is in no way aloof," says Cali, who has worked with Winter on several high-profile personnel issues. "He's a very intelligent guy who asks very detailed questions. He keeps his staff on its toes, and has brought a nice discipline to the department."
Raised in Oceanside, Long Island, Winter arrived at the University in 1965 to pursue his interests in science. A physics major, he credits Rochester professors with developing his knack for critical thinking.
"I gained the ability to reason, to think critically," says Winter. "There was an emphasis on questioning and thinking through how you approach a problem set, taking a broad perspective instead of just looking for the purely technical answer."
While a freshman, Winter volunteered as an engineer at WRUR, where he met a fetching student named Linda Engel '69. She remembers the day their paths crossed a year after meeting at the radio studio.
"It was the end of the week, all our classes were done, there was sunlight glinting through the trees, and we ended up walking together toward Todd Hall to get our mail," she recalls. "We walked back to the Hill, where the women's dorms were, and we sat in the lounge, talking for three hours. We were both smitten, and that was that."
The two fell in love, became engaged at the end of their junior year, and were married a week after graduation, just before Winter set off to pursue his doctorate in physics at the University of Michigan.
For Winter, the high-ranking civilian post at the Pentagon caps a successful career in the defense industry and the U.S. military that began 35 years ago in California. After earning his doctorate in 1972, he began working at TRW Systems, a California-based defense contractor, where he was involved in satellite research and development. He moved to Washington, D.C., in 1980 to work for DARPA—the Defense Advanced Research Projects Agency—in the early years of research for the space-based defense system later known as "Star Wars." He developed an experimental laser tracking device called Talon Gold.
"That approach was never implemented, but it helped formulate further strategies," says Winter. "It was a valuable experience."
He returned to TRW after two years, and again took up his work on space projects. That included classified satellites as well as NASA's Chandra X-ray Observatory, which was sent up aboard the Space Shuttle Columbia in 1999, and continues to observe high-energy regions of the universe.
By 2000, he was president and CEO of TRW Systems until it was purchased in 2002 by defense giant Northrop Grumman. He was the head of that company's Mission Systems when President Bush nominated him as secretary.
Winter began thinking of seeking a high-ranking position in the Bush administration after the September 11 attacks. He and Linda were in London that day, and he recalls the feelings of solidarity he felt with the British when they gathered in silence in Grosvenor Square to pay respect to those who had died.
In May 2003, terrorists attacked a compound in Riyadh, Saudi Arabia, killing 10 and injuring 60 employees of the Vinnell Corp., a private military subsidiary of Northrup Grumman that was under Winter's purview.
Winter flew to Saudi Arabia the next day to survey the carnage and console the survivors. "That was my life-changing event, my call to service," says Winter. "I owed it to those innocent people who were killed, and I owed it to my country to serve, and not just as a part-time volunteer."
Winter put out the word through various networks that he was interested in public service, and one day received a call from the office of then Defense Secretary Donald Rumsfeld. He interviewed with Rumsfeld, who told Winter he was under consideration for several positions. A few months later, Winter was waiting for a plane in an airport when he received a call from the White House saying Bush wanted him to serve as Navy secretary, if that was O.K. with him.
"I was blown away," says Winter. "I said, 'By all means!'"
Winter came to the Pentagon with an appreciation for management efficiency and an eye for the bottom line, skills honed during his years leading TRW, a profitable, publicly traded company with shareholders to please.
Not long after arriving, he had senior leaders trained in an organizational strategy for eliminating waste called Lean Six Sigma, which he'd used at TRW. The process requires managers to document every action in a process and determine which ones improve the ultimate outcome.
"It's made everybody examine the processes, and see what happens when you start with a piece of paper, and see which boxes in the process add value, and which adds no value," says John LaRaia '68, assistant for administration in the Office of the Under Secretary of the Navy. "What adds no value, you lean out."
Winter also began an analysis of the Navy's multibillion dollar acquisition program, which involves the purchase of ships that can take a decade to build and that will last up to 50 years. What he found in the new littoral combat ship program, for example, especially disturbed him. The Navy plans to build 55 such ships, which are designed to operate in shallow waters along coastlines.
In January 2007, following reports of huge cost overruns on the first ship from Lockheed Martin, Winter ordered work to stop on the second one. The projected cost of the first ship had reached close to $400 million—almost double the original projection of $220 million—while the second was projected to come in at about $300 million. Winter canceled the contract and proposed that Lockheed Martin build the ships under a different type of contract designed to limit cost increases. But the company declined, fearing that future design changes by the Navy might lead to financial losses.
Winter says the Navy needs to do a much better job projecting costs to restore credibility in its procurement process, which he says has been characterized by a culture of "over-optimism" as military chiefs makes their pitch to congressional leaders.
In addition, Winter argues that over the years, the defense department has given too much power to military contractors, who have boosted their bottom lines at the expense of taxpayers. He also thinks the Navy needs to be more savvy in dealing with contractors who come often to the Pentagon, known to those who work there as "the Building."
What struck me when I came here was the imbalance that exists," says Winter. "The Building doesn't have a very good idea of industry. There are but a handful of us that ever had a profit-and-loss responsibility in the defense industry. Industry has a pretty good understanding of the Building, and they get that from hiring a large percentage of our alumni and running a fairly active intelligence-collection program against the Building, which is to say they have marketers running the hallways all day long."
With less than 18 months left in office, Winter hopes his attempts to restructure the littoral combat ship program will be in place for the remaining ships the military wants to build. He knows January 20, 2009, is creeping ever closer.
And then comes the next challenge for Winter, who has been influenced by Edgar Bronfman's book, The Third Act: Reinventing Yourself After Retirement.
"I'll be retired, so I'm not going to be running out of here to find a job to make the mortgage payment," says Winter. "All kinds of possibilities will open up. I'm not sure if it will be a government job or something else. There will be something there, and I'll worry about it in a year."
David McKay Wilson is a frequent contributor to Rochester Review.