George's Dream House
The Eastman School announces a new addition—nearly 90 years after George Eastman first outlined his plans for the music school.
By Scott Hauser
Standing in a parking lot early this fall, Doug Lowry could see the future of the Eastman School quite clearly. Behind the new dean was the stately grandeur of the Eastman Theatre with its inscription "For the enrichment of community life."
As he looked out onto the small, triangular swath of asphalt, Lowry could imagine the theater's iconic facade extending along Main Street and, where the parking lot now stands, a new recital hall and other rehearsal and faculty studios, filled with future students and music-loving audiences.
And he wasn't the only one to have such visions. A music lover named George Eastman had had the same idea in 1920.
"This is a project almost 90 years in the making," Lowry says. "It's the completion of George Eastman's dream for Eastman Theatre and for the Eastman School of Music."
Formally announced during the first week of classes, the long-on-the-drawing-board project received a major boost this fall, thanks to $5 million in state funding. That follows an announcement last March of an $8 million state commitment to renovate the interior of the theater.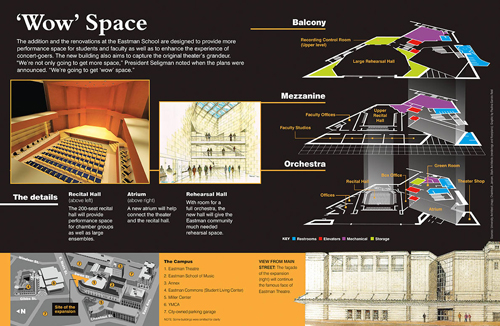 Work on the renovation and the new addition—in total a $35 million project—will get under way next summer. The theater is expected to be ready by October 2008 in time for the fall season of the internationally regarded Rochester Philharmonic Orchestra, which uses Eastman Theatre as its main performance venue. The addition is expected to be complete by late 2009.The new wing, which will be integrated with Eastman Theatre, will include a 200-seat recital hall that will provide additional performance space for the more than 700 concerts presented by Eastman each year.
In addition to the new recital hall, the addition will also include a spacious atrium, a new box office and gift shop, faculty studios, a rehearsal room designed for use by large ensembles, and a state-of-the-art recording studio. While Eastman had intended to build his new music school and theater on the site of what's currently a parking lot, he was unable to come to terms with the owner of an apartment building next to the theater site.
The apartment building was eventually torn down and the property purchased by the University. In the 1990s, architect Robert Macon of Chaintreuil, Jensen, Stark Architects developed plans for the new wing, extending the façade, and connecting the two buildings.
"Now we will return this land to its originally intended use," Lowry says.
"This is a triumph for all who love music," President Joel Seligman said in announcing the project. "We're going to get a building that will make the city proud. This was George's dream."