'We Will Prevail'
A longtime student affairs administrator at Virginia Tech, Ed Spencer '67 helps a campus look forward.
By David McKay Wilson
On a steamy August day, Ed Spencer '67 brings a visitor to a memorial dedicated to the 32 students and faculty who were killed five months earlier on the Virginia Tech campus. The names of the fallen are chiseled into chunks of Hokie stone, a form of limestone that's used throughout campus and takes its name from the school's mascot.
As of this summer, there was no plaque to describe what happened that horrible day. The stones don't mention the date—April 16, 2007—a day that Spencer calls simply "The Tragedy."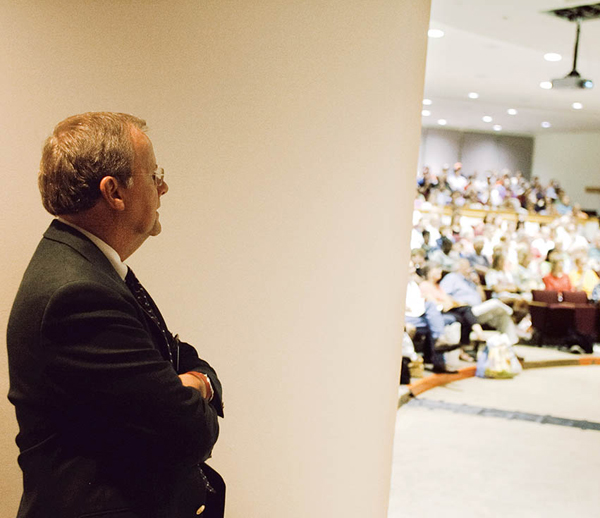 There are just the names—etched in the stones arranged in a semicircle surrounding the words of poet Nikki Giovanni: "We are Virginia Tech. We will prevail."
Spencer, the university's associate vice president for student affairs, says he looks forward to a time when the memories aren't quite so fresh.
"Most people are anxious to move on," says Spencer as students in T-shirts proclaiming "Hokies United" walk to class in the first days of the fall semester. "It will always be a part of our past, and nothing should ever be erased. Now is the time to move on to a new normalcy, a new birth."
Spencer, who oversees student programming, dining and residence programs, career services, and the school's vibrant fraternity and sorority community, is helping lead that new chapter in the life of Virginia Tech, a 27,000-student state university in Blacksburg, Va. For nearly 40 years, the former student leader at Rochester has wrapped his professional life around the lives of college students, first at the University of Delaware, and for the past 25 years at Virginia Tech.
Rochester's Emergency Plans
No one on a college campus feels complacent after Virginia Tech. At Rochester last summer, committees reviewed all the University's emergency plans.
This fall, an agreement was reached to purchase a system that will send instant text messages to people across all campuses during an emergency.
More than 100 safety staff patrol University property or otherwise protect the campuses, including the Medical Center. A network of closed-circuit cameras also acts as a deterrent.
Crossdisciplinary teams meet regularly when troubling behavior and other threats to safety are reported. Information is exchanged in confidence.
"Creating a safe environment takes work and, by necessity, much of it is out of public view," says Ronald Paprocki, senior vice president for administration and finance. "Just one example is the multiple ways we have of communicating with students, their families, our faculty, and staff—whatever it takes to deal with emergencies."
Living in a metropolitan area like Rochester means local, state, and federal law enforcement agencies often team up with University Security Services, encouraging agencies to pool information.
As at other universities, emergency notifications now reach students, faculty, and staff in many ways: phone lists, blast e-mails, voicemail messages, paging, and a regularly updated information phone line. The University can get its messages to local news outlets, and it partners with WRUR-FM, the campus radio station, and WXXI, the Public Broadcasting affiliate.
Residential Life staff can notify students by e-mail, phone, and courier in their rooms and suites. Immediate access to the University's main Web site, www.rochester.edu, allows updating when emergencies happen. During a River Campus power outage in September, lasting six hours on a Saturday, all these methods were used to alert students and staff.
And how safe do students feel? In a recent survey of peer institutions by the Consortium on Financing Higher Education, Rochester undergraduates gave high satisfaction ratings to feeling safe on campus—more so than students at some colleges in rural and suburban locations.
Maintaining a safe and secure community is a job for more than the professionals on campus.
"Safety is a cooperative undertaking," says Walter Mauldin, director of University Security Services. "Good communications bring people together and help build a sense of community where people watch out for one another and show concern."
—Sharon Dickman
Sharon Dickman is the University spokeswoman.
Few experiences in student affairs could have prepared Spencer for April 16, when student Seung-Hoi Choi shot and killed two students in his dormitory and two hours later, killed 30 people—faculty and students—in a classroom building. It was the deadliest outbreak of violence ever at a U.S. college and has sparked calls for improved campus emergency systems throughout the United States.
Spencer, a soft-spoken man who comes to work in a blue blazer and tie, khaki pants, and loafers, was the first official called to the scene of the first two murders that morning. He credits the Virginia Tech staff with doing its best that morning under trying conditions. Campus police at first believed they'd apprehended the assailant.
"That day showed the country what could easily happen anywhere," he says. "It just happened to happen here."
The experience called on all of Spencer's talents—the compassionate social psychologist who organized the university's response to the victims' families; the innovative administrator who developed policies to make the school more secure; and the strict disciplinarian who believes that young adults need to know that there are consequences for breaking the rules.
After the shootings, Spencer organized a team of administrators to serve as liaisons with families of students who died. He worked with the parents of Mary Read, a 19-year-old freshman shot dead in her French class.
"Ed took it on as a personal mission, and we knew, no matter what we dropped on his plate, it was going to get done," says Peter Read, a retired Air Force officer from Annandale, Va. "He's a genuinely warm and caring human being."
Spencer's 25-year tenure at Virginia Tech caps a love affair with higher education that began in the mid-1960s at Rochester. A psychology major, Spencer was president of the sophomore class and an officer in the Sigma Chi fraternity.
After a brief stint at medical school, Spencer decided on a career in higher education. He earned a master's degree in student personnel administration at Syracuse, where he met a fellow graduate student named Norrine Bailey. They were married, and soon embarked on their dual careers in university administration.
They began at Delaware, where Spencer earned his doctorate in social psychology. Over a dozen years, the two worked their way up the hierarchy, and by 1982, they landed jobs at Virginia Tech for what they thought would be a couple of years. They never left.
Norrine is now the university's associate provost and director of undergraduate admissions, and their son, Andrew, serves as manager of group reservations at the Inn at Virginia Tech.
David Ford, Virginia Tech's vice provost for academic affairs, has seen Spencer in action over the past two decades.
"Ed is a problem solver," says Ford. "He comes up with solutions to problems, not barriers as to why an administrative bureaucracy won't allow things to get done."
Spencer also connects with students, serving as a role model for young adults like Greg Shagstetter, an assistant director for Virginia Tech's alumni relations program and a recent graduate who is pursuing a career in higher education administration.
"He showed me how this field has a great potential for changing students' lives," says Shagstetter. "Ed really empowered me as a student leader. He listened and helped make the connections between theory and practice in the community."
In a typical academic year, Spencer focuses much of his energy on two age-old student issues: food and drink. To appeal to ever-changing student food preferences, Spencer established 11 restaurants around campus that have become increasingly popular. There's the Owens Food Court that serves international and American favorites. There's the West End Market, patterned after a European marketplace, with wraps, made-to-order sandwiches and a pizza concession that bakes the pies in a wood-burning oven. There's also a gourmet coffee shop and JP's Chop House, which on an August afternoon had lobster and London broil on the menu.
Spencer proudly touts the Princeton Review's 2007 ranking of Virginia Tech's food service as the nation's best. A testament to the service's popularity: About 8,000 Virginia Tech students who live off-campus buy the meal plan so they can eat at school.
"Students want to eat here," says Spencer. "We've got 1,700 more on the meal plan this year."
While transforming the school's food service was accomplished with an ear to student needs and through rigorous planning, changing the nation's college drinking culture hasn't come quite as easily. Spencer remembers his days at Sigma Chi at Rochester in 1964, when the drinking age was 18, and the fraternity vending machine spat out bottles of soda and beer. He recalls wine socials with deans and parties in Todd Union where students paid 50 cents at all-you-could-drink beer bashes.
"Sure we drank and we had a good time," says Spencer. "It was a natural part of our culture and we learned how to handle our alcohol."
Spencer knows that times have changed. Vending machines with beer won't be coming to Virginia Tech, where the college's drinking culture has ruffled feathers in Blacksburg neighborhoods with large populations of off-campus students. As co-chair of the Town-Gown Community Relations Committee, Spencer is working with town officials to give off-campus students a better idea of what's expected of them. Spencer hopes the collaborative project will smooth out some rough edges and help students make their way through their four years at college without a police record.
Last April's violence also called on Spencer's ability to respond to change, and to enact policies to help prevent such an incident from happening again. Virginia Tech dorms, which used to be open from 10 a.m. to 10 p.m., are now locked 24 hours a day, requiring students to have a keycard to get in.
The university also has established an emergency message service to alert students by text message. And classrooms now have locks on doors to keep intruders out.
As the 2007–08 year began, Spencer recognized that the university would continue to face questions. Indeed, during the first full week of classes, Virginia Tech President Charles Steger called a press conference to respond to a gubernatorial commission that criticized the Virginia Tech administration for, among other steps, failing to consider closing classes after the first two murders.
Like all administrators who deal with student issues, especially on a campus with nearly 30,000 students, Spencer is used to being second-guessed, but he realizes that changes need to be made to tighten security.
He notes that despite the tragedy in April, statistics show that crimes rates are lower on college campuses than in most municipalities. Few campuses, he says, can be walled-off communities, with single entrances and exits, because most are sprawling complexes, with dozens if not hundreds of buildings.
But he worries that colleges are in danger of losing the spirit of openness that has been a hallmark of the campuses he has attended and worked at since setting foot on the River Campus more than four decades ago.
"It's perplexing because college campuses still are very safe places."
David McKay Wilson wrote about Navy Secretary Donald Winter '69 in the September-October issue.