Arts, Sciences, and Engineering
What Does the Future Hold?
What will the College of Arts, Sciences, and Engineering be like 10 years from now? According to the College's proposed plan, it will be slightly larger, more diverse, have a more global perspective, and be home to new signature programs that will make Rochester an even more attractive academic destination for faculty and students.
By Scott Hauser
When Joan Saab was asked to think of programs the University could develop that would help distinguish Rochester, the director of the Graduate Program in Visual and Cultural Studies says she and the faculty she worked with had little trouble finding a focal point.
"One of the things that people think of when they think of Rochester is imaging," Saab says, calling to mind not only the legacy of Rochester benefactor George Eastman, but also the University's programs that explore images from a humanistic as well as a technical perspective.
Wouldn't a program that focused many of the area's resources—both inside and outside the University—and that capitalized on its tradition in imaging and photography be a natural way to emphasize Rochester's academic strength to world-class faculty and students?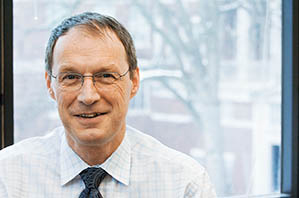 That idea—generated through a working group of faculty—has become a proposal to establish a program in images and light, one of three proposed signature initiatives that connect the humanities to the sciences and engineering. The programs are key elements in a new strategic plan for the College of Arts, Sciences, and Engineering that outlines how the University hopes to position one of its major academic units in the coming decade.
The culmination of a two-year process involving faculty, staff, students, and alumni, the plan will be presented to the Board of Trustees in March as part of the University's overall strategic planning process.
The plan is designed to capitalize on the College's cohesive, collegial atmosphere, its innovative curriculum, its strong research profile, and its close ties to the Medical Center, the Simon School, and the Eastman School.
Peter Lennie, the Robert L. and Mary L. Sproull Dean of the Faculty of Arts, Sciences, and Engineering, says the aim is to provide signature opportunities for students while also extending core strengths in research, graduate education, and undergraduate education.
"We think we can develop a series of powerful initiatives that will increase the range and depths of our programs," Lennie says. "At the same time, we recognize that students at all levels need increasingly sophisticated and broad intellectual training. Their ability to think critically and flexibly is the key to their future success in diverse occupations."
A Global Outlook
Wendy Cheng '11 recognizes that an international perspective has been important to her for a long time. Growing up in Taiwan, a global outlook was necessary, she says.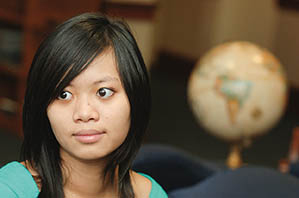 "The existence of our country depends on the diplomacy of other countries," she notes.
So as someone who is interested in making her career in international law, she was surprised that Rochester, with its tradition of academic strength in political science and other social sciences, didn't have an international relations major.
That will change this fall, when Rochester formally establishes the new major, which will be administered through the Department of Political Science. And Cheng, along with about 20 other first-year students who have expressed an interest in the major, will be able to plan their course of study around it.
The new major is one of several new initiatives outlined in the strategic plan of the College of Arts, Sciences, and Engineering designed to build on current academic strengths and to offer students a broader and deeper set of opportunities to add a global perspective to their studies.
The plan also recommends new programs in area studies and increased opportunities for study abroad.
"The future of our society is increasingly bound up with, and determined by, what happens elsewhere in the world," the plan notes. "This rapidly growing global interdependence involves every kind of human activity, from protection of the environment and climate, to social, religious, and political movements, to artistic and cultural phenomena."
—Scott Hauser
The plan proposes taking advantage of the College's strengths and resources in the Rochester area to establish the signature programs connecting the humanities to the sciences and engineering. A proposed Center for Humanities and Image Technology, for example, would bring together the work of several programs and departments across the College to build a partnership with the internationally renowned George Eastman House. A proposed Center for Music and Sound would combine the strengths of the College's music department and the Eastman School with strengths in engineering, the physical sciences, and cognitive sciences. A third signature program would focus on archeology, architecture, and engineering.
The plan targets several scientific areas, including genomics, computational and physical biology, nanoscience, and alternative energy, as a way not only to maintain competitiveness in key fields, but also to strengthen partnerships among departments in the arts, sciences, and engineering, and with other units of the University.
The plan foresees enlarged opportunities for students to pursue programs in health-related fields, business, and other areas. One initiative is in the area of public health, where five majors are being designed, in collaboration with the medical school. Other initiatives are under way in business-related fields, including a new major in economics and business strategies, which draws on a partnership with the Simon School, to complement an existing major in financial economics.
The goal, as the plan puts it, is to "ensure balanced progress on multiple fronts: strengthening our core departments, protecting our competitiveness in key areas, defining signature domains in which we can not only excel but become preeminent, and offering a broad and powerfully attractive portfolio of undergraduate programs." One theme that emerged early in the process is that for Rochester to achieve distinction in particular fields, the size of the arts, sciences, and engineering faculty needs to grow.
Making a New Signature
When Jonathan Ortloff '09 was looking for a university where he could study for a degree as a musician and as an engineer, he knew nothing about how universities map out their strategic plans.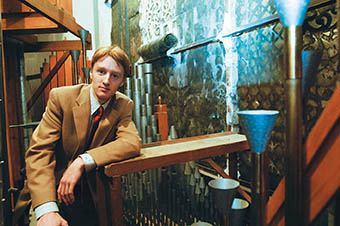 All the junior from Plattsburgh, N.Y., knew was that as a high schooler he had found his passion in building and playing organs and that he wanted to make his career in doing both. His advisors told him to find a university with a strong music program and a strong engineering program.
Since enrolling at Rochester, Ortloff has embarked on a dual degree in organ performance at the Eastman School and as an engineering sciences major in the College of Arts, Sciences, and Engineering.
Ortloff, who is also a Kauffman Entrepreneurial Year (KEY) scholar, divides his time between honing his skills as a musician and studying fluid dynamics, acoustics, and the other scientific aspects of sound that any good organ builder will need. As a KEY scholar, he has taken on the project of studying and documenting an organ built by the famed Æolian-Skinner company and installed in 1937 in Strong Auditorium. The instrument has been silent since at least the 1970s.
He's found exactly the combination of opportunities that he was looking for.
"It was clear that both the Eastman School and the School of Engineering and Applied Sciences were just so strong, and both gave me the freedom to do independently what they now want to do officially," Ortloff says. "There's a real breadth of opportunity here."
Ortloff is not the only one to see the opportunity. Drawing on Rochester's strong academic traditions—both in the College and at the Eastman School—is the goal of one of three new signature programs outlined in the College's strategic plan.
The proposed new Center for Music and Sound would bring together both the performance of music and the study of the sciences behind sound.
Mark Bocko, a professor of electrical and computer engineering who was Ortloff's academic advisor for his engineering studies, says faculty in the arts, sciences, and engineering and at the Eastman School have long been collaborating in informal ways. Capitalizing on the resources available to both units makes perfect sense, given the academic stature of the programs involved, he says.
"It's a natural connection," says Bocko, who has collaborated with David Headlam, a professor of music theory at the Eastman School, on several projects for more than a decade. "Many faculty have recognized that we should do more at the intersection of music and engineering because it's automatically going to be a premier program."
Bocko, who worked on the committees that drafted the strategic plan for the Department of Electrical and Computer Engineering as well as for the School of Engineering and Applied Sciences, says he's gratified that the idea for building stronger connections with Eastman is a key part of the plan.
"It has great potential," he says.
The other proposed signature programs are:
• A new Center for Humanities and Image Technology that would draw on programs that study images and film from a variety of perspectives.
• Archeology, Architecture, and Engineering, an initiative to bring together engineering, art history, religion and classics, and history.
—Scott Hauser
As part of the planning process, each academic department and major cocurricular unit was asked to draft a plan for its future over the next 10 years. Larger working groups then pulled those plans together to look for areas of commonality. Out of that ground-up process came the final prospectus.
"This is not a blueprint, but a pretty well thought-out idea of where we want to go," Lennie says. Among the strategies:
The plan calls for more robust programs and scholarly opportunities focused on the world outside the United States. Those include a new international relations major that's set to begin this fall. It also envisions new area studies programs that focus on particular regions of the world, such as East Asia, the Mediterranean, and Africa and the African diaspora.
The proposed plan recommends the addition of about 80 new faculty members—about a 25 percent increase over current numbers—to help establish new programs and to beef up targeted strengths in existing departments. The plan calls for a commensurate increase in the size of undergraduate and graduate student enrollments.
While Lennie notes that the College—like all major schools—must offer a broad portfolio of programs and degrees, he says the most successful universities also offer programs that are distinctive—perhaps unique.
"In some sense, what we are doing is ensuring that we have a set of programs that conform adequately to the prototype," Lennie says. "At the same time, we are developing programs that distinguish us very sharply from our peers."
With a faculty of about 320 full-time professors, the College is able to provide fewer of these opportunities, Lennie says, than many of its peers that are often much larger and have a broader spectrum of programs.
In some areas, particularly in global studies and in programs focused on particular areas of the world, the College has not had the critical mass of faculty needed to mount distinguished programs. Lennie notes that investments in such areas will be a priority.
Saab, who was involved in the process at several levels and across several groups, says she was impressed by the engagement of those who participated and with the administrative response to the ideas of faculty and staff. "The faculty has had a voice, and the voice has been heard in the planning process," she says. "It was nice to see that people were listening and also for them to see the possibilities for growth.
"It was gratifying to say, 'This is an important area for intellectual inquiry and to have other people say, 'You're right,'" Saab says.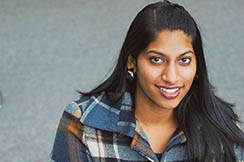 Nagendra is a Rochester Early Medical Scholar (REMS). The program ensures her enrollment in the School of Medicine and Dentistry (when she successfully completes her undergraduate degree) and is a model for other initiatives designed to strengthen preprofessional education for undergraduates.
As part of the planning process, an ongoing conversation was begun with members of the College's new National Council, a group of alumni and other leaders formed to advise on the University and its direction. Trustee Nathan Moser '75, president and CEO of National Envelope Corp., chairs the council.
"The deans have worked closely with the faculty to help shape a vision for the College, and we think it's compelling," Moser says. "As with all great plans, this one is a living document that will need to be tended regularly and that will rely on the support of alumni, parents, and friends so that the College can set a course for new levels of success. The members of the new National Council of the College are extremely excited about the future of the College and supportive of everyone's efforts to see the strategic plan to fruition."
As for the undergraduate experience, Dean of the College Richard Feldman says a priority is to ensure that students have enhanced opportunities to engage in research with faculty across all departments. Currently more than half of all undergraduates take part in research, but the College would like to improve on that already high number.
"Our goal is to make more obvious the place of undergraduate research in the curriculum," Feldman says. "Our slogan will be that everyone has the opportunity to do research."
Space Considerations
While the strategic plan for the College of Arts, Sciences, and Engineering makes no specific recommendations for new buildings, the plan recognizes that some new facilities will be necessary to achieve the proposal's goals.
One new idea for expanding the options for student housing while maintaining a residential campus feel gets under way this fall, when the Riverview Apartments open across the Genesee River from the River Campus.
Built by a private developer, the 120-unit complex will be available only to University of Rochester students and is designed to give as many as 400 students more latitude to live in a semi-independent environment while still being closely tied to campus.
That approach represents one way an expected increase in student enrollment could be accommodated over the next decade.
Another goal is to maintain Rochester's residential feel. That's important to students like Divyah Nagendra '09. Nagendra, who along with Anand Popuri, a Take Five scholar, organized last fall's "Be the Change Day," a nationwide day of community service, knew little about the College's strategic plan as she was mapping out her course of study.
But as a member of the President's Advisory Council of the Students' Association, she has been watching the plans unfold. Her interests also have guided her along paths similar to the ideas represented in the plan.
To accommodate a proposed 25 percent increase in faculty, the solution is more complex because the new members of the faculty will not be concentrated in one program or department, but will be dispersed across many departments. As individual departments hire new professors to strengthen current initiatives or to embark on new ones, the College will face the kinds of questions that a growing family does: Can we reconfigure our current spaces to accommodate relatively modest growth? Do we need an addition to the current house? At what point do we need a new house?
Details for how the physical spaces of the academic and research facilities for arts, sciences, and engineering will change will be addressed as the strategic plan takes final shape.
The space assessment highlights two areas that are in particular need of attention, but notes that any plans to address them are only conceptual at this point.
One involves the facilities that house the music, theater, dance, and other performing arts programs. The two major performing arts venues—Strong Auditorium and Todd Theater—date to the founding of the River Campus in 1930 and have not been substantially upgraded since then.
The plan also raises the question of extending the Robert B. Goergen Athletic Center to include an addition between the Zornow Sports Center and Wilson Boulevard. In that concept, the addition would be home to a new field house, multi-use courts, team and meeting rooms, and provide a space large enough to accommodate 6,000 people for events such as Commencement.
A religion major, she's interested in comparing the spiritual and cultural traditions of ancient India and ancient Greece, two of the regions identified for new programs in area studies.
And Nagendra studied last summer in Italy as part of Rochester's program on the architecture of Rome, led by engineering professor Renato Perucchio, that combined the scientific study of structures with the humanistic look at what they have meant over time. The plan envisions a new signature program on archeology, architecture, and engineering.
She's excited about what she has learned of the plans so far.
As she puts it: "We really want to make our university distinct."
For a copy of the College's proposed strategic plan, visit www.rochester.edu/college/strategicplan.
Well-Positioned for New Initiatives
As an academic unit that traces its history to the University's founding in 1850, Rochester's core programs in the arts, sciences, and engineering have been structured in many ways over the past century and a half.
Most recently, the implementation of the Renaissance Plan—the 1994 initiative designed to strengthen the academic, financial, and admissions programs—brought the former College of Arts and Sciences together with the School of Engineering and Applied Sciences as one administrative unit.
For the first time the admissions programs and the cocurricular and student life programs all report through the same administrative team.
The organization—unique among research universities—along with the Renaissance Plan's launch of what's now known as the Rochester Curriculum, has brought about a remarkable cohesiveness that provides a sound position from which to grow, the plan notes.
"All of those changes have positioned us well to move ahead with our initiatives," Lennie says.
The 1994 plan also brought the term "the College" into common parlance—at least on campus—as a shorthand reference to arts, sciences, and engineering.
While the term still describes the undergraduate experience—both in class and outside of it—the strategic plan emphasizes that the arts, sciences, and engineering represent a much broader set of programs that extends beyond undergraduate education and student life to encompass faculty scholarship and research as well as graduate education.
Diversity
One expectation of the plan is that as the size of the faculty and the student body grow over the next 10 years, both populations will become more diverse. The plan, which recognizes that the College is "far short of being sufficiently diverse," notes that several of the initiatives—for example, those that focus on international issues or on area studies—are likely to help the University in its diversity goals. The plan also calls for beefing up other efforts in recruitment and retention as well as ongoing initiatives like the Kearns Center for Leadership and Diversity in Science and Engineering and the Ronald E. McNair Post-Baccalaurate Achievement Program, programs that have proven successful in increasing the number of minority students who pursue advanced degrees.