From Musicology to Manuscript
In her debut novel, Preeta Samarasan '00E (MM) explores race relations in her native Malaysia.
By Katina Antoniades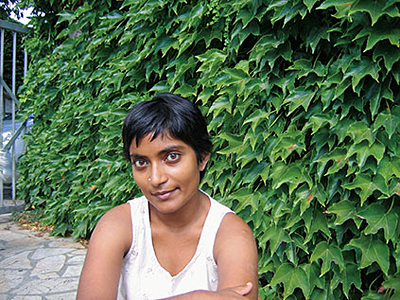 When she needed a break from her studies at the Eastman School, Preeta Samarasan '00E (MM) used to walk to a nearby independent bookstore to browse the shelves. She became friends with the owner, and as they discussed their favorite books, Samarasan told her about the novel she was writing.
In May, Samarasan returned to the store—this time as a published author—as part of her book tour for Evening is the Whole Day (Houghton Mifflin), her debut novel about the lives and secrets of an Indian immigrant family in Malaysia. Samarasan moved to the United States from Malaysia as a teenager and now lives in France with her husband.
Samarasan started the book in 1999 during her graduate studies in musicology, finding time to write during summers and other breaks. She had begun other novels without completing them, but this one was different. "I just had this feeling that I would be able to finish this," she says.
Although she took creative writing classes on the River Campus and attended summer workshops—including the Iowa Summer Writing Festival at the University of Iowa—that wasn't enough for Samarasan. One of her writing teachers suggested that she enroll in an MFA program in order to really focus on her book. She was accepted into the University of Michigan's program and left Eastman with a master's degree in 2004. By the end of her second year, Samarasan had finished the novel and had an agent, who found her a publisher.
As she worked on Evening is the Whole Day, Samarasan focused on her intended audience: Malaysian readers, especially the country's Indian residents, who make up about 8 percent of the population. Some of the issues in her novel, she says, have rarely, if ever, been talked about openly there.
Samarasan also hopes that her book can educate other readers about her native country. The country's other major groups are the Malays and Malaysian Chinese, and her novel touches on the racial tensions and class divisions that divide the country.
"The main thing I'm challenging," she says, "is the view of Malaysia that has been popularized by the tourist board—that it's this amazing melting pot of perfect racial harmony." In reality, she says, "race relations are kind of a mess."
Despite the government's restrictions on free speech and its heavy penalties for those who defy them, Samarasan isn't worried about her upcoming Malaysian stops on her book tour. Still, she realizes that she'll face criticism for the views expressed in her book.
"Any time you talk about something that hasn't been spoken about before, of course there will be people who say, 'We shouldn't be talking about this,' or I'm exaggerating, or I'm lying," she says. "I've had a lot of discussion about these issues [online], so I have an idea of the objections that will come up, and I think I'll be prepared to deal with them."
Samarasan is looking forward to her upcoming visit. She's hoping to connect with people in Malaysia—other writers and those otherwise involved in the arts or literature—whom she has gotten to know through the Internet. Although the Malaysian government owns the nation's newspapers as well as a large bookstore chain, it hasn't cracked down on citizens' online freedoms, so "all the dissent has moved onto the Internet," Samarasan says. The Web—for example, Malaysian blogs—has become a haven for like-minded people to share their views and "people can finally say the things they've been wanting to say."
Although her novel isn't yet available in Malaysia, Samarasan says that several people there have read advance copies. "They've said, 'The country has been waiting for so long to have their story told.' They're positive about it." And the bookstores that have been approached have agreed to sell the book.
Back in the United States, reviewers and others in the literary world have compared Samarasan to big names like Arundhati Roy and Zadie Smith. She says she drew a "huge amount of inspiration" for her novel from Salman Rushdie, and reviewers have likened her style to his. "He was one of the first, for South Asian writers, for postcolonial writers, to show us how to use the English language as our own language," she says. "Not to view it as a constraint, but to make it to do what we want it to do, to make it tell our story."