Administration
A New Dean of Nursing
Noted researcher and clinician named fourth dean of the School of Nursing.
By Kathleen McGarvey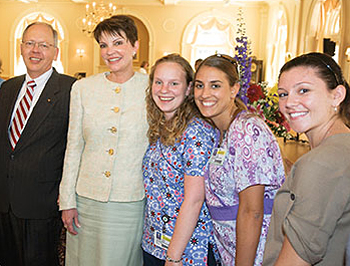 When Kathy Parker was 5 years old, she was hospitalized with a serious kidney infection. It was a frightening and bewildering experience for a child, she recalls. But one person she met—her nurse, "Nancy, whose name I still remember"—not only helped Parker through her hospital stay, but set her on her life's course.
"I thought she was so wonderful, and I knew that that was what I wanted to do," says Parker. "She was meticulous, caring, gentle, reassuring. She quelled my fears—and dried a few tears."
"I've always known I was going to be a nurse."
Parker, who has dedicated her life to nursing as an adult nurse-practitioner, a clinical nurse specialist in adult health, and a nationally recognized sleep disorders researcher at Emory University, takes on a new role this fall as she becomes the fourth dean of the School of Nursing.
She succeeds Patricia Chiverton '91W (EdD), who stepped down after eight years as dean.
Parker took the helm in August.
"I wasn't planning on moving anywhere," Parker says, when she first received a call from Provost Ralph Kuncl, who chaired the committee searching for a successor to Chiverton, the University's first Pamela York Klainer Endowed Chair in Nursing Entrepreneurship, who will return to the University as a faculty member in the Center for Nursing Entrepreneurship.
But Parker quickly changed her mind about staying at Emory.
"The people at Rochester were so congenial and warm and open. I felt like I could accomplish and contribute something—and be myself."
Widely recognized as a researcher and teacher, Parker most recently was a member of the Department of Family and Community Nursing at Emory. She earned her undergraduate degree in nursing from Columbia University, a master's in nursing from Emory, and a doctorate in nursing from Georgia State University.
Medical Center CEO Bradford Berk says Parker's interest in how clinical and research breakthroughs can be developed quickly into treatments for patients—an approach known as translational science—is particularly impressive.
"As a respected, practicing clinician, Kathy brings a deep appreciation for the value of clinician educators and learning approaches that focus on teams of providers," Berk says.
One of only five nurses in the country certified in clinical sleep disorders by the American Board of Sleep Medicine, Parker has been elected as a fellow of the American Academy of Sleep Medicine and of the American Academy of Nursing.
Her current research focuses on how the cycle of sleeping and waking is disturbed in patients with chronic illnesses and on developing ways to test treatments specific to certain populations of patients. In addition, she is extending her research to include the study of sleep in cancer patients with pain.
As dean, Parker's first task will be to create a comprehensive strategic plan for the School of Nursing that integrates with the Medical Center's strategic plan, Berk says.
"I think nursing will take a much more prominent role in health care and delivery," Parker says, reflecting on the future of her profession.
She also says she hopes to help build stronger ties between research and nursing.
"One of my passions is science and knowledge," she says. "I would like to see more of that introduced into nursing, more collaborations between physicians, scientists, and nurses.
"There are always opportunities for more collaboration," she says, envisioning cooperation not only between the School of Nursing and the Medical Center, but between the nursing school and Arts, Sciences & Engineering and the Eastman School as well.
"Nursing is very interdisciplinary," Parker says. "We have something in common with the total human experience, and that ranges from the arts to the humanities to the sciences."