In Review
GLOBAL ROCHESTER
Himalayas
A research project explores the risk of hepatitis B at the borders of Pakistan, India, and China.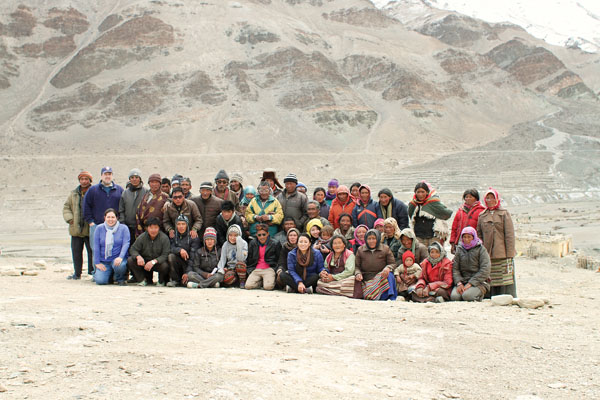 Connections
Several faculty members have connections to the region where Pakistan, India, and China converge. Examples include Carmala Garzione, professor and chair of the Department of Earth and Environmental Sciences, who conducts research on the geologic history of the Tibetan plateau;
Nancy Chin, associate professor in the Department of Public Health Sciences, who studies women's health in Ladakh and Tibet; and
Ernestine McHugh, an associate professor of anthropology, who specializes in the religion and anthropology of Asia, and does field research in the Himalayas. Classroom
Dahpon Ho, an assistant professor of history who specializes in the history of East Asia, has introduced a new undergraduate course, Tibet: History and Myth. Exploration
Stewart Weaver, a professor of history who specializes in the history of British India, and Maurice Isserman '79 (PhD), professor of history at Hamilton College, are the authors of Fallen Giants: A History of Himalayan Mountaineering from the Age of Empire to the Age of Extremes (Yale University Press, 2008).
By the end of the year, Timothy Dye will have made three trips to the Ladakh district of India, a sparsely populated, but geographically and historically important, region of the northern Himalaya Mountains where the borders of Pakistan, India, and China converge. There, the professor of obstetrics and gynecology at Rochester has been working to help Tibetan authorities come up with a strategy to detect, treat, and prevent infections from hepatitis B among Tibetan refugees.
It's quite a house call, given that much of the region is situated on a plateau that is 10,000 feet above sea level and features inhabited areas as high as 15,000 feet. Traveling from Rochester involves a 17,000-mile round trip. And the administrative details are daunting: since 1950, when the People's Republic of China annexed Tibet, the region has been governed as an autonomous region of China, sparking protests and skirmishes in the region and sending Tibetan refugees into India and Pakistan.
Dye, who is working with colleagues from the University of Hawaii and the Central Tibetan Administration's health department with support from the Hershey Family Foundation, says a lot is at stake in the project. Many populations throughout Asia, in general, are known to be at a higher risk of hepatitis B, but assessing its impact among Tibetan refugees is especially important.
"Tibetans are scattered throughout the region in isolated camps that don't have a lot of resources, in a very harsh environment to live," says Dye. Those who have the disease are often unable to afford expensive antiviral medications and opt instead for more accessible Tibetan medicines that seem to help manage symptoms.
After gaining necessary governmental approvals during an initial trip in February and ethical approvals from the appropriate sources, Dye and his collaborators returned in May.
They conducted a qualitative community assessment, employing classical anthropological field methods to get a better idea of how Tibetans themselves perceive the disease, how they treat it, and how they respond to those who suffer from the disease. The findings will help their Tibetan colleagues craft a strategy that takes into account cultural beliefs and practices, making it more likely that the approach will be accepted.
Dye and his colleagues are careful to respect Tibetan culture and beliefs in their work.
"When you work with any population, just telling them to do this or that doesn't change anything," Dye says. "Any change in beliefs and practices has to be done within a culture's own world view, within the challenges and the resources they face."
—Bob Marcotte