Class Notes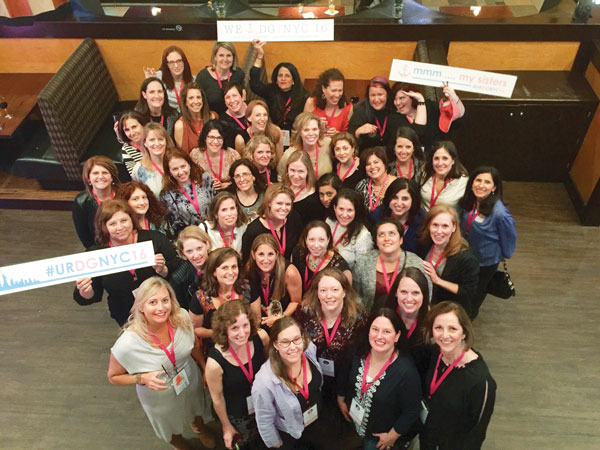 Last April, Rochester sisters of Delta Gamma (the Zeta Delta chapter) hosted a reunion in New York City to mark the approach of their 30th anniversary. More than 50 sisters from the classes of 1988 to 1995 attended, including many who helped found the chapter in the fall of 1986. They posed for a photo at Public House, near Grand Central Station, the site of a dinner that was among the highlights of the two-day event.
Pictured are:
Front row: Jennifer Novell Miller '93, Colleen Farrell Deuel '93, '01M (Res), Leigh Schroeder Salvage '92, Tracey Planavsky-Belsky '92, Tammy Noren Metz '90, Ashley Sartor McNamara '90.
Second row: Carolyn Haberek Blanco-Losada '90, Jennifer Luce Sartor '91, Alyson Wellens Ruff '88, Julie Peyton Stein '91, Alissa Epstein Jankay '94, Liliana Alonzo Smith '93, Penny Pearson O'Neil '90.
Third row: Michelle Kershner Fahey '91, Elizabeth Docteur '90, '93 (MS), Erin Gibson Allen '92, Kimberly Klenk Howells '95, Ellen Adelman Stein '94, Ann Ford Sherman '94, Mamta Shah '92, Nicole Kaplan '90, Saman Saeed Awan '92, Sarah Berger '92.
Fourth row: Janice Gillman Greenberg '90, Amy Ford Sherman '91, Rachel Adler Jaffee '92, Katie Keller Zimmerman '93, Kate Hollos '93, Beth Fried '88, Janet Ramirez Glausier '88N, Julie Falwell Weidener '88, Gerin Stevens '91, Sonia Gyan Pazak '88.
Fifth row: Rebecca Hattman Spencer '91, Christine Down Mills '93, Nancy Van Der Ziel Lenart '93, Noelle Ulterino McWard '91, Donna Schwind Border '90N.
Back row: Eileen McCarthy Cakouros '90, Marie Habbe Cosgrove '90, Nadia Malik '92, '94S (MBA), Anne Wagner Merton '89N, Trish Murley '92, Karen McCourt '92.
Present, but not pictured, were Brigid Brennan '89, Lee Gravitz Weber '92, and Carol Ponzi Tarby '88.