Features
'The voice of our collection'
The Memorial Art Gallery celebrates the service and commitment of volunteer docents, who help visitors see the museum's collection in new ways.
By Robin L. Flanigan
In the beginning, Memorial Art Gallery docents were asked to create tours for visitors using dates and biographies and art history timelines.
Not anymore.
Today, after extensive training, education and research, the focus for the museum's docents—the cadre of community members who serve as volunteer tour guides for the museum—is on observation, questioning, and discussion to help visitors view and react to a work of art more carefully and critically.
Photo Favorites
We asked a sample of Memorial Art Gallery docents to pose with their favorite work of art in the museum's collection.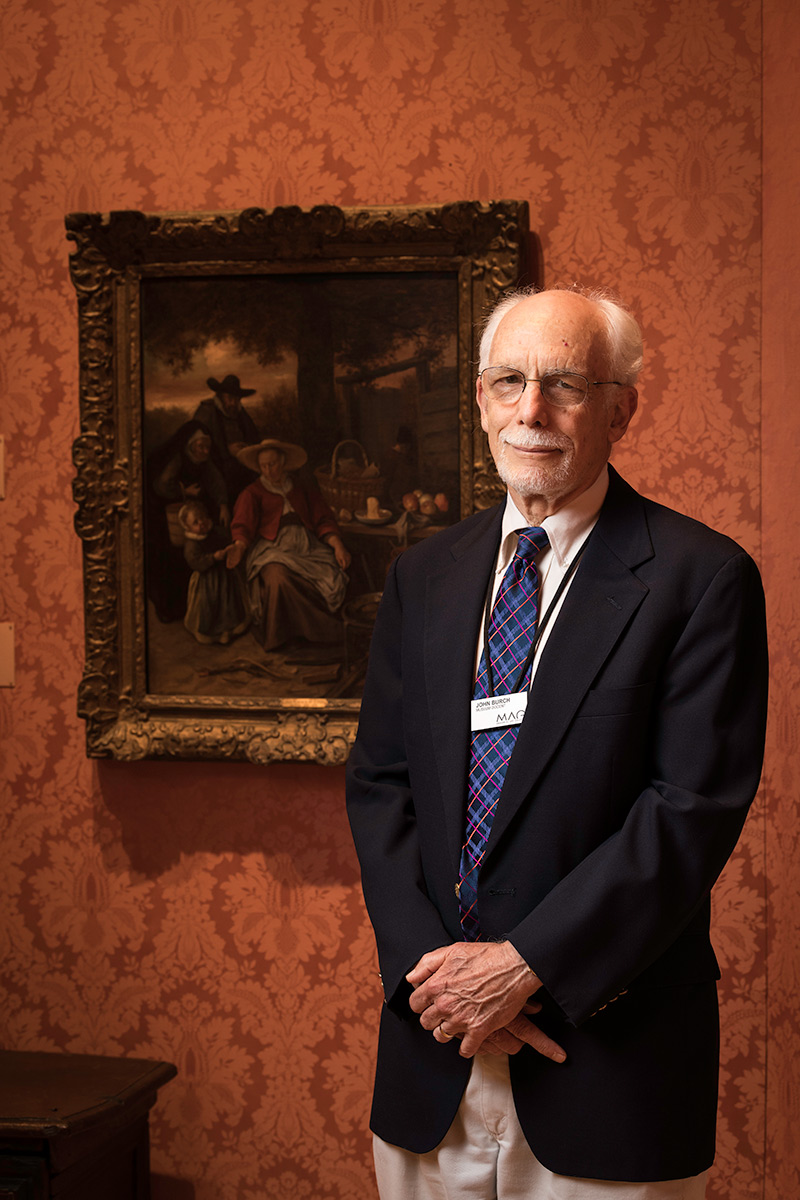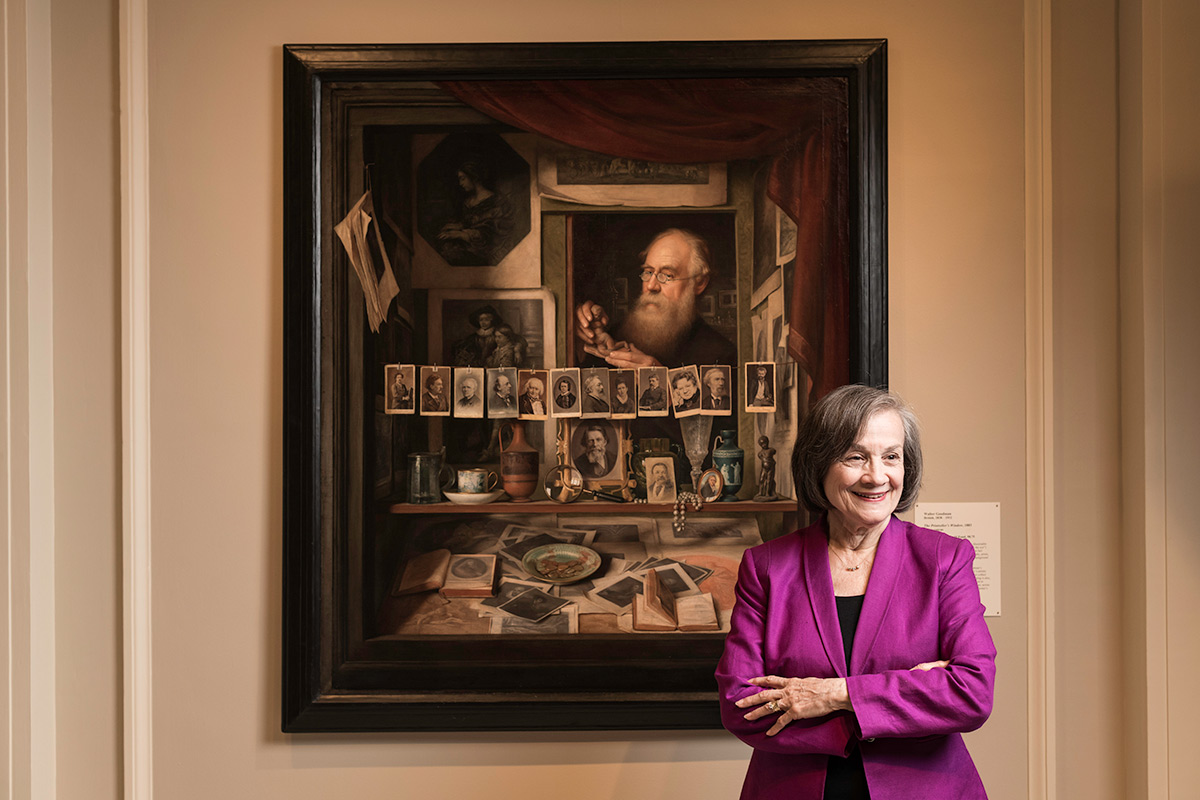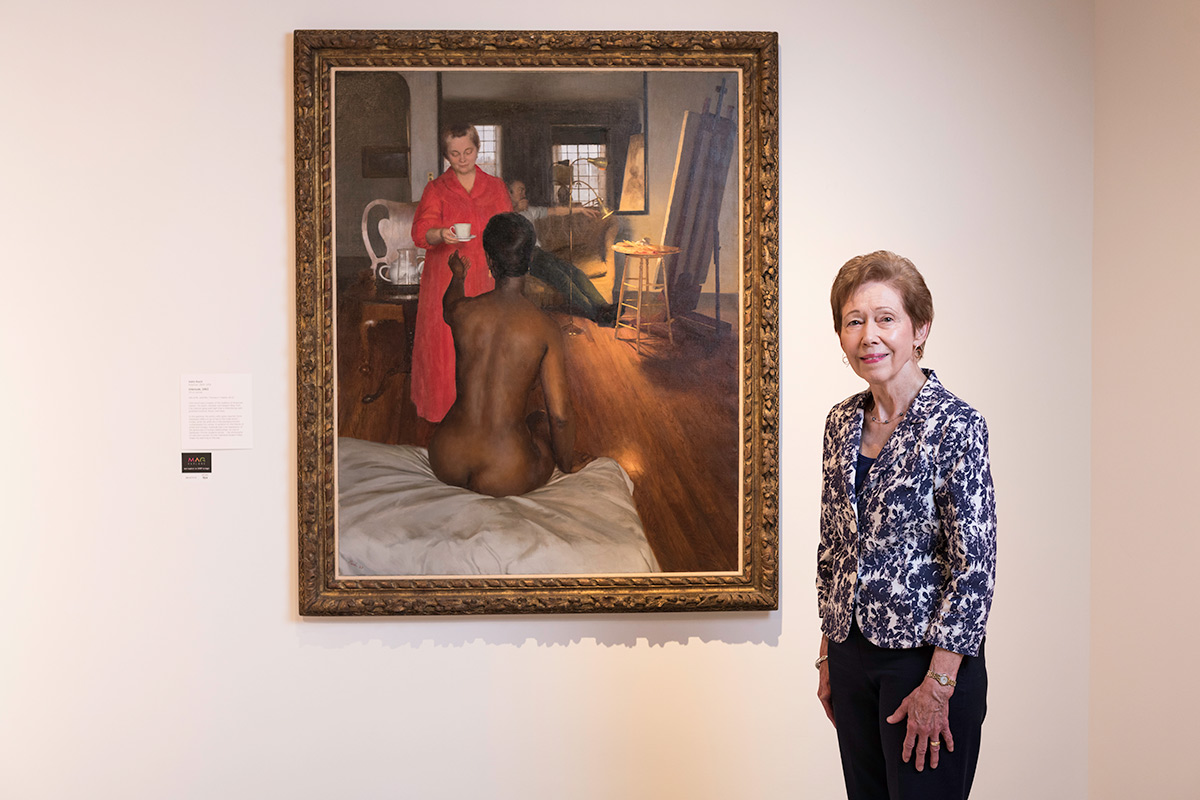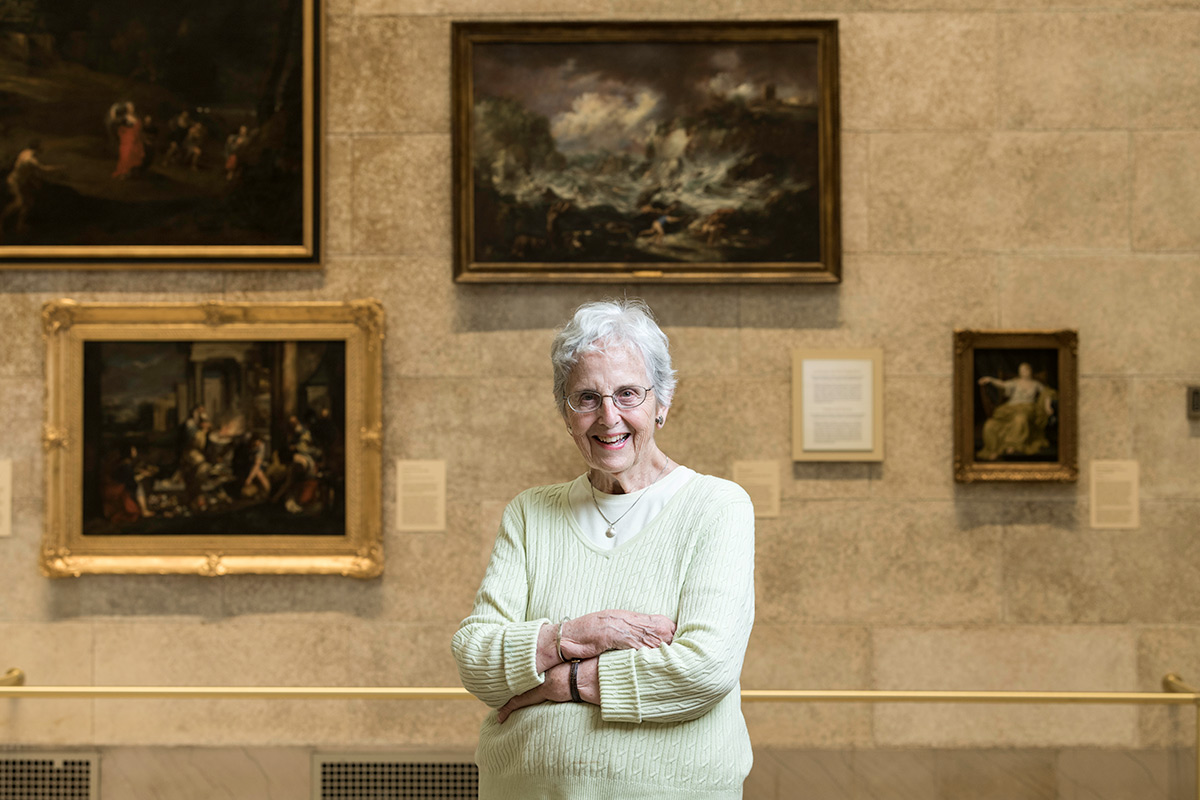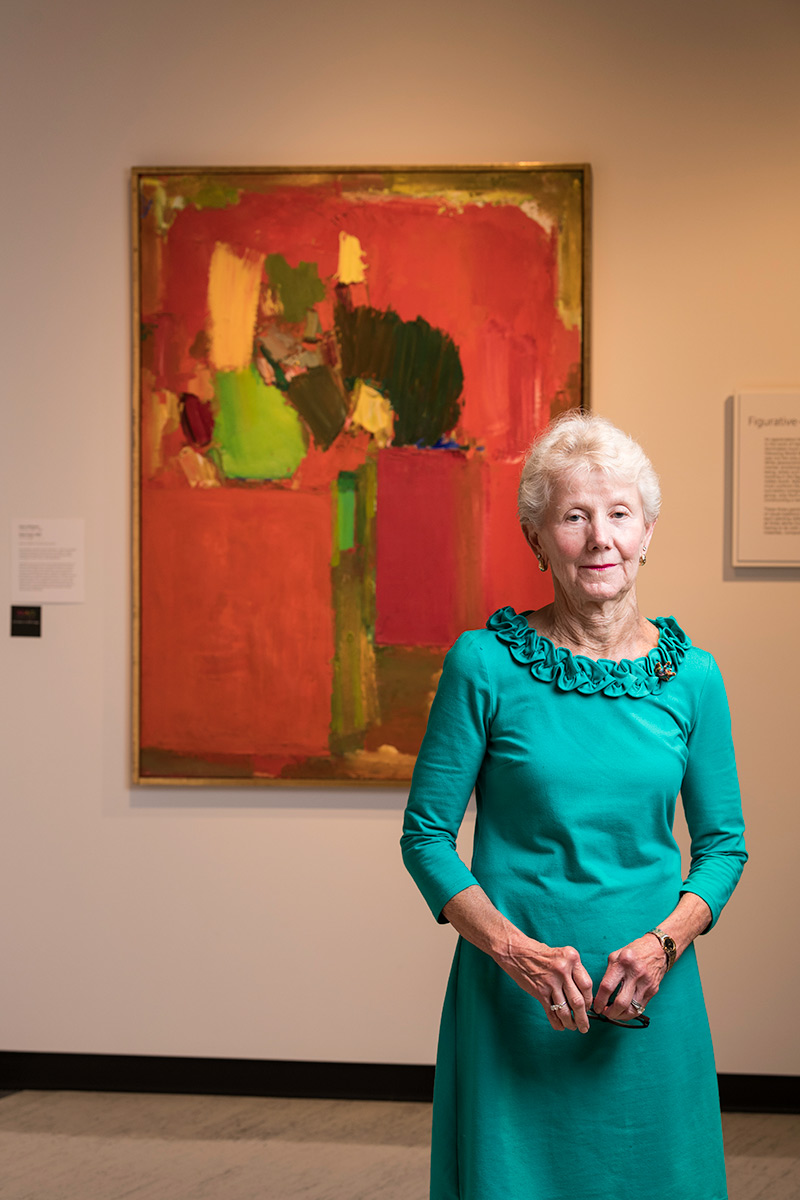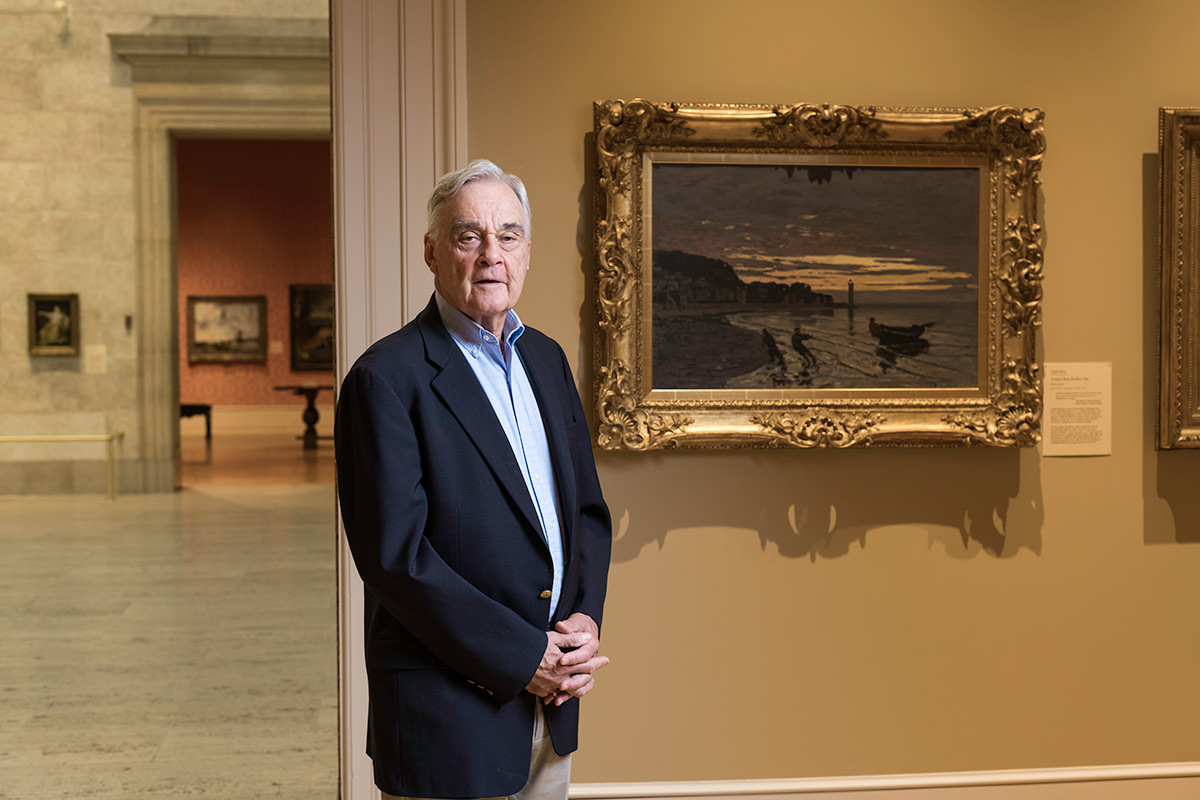 ‹
›
---
That focus is steeped in a method called "learning to look," one that Cynthia Flynn, a docent for nearly two decades, recalls being schooled in during her training—by having to sit in front of Winslow Homer's Artist's Studio in an Afternoon Fog as part of an afternoon exercise. The work captures a hazy day on the coastal peninsula of Prout's Neck, Maine.
"I love Winslow Homer's seascapes and more narrative art," she says, "but this is a dark picture. I thought, 'Oh my gosh, of all his paintings, we're going to look at this one for 20 minutes?'
"During that time the painting just opened up. Dark paintings seem impenetrable, but I started to see very strong diagonal lines, and then color, and then I saw the ocean. I could almost hear it hitting the shore."
Such appreciation is the crux of a docent's job—to introduce visitors to the museum on the art by asking them to look more closely. That means asking a lot of questions—"What do you see?" and "Where's the source of light in the painting?" for example—all with a goal of leading to a richer experience that allows them to connect with art in new and deeper ways.
Celebrating 50 years of volunteering
Celebrating its 50th anniversary in 2018, what is now known as the Docents Program traces its origins to 1959, when 14 Women's Council members were trained as docents for Illuminations, a temporary exhibit of 51 transparencies of art from the 13th through 20th centuries. Hoping to continue offering the service, a volunteer committee formed in 1960 to spearhead a permanent program.
The Docent Program was created in the mid-1960s, organized by Joan Morgan '74, '80—a volunteer who held group meetings and study sessions at her home—while the museum was closed for a two-year renovation. The official launch in 1968 coincided with a surge in museum attendance and led to an expanded program in the '70s. The museum marked the 50th anniversary with a celebration this spring.
Now there are about 70 active docents, dubbed "the voice of our collection" by Patti Giordano, the museum's chief operating officer and deputy director. "MAG would not have the staff nor resources to connect and share our art in this depth without our volunteers."
Over the decades, the program has extended its educational efforts to larger partnerships with the community, such as an innovative collaboration with the School of Medicine and Dentistry. Beginning in 2012, the University was among the earliest medical school–museum partnerships in the country to start a program designed to hone the observational skills of health care professionals. The Art and Observation Program annually helps hone the observational skills of more than 500 physicians, nurses, hospital chaplains, and others in medicine.
Flynn says learning to be aware of personal biases, as well as to separate observation from interpretation are important. "Nowadays, with smartphones and computers, you can just push a button and find an answer immediately, but you may not have looked really hard before starting to ask for that information.
"We try to get people to slow down, to take inventory of what they're actually seeing and then develop a hypothesis for what is happening."
The museum's docents give tours to more than 11,000 students and adults every year.
"Especially when someone comes into the museum never having been to one before, and not knowing what to expect, a docent picks up on that and makes it a special time for them," says Mary Ann Monley, administrator of volunteer services and tours, who became a docent in 1972 and still occasionally offers tours.
Docent Natalie Ciccone enjoys working with younger students. "They often are spontaneous and open to enjoying all forms and styles of art," she says. "As docents, we try to bring that sense of wonder and excitement to all our visitors."
An additional 35 docents, including 96-year-old Essie Germanow '43, no longer offer tours but still attend twice-monthly meetings and other events to stay connected.
"I love art and being in the gallery gives me an opportunity to observe it all the time," Germanow says. "And I've made friends with some of the paintings. There's one in particular, an abstract, that really stirs my imagination because when I look at it I see one thing, and when I look at it again I see something else. It's really enchanting."
Recognizing volunteers: the Docent Gallery
In October 2017, the former Grand Gallery was renamed the Docent Gallery to honor the volunteers, who train for nine months then continue their education through refresher courses, seminars, classes and conferences.
Marlene Hamann-Whitmore, the museum's McPherson Director of Academic Programs, notes that docents often commit to decades of service and, as a result, see each other through celebratory—and painful—personal milestones.
"It's such a beautiful life force to be at the museum because the works of art don't change but we do," she says. "They're guideposts for us, really, and the docents become guideposts for each other."
As someone heavily involved in training docents over the past three decades, Susan Dodge-Peters Daiss has frequently observed "this incredible transformation" that happens when new volunteers come aboard shortly after retirement, when they're unsure about what come next for them.
"They not only find a passion that perhaps they knew earlier in their lives," says Dodge-Peters Daiss, a senior associate in the Division of Medical Humanities and Bioethics at the Medical Center, "but like-minded spirits."
For Flynn, a comment after a tour several years ago continues to reinforce the value of the docents' service.
"One woman said to me after we finished, 'I will never again look at the label until I have finished really looking at the art,'" she says. "She was very sincere and forceful in that comment, and I was floored. What more could you ask for?"
Flanigan is a Rochester-based freelance writer.