Alumni Gazette
JULIA BULLOCK '09E
'Listening More Closely'
An acclaimed soprano shares her social vision as artist-in-residence at the Metropolitan Museum of Art.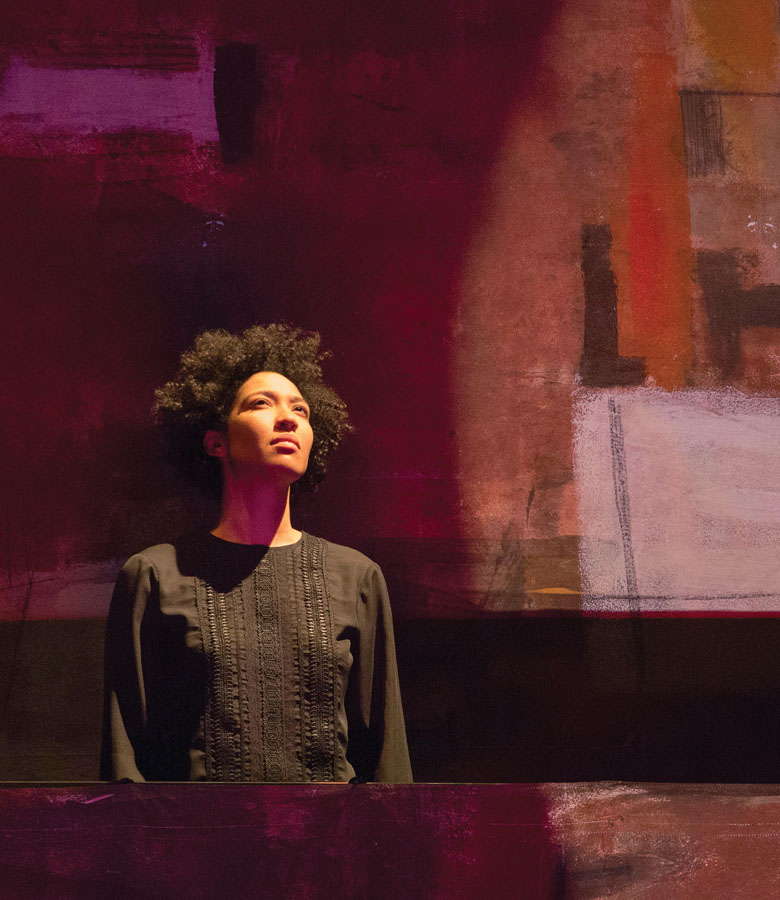 Julia Bullock '09E, whose vocal performances often leave classical music audiences in search of superlatives, is bringing more than her voice to her latest high-profile engagement.
Bullock is the 2018–19 artist-in-residence at the Metropolitan Museum of Art, where she has helped organize a series of programs designed to explore not only the artistry of music, but also ideas of identity, objectification, and history.
The first installment, "History's Persistent Voice," which had its premiere last September, featured traditional slave songs and texts by African-American artists in settings by female composers. The series concludes in May with a production of Hans Werner Henze's El Cimarrón (The Runaway Slave), a work for baritone and small ensemble that's based on the life of an Afro-Cuban slave who escaped and survived to fight Cuban independence from Spain.
Other performances included a chamber version of composer John Adams's Nativity oratorio and a performance of Josephine Baker songs in new arrangements by the composer Tyshawn Sorey that Bullock first performed in 2016. In December, Bullock was joined by soprano Nicole Cabell '01E and others for a recital of poems by Harlem Renaissance poet Langston Hughes that Bullock curated.
A native of St. Louis, Bullock earned her bachelor's degree from Eastman in 2009, followed by a master's degree from Bard College. Recognized as one of the rising stars of classical vocal performance, Bullock told Eastman Notes last spring that part of her interest in bringing ideas of identity and social conscience to music stems from having to navigate the world of classical music as a woman of mixed heritage, with a biologically white mother and a biologically black father.
"Strangely, deciding to go into a field that is predominantly run, produced, written, and performed by white people helped me want to take ownership of all that I am," she told Notes.
Her parents also urged her to be mindful of how she can help those around her.
"I'm grateful that my parents instilled the idea that if I'm not providing a service in my work, then it's not worthy work," she said. "I used to worry that choosing to be a performer wouldn't serve a greater purpose, but then I realized that music helps us listen more closely, it encourages us to engage with one another and ourselves, it asks us to act with intention and make choices, despite not knowing the future outcome. These are all things I think we need to be reminded of on a daily basis, at least I do."
—Scott Hauser