Alumni Gazette
BRANDON ISOBE '10
'Closed Captioning for Personal Conversations'
What's Next?
A son sets out to make an iPhone app to communicate with his father.
By Kristine Thompson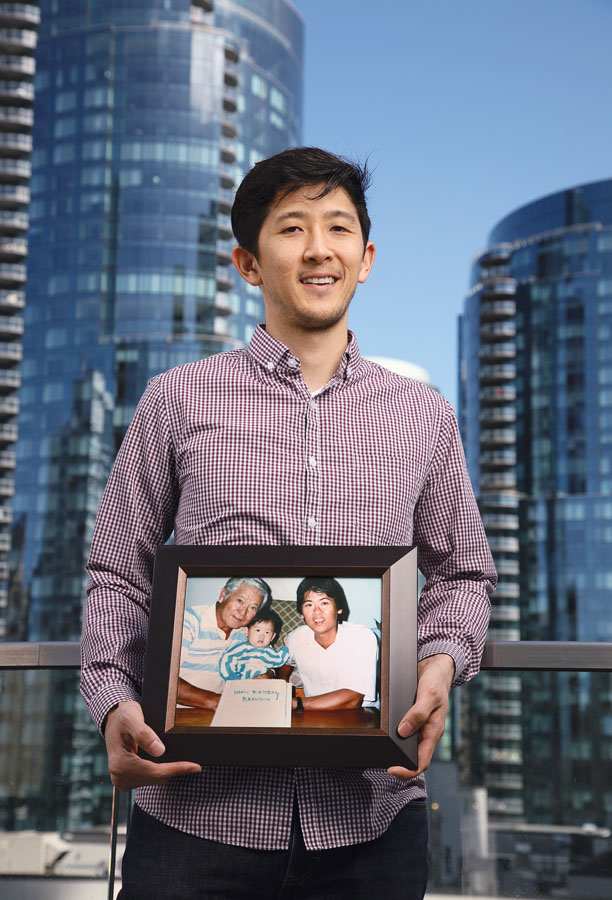 When Brandon Isobe '10 was growing up in Honolulu, his family used simplified speech so that Brandon's father, Gerald, who is deaf, could read their lips.
The process was frustrating at times, particularly for Gerald, who had grown up in a hearing household and didn't learn much about the culture of the deaf community or about American Sign Language until he was in college. Brandon knew there must be a better way to communicate.
"I thought I had to become a doctor to help my dad," he says. "Now, I see how technology can improve life for the deaf and hard of hearing and help us all understand each other better."
The result is App MyEar, an iPhone application Isobe spearheaded that allows the deaf and hard of hearing to communicate with others. It works simply: once someone opens the app, they speak into the phone, and the app translates their words into text.
"It's essentially closed captioning for personal conversations," says Isobe, who majored in economics at the University. "It works best in one-on-one conversations."
The app's built-in technology displays spoken words as text in real time without a lag, so users don't have to simplify or slow down their speech. Isobe collaborated with a friend, California Institute of Technology student Andres Gutierrez, to create the app.
Gerald, a financial management analyst in Honolulu, designed and tested it. His father's participation was critical, Brandon says, because having the perspective of a deaf person helps ensure that the app works best for those it's intended for.
To develop the app, Isobe drew on his experience working with the network security team at Salesforce.com in the San Francisco area and his time at the University.
Having learned about Rochester from his father, who graduated from RIT, Brandon was drawn to the University's academic programs and to the golf team, a sport that both he and his dad love.
At Rochester, Isobe also took ASL classes to improve his communication with his father. Deciding not to pursue medicine, he majored in economics, thinking that someday he would have a career in technology and banking.
Launched last year, App MyEar continues to add features to increase usability, including new default background colors (for people with low vision), larger font sizes, and languages such as Mandarin and Japanese.
Isobe says the primary audience will remain the deaf and hard of hearing, but the idea of taking speech to text could be useful to speech therapists and TESOL (Teaching English to Speakers of Other Languages) instructors. Users have told him the quality of their writing has improved, too, because the app helps them see how people talk in conversation.
Isobe says App MyEar has increased the depth of conversations he has with his father, and he hopes it will do the same for others, both inside and outside the community of deaf and hard of hearing people.
"We communicate on a whole new level now," he says.
What's Next?
Brandon Isobe, Gerald Isobe, and Andres Gutierrez have also developed App MyGroup to help deaf users connect with certified ASL interpretors.