Class Notes
TRIBUTE
Katherine Hoover '59E: A Master Composer and Collaborator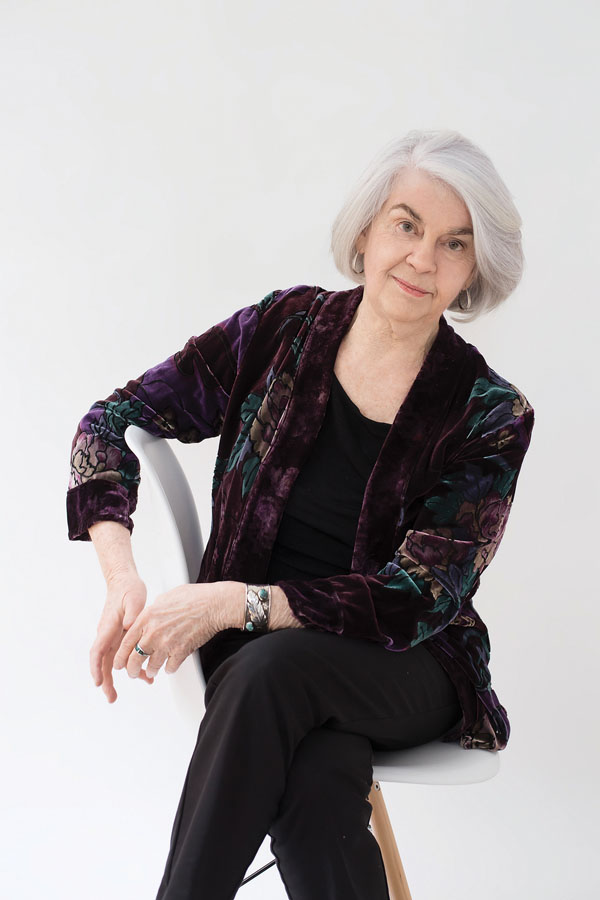 When composer and flutist Katherine Hoover '59E died last September, the New York Times reprinted in a remembrance the final verse of a poem Hoover had published in 2015. The poem was called "Music, My Love," and in the final stanza, Hoover wrote:
Music my love,
You have taken my hand
In sorrow and led me
From darkness.
You have taught me grace
And forgiveness.
Music, my love, You whisper to me
Of paradise.
Hoover was a renowned and beloved musician and composer. From the 1970s, when few women composers earned recognition in the classical music world, up until her death in 2018, she wrote dozens of works for flute as well as a multitude of other instrumentation combinations. Her work, which often incorporated Native American themes, won her several honors, including a National Endowment Composer's Fellowship, an Academy of Arts and Letters Award in composition, and in 2016, the National Flute Association's Lifetime Achievement Award. She founded her own company, Papagena Press, to publish her music.
Over the years, Hoover maintained close ties to Eastman, and offered regular updates to Eastman Notes and Rochester Review about her work, often including news of collaborations with Eastman faculty and alumni.
Bonita Boyd, a professor of flute at Eastman, says Hoover was "absolutely the top female flute composer of the 20th century." At the same time, compositions written for a multitude of instruments, such as Requiem for the Innocent, a tribute to the victims of the 9/11 terrorist attacks and written for chorus, brass, percussion, organ, and speakers, was "one of the works Katherine was proudest of."
In her 40 years of teaching at Eastman, Boyd has introduced generations of flute students to Hoover's music, including Kokopeli, which she calls "Katherine's best-known work, and [one that] has absolutely made it into the standard repertory."
In 2009, Hoover composed The Word in Flower, a work for flute, guitar, and mezzo-soprano, for Boyd and Eastman colleagues Nicholas Goluses, professor of guitar and a former student of Hoover's, and Katherine Ciesinkski, professor of voice.
The work is based upon Mayan poetry and prayers. Goluses describes it as "equally magical and spiritual, and very powerful. The piece is a joy to play. Katherine's flute writing is superb, but her guitar writing is unbelievably smart, insightful and uniquely idiomatic."
Hoover had a penchant for speaking frankly and connecting with students, adds Goluses, who took ear training with Hoover when he was a student at the Manhattan School of Music, in the 1980s. "She was tough," he says. "But wonderful. In fact, I think that her fortitude is what made her succeed as a female composer back then."
Hoover was also deeply involved with compositional and rehearsal processes for her works. "Canyon Echoes was written for a close friend of mine, but I was in close touch with Katherine while the piece was being written," says Goluses of Hoover's 1991 work for flute and guitar. "I was really able to see the workings of her compositional process, a great privilege." Hoover later worked closely with Boyd during the 2016 season of the MasterWorks festival orchestra, participating in the rehearsal process.
She later returned to Eastman to give a master class to the flute studio. "Katherine was so gracious to come back and give a master class to my students," remembers Boyd. "Not only did she present a wonderful master class, but one of my students actually was able to play Kokopeli for her. For the students, it was like seeing a living legend. I will always remember that."
—Caroline Sonett '18E (DMA)
---
Sonett is a flutist and the director of graduate advising and services at the Eastman School of Music.