Features
An Innovative Approach to COVID-19 Testing
Nana Afoh-Manin '07M (MD), Briana Southerland DeCuir '03, '07M (MD), and Joanne Moreau '07M (MD) bring COVID-19 testing to under-resourced communities.
By Kristine Thompson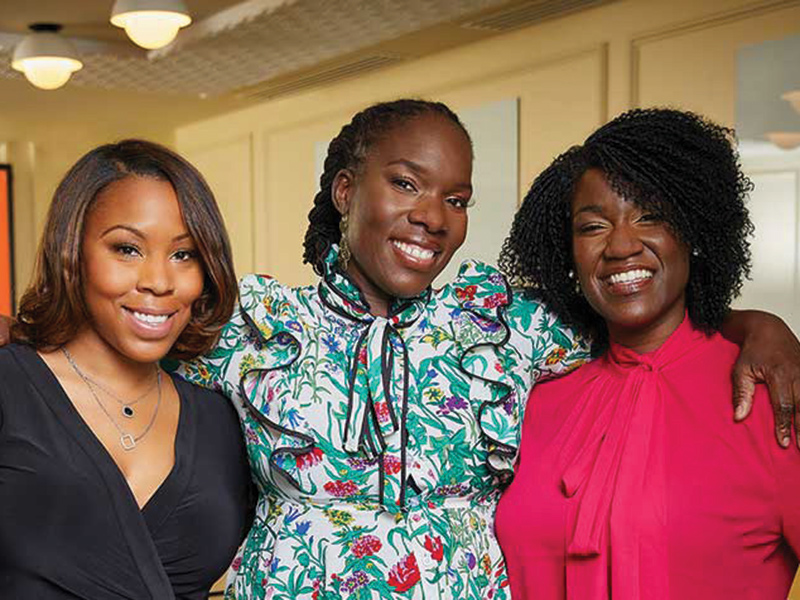 Last summer, friends and former classmates at the School of Medicine and Dentistry Nana Afoh-Manin, Briana Southerland DeCuir, and Joanne Moreau launched an innovative program to help people in underresourced communities during the pandemic.
The initiative—myCovidMD—offers pop-up, drive-through COVID-19 testing sites with an onsite lab, in addition to follow-up telehealth medical services through a convenient mobile app. As of the end of October, they've tested more than 5,000 people.
Designed for uninsured and underinsured populations, the program began in Los Angeles, where Afoh-Manin is an emergency physician. Later it branched to Oakland, California; Chicago, where DeCuir is an emergency physician; and New York City, where Moreau has a practice in allergy and immunology.
MyCovidMD is offered through Shared Harvest, a social entrepreneurial venture the three physicians started less than three years ago. Shared Harvest aligns medical and other professionals with volunteer opportunities, which creates a unique way for them to pay down their student loan debt in the process.
"It's a model similar to what you see with the Peace Corps and the military," says Afoh-Manin. "But our approach serves local communities."
In addition to people volunteering their health care expertise, services, and time, a number of businesses have also pitched in.
"It's heartening to see so many people step up to do the right thing for someone else," says Afoh-Manin. She and her partners invite other Rochester medical school alumni and students to join as volunteers or donors. They say that the programs are deeply rooted in the School of Medicine and Dentistry's biopsychosocial model.
They also underscore that their programs reduce patient crowds at hospitals, decrease provider burnout, and help keep hospitals and patients safe.
"We offer the uninsured and underinsured and those in marginalized communities much-needed access to experts, information, and resources," she says, noting that these programs benefit medical professionals, too.
"Helping others through volunteering is a proven way to decrease anxiety and increase well-being. Everyone wins with these programs."