Features
Protecting the Public
Nebraska state legislator Tony Vargas '08 works to safeguard a community.
By Karen McCally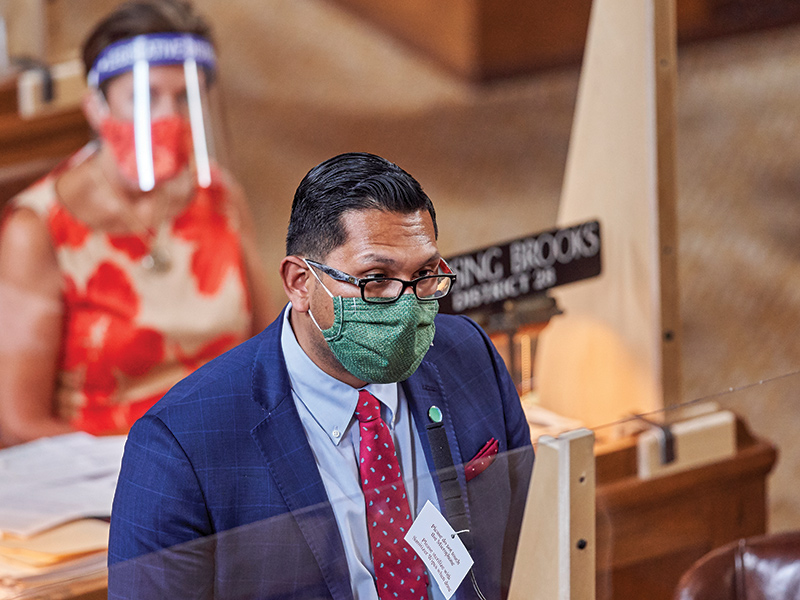 Tony Vargas experienced firsthand the tragedy of the pandemic last spring, as it ravaged the New York City region. His parents, immigrants from Peru, continued to work their jobs, as they had for decades.
Both contracted the virus. His father, Antonio, a machinist who worked onsite and in close proximity to others, spent a month on a ventilator before he died in late April.
Vargas did not see his father in that final month. In constant touch with his family in New York, he remained in his adopted hometown of Omaha, Nebraska, protecting his constituents in one of the hardest-hit areas of the state.
Vargas is the only Latino lawmaker in Nebraska's unicameral legislature. The state and many of its public and private establishments have resisted mandates concerning masks and physical distancing. That has made the task of educating the public critical. Vargas, who represents a district in which nearly half of the population is identified as Hispanic, arranged for the first Spanish language video in the Omaha region.
He showed up everywhere from testing sites to produce distribution stands talking to Spanish-speaking constituents in their native language about the health guidelines and why they were important.
"I think it puts people at ease," Vargas told the Omaha World Herald. "When people see me and they recognize me, and they see me with a mask and I'm telling them, 'This is an important behavior practice that we can do to protect each other,' more people see it as normal, and it's not invasive, and it's gonna help our community."
In July, Vargas took on a greater battle: to convince his colleagues in a deeply conservative state to support mandatory protections for the state's meatpackers. Their factories were COVID-19 hotspots, and workers and their family members were contacting their leaders, desperate for support.
The story made it all the way to the BBC, which called Vargas's quest "a battle against time that revealed much about race, politics and workers' rights in the pandemic."
Vargas made his appeal in starkly personal terms, reminding his colleagues about his own loss, a tragedy magnified so many times over in the lives of the state's meatpackers. By only two votes, his colleagues decided against considering the measure on the floor.
"There wasn't enough time, but also there wasn't enough will," Vargas said in late November. "Now, we're facing a substantial surge. But I have to remain hopeful."
Handily reelected to a second term, Vargas will return to work in January. He has a number of items on his agenda. Among them, he says, "is to reintroduce this bill."