Bridging Fellowships
2013 Bridging Fellowship Memo

The University of Rochester Bridging Fellowship Program releases faculty from departmental obligations for one semester to allow them to move to another department of the University to learn aspects of  another discipline.  Bridging Fellowships enable faculty to develop new approaches to research and performance; stimulate the formation of new interdepartmental and intercollegiate collaborations; make it possible for faculty to develop new courses for a broader student base; and stimulate better integration of curricula within and between schools.  Over the past three decades, the program has allowed Eastman faculty to study in Arts, Sciences & Engineering and at the Simon School; Simon School faculty to study at the Medical Center; and AS&E faculty to study at Eastman, the Simon School, and the Medical Center.  To date, 66 faculty members have been selected as Bridging Fellows.
Bridging fellowships are distinct from academic leaves, and holding a Bridging Fellowship does not affect subsequent consideration for them. The dean's or director's office of each school generally solicits applications once a year. Completed applications require the approval of the applicant's chair before being submitted to the dean for final approval.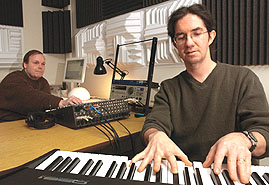 Mark Bocko, Professor of Electrical Engineering (left), and David Headlam, Associate Professor of Music Theory at the Eastman School.  Rochester Review story.