Provost's Circle Awards
The Department of Athletics nominates student athletes who exemplify excellence in academics as well as in their sport for recognition as a Provost's Circle Scholar.  Award recipients are honored at a dinner at the Patrick Barry House, the official residence of the Provost.
2014 Provost's Circle Scholars
LAUREN BAILEY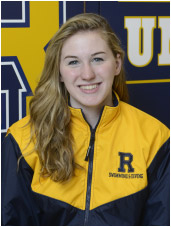 I am from Ossining, NY, which is located about 45 minutes north of New York City.  I heard about the University of Rochester when my older sister was applying for colleges, and I remember how much she loved it when she went to visit.  When my time came around to apply to college, I took the trip up to Rochester to see what it was like for myself. I felt immediately at home when I was on campus. The people were really welcoming, and I felt like it was a place where I could thrive in the classroom and in athletics. My major is chemical engineering with a math minor. When I am not studying or doing homework, I am in the pool training with the University of Rochester Swimming and Diving Team or I am hanging out with my Chi Omega sorority sisters.  I am also involved with U of R ChemE Car, where a group of students build a chemical reaction-powered, shoe box-size car to travel a specified distance. After graduation, I plan on getting a job and then possibly going to graduate school to get my master's degree in chemical engineering or a master's degree in business administration.
GRIFFIN DRAKE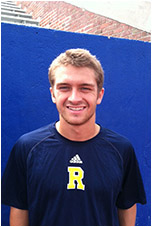 I was born and raised in Indianapolis, Indiana. I'm double majoring in Political Science and Philosophy. After college I plan on going to law school. My hope is I can get into a west coast school like Berkeley or Stanford. After some time in a firm I see myself getting in to the political sphere. Some other interests I have are sports, technology, coaching, and hanging out with my teammates. I love the Indiana Hoosiers, Pittsburgh Pirates, and the Indiana Pacers. I love using technology and seeing the effects it has on the world as a whole. I really like coaching too. This summer I volunteered to assist with a high school team, and I volunteer to coach a girls team currently. I love coming back to my suite and hanging out with the guys on the team. Our team has a lot of similar interests, and we are a really tight knit group. I chose the U of R because it offered a nice combo of soccer and school. The soccer program had made like 5 straight NCAA tournaments and was consistently nationally ranked, while the school was also highly ranked nationally and had a very good political science department. Also, I had a really good time when I visited and liked the atmosphere of the team. Everyone is good friends no matter what class year or if you play a lot or not.
ALEXANDER HOEY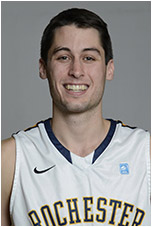 After moving around much of my childhood, I now call the small town of Macungie, Pa home.  I actually took, what some would call, the non-traditional route in coming to U of R.  My first year of college was spent at a different school, Washington and Lee University.  It wasn't very long until I realized a change in environment was something that I wanted to pursue. Having learned about Rochester while being recruited for basketball, I knew the school would be a great place for a fresh start. I knew the school had an impressive basketball history and more than enough research opportunities in the medical field of study – two things that remain very important to me.  Faster than I could have ever hoped, I was accepted here and began my sophomore year at a school I knew was a better fit for me. So far, basketball has been an incredible experience. My sophomore season seemed a bit dreamlike after going 18-0 to start the year, and eventually making the NCAA tournament. I can only hope we replicate results similar to those once more before I graduate.  Over the past two years, the sport has taught me a lot about myself and has allowed me to meet teammates that I will be friends with for the rest of my life. I am now a Brain and Cognitive Science major and a Social Psychology minor.  Needless to say, I quickly became infatuated with brain and the transformations it undergoes during our lifetime.  In addition to the BCS classes I am also on the pre-med track.  Someday I hope to relate these academic interests, perhaps in med school a year or two after graduation.  Prior to med school I hope to explore any research opportunities in cognitive science.  For now, I intend to fully enjoy the remaining time I have in college with some of the greatest friends I could have ever asked for.
 MARK LAWLOR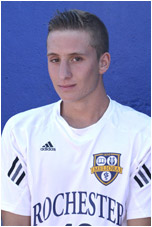 I am from Webster, NY, which is a town just north of Rochester.   I am a Microbiology major who is also pursuing a minor in Social Psychology.  I chose to attend the U of R for many reasons including its highly competitive science department, the opportunity to play for one of the best Division III Soccer programs in the country and to follow in the footsteps of my father (Class of '88 and also a member of the Men's Soccer program). I am currently working in the Emergency Department at Strong Memorial Hospital where I have two jobs.  The first is as a Research Associate where I enroll patients into research studies in which the hospital participates such as Traumatic Brain Injury FDA trials, Infant Flu studies and pre-hospital medicine.  In my second position as a Physicians Assistant and Liaison, I assist in patient care with attending physicians to improve Department productivity as well as help in various procedures they perform. After I graduate, I plan to attend Medical School and pursue a career in either Orthopaedics or Emergency Medicine.  When I am not practicing at Fauver or in the library, you will probably find me watching one of my favorite TV shows, hanging out with my roommates or helping out with one of the many community based soccer programs. 
AVERY PALARDY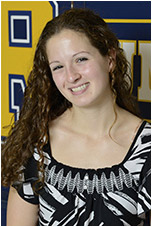 I am from Smithfield, Rhode Island, which is a small town located in of course the smallest state in the U.S. It is because of this that I decided that I wanted to go to school out of state. It is kind of funny that I ended up at Rochester because I had never even heard of it before and had no clue where it was. The first time that I heard about the University of Rochester was when I received a recruiting letter in the mail from Coach Thompson. I tossed the letter away at first since it was not a school that I was looking at, but thankfully my mom gave it a second glance. She soon looked it up and showed me how beautiful of a school it is and the fantastic science programs that it has. I agreed to visit it, and after that I was in love. I am lucky that financials all worked out because there was no other school that I wanted to go to after that visit. Rochester was perfect all around for me; from the academics to the swim team. Now that I am here, I am studying Environmental Science and am satisfying the pre-veterinary requirements. This past year has been about exploring which career path I want to take, and I am slowly narrowing it down to pursuing something in the environmental field. I volunteered last semester at an animal hospital and while I absolutely loved it, I don't think I want to commit the amount of time and money required for veterinary school. After my recent trip to do research with Professor Petrenko in Antarctica and my current semester over seas in Cape Town, South Africa, I am almost 100% positive that I will be exploring some aspect of the environment for the rest of my life. Everything about it interests me, so it is going to take some time to narrow it down to what I absolutely love. Besides my love to learn more about the environment and animals, I absolutely love to be outdoors doing anything from hiking, swimming, laying by the beach, climbing, or just plain exploring.
ALEX SWANGER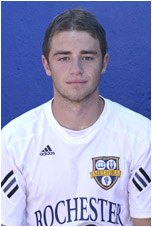 I am from Penfield, New York, a suburb of Rochester.  I chose to come to the U of R for several reasons.  Both my grandpa and my dad went to the U of R, so I have been familiar with the school for a long time.  I attended soccer camps at the University for many years when I was a kid.  I have known Coach Apple for a long time and I knew that the soccer team at the U of R was very competitive.  In addition, I was not exactly sure what I wanted to study when I got to school and the open curriculum here was appealing.  Finally, my dad works for the University and so it was hard to pass up the opportunity to play competitive soccer at a good school for a great price.  I am majoring in Financial Economics and am also completing all of the required Pre-Medical coursework.  I am still not exactly sure if I want to attend medical school and will most likely be taking at least one gap year after college if I decide to attend.  I have also considered trying to find work in finance, and I might do this for a year or two right after college if I decide to not go to medical school right away.  At some point I would like to get my MBA, and so I have looked into possibly completing an MD/MBA program.  After college I see myself eventually completing medical school.  I am interested in surgery, although I am not sure what type.  If I become a surgeon, I hope to open my own practice at some point.  
JOANNA WALLACE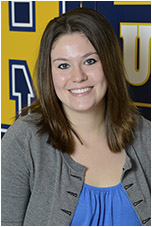 I am a Political Science and Economics double major from Fairbanks, Alaska.  I chose the University of Rochester because of its strong academics, its athletic program, and because it was a step out of my comfort zone.  Going to school all the way across the country has forced me to become a more independent and responsible individual. I am a diver on the U of R swimming and diving team, and enjoy spending time with the team.  I also enjoy dancing, binge-watching Netflix, and giving out life advice.  After I graduate, I hope to find a job developing social policy at the state or local level, while also being able to pursue new personal challenges, such as running a half marathon, learning to play the drums, or adopting a socially acceptable number of cats.
EMILY WIDRA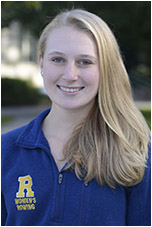 I grew up in Washington, D.C. and attended Georgetown Day School. My initial interest in UR was fostered by my father, a UR alumnus (Class of '86), who insisted that I at least visit his alma mater. When I visited the campus, I fell in love with it and knew this was where I wanted to spend the next four years. I loved the collegiate feel of the campus as well as the opportunity to freely design my academic schedule without the burden of two semesters worth of distribution requirements. The open curriculum has become one of the most important features of the school and has allowed me to pursue three separate majors, Psychology, English and Anthropology. At another school with less academic freedom, I would not be able to pursue my interests in all three of these subject areas. My father is not only a UR alumnus, but he is also a UR Crew alumnus. His experience rowing here at the University inspired me to try the sport when I first began studying here. Luckily rowing is one of the few varsity collegiate sports that accepts and fosters inexperienced athletes, so I was able to make the transition from a high school lacrosse player to a varsity Division III rower. Outside of the rowing team, I am an active member in a few organizations including College Democrats and the Undergraduate English Council. UEC is an academic organization striving to foster a sense of community and communication among undergraduate English majors and minors. After I graduate, I am hoping to obtain a Masters in Social Work and pursue a career in social work, with a particular emphasis on medical social work and children's needs.
KAILEE ZORNOW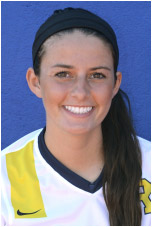 I am from Penfield, NY, a suburb about 25 minutes away from Rochester. I chose the University of Rochester for the outstanding science program, beautiful campus, and opportunity to play soccer at a highly respected program. Being able to travel across the country to play the best teams in the nation, as members of the UAA, really set Rochester athletics apart from any other program I was interested in. I'm pursuing a B.S. in Microbiology and I hope to attend veterinary school after I graduate from Rochester. I love animals, and have spent a great deal of time shadowing at an animal hospital and volunteering on a horse and goat farm. I've also been lucky enough to work in the athletics department for Terry Gurnett my entire college career. If I'm not running around on Fauver, at work, in class, or in the library, you could probably find me in the Palestra watching my roommates play basketball. I also love to ski, I'm a sister of Delta Gamma, and I'm a huge Syracuse basketball fan.