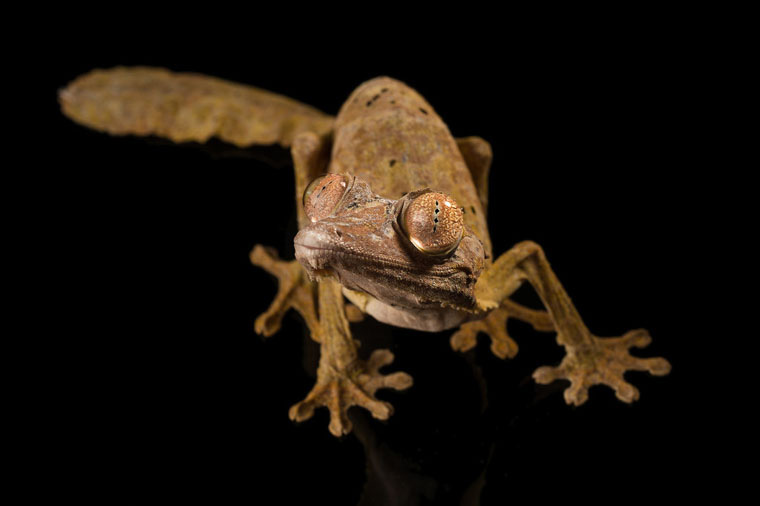 Researchers in the news
This Henkel's Leaf-tailed Gecko (Uroplatus henkeli), photographed by Adam Fenster from the private collection of Thomas Wood, an Irondequoit, NY, resident and Reef Shoppe owner, is a species native to Madagascar, which is renowned for its biodiversity. However, Daniel Scantlebury, a Ph.D. student in biology, recently showed that Madagascar's heyday of species diversification may be all but over. That triggered wide interest in the media. Scantlebury's study was reported by NBCNews.com, The Economist, and Popular Science, among others.
Do you have an interesting photo or other image that helps illustrate your research? We would like to showcase it. Send a high res jpg or other version, along with a description of what it shows, to bmarcotte@ur.rochester.edu.
---
Congratulations to...
Steven Bernstein, Professor of Medicine (Hematology and Oncology), and Ankur Chandra, Assistant Professor of Surgery (Vascular Surgery), who have been awarded CTSI UNYTE Translational Research Network pilot awards for 2013-2014. ... Karl Kieburtz, the Robert J. Joynt Professor in Neurology, who has been chosen to serve as director of the Clinical and Translational Science Institute (CTSI) and as the senior associate dean for Clinical Research. He will continue to direct the Center for Human Experimental Therapeutics. ... Lynne Maquat, the J. Lowell Orbison Endowed Chair and Professor of Biochemistry and Biophysics at the Medical Center, for receiving the 2014 William C. Rose Award from the American Society for Biochemistry and Molecular Biology, in recognition of outstanding contributions to research and to the training of young scientists.

---
Introducing a new faculty member
Gretchen Birbeck, an epilepsy specialist, joins the Department of Neurology, where she will research interventions to prevent epilepsy and provide epilepsy care, especially to vulnerable populations in Africa. She received her medical degree from the University of Chicago, and comes to us from Michigan State University, where she was director of the International Neurologic and Psychiatric Epidemiology Program.

---
An opportunity to collaborate
A startle audiometer to help understand the neural processes of age-induced hearing loss ... A handheld urinal for female patients restricted to the supine position ... A device that automatically tracks the type, dosage and time of injection for all delivered intravenous anesthetic drugs over the course of a surgical procedure. These are examples of captstone projects undertaken last year by seniors in biomedical engineering in collaboration with clinicians, faculty and researchers from the Medical Center. Do you have a project that could involve BME seniors during the coming school year? If so, contact Assoc. Prof. Amy Lerner (585) 275-7847, or Assoc. Prof. Scott Seidman, (585) 273-2122, Go online to learn more about what constitutes an "ideal" project and for opportunities to collaborate with seniors in other Hajim school departments.

---
Soon to be published
Mary Jane Curry, associate professor of language education in the Warner School, has a book coming out this fall that may be of interest to early career and multilingual researchers and grad students: A Scholar's Guide to Getting Published in English: Critical Choices and Practical Strategies. This is a practice-oriented book that follows a research book she co-authored with ongoing collaborator T.M Lillis, entitled Academic Writing in a Global Context: The Politics and Practices of Publishing in English.

---
Here to help you
From Liquid Chromatography Mass Spectrometers, to a Spectra-Physics MaiTai HP DeepSee Ti:Sa laser system with dispersion compensation, URMC's Shared Resource Laboratories offer high-end tools and technologies -- and support staff -- to all UR researchers. To learn more, visit the website and listen to director Tim Bushnell's video.

---
Grant-writing tip
All you have to do is ask: If you have questions or doubts about your proposal, it's okay to contact the program director or other relevant personnel at the funding agency. But remember: These are busy people. Do your homework first by checking FAQs and the website. Ask only targeted questions: don't waste their time asking questions already answered in funding guidelines and online instructions!

---
Mark your calendar
Aug. 23: Deadline for submitting initial applications for Environmental Health Sciences Center (EHSC) meritorious Pilot Projects.

August 31: Deadline to apply for Matsumae International Foundation fellowships to young doctorate degree holders interested in conducting research in Japan, with natural science, engineering, and medicine a top priority.

---
Please send suggestions and comments to Bob Marcotte..